In Dubai luxury is casual. A grocery run in a Lamborghini, Wagyu in mall burgers, sharks in a lobby. And a Refik Anadol multimedia artwork providing a languid backdrop to the reception of the hotel Indigo Dubai Downtown. 
Titled Winds of Dubai, the intriguingly moody art showcases vivid three-dimensional sculptures from an expansive dataset of the city's changing wind-speeds and temperatures. It is the LA-based media artist's first public art piece in the Middle East, and I do a double take when I notice it: a fan of his work, I always assumed I would have to go to New York's MOMA to finally see it in person, not randomly stumble upon a signature piece while checking into a hotel room. 
Not surprisingly, the city's food scene is similarly studded with culinary stars,  creating menus with precious ingredients sourced from all over the world. Like Anadol's winds, the culinary scene changes with consistent drama, attracting talent from everywhere. Where do you start? I use the influential Michelin guide to chart a gourmet food trail across the city.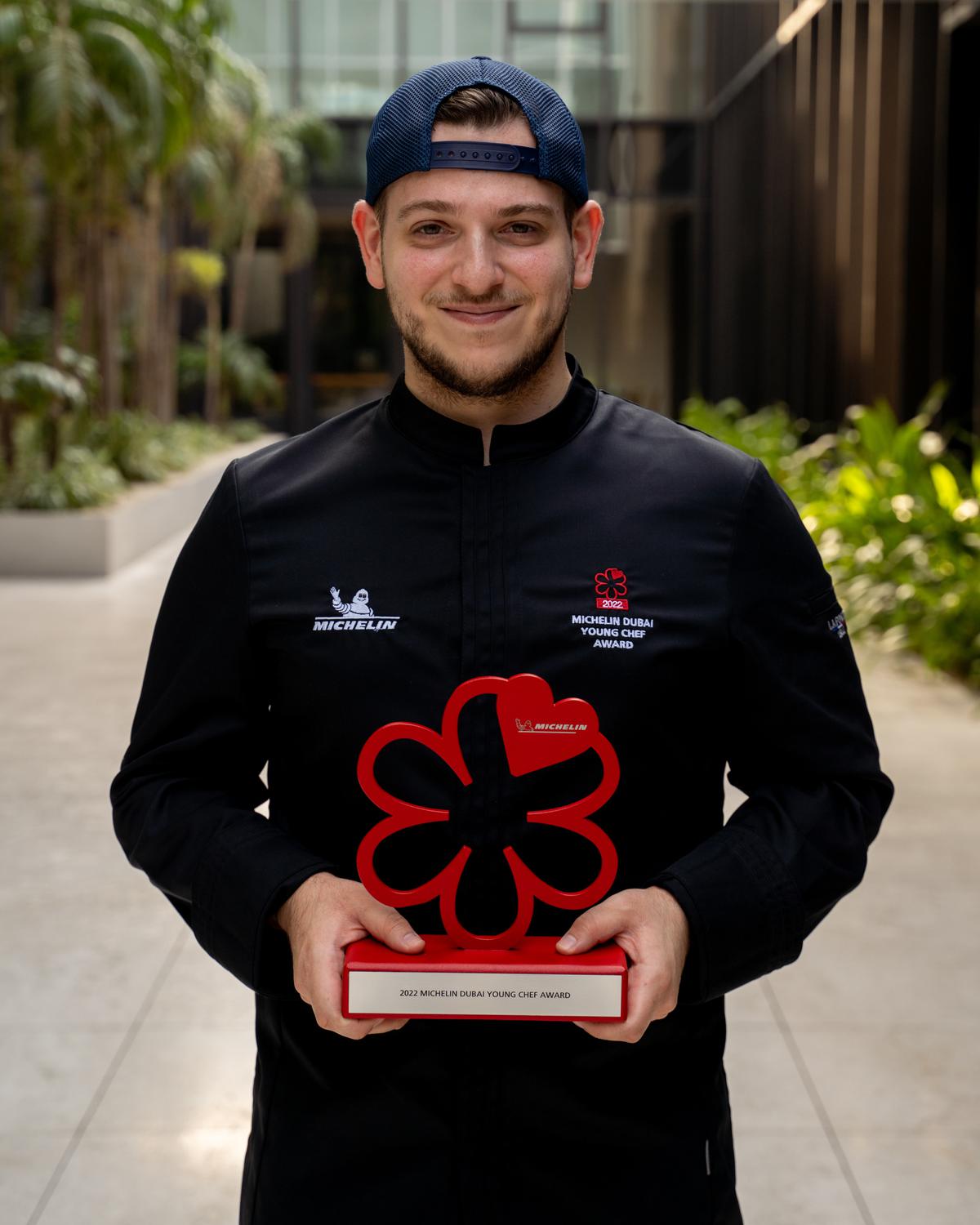 1) Moonrise. 1 Michelin star
Currently one of the city's hottest tables, Moonrise would be intimidating if it was not for their friendly, if reticent, young chef in a baseball cap: Solemann Haddad. Set in a smart residential building, the restaurant seats just 12 people with two dinner seatings, at 6.30 pm and 9.30 pm. 
There's an expectant silence in the lift as it speeds up 30 floors, and when the doors slide open, Dubai sparkles around us, a mesmerising display of twinkling traffic lights and sweeping skyscrapers. The restaurant is sleek and set in glass, cleverly capitalising on the view. 
Dinner is served in 12 courses, each presented like a family heirloom, with love, stories and a cleverly curated wine list that includes Taittinger champagne, Gaia thalassitis from Santorini's indigenous Assyrtiko grapes and, in a nod to Solemann's French-Syrian heritage, Domaine de Bargylus wine from Syria.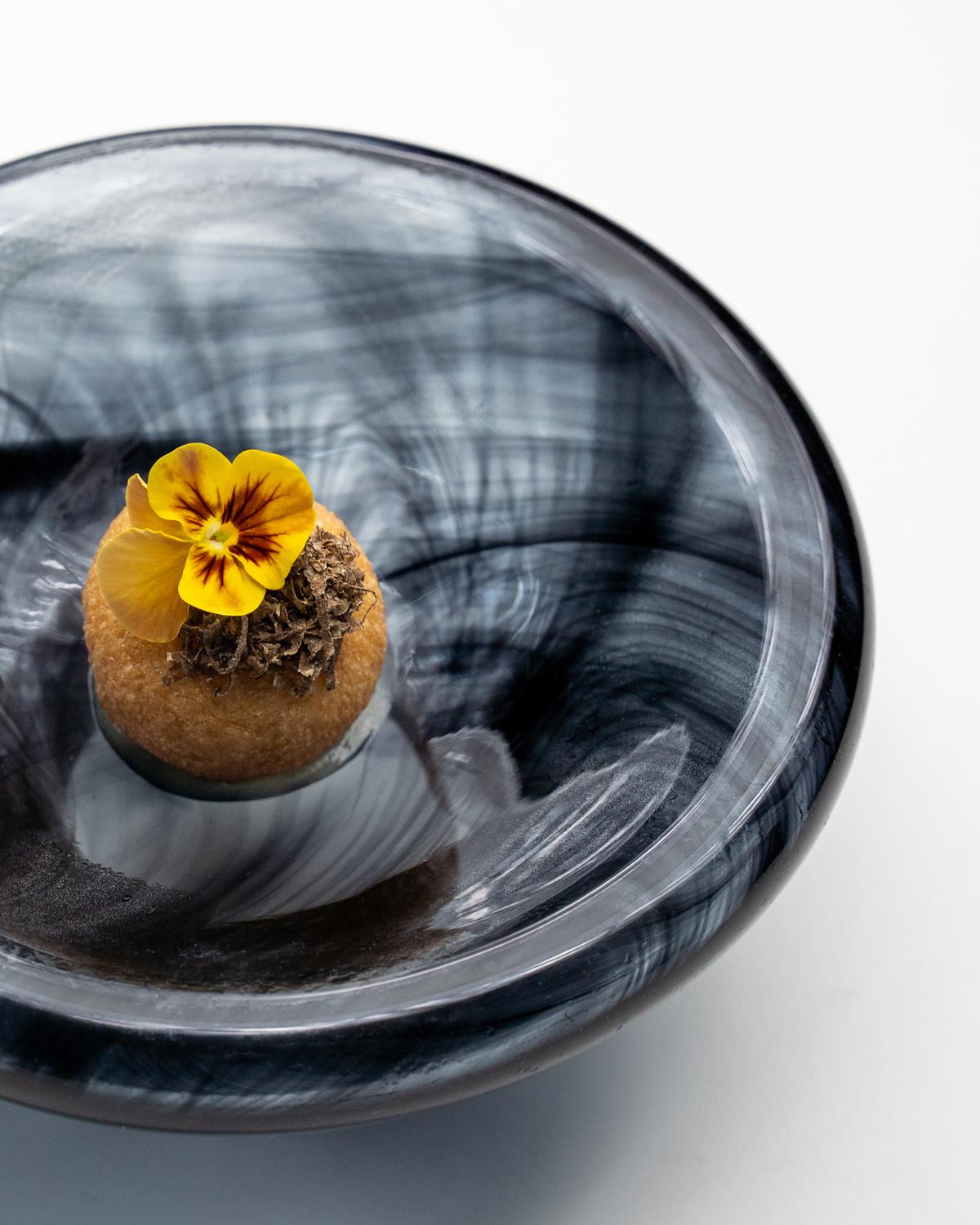 Born and brought up in Dubai, Solemann describes his omakase menu as 'Dubai Cuisine,' and opens with a Foie gras Puri, saying "It is almost as Dubai as it is Indian." The crisp puri is filled with a morish blend of foie gras, pineapple-saffron chutney, and date syrup, with Szechuan chilli oil, then topped with an edible flower. It is a clever blend of technique and ingredients made to look effortless, and a good example of why Solemann was named Dubai's Young Chef of the Year by the Michelin Guide in 2022.
Inspired by the food he ate growing up, the chef has fun with the menu, sourcing ingredients from across the Middle East, and Japan. His version of grilled cheese is Hokkaido milk bread topped with sweet Thai black garlic, and truffles, then served with a densely flavoured sauce made of aged parmesan.
As the meal ends, the lights are dimmed, and the scent of a crackling fire makes the room feel comfortingly cosy, as we sip on a mellow green tea made with sushi rice. We soak in the view as we relax. "That's why I called this Moonrise," says Haddid. "It feels like we are on the moon. Looking at Dubai from another planet."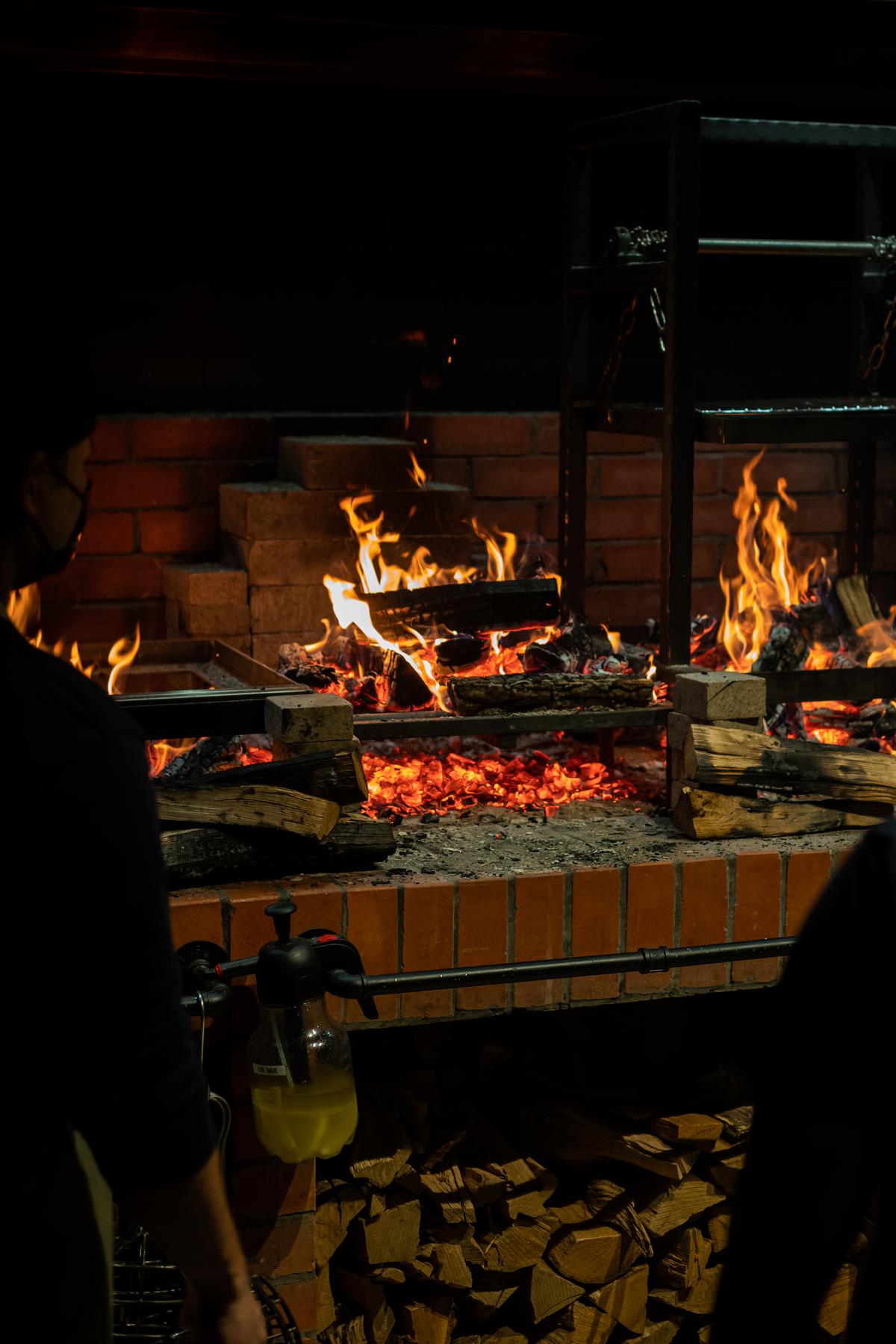 2) 11 Woodfire. 1 Michelin Star
The trendy industrial décor does not take away from the warmth of 11 Woodfire. As I walk through their arched doors, I am welcomed with thudding music, severely stylish grey cement walls and an unexpectedly lively open flame.
Malay-Singaporean Chef-Owner Akmal Anuar started cooking at his parent's hawker stall in Singapore, and worked his way through multiple kitchens before launching 11 Woodfire last year. Fire is at the heart of the popular restaurant, set in an elegant, repurposed villa, and the space is built around a dramatic open kitchen that crackles with heat and energy.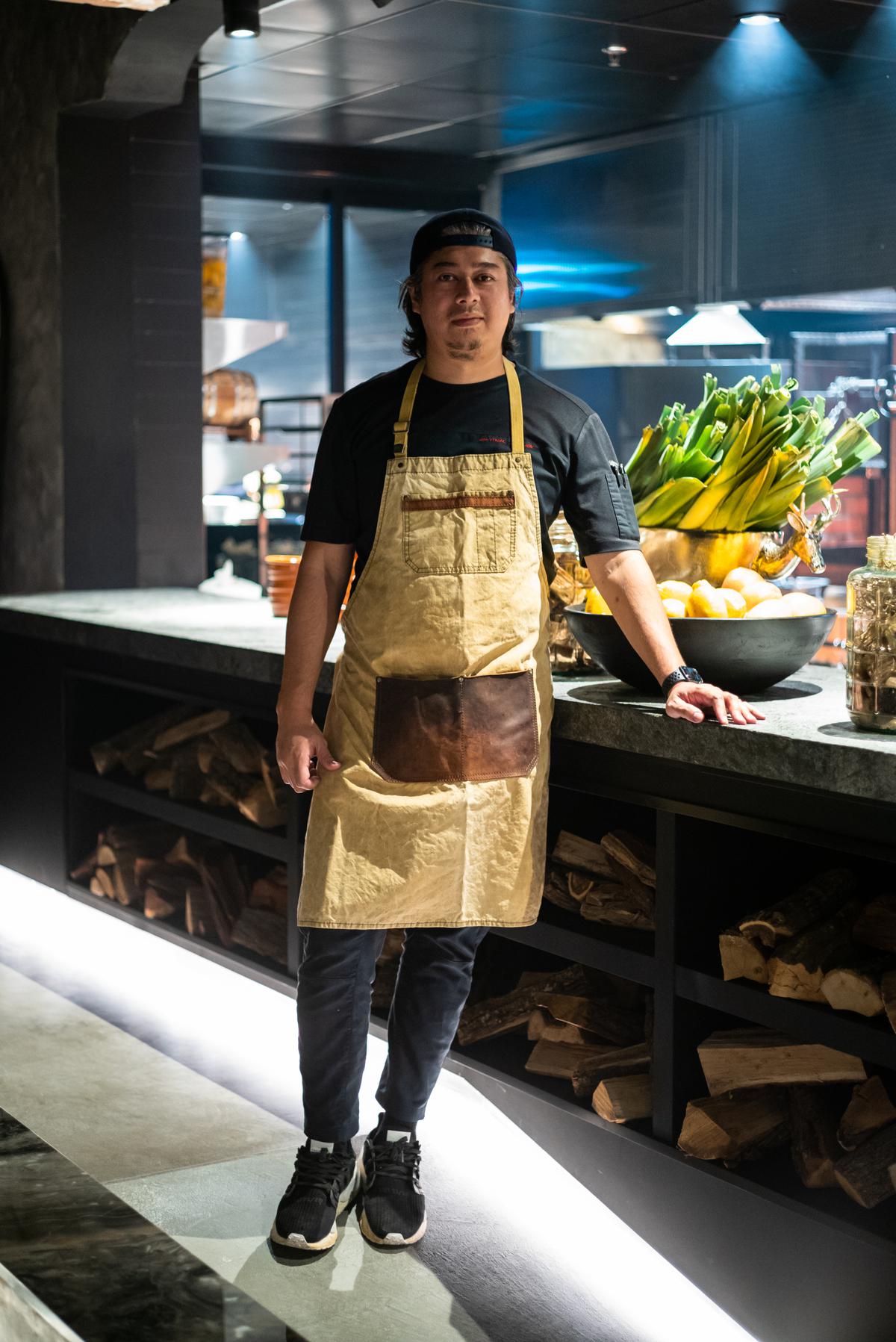 The menu is short and self-confident, with a focus on simple, hearty dishes: expect vegetables, seafood, and meats grilled over oak, hickory or hay. We try salmon carpaccio with pine oil and caviar cream; jumbo prawns in a pool of brown butter, and scallops served with a creamy corn puree, topped with fois gras – of course. Fois gras, wagyu, and caviar seem to be essential food groups in gourmet Dubai.
Try their popular Wagyu burger, lavish with gouda cheese and a lashing of sriracha. And end, like us, with burnt cheesecake, served at the table with a jug of molten milk chocolate.
3) 3 Fils, Michelin Bib Gourmand
At 3 Fils, you wait. Sometimes for an hour, sometimes more. The scenery, at least, is soothing – this popular Dubai restaurant is set at the Jumeirah Fishing Harbour, and since they do not take reservations, diners often stand in long queues to get in.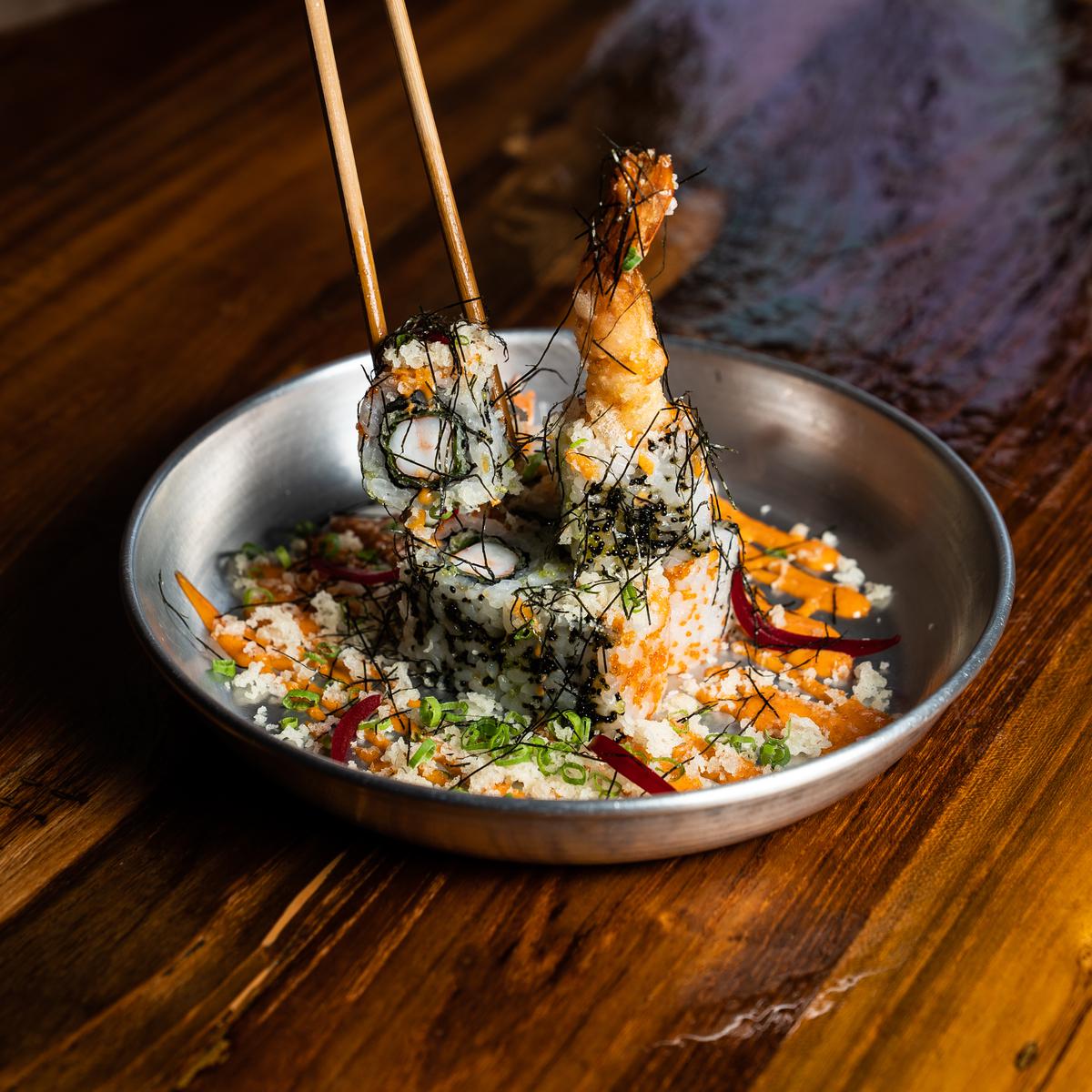 We get lucky, and snag a table for a late lunch relatively quickly. The vibe is deliberately casual. "You can come in flip flops and pyjamas if you want," smiles the manager, adding that they have just one rule. "No soy sauce at the table."
The Japanese chef Shun Shiroma creates beautifully, and painstakingly, balanced dishes – hence the ban on condiments. The salmon nigiri, for instance, comes with just a swipe of soy and wasabi, allowing the diner to enjoy the freshness of the fish. Their scallops, tuna and uni (sea urchin) are flown in from Japan twice a week.
The food is fun, and irreverent. There are Indomie instant noodles, the Middle East's answer to cure-all-ills Maggie. Addictively messy chicken wings, dusted with spice and served with a wedge of lime. And seaweed salad, crunchy with  Granny Smith apple slices and candied walnuts. We wash it all down with tall glasses of refreshing passion fruit juice, spiked with lime and agave.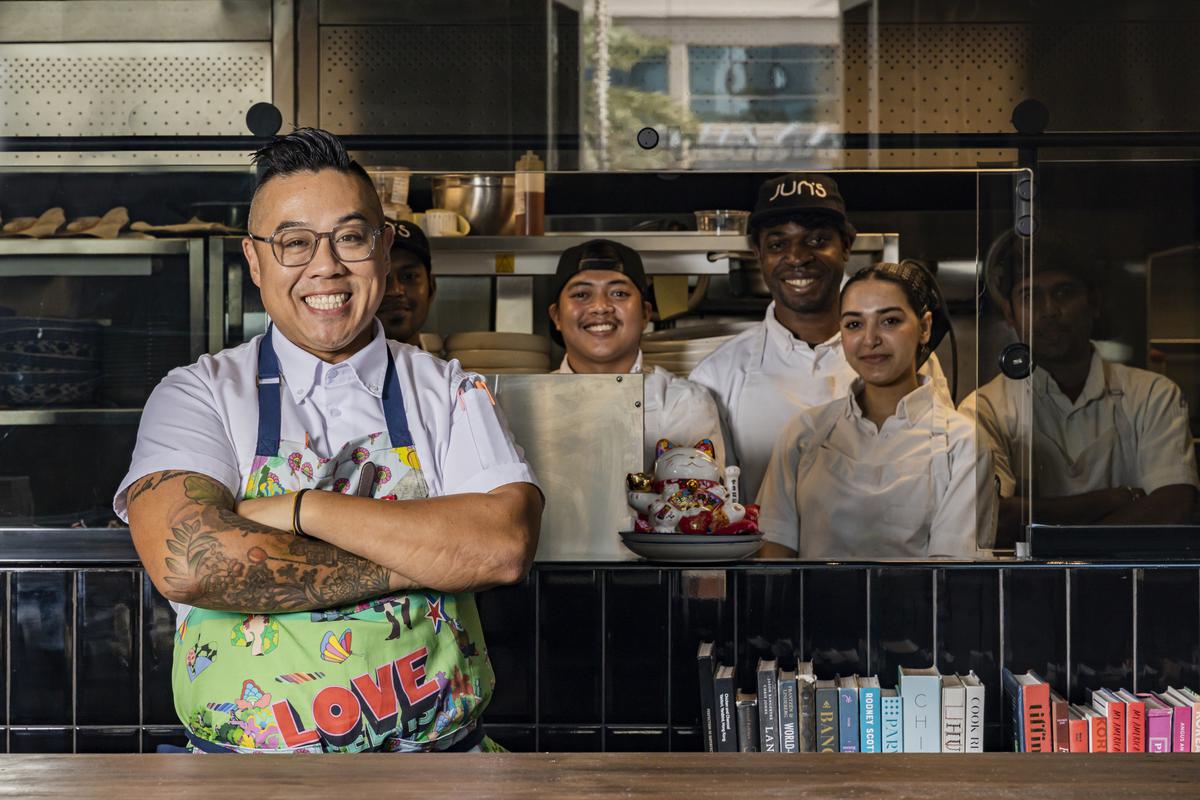 The drama that is dessert is designed for Instagram clout – 'karak chai' inspired ice cream served at the table with an energetic flourish, cardamom foam and a big smile.
4) Juns Dubai, Michelin listed 
I first met Chef Kelvin Cheung at the bar of his Mumbai gastropub, One Street, where we yelled 'hello!' over thudding music, squashed between a young hipster crowd. Best known for his Bollywood-star-studded restaurant Bastian, the Chinese Canadian chef has a loyal Indian fan base for his stylish cooking and bright flavours.
Post Bastian, and after a decade in India, he launched Juns Dubai in 2021. Created as a modern dining experience, the menu hinges on nostalgia, combining Asian and North American flavours with a distinctively Indian streak running through.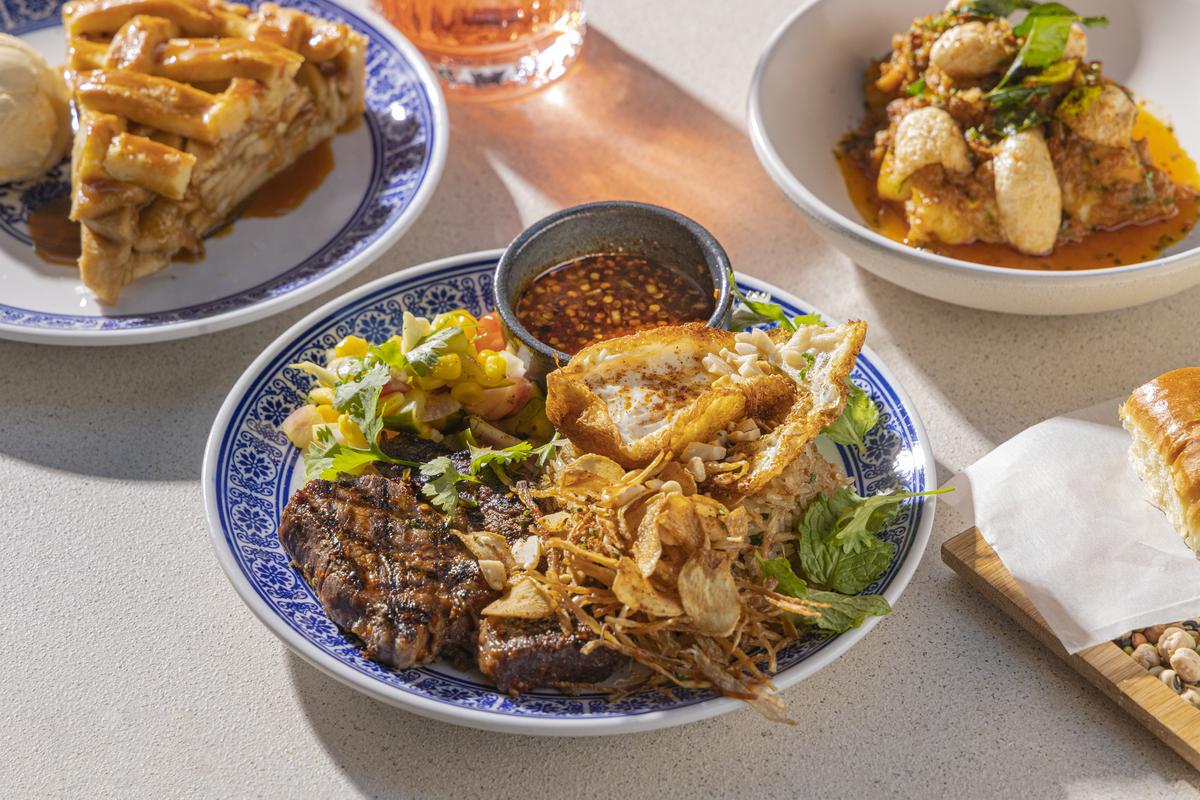 Our tasting menu opens with panipuri, filled with butter poached lobster and a tamarind, an explosion of flavours that are both familiar and exotic. Kelvin, resplendent in his signature bright apron and tattoos, chats as each course is presented, explaining why he blends cuisines and techniques from different culinary philosophies. "There is a balance of all those flavours and textures that you get, which is often overlooked."
The sea bass carpaccio, for instance, is finished Cantonese-style, with hot oil. The rainbow heirloom carrots, served over smoked labneh and sourdough, then topped with candied walnuts are a tribute to Kelvin's mother's love for bagels with salmon and cream cheese.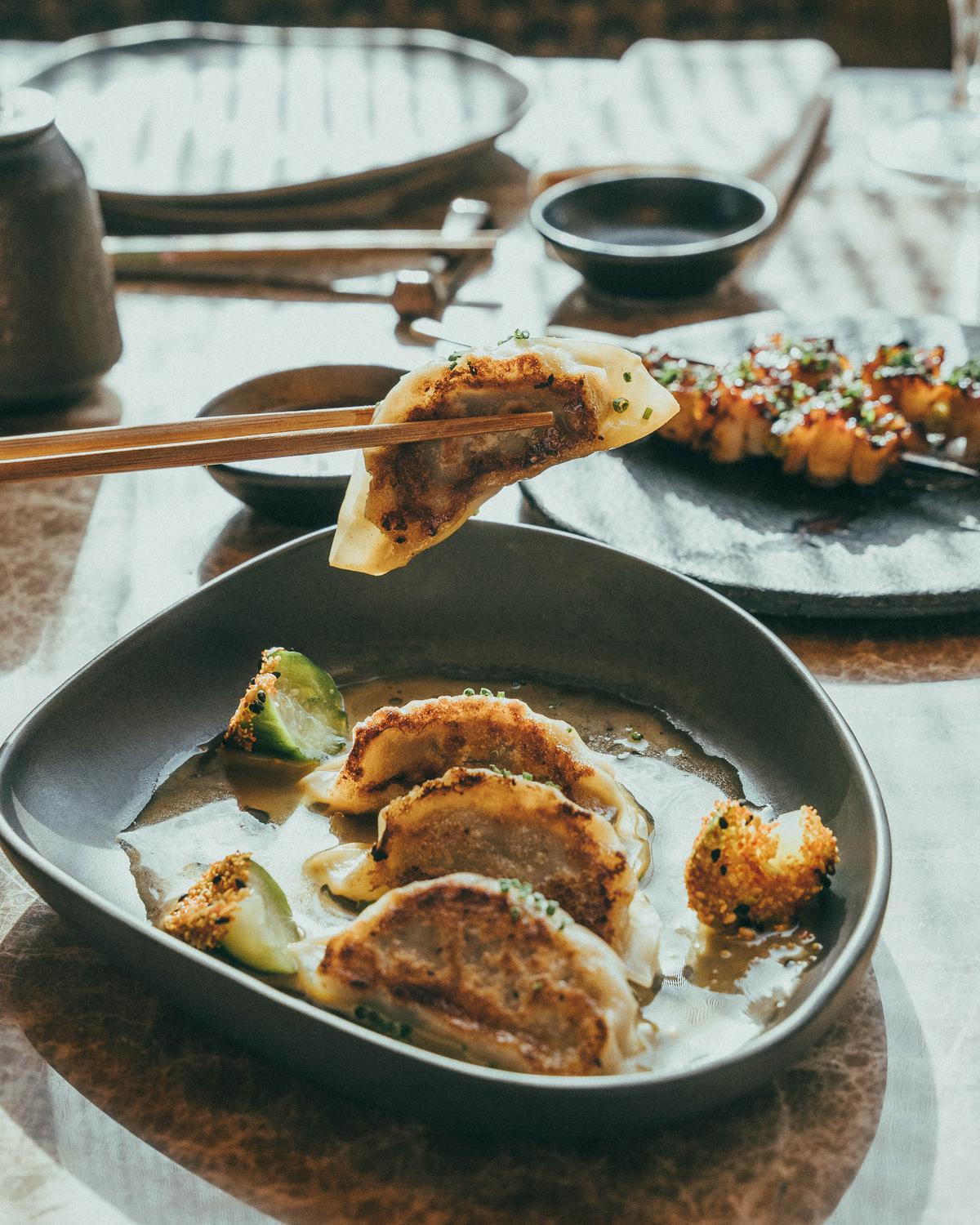 Though Dubai offers him the luxury of access to a wealth of imported ingredients, Kelvin says he tried to make conscious choices that are local and seasonal. We end with one of his favourite desserts: mango and sticky rice. However his version adds depth and texture to the simple dessert by making it like a rice pudding, and then serving it with mango crackers and coconut icecream.
5) Mimi Kakushi. Michelin listed.
We sweep up to The Four Seasons Jumeirah amid gleaming limousines, passing the Instagram-famous Nusr-Et. Our destination lacks the ostentation of muscle-bound Salt Bae flexing his infamous 24-carat gold coated steaks; instead, as we slip into Mimi Kakushi, we are embraced by the glamour of jazz-influenced Osaka in the 1920s, when western fashion swept Japan.
In keeping with the vibe, the restaurant serves Japanese food with thoughtful western tweaks. I dive right in with a heady 'Sayonara' inspired by the Italian Negroni, but made with Japanese umeshu, a liqueur from ume plums. They also serve "one of the coldest martinis in the world," set inside a block of ice at -20 degrees.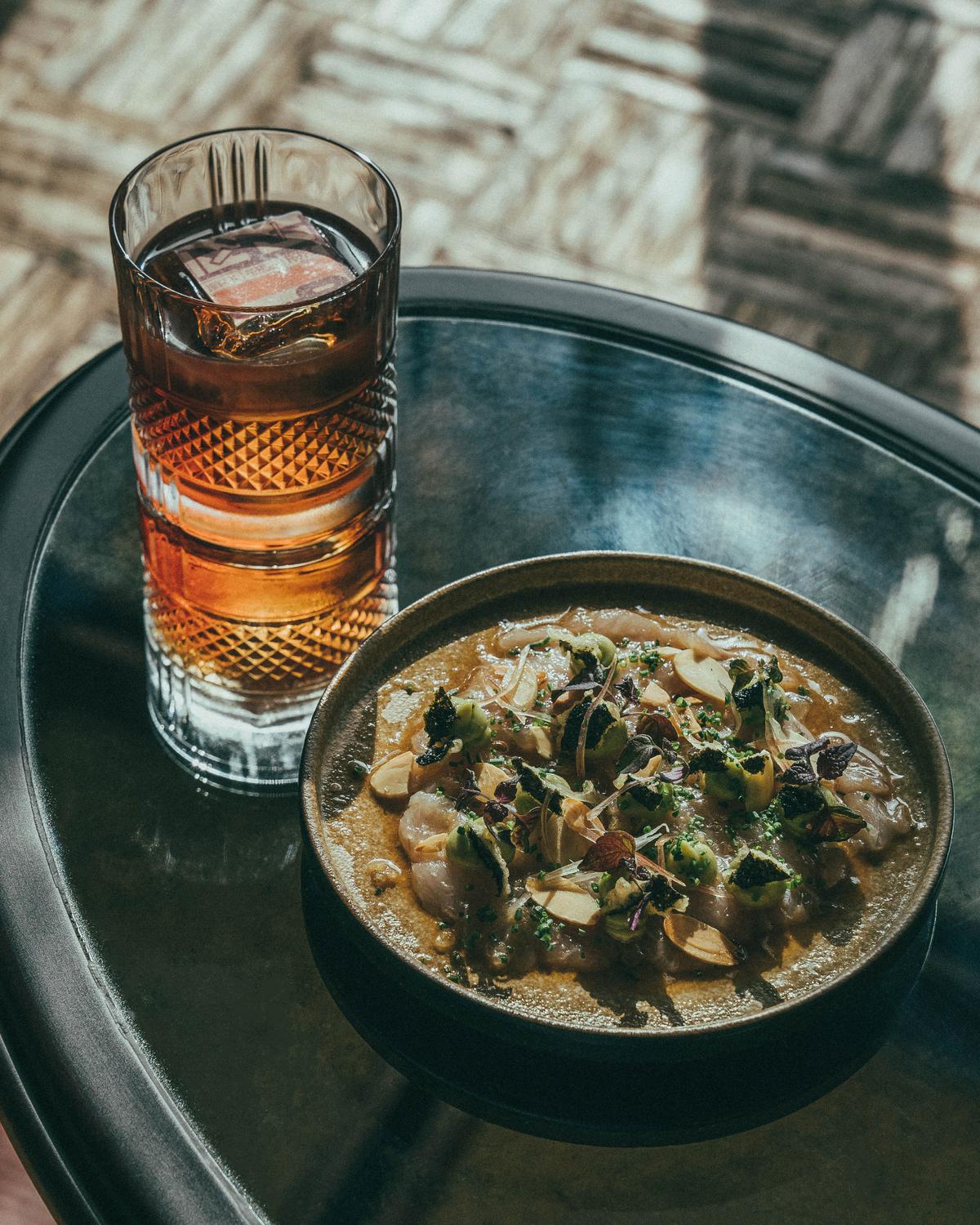 The menu is extravagant, but focussed, pivoting on luxe ingredients. Each dish is carefully constructed, from Wagyu foie gras nigiri to steamed King crab legs served with a citrusy ponzu butter and kosho (a fermented Japanese paste made with fresh chilies.)
We eat tuna tartare, with yuzu avocado, speckled with caviar. Then follow it with translucent gyoza, filled with wagyu, foie gras, and pickled cucumber, all served in a pool of truffle soy butter. There's also baked bone marrow, teamed with pickled onions and spongy buns.
The meal ends with cup of warm matcha tea, whisked at the table by a chatty waiter, and strawberry pavlova, which we spoon up by flickering candlelight.