Meat Lover's Pizza at Alt.Pizza
If someone were to ask me what my favorite food is, potatoes in their many incarnations would take the top five spots. The next five will take roti and paneer. And pizza is one that brings both (bread and cheese) together in a delectable way.
Alt.Pizza
974, 1st Floor, 80 Feet Road, Koramangala 4th Block, Bangalore 560034
call: 081238 92268
Surroundings: informal
Hits: Bang Bang Burrata
Meal for two: ₹ 1300 + taxes
The news of Singapore's Alt.Pizza opening an outlet in Koramangala was reason enough to trek to that part of the city – trust me, it's a trek from Yelahanka. Incidentally, alt rock is considered a reaction to mainstream commercial music and developed out of the independent music scene in the 70s. That all changed when Kurt Cobain sang something that 'Smells Like Teen Spirit'.
Alt.Pizza doesn't claim to be traditional Italian – that's where the "Alt" comes in. Pizza base is sour. "We have brought in our own sourdough starter Sophia from Singapore," says Ravindran Nahappan, founder of Foodsta Kitchen, who brought Alt.Pizza to Bengaluru. Homemade starter is nine years old.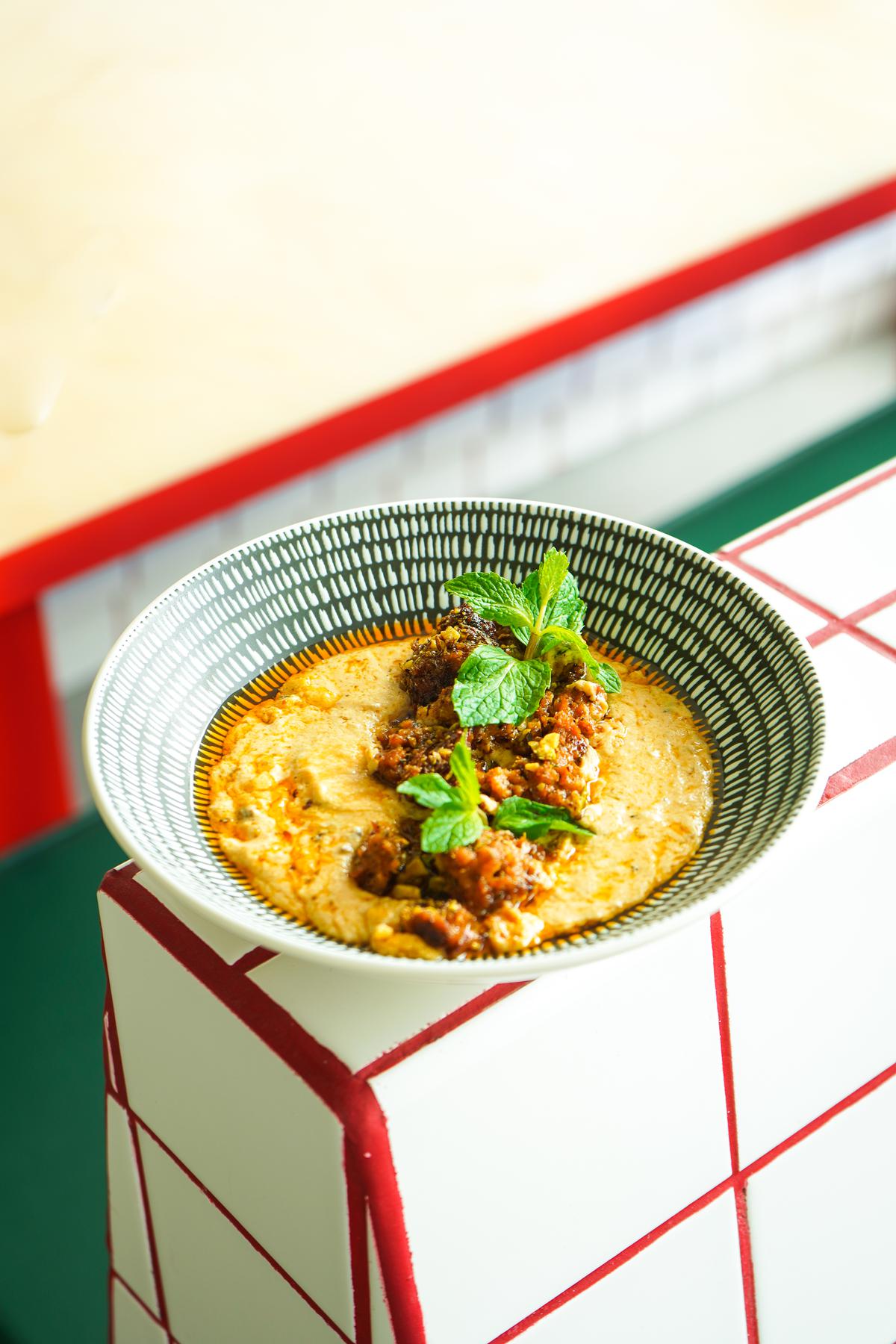 Lamb Kavarma at Alt.Pizza
Echoing the group's friendly theme, Alt.Pizza is all bright, white and airy, selling fun merchandise including tote bags, socks, T-shirts, doggy bandanas and a quirky card game. We take our places outside overlooking the street, watch life pass us by as we stuff our faces with all kinds of comfort food with a twist.
From small plates, we try the Oh Sweet Garlic, where dear old garlic bread gets a rearrangement of flavors thanks to herbs and orange blossom honey—very fancy and fun.
Although Alt.Pizza says it's not Italian, the beetroot carpaccio draws inspiration from the Mediterranean country, where thinly sliced ​​meat or fish is replaced with beetroot and kale for a crispy sweet outing. It is guaranteed that all those who turn up their noses at the healthy root will make fervent converts.
Ever wonder how much cheese is too much? The answer – at least in the Bang Bang Burrata – is there can never be too much cheese. Mozzarella balls swim happily in house-made Malak Tahini Dressing and Sichuan Chili Jam. The flour fritters that accompany this small plate hit the sweet spot that fried cometibles crave. The meatballs in the lamb kawarma are mildly spiced, the right side of creamy hummus and the za'atar flavored flat bread is a fitting companion.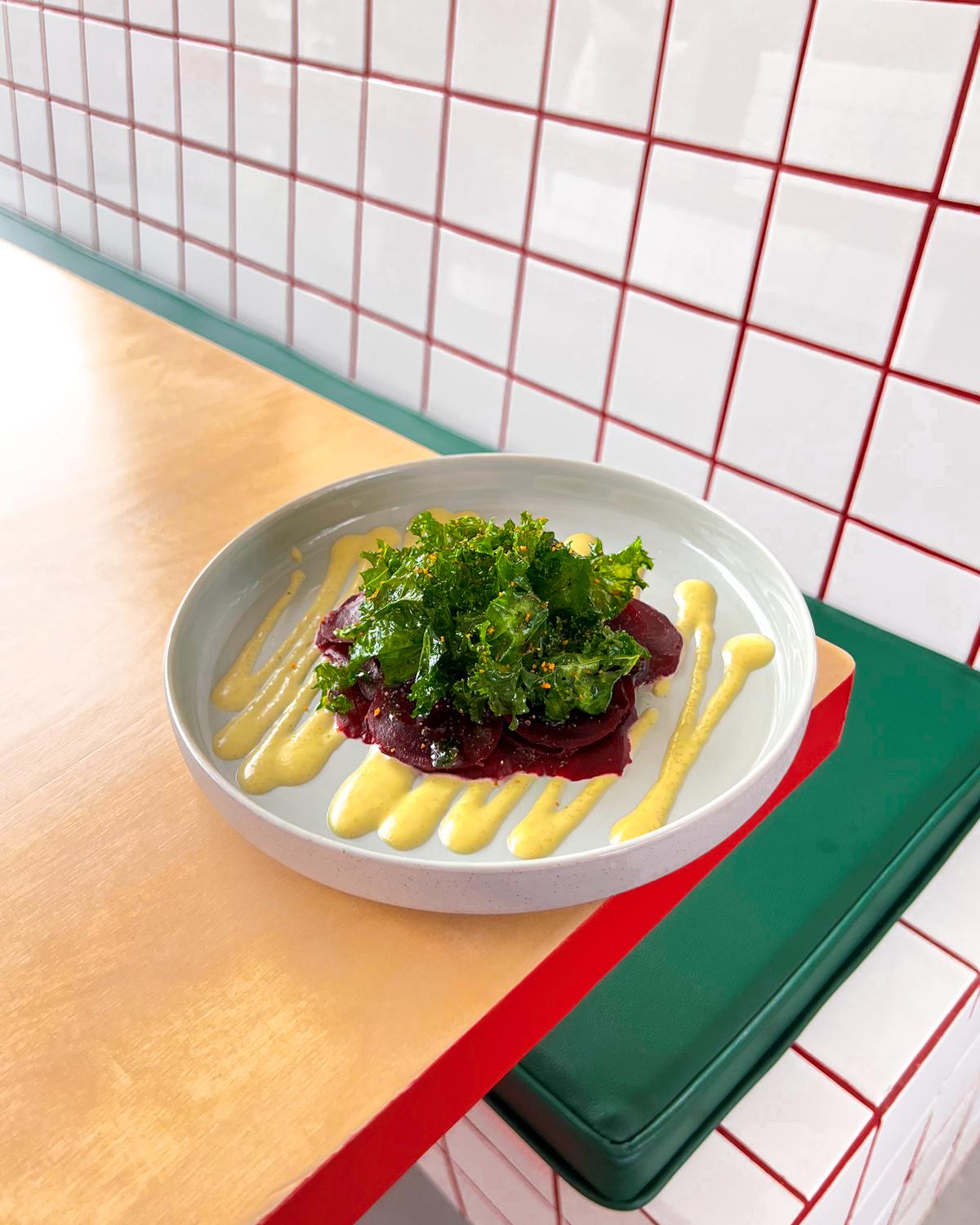 Beetroot Carpaccio at Alt.Pizza
Now we come to the pizza—all dishes are courtesy of founding chefs Matthew White and Daniel Chin. We try I'm a Fun-G which is a combination of button, king oyster and piopino mushrooms. Onions, mozzarella, Parmesan, truffle oil and a white sauce complete the pie. Meat Lovers offers lamb meatballs, pork salami and chicken fennel sausage.
If, like me, you end up leaving the crust behind on the plate, Alt.Pizza offers a choice of dips—blue cheese or olive aioli—to help finish them off. And then it's time for dessert and there's the optional Snickers bar with its salted caramel, coconut ice cream and roasted peanuts. There's no room for Mac & Cheese but that's another reason to return.