Asia Kitchen by Mainland China | photo credit: special arrangement
Asia Kitchen by Mainland China has opened a new outlet at Somerset Greenways in MRC Nagar. It serves Japanese, Chinese and Thai cuisine and is also hoping to introduce Indonesian cuisine in the coming months.
Indranil Bhattacharya, executive chef of the restaurant's parent company Specialty Restaurants Limited, informed that there are more Japanese dishes on the menu than the other two as he has noticed a rise in popularity for the cuisine in Chennai.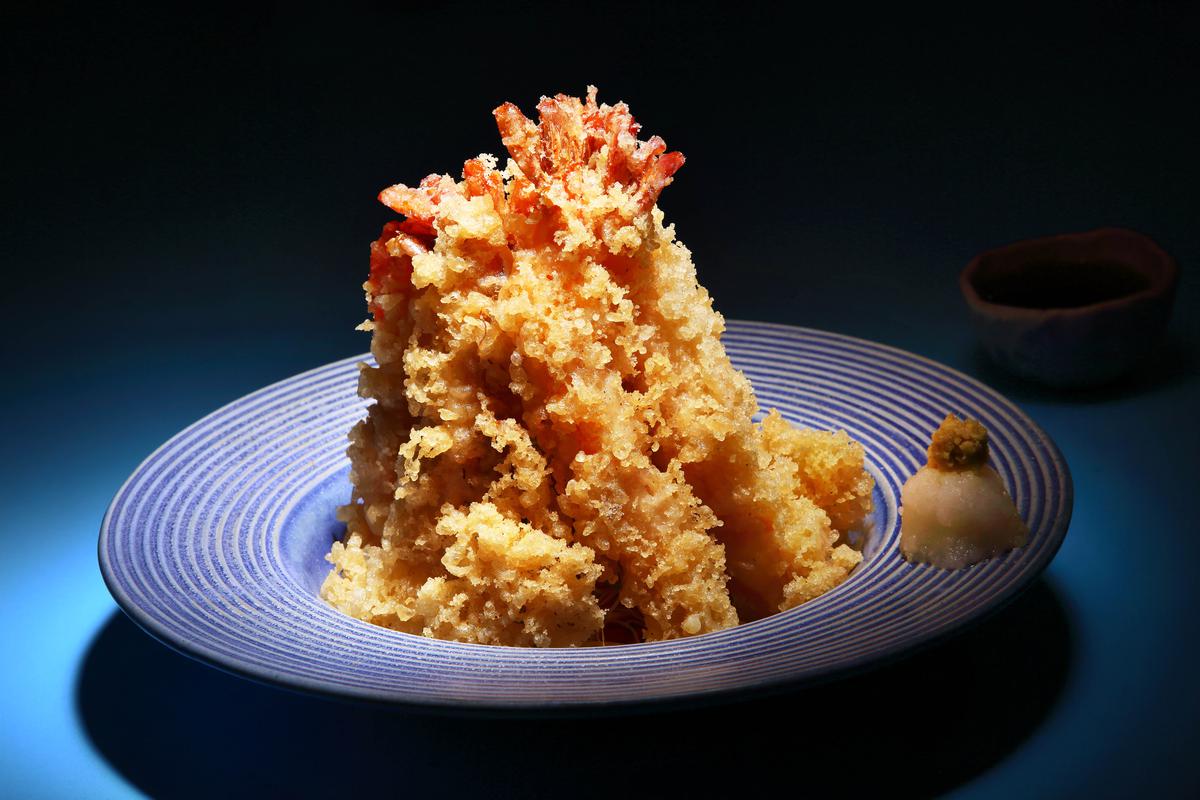 eb tempura | photo credit: special arrangement
Our colorful meal begins with Japanese Ebi Tempura Rolls. Prawns are rolled in vinegared sushi rice and deep-fried in a batter topped with panko bread crumbs. While the fried sushi was crisp and subtly flavored, the wasabi it was served with was bland without any zing.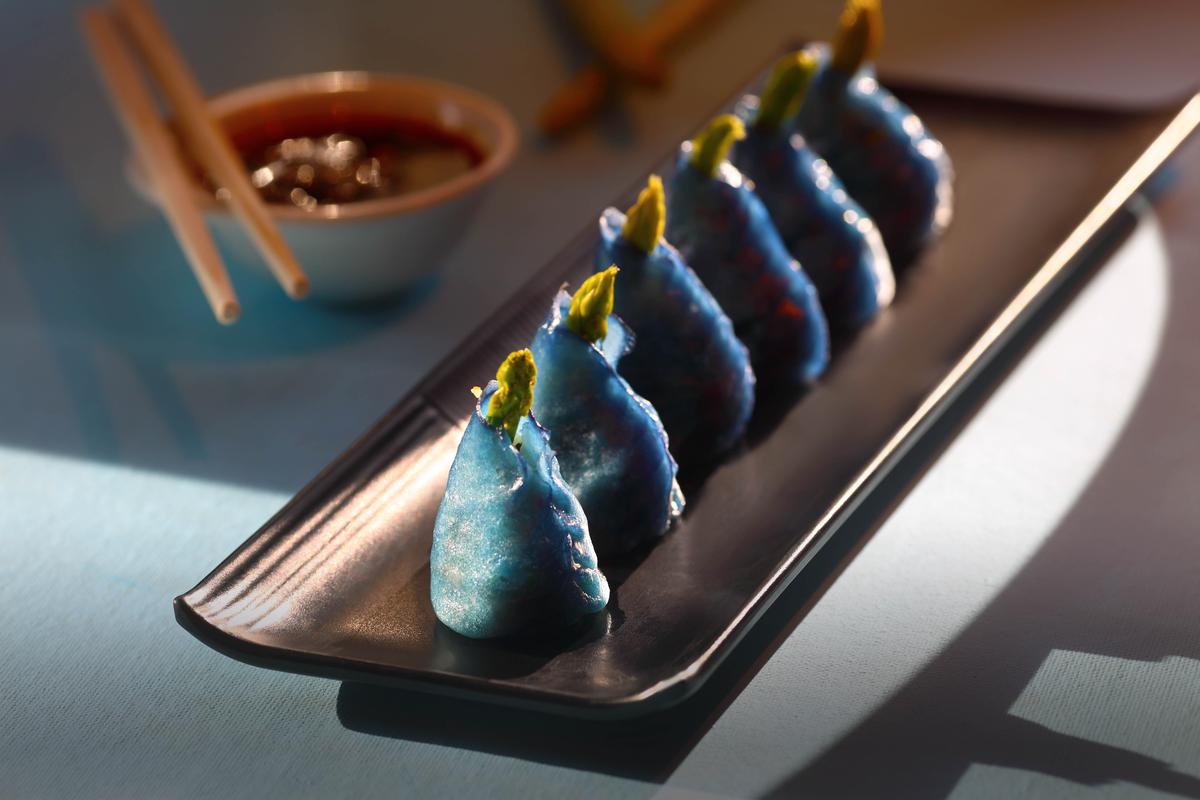 Blue Pea and Spicy Asparagus Dumplings | photo credit: special arrangement
Blue Pea and Spicy Asparagus Dumplings show up well with a sliver of bright blue flour and asparagus. Although the dish is not spicy, the steamed asparagus imparts a savory flavor to the dumplings.
Made with pomegranate and guava juice, the Thai Exotica Mocktail is refreshing and bursts with basil flavor in every sip.
We also try Prawn Hargao which has a pleasant aroma. Traditional Cantonese dumplings wrapped in translucent dough, filled with sesame flavored prawns and crispy shallots.
Mains begin with the pop-culture favorite omurice. Beneath a sheet of simple omelet is speckled beans with green onions and Japanese fried rice with carrots and beans on a layer of butter sauce. The sauce was sweet and sticky, and paired well with soft eggs and savory fried rice.
In main courses, Thai curries flavored with chili pepper, lemongrass or kaffir lime abound, aside from the staple green and red variants. Chef Thanya Hanan, who hails from northern Thailand, is Chef de Cuisine of the Thai wing at Asia Kitchen. They aim to change the interpretation of Thai food in the country with fresh menus and authentic flavours. We try Thai PanagChicken curry with fragrant jasmine rice. The pink curry is made with coconut milk, green peas, eggplant and is flavored with kaffir lime leaves. It is mildly spicy, creamy and delicious.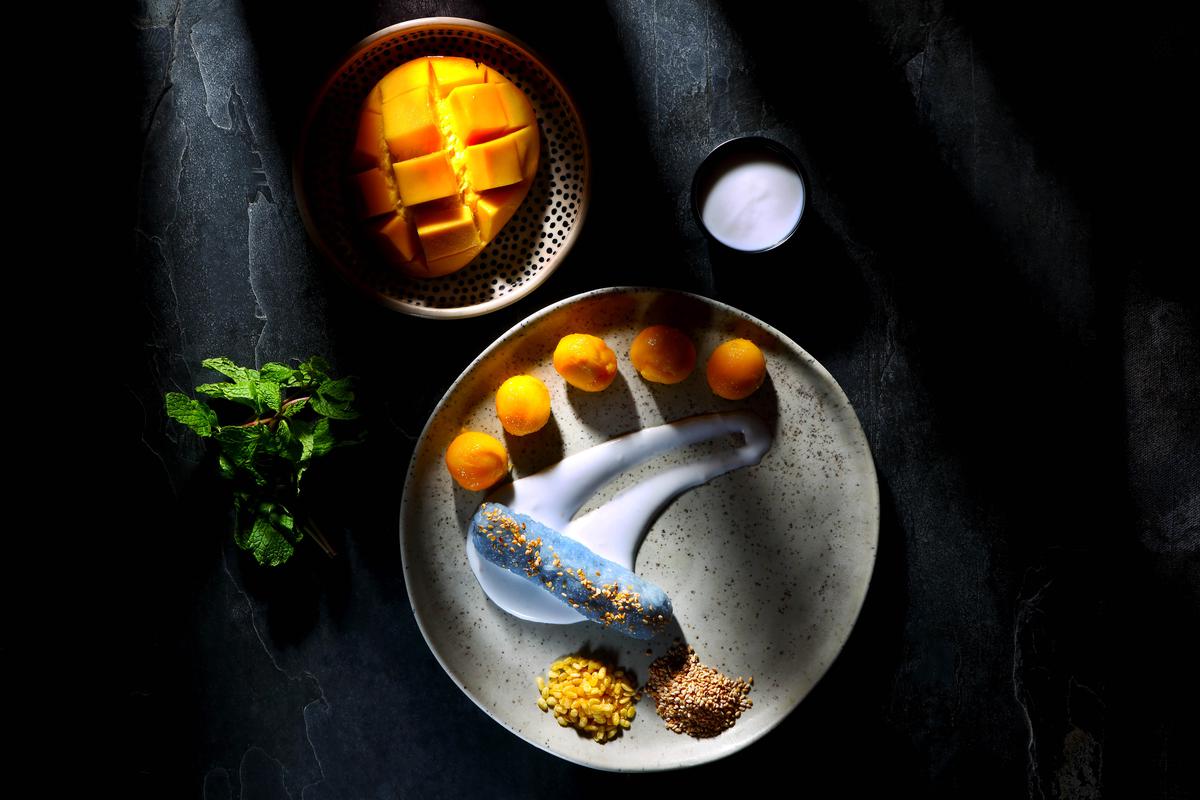 Khao New Mamung | photo credit: special arrangement
On our culinary journey in Southeast Asia, we sample Thai khao nu mamung or sticky rice with mango. It is a light and mildly sweet dessert. Rice is colored with blue pea flowers and cooked in coconut milk. It is topped with fried mung beans and served with a slice of mango.
Japanese enin tofu is also vegetarian-friendly. It is made with almond milk, tofu and set with agar agar. The dessert is very sweet but creamy with a stevia-like flavor and is topped with a cherry.
Mainland China's Asia Kitchen has seven outlets across the country and one in Dubai. Mainland China, on the other hand, is a separate chain of 23 restaurants across the country that serves only Chinese cuisine.
The cost of a meal for two at Asia Kitchen in Mainland China is ₹1600. The restaurant is at Somerset Greenway Chennai, MRC Nagar, Raja Annamalai Puram.