When you think of sparkling wines, Moët Hennessy Louis Vuitton SE, the largest producer of Champagne in the world with a revenue of $2.2 billion in 2022, comes to mind for obvious reasons. But Chandon India, one of the six connected wineries under the brand (others located in Argentina, California, Brazil, Australia, and China) has embarked on an ambitious project — to create the first still red wine. The brand's experiments for nearly five years birthed Aurva (meaning 'of the earth' in Sanskrit), which stays true to its moniker, a celebration in a bottle, a tribute to terroir, and a product of cross-continental collaboration.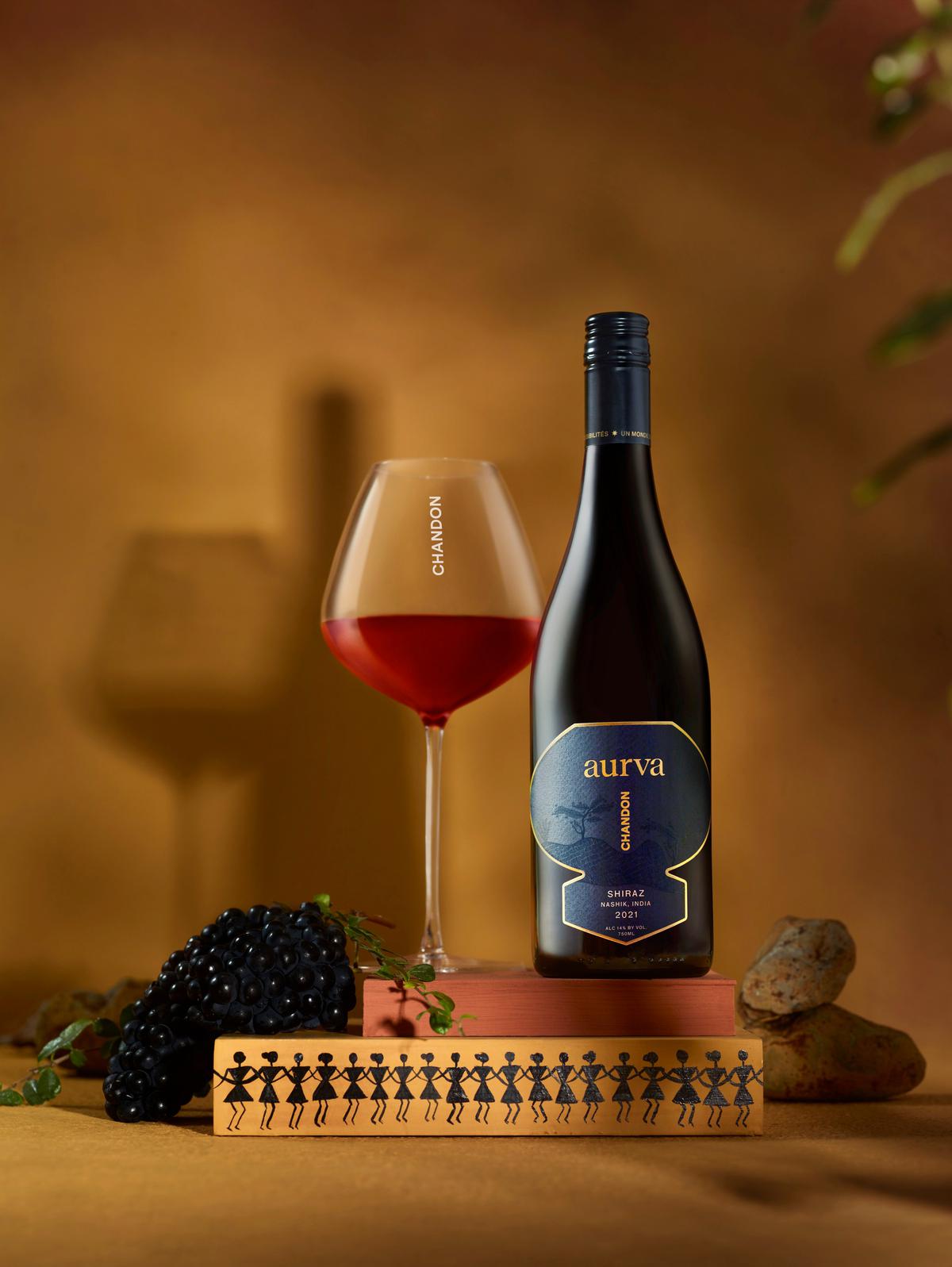 On a Zoom call preceding the launch of Aurva, Kaushal Khairnar, head winemaker at Chandon India, is buoyant about this shiraz. "We wanted to create a wine that has layers of personality and character. With each sip, you get different nuances, creating a different experience as you go back to your glass."
Aurva is crafted at Chandon India's Dindori winery, in Nashik, Maharashtra, where the vineyard at a vantage point of 600 metres is rich with red soil, is scorched by the summers, followed by the raucous rainy season. This dichotomous climate, followed by a mild winter, lends a unique character to the shiraz grown on the vineyards (40% of fruit used is grown at Chandon's estate, and 60% is grown by highly supervised local partner growers).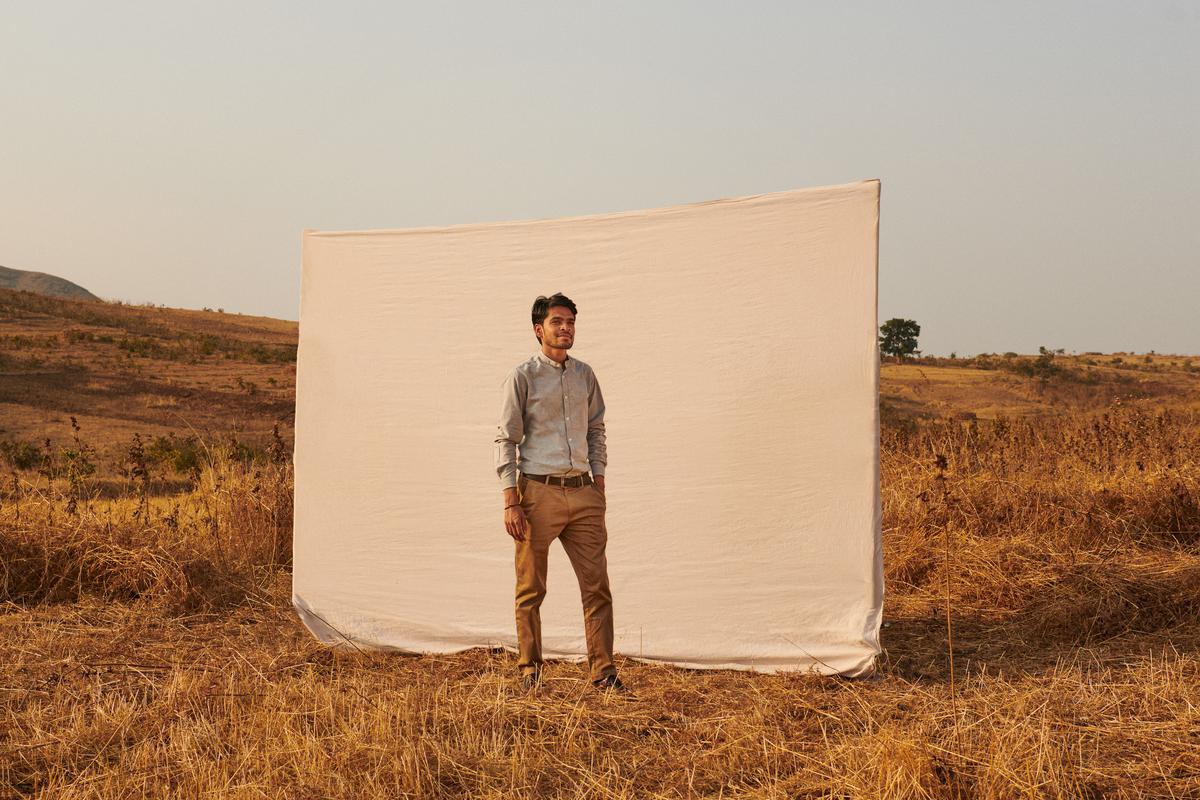 The shiraz vines are carefully trained, with one shoot per branch and only a few bunches per shoot, aided by vertical shoot positioning to achieve just the right amount of sun exposure and ventilation. With just one harvest per year in March, the luscious grapes are harvested by hand, bunch-sorted, destemmed and painstakingly re-sorted, grape by grape. "We needed a degree of elegance, finesse and harmony to create a still red. The fruit is the most important, the processing is just the cherry on top," adds Kaushal.
Fermented in custom-built stainless steel tanks for around 10 days, the wine is matured for around 14 months in French oak barrels made by century-old cooper (maker or repairer of casks) François Frères. Kaushal observes, "Whisky has always been popular in India, so there's an understanding of oak. We use 60-70% used oak, which is good for micro-oxygenation, which helps soften tannins. Then 30-40% new oak adds complexity to elevate the expression of the fruit."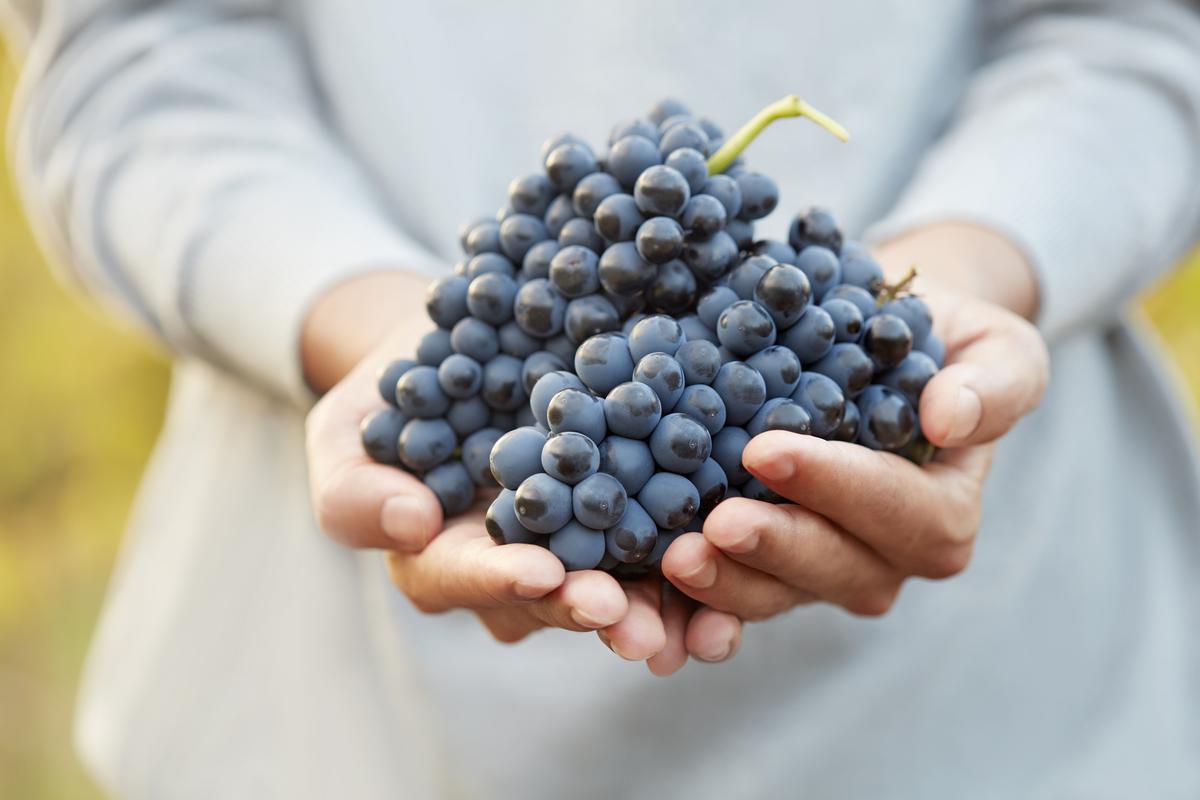 Kaushal, the youngest of Chandon's chefs de caves (cellar master), grew up in the lap of Indian wine country Nashik. After an introductory winemaking course for three years, at the Gargi Agriculture Research and Training Institute, Nashik, a fortuitous internship at Nashik's Vallée de Vin winery compelled Kaushal to consider winemaking his calling. In 2015, he was chosen by Chandon's Early Career Winemaker Programme and earned the opportunity to play the role of assistant winemaker at Chandon's India and Brazil wineries, for a year each, even working for eight wine-grape harvests in India, France, New Zealand, the US, and Brazil and finally taking on the reins in Nashik in 2018. His intrepid spirit at the Maison is matched by veteran Dan Buckle, winemaking director — Chandon Australia (LVMH), who has worked extensively with the shiraz. Given the success with 100% shiraz used in the award-winning Chandon Rosé (Best Indian Sparkling Wine 2020 at the Champagne and Sparkling Wine World Championships (CSWWC), and Dan's expertise with the best shiraz practices, Aurva is a happy marriage of Indian terroir and Chandon's savoir faire.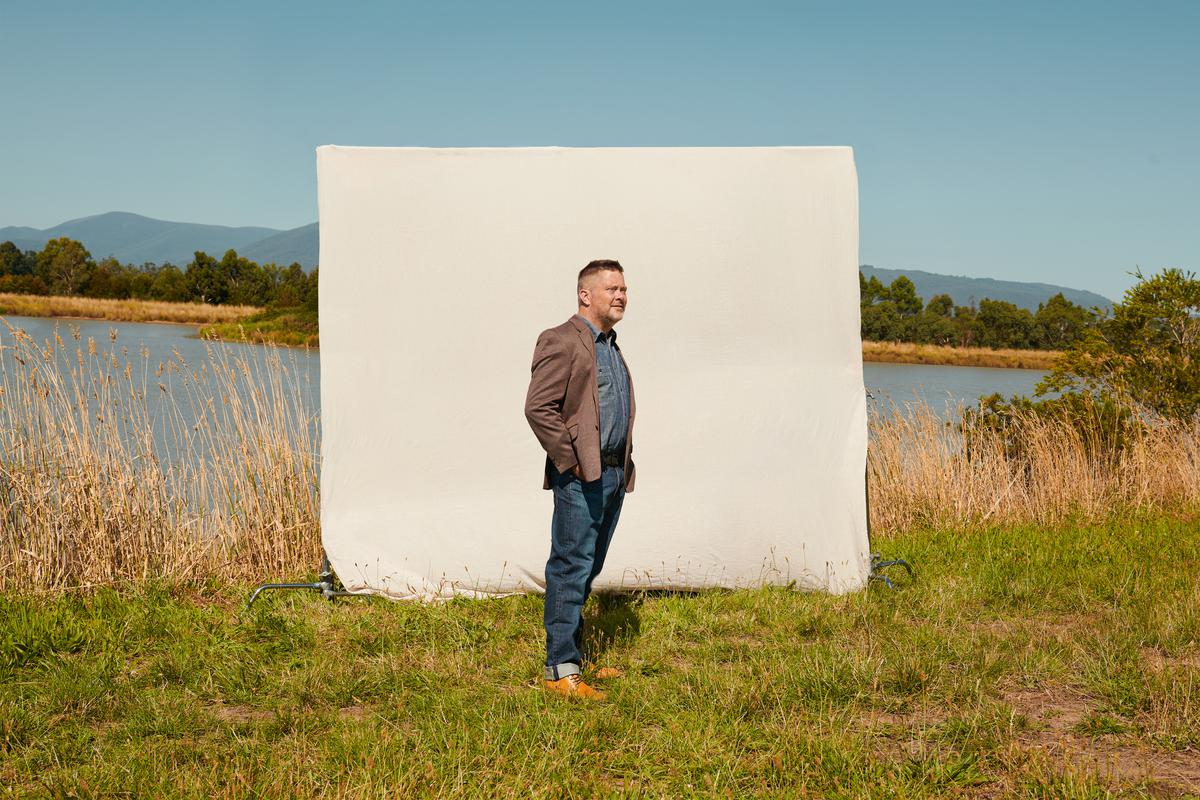 Dan, over an email interview, shares his experience working in Indian wine country with Indian craftsmen and winemakers. "For Aurva, we had a clear idea of what we wanted from the grape. It had to be aromatic, fruit-forward and easy to drink, but with an element of sophistication from the judicious use of oak. A still wine that would push the boundaries of shiraz, that would challenge more traditional expressions around the globe." Speaking of the custom-built tanks, he adds, "Technical manufacturing capacity in India is second to none and so we designed our own tanks for this project and were astonished at the finishing. There's a real pride in what India can do."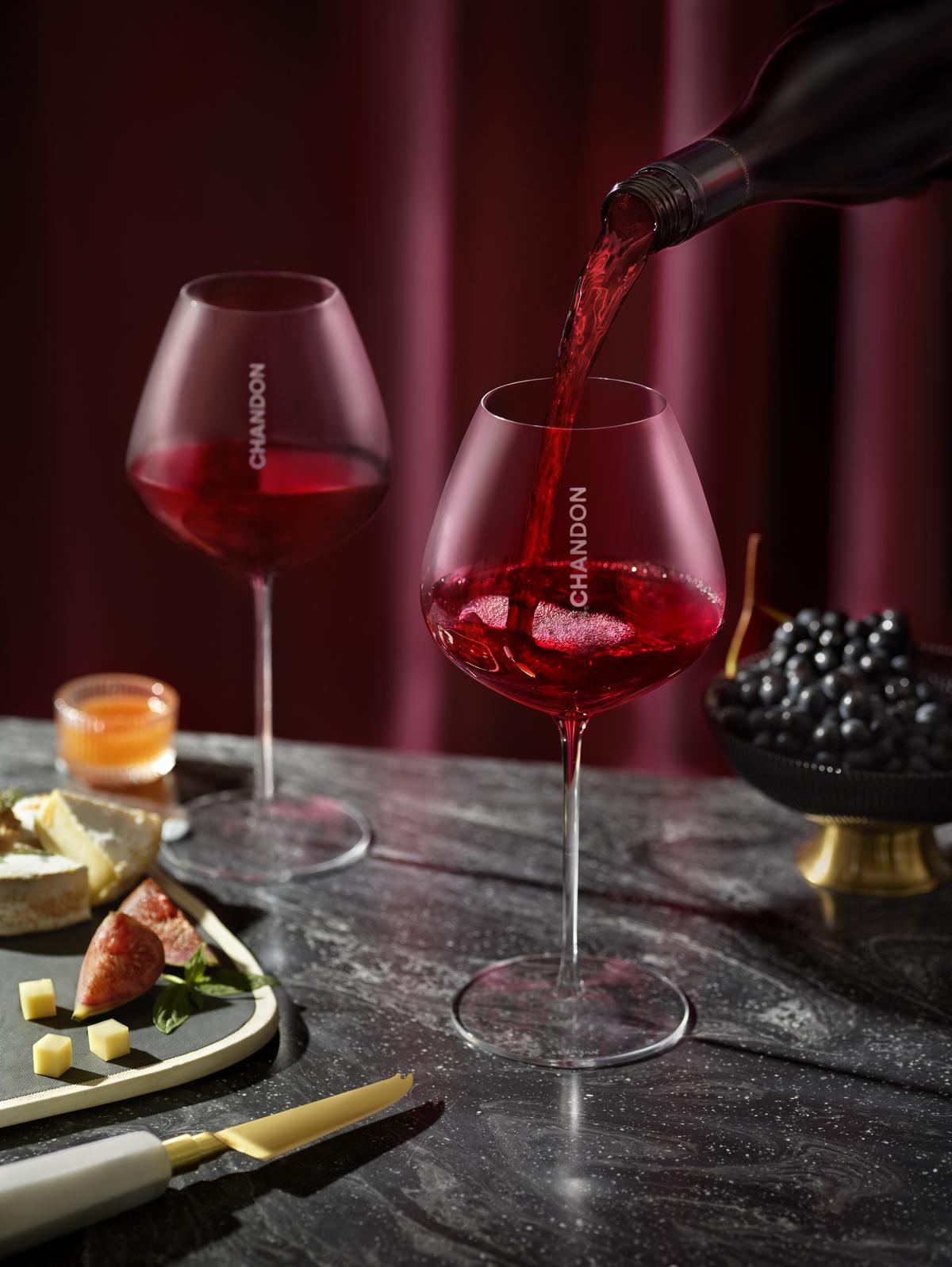 Aurva (14% ABV — amount of alcohol present per volume of the beverage), available in Mumbai and Nashik (₹4,250) is a deep ruby with a purple hue, with delicious notes of blueberry, raspberry, blackberry and black cherry followed by floral notes of jasmine and violet on the nose. The French oak lends a touch of spice, coffee bean and chocolate. "It draws on old wine heritage but still feels contemporary. We believed the Indian soils and climate — an unexpected one for wine — could produce an expression of shiraz that would be a little more colourful, aromatic and sensual than the wines from more traditional terroirs," he adds.
Aurva marks a symphony of cultures, and a meeting of the minds. "We would share notes on a daily basis, across the different Chandon wine making communities and Dan and I were in touch during the pandemic, on the best way to take this forward," adds Kaushal. This collaborative effort also speaks to the growing interest of the Indian wine consumer. Kaushal observes, "I've seen a growing interest in reds — merlots, cabernet sauvignon, and shiraz since they're robust and pair well with Indian cuisine. Sparkling on the other hand is cool and refreshing, especially given India's climate. But most importantly there is a growing curiosity and a desire to drink better. Innovations in the Indian spirit industry have also informed our winemaking and Aurva's personality is in recognition of this."
Best served at 18 and 22 degrees in a bowl glass with a tapered rim, Aurva makes a great companion to a smorgasbord of savoury roast vegetables, grilled eggplant, mushroom preparations, a sophisticated cheeseboard, while the still red stands up to bold flavours in grilled and barbecued meats, as well as a flavourful chicken tikka masala. "Aurva makes a great gift too, since it has the capacity to age three to four years. So you can present a bottle to family and friends both in India and abroad," sums up Kaushal.