The Bruhat Bangalore Hotel Association (BBHA) has formally urged the state government to allow round-the-clock restaurant operations, highlighting the manifold benefits for the industry.
In a letter addressed to Home Minister Dr G Parameshwara, BBHA stressed on the importance of extended operating hours. The association, responsible for overseeing various establishments including hotels, restaurants, bakeries, sweet shops and ice cream parlours, strongly claims the benefits of this initiative. Strengthening their plea, the BBHA recently met B Dayanand, the newly appointed police commissioner, on June 9, further reinforcing their request.
BBHA president PC Rao said, "We had made the same request last year as well, but now that we have a new government and a new police commissioner, we hope things will work out this time." Rao's optimistic outlook stems from the recent change in government and the appointment of a new police commissioner, giving rise to confidence that his plea will be successful this time.
Parvesh Pandey, director of Roxy, commented on the potential impact on revenue for bars and restaurants, especially during weekends. "Restaurants carry heavy fixed costs such as rent and staff salaries. Many of them generate little revenue during lunch," he added.
Rao suggested that allowing it could attract foreign investment to the city, potentially bringing in international fast-food and cafe chains.
The extension of hours will mean that operational adjustments will need to be made to manage the increased demand at night. "Functionally, the hospitality industry, especially restaurants, tend to perform better in the evening. This change will improve their bottom lines without excessive cost burden," Pravesh said.
Bengaluru accommodates a substantial population of shift workers, which includes industries such as healthcare, hospitality and IT. These individuals often work irregular hours and struggle to find regular food options during their breaks or after work.
The availability of 24×7 restaurants can provide vital support to these workers, providing them a place to eat and rest. Parvesh, an industry expert, commented, "Some late night food centers are open; however, they often provide unhealthy alternatives. Roadside stalls and eateries usually provide unhealthy snacking options, especially near Tech Park and Outer Ring Road.
Rao also highlighted the fact that neighboring states like Kerala, Tamil Nadu, Gujarat, Maharashtra and Delhi have already adopted the concept of restaurants operating 24/7. Highlighting the demand for late-night services, he said, "Many people working night shifts, including police officers, health workers, taxi and auto drivers, need access to drinking water, toilet facilities and late-night food." Is required."
"Tourists returning to the airport and railway station will also find it beneficial, given the expensive food and lack of late-night eateries at the airport," he added.
According to Chef Sombir Chowdhary of Jamming Goat, the extension of working hours will not only create many jobs within the industry but also potentially increase the pay scales of chefs and other staff members. He added, "This will bring in revenue and can increase the pay scale of chefs and other employees in the industry. With access to online marketplaces, we can get ingredients with the click of a button, so there is no need to get late night ingredients." there is no problem."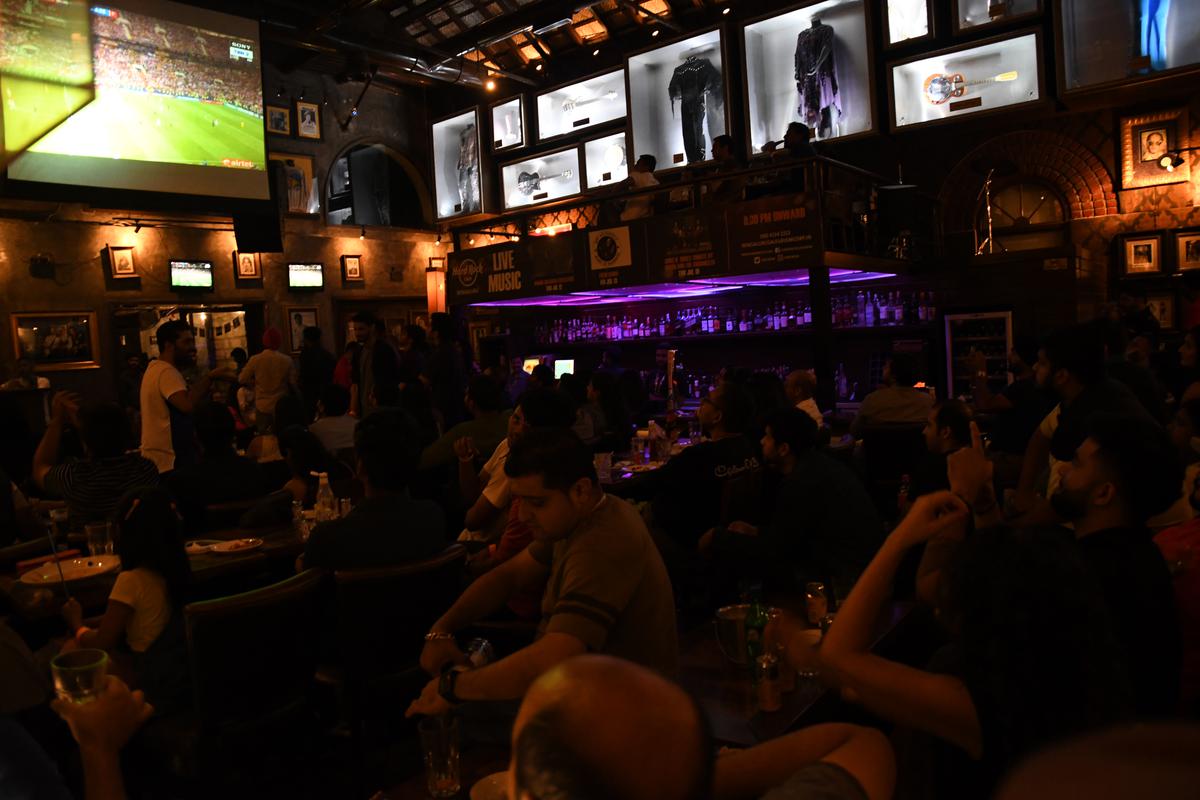 File photo of people at a restaurant in Bengaluru. , Photo Credit: Sampath Kumar GP
Roxy's head bartender Siddharth Sreedharan acknowledges its influence COVID-19 On to Bangalore's nightlife, which has temporarily subsided but is now showing signs of recovery. He commented, "Post Covid, Bengaluru's nightlife has slowed down but is recovering fast. Hotels operating 24/7 can be a good option to boost the nightlife in the city.
However, Siddhartha also recognized the initial challenges associated with implementing round-the-clock operations. He noted the difficulty of hiring the right staff to meet the increased demand and explained how places offering food and drink during opening hours would attract corporate employees who typically work at the same time. Let's finish "Even if things get back on track, restaurants or bars operating 24/7 will be initially challenging in terms of hiring the right staff to meet demand," he added.
Siddharth raised concerns about work-life balance and the potential impact on hotel operations due to increased attrition rates. "This will impact the tight work-life balance that is currently in place and increase the workforce, affecting the functioning of hotels. Managing the anticipated complaints of loud music from local residents will become a constant issue for establishments," he added.
Responding to concerns about unrest in residential areas, Rao clarified that the extended operating hours would be limited to restaurants located in commercial areas. "Only restaurants in commercial areas will remain open so that residential areas are not disturbed," he said. Additionally, he specified that the permission should specifically apply to restaurants and small eateries excluding bars.
"And if businesses extend their operating hours until late at night, it will bring the city to life during those hours, providing a safe environment for people to move around," he said.