Cafe All Rise | Photo Credit: Shiv Saravanan S
Even till a decade back, Coimbatore used to be a proper retirement hub. 'Happening' would never be a word used to describe the city – it has mostly been a quiet place where quiet people go about their things. Hanging out was never a thing here. At least not like how they get around in big cities. Cafes and pubs – the standard places for socializing in the Indian metropolis – were as rare as a cool breeze in Chennai summers in Coimbatore. But this is slowly changing over the years. Tucked away in a quiet corner of Trichy Road, Cafe All Rise is the latest example of this change.
The elegant architecture of the cafe sets it apart from the other buildings on the street. The bright yellow and white façade with teal windows reminds us of the quaint French buildings of Pondicherry. We later learn from Abhigyan Singhal that this is exactly the look he and his family wanted.
Despite coming from a family of restaurateurs, Abhigyan became a corporate lawyer. When he was becoming disillusioned with his job, his mother, Ranjana Singhal (co-founder of That's Y Food), sought his help in expanding the business. Although the food business ran in the family, it was not familiar territory for him. But it also meant that he could learn something new. So Abhigyan agreed. And thus Cafe All Rise came into existence.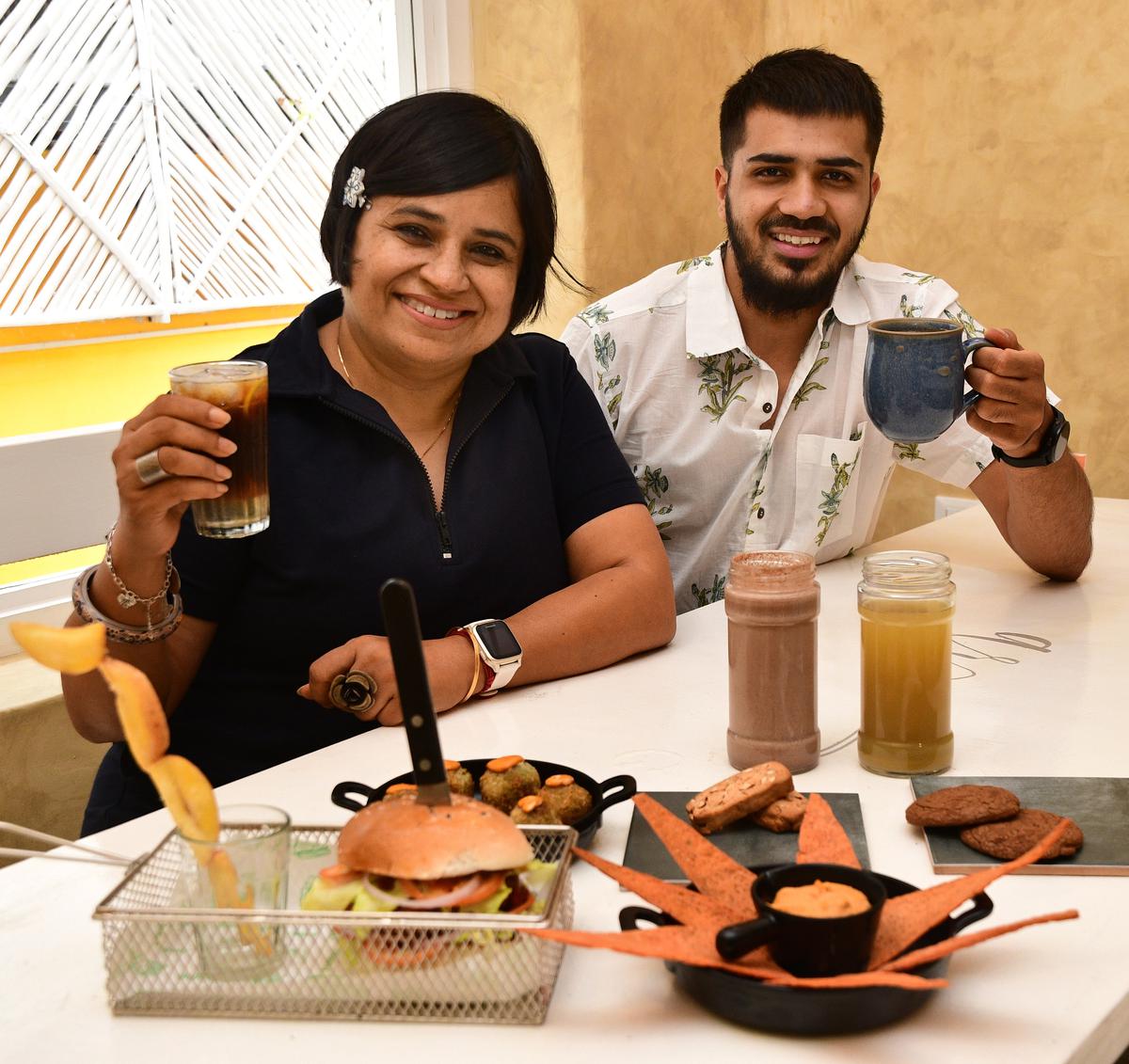 That's Y's founder Ranjana Singhal with her son Abhigyan Singhal Photo: Shiv Saravanan S/The Hindu. , Photo Credit: Shiv Saravanan S
When I enter the café on a warm Wednesday afternoon, more than I appreciate the air-conditioner, I admire its airy, sunlit interior which makes the ambiance warm and welcoming. The pastel yellow walls inside complement the elegance of the exterior, giving the café a pleasant summer ambiance.
To beat the heat, I first ordered a chilled and spicy Ginger Fennel Lemonade, which was too intense for my taste. To soothe the tongue, I sip a sweetened iced cappuccino. The extensive drinks menu has over 20 options. The variety of coffee made from beans sourced from Chikkamagaluru stands out on the menu. You can also order from a list of seven items in the cookie section to go with your tea or coffee.
The restaurant offers a fresh take on western cuisine. Notable items include the Butter Chicken Arancini with Sundried Tomato Pesto, a delicious appetizer that explodes with flavor. The aranini balls are hard and crunchy on the outside like a masala vada and soft on the inside, with a rich and creamy chicken filling that complements perfectly with the tangy pesto sauce.
Most of the items on the menu are a mix of western and desi cuisine. The Corn and Cheese Samosa, for example, is filled with a creamy corn and cheese mixture that is both sweet and savory. There is a separate section for samosas and rolls.
Caramelized Onion Pizza is another scrumptious dish with a thin crust topped with caramelized onions and a tangy tomato sauce. The pizza has a subtle sweet flavor (of caramelised onions) which sets it apart from the normal pizza. Vegetarians can also go for exotic veggie and cheese pizza or margherita or paneer makhani. Peri Peri Chicken, BBQ Chicken and Chicken Tikka are the options available for the meat eaters.
If you are a burger lover, the Asian Wild Mushroom Burger with Mustard Mayo is a delicious option. The burger is hearty and filling, with a zingy sauce that has optimal seasoning. Standard Cheeseburger unavailable. Instead, you get burgers with a variety of sauces that make each one of them unique.
The highlight of the menu is the soufflé section with a dozen options. The Ferrero Rocher Soufflé, I can guarantee, is a decadent treat well worth indulging in. It has a rich and creamy chocolate filling studded with crunchy bits of hazelnuts. The soufflés are perfectly baked, with a light and fluffy texture. Although the cafe's primary target audience is the young crowd, Abhigyan believes that the soufflés will also make it a favorite spot for families.
Cafe All Rise is not a budget friendly cafe by any means. But the taste and quantity is worth the price.
Whether you are looking for a casual lunch or a romantic dinner, this cafe is a great place to relax and enjoy some delicious food.