A view of Cafe Pramadham at Angson Centre, Greams Road, Chennai. , Photo Credit: Ravindran R
The butter bun is your first clue. In Chennai, the city of bun-butter-jam enthusiasts, there is a reassuringly stoic approach to the formula – white fluffy buns, a generous pat of butter and deep red mixed fruit jam.
Here, the bun is toasted to a flattened, sweet buttery crispness: an unorthodox and undoubtedly divisive approach. Clearly Cafe Pramadam wants to be more than just another neighborhood dosa joint.
Nevertheless, the newly opened space combines some of Chennai's favorite things; Except for those buns. They serve dosas, of course, ranging from the succulent simple version with uthukuli white butter to the decadently flavourful version, spiked with an intense kozhambu that is chunky with mellow pods of garlic.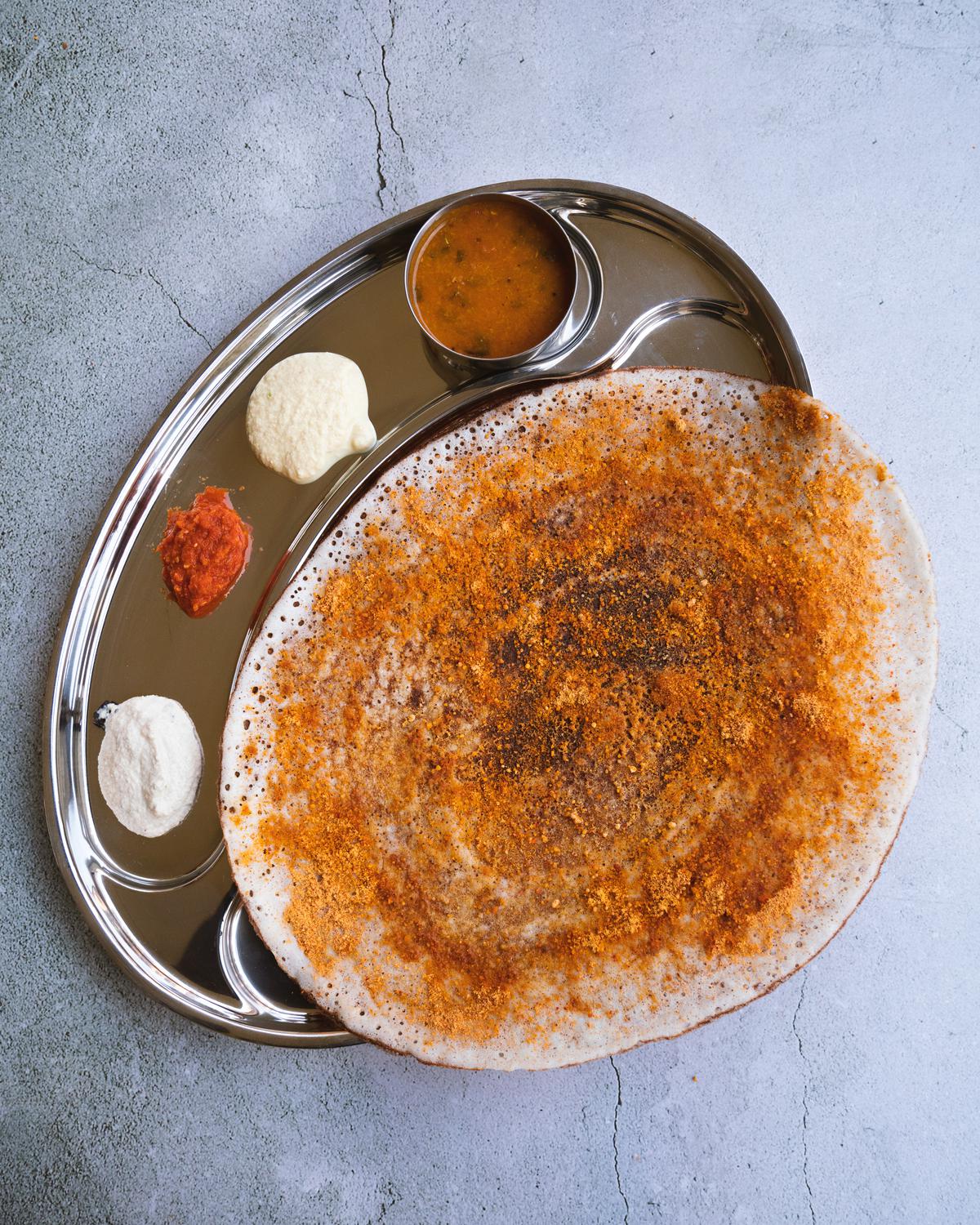 Podi Dosa
And then, there's coffee. Playing on the power of nostalgia, Pramadham roasts and grinds his beans in front of the large cafe, filling the sun-drenched space with the potent smell of coffee. This old-school approach, along with a judicious mix of beans (which includes chicory for strength), results in a richly creamy brew.
Vignesh KR, who runs Pramadham, says the focus is on serving comfort food around the classic 'South Indian tiffin' in a contemporary casual dining format. The menu is intentionally small right now as they are testing the market. With competitively priced food, home style cooking and prompt service, the aim is to make everyday dining an experience for office goers in the area.
"All our masalas and puris are made in-house, so that our food reminds people of home," says Vignesh. Explaining why they are sticking to a limited menu, which will be changed in the coming weeks in response to customer feedback, they say, "We feel that when it comes to dosas, most people order the classics. So we decided to focus. On a continuum rather than spreading yourself thin.
However, they break away from the typical idli-pongal-upma-vada format by tweaking some of the classics. The idli comes in a thick coat of podi. You can use chili oil to top the upma. And sweets include the ivory-coloured paal kesari, which tastes more like a milk dessert.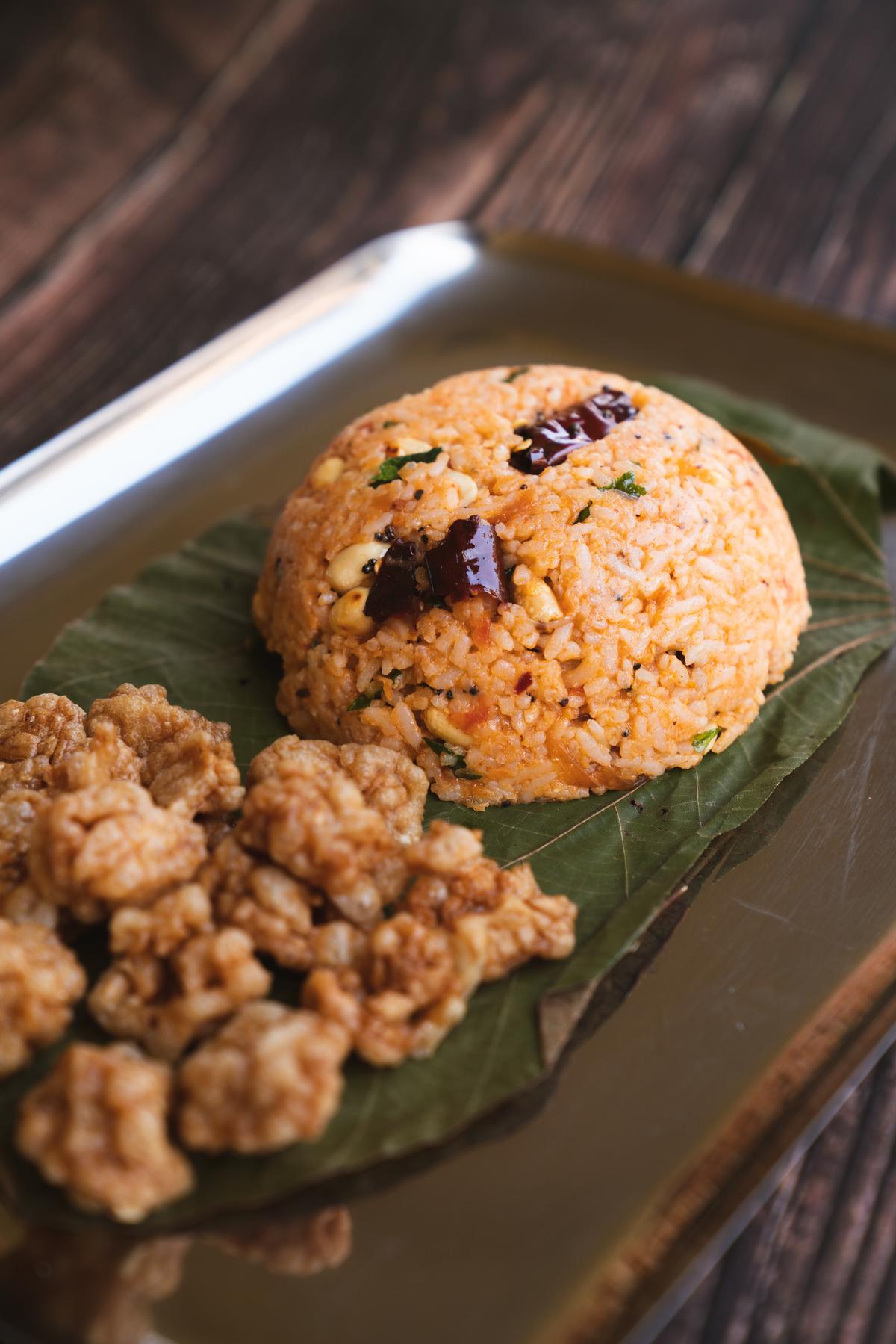 Poondu Kozhambu
You may not like everything – and you don't have to. Rather than aiming to please a large group of people with a predictable menu, the aim here is to provide a compact set of different options for customers, who can then pick and match their favourites.
If you fancy a smaller meal for lunch, they serve a hefty plate of sambar sadam, thayir sadam and poondu kozhambu sadam along with crunchy vadagams, pickles and paal kesari. While each variety of rice is delicious, it's the carb-heavy plate that tends to get bland. Hopefully some vegetables will be added to the mix as the menu develops.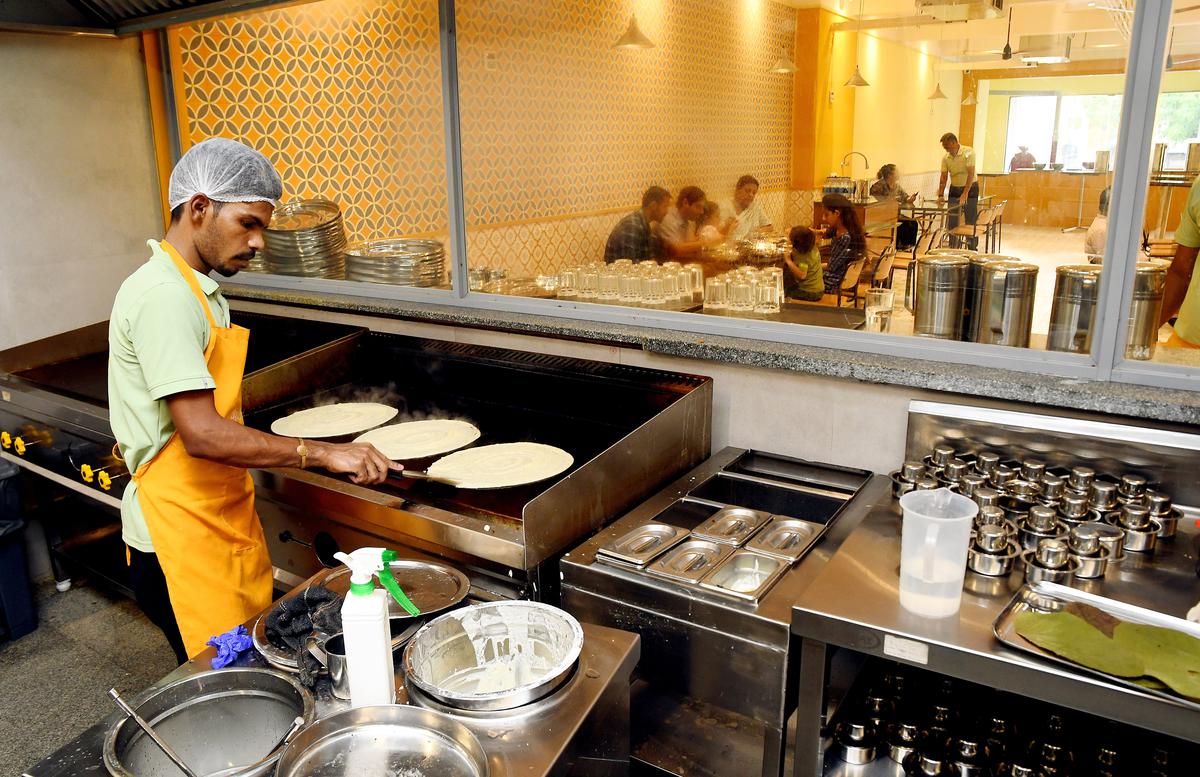 Freshly made dosa at Cafe Pradham. , Photo Credit: Ravindran R
Overall, Cafe Pramadham is a refreshing addition to a landscape dominated by Saravana Bhavan and Sangeetha-style chains, as the smaller format allows them the flexibility to pivot their kitchen. In keeping with the feel of the space, the decor is functional but also fun, punctuated with stainless steel tiffin carriers hanging from the ceiling.
His challenge will be to competently balance traditional cooking and contemporary tweaks. The stakes are high, as this is also an extremely competitive segment.
Hopefully, they can accomplish this because the busy neighborhood benefits from a quick, reasonably priced restaurant. Especially one who can execute white butter dosas and filter coffee so gracefully.
Cafe Pramadham is at Angson Centre, 54, Greams Road, and is open from 7am to 10pm. About the cost of a meal for two Call 300. 044 47776999.