Avartan of ITC Grand Chola, Chennai | Photo Credit: Special Arrangement
Mask, Mumbai and Indian Accent, New Delhi with the launch of ITC Grand Chola in Chennai have made it to the impressive list of Asia's Top 50 Restaurants sponsored by San Pellegrino. Avartan at number 30 was the new entry from India this year and has also won the Highest New Entry award.
The six year old restaurant serves contemporary South Indian food by marrying local flavors with modern techniques. It offers guests a choice of tasting menus, consisting of seven to 13 courses.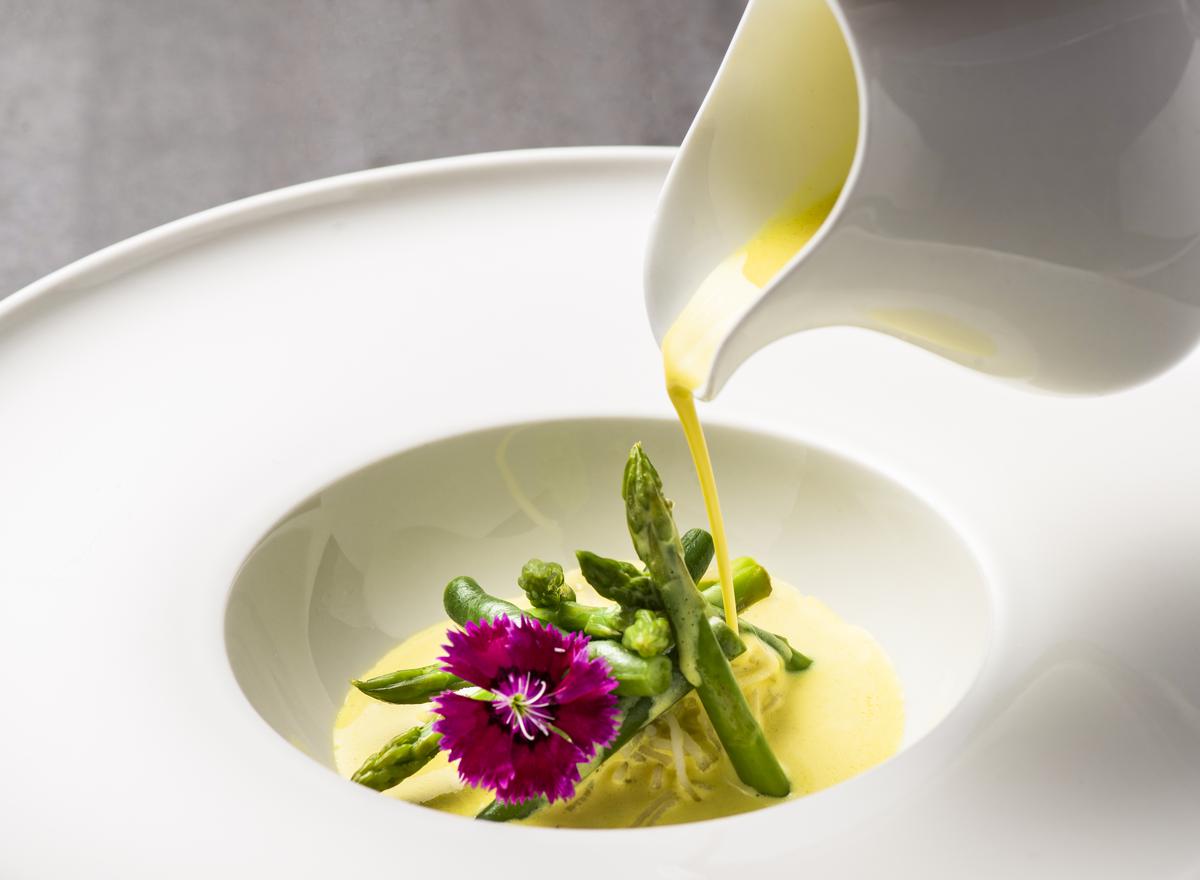 Asparagus, French Beans and Coconut Stew
With time, Avartan became popular for its innovative rasam and curd rice. Rasam is delicately flavored, distilled, French pressed into a clear broth and served in a martini glass. Other favorites include asparagus, French beans and coconut stew, pan fried cod and cumin potatoes and bitter gourd bruschetta with shallot jam. The curd rice here is made from sago, and is served with Vathakuzhambu in a test tube.
The ambience is quintessentially South Indian in its decor, with chairs made of banana leaves, silver upholstery and rustic earthenware. An open kitchen allows guests to come together to savor flavors from home and molecular gastronomy.
While guests from all over the world flock to Chennai for the avartan experience, from time to time restaurants branch out too. The pop up restaurant was hosted in Delhi, Mumbai and Hyderabad last September. The management of the hotel believes that these pop ups have played a big role in letting people know about the concept and quality of Avatarna.
A second branch of Avartana opened in ITC Royal Bengal, Kolkata in November 2022 and the restaurant confirmed that more branches in various locations are also on the cards.
A meal for two ranges between ₹4000 and ₹9000 depending on the menu chosen and taxes.
Avartan is located at ITC Grand Chola Hotel, Little Mount, Guindy. For Reservation Contact: 95916 59367