It's 10.30 am on a Sunday morning and 29-year-old S Santosh is polishing off a plate of mutton biryani at Dindigul's hole-in-the-wall restaurant Bangaru, better known as '10am Biryani Place'. Located on the busy Big Bazaar Street, this is one of the oldest Biryani outlets in the city. Located in the owner's home, the modest space has only a few tables, and opens at 6am, selling out by 11am.
Biryani for breakfast, lunch and dinner. There are people in Dindigul who eat this dish every day of their lives. How did this small town in Tamil Nadu become synonymous with the age-old rice dish? We biryani-hop on a hot summer day, looking for answers.
enhanced taste
"Dindigul Biryani is defined by fine, short-grained seerga samba rice. The water we use from the Athoor Kamarajar dam is sweet because it originates from the surrounding hills," says R Nagendran, 36, the third-generation owner of the Ponram family. "It gives a unique flavor to the biryani."
The chain has five branches in the city and was started in 1973 by V Ponram and his wife P Muthammal, who ground the spices by hand.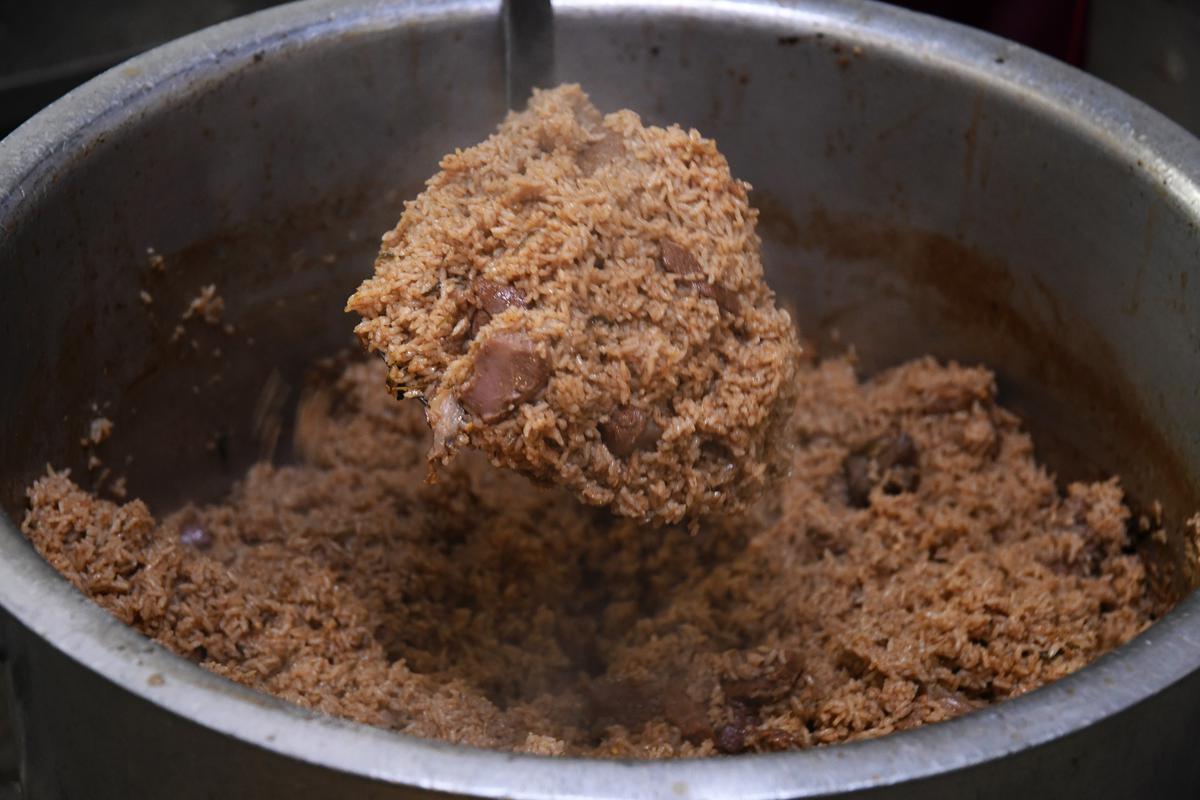 Fragrant biryani is made from seerga samba rice and water of Athur Kamarajar dam photo credit: Murthy ji
When we try it, we notice that like other Dindigul Biryani, Ponram is dark brown in color and lighter. The aroma of seerga samba rice is the first thing that impresses us. The flavor of cinnamon is as follows; The mutton melts in the mouth and there are no annoying bits of stray cardamom or clove to interrupt the experience. Even the green chillies that we get are so ripe that they almost dissolve.
Ponram's great-grandson Nagendran and 24-year-old S Maniram show us the huge cauldron in which the biryani is cooked in their kitchen. "It is locally called 'watta' and we use aluminum for even heat distribution," he explains.
Thalappakatti's Biryani, which has a branch located on the highway (NH7) right opposite Ponram Food Square, tastes a bit different. With 100 branches in India and abroad, Thalappakatti was started in 1957 by Nagasamy Naidu in a 2 X 2 room that could seat eight people. It serves the same type of biryani. However, connoisseurs who swear by their biryani can easily tell the difference. Apart from the water, Thalappakatti CEO R Ravi says the meat they use is what gives their signature dish a special touch. "We get our meat from free-range goats that graze the surrounding hills," he explains.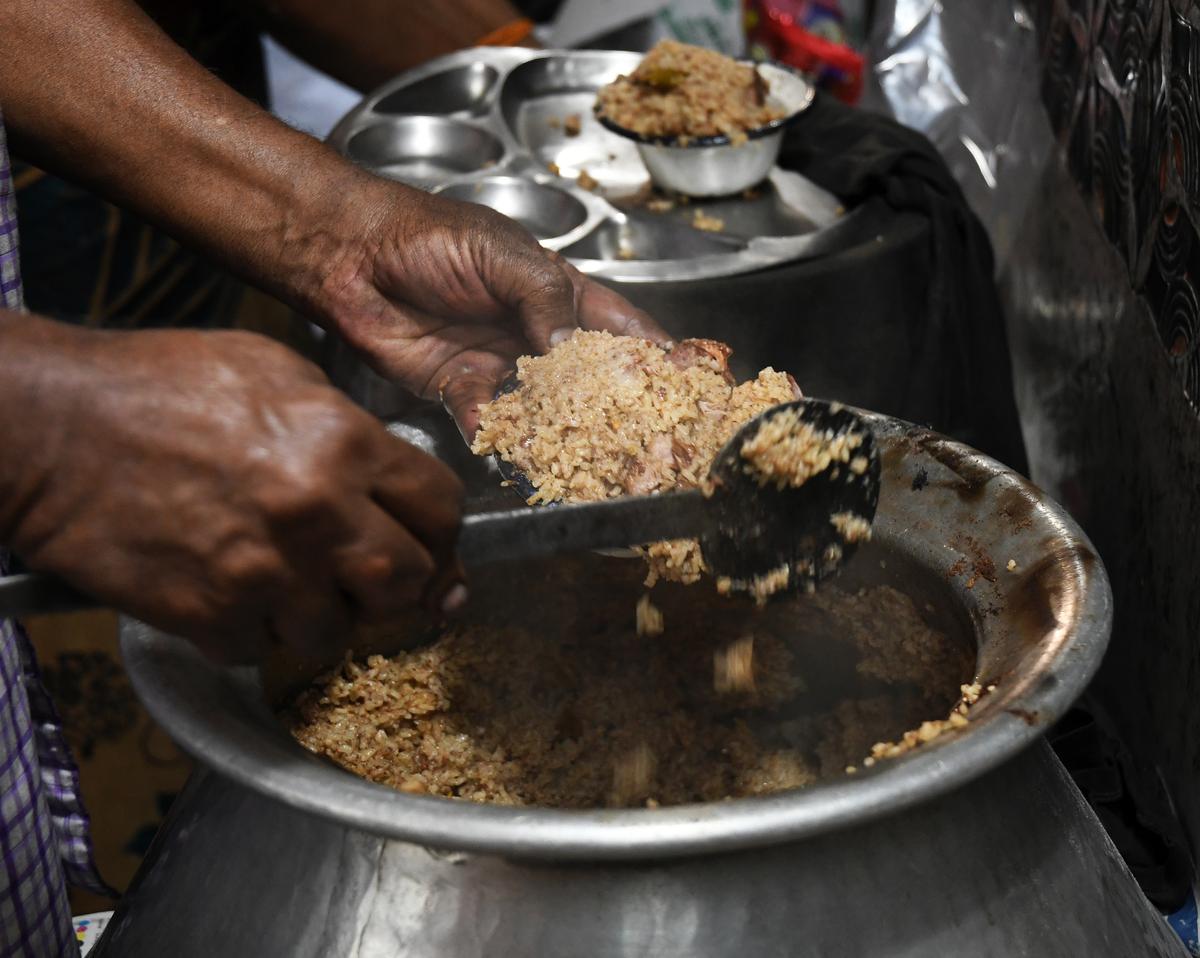 Biryani is sold before 11 am at Bangaru on Big Bazaar Street. , Photo Credit: Murthy ji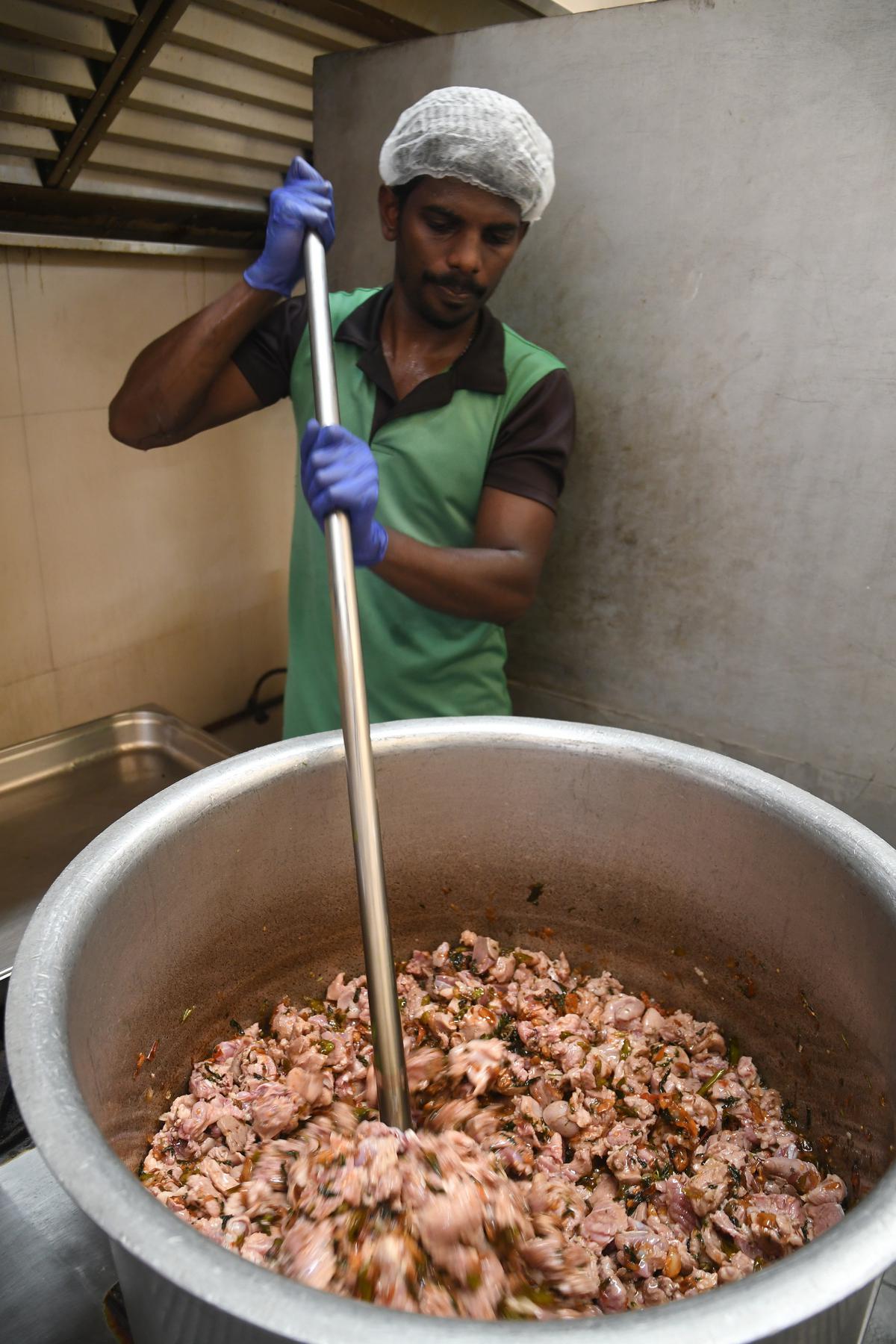 Dindigul Biryani is being prepared at Ponram in a huge 'Vatta' made of aluminum for even heat distribution. , Photo Credit: Murthy ji
Thalappakatti can be credited with taking Dindigul Biryani to other parts of India and the world.
Another popular brand, Venu Biryani, has a branch in the heart of the city, which serves biryani filled in small enamel cups, which are placed on waiting banana leaves.
a rooted humility
According to Nagendran, the popularity of Dindigul Biryani can be attributed to the city's location. "Tourists coming to Kodaikanal usually stop for lunch before going up the hills or after driving down," he says. "People going south always pass through the district, which spreads good word about our biryani."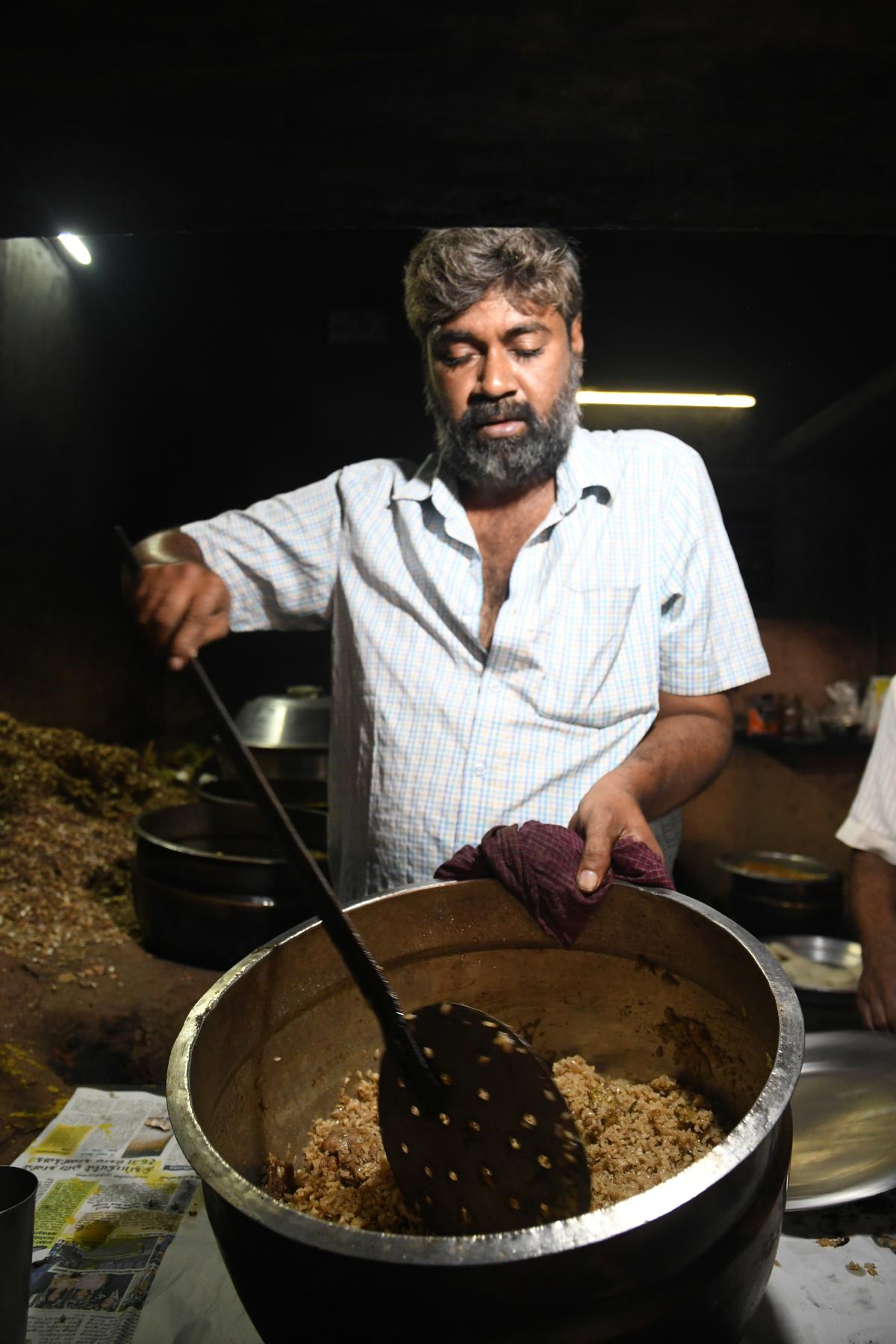 T Nandagopal, the fourth generation owner of the Perumal Naidu Biryani Hotel in Dindigul. , Photo Credit: Murthy ji
But why has the city chosen this dish as its symbol? The answer lies in a narrow lane in Begumpur. We walk into the neighborhood, a brown building with soot-covered walls. A man sitting at the counter laughed and said, "We've run away." But today is Sunday. What do you expect?" This is the Perumal Naidu Biryani Hotel, where the original Dindigul Biryani originated.
"I don't have the exact year in which we started, but from what my ancestors told me, we are over 200 years old," says T Nandagopal, 50, a fourth-generation owner. His great grandfather Perumal Naidu was the first to sell it Milagu Kuzhambu (black pepper gravy), their own blend made from mutton, coconut milk, black pepper, and other spices. "He then proceeded to sell biryani as this neighborhood is home to many Muslim families, hoping they would adopt it."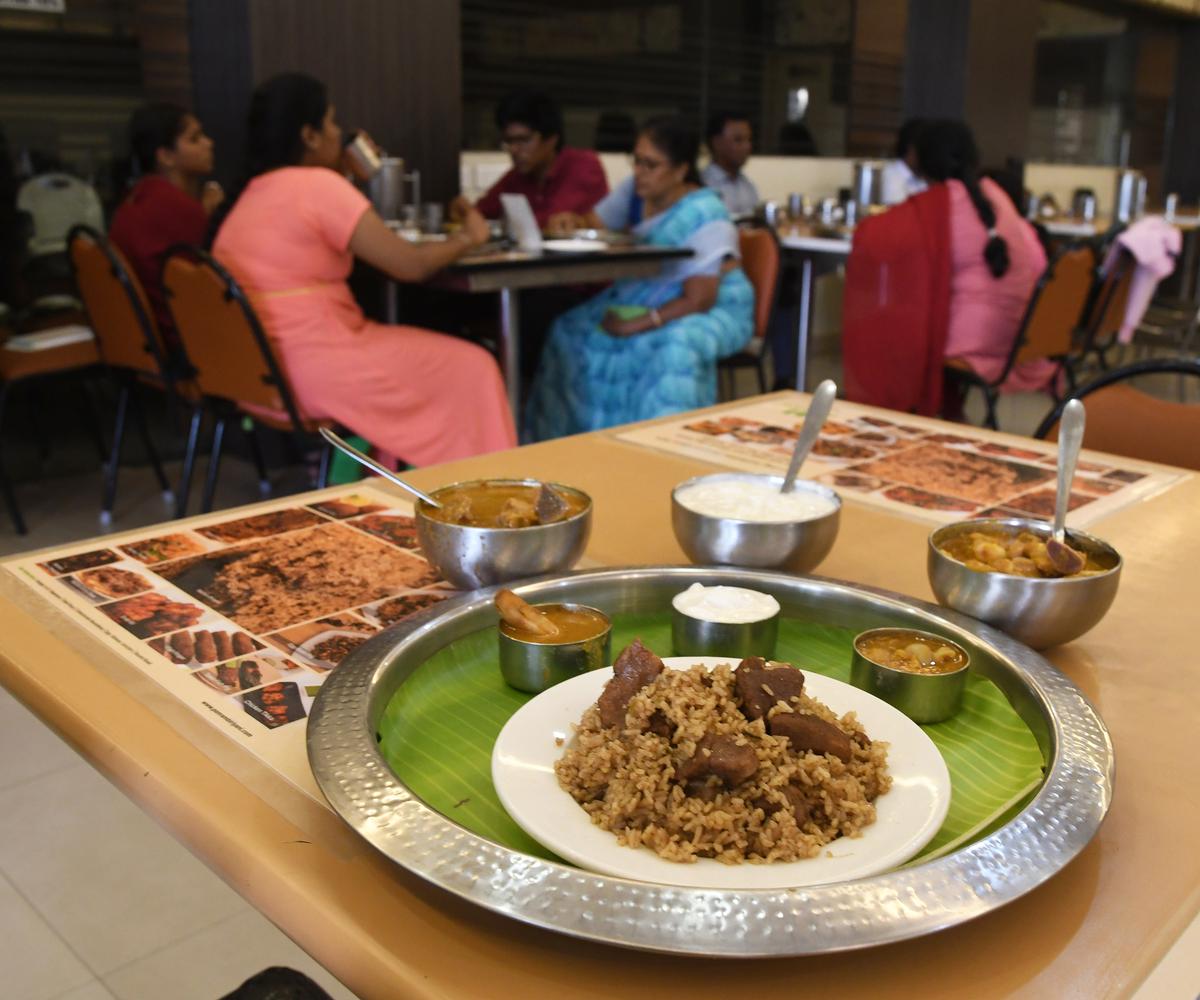 The Biryani at Ponram is made from local ingredients and the masala is made from their own blend of spices. , Photo Credit: Murthy ji
The tender meat with flavored rice became an instant hit, even as others began selling biryanis based on Perumal's recipe, which he made from local ingredients. Bangaru came next, started by Bangarusamy Naidu in 1931, followed by Venu, Thalappakatti and Ponram. Most of these outlets send Biryani parcels on trains and flights to customers thousands of kilometers away. For example, Ponram has special igloo boxes for long distance delivery. Nandagopal ferries customers to Chennai three days a week by Vaigai Express.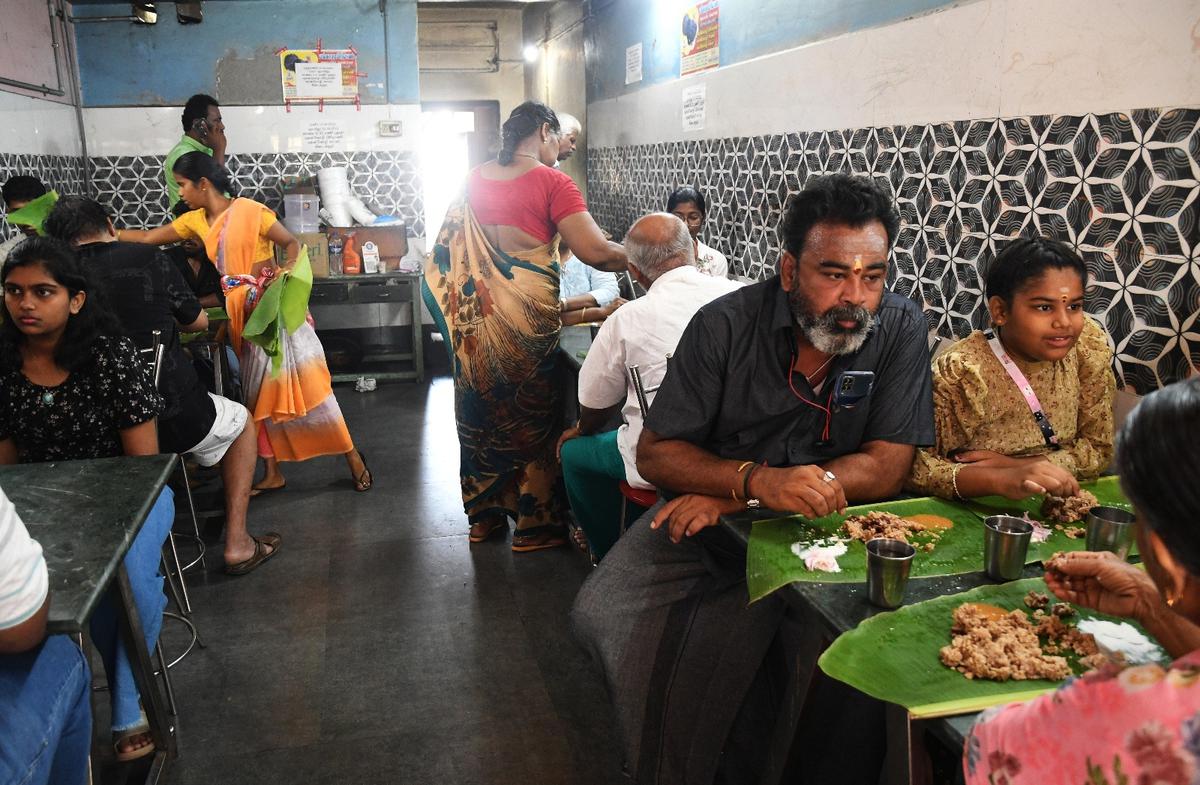 Bangaru, the second oldest Biryani outlet in Dindigul, is popularly known as 10am Biryani Shop on Big Bazaar Street. , Photo Credit: Murthy ji
Like the founder, Nandagopal, who is a vegetarian, prefers to remain humble. He is happy with his cozy space with a handful of tables and regular customers who stop by to chat long after the dosa tawa has cooled. Finally he gives us a plate that he has saved: Seerga samba rice is a bit big; It retains the defined brown colour, sweet smell of ghee and hit of spices. Talking about the different brands, he says, "Each one of our offerings is different, though they look similar." "But our biryani is not the same if it is made outside the city. This biryani is okay, but not Dindigul biryani."