Rajagopalan Iyer makes degree coffee. photo credit: Velankanni Raj
In a narrow lane within the Adi Kumbeswara temple complex in Kumbakonam is the Sri Mangalambika Vilas Coffee Hotel. With a low ceiling that partially hides the name board, it's easy to miss, but the aroma of fresh coffee being brewed abounds.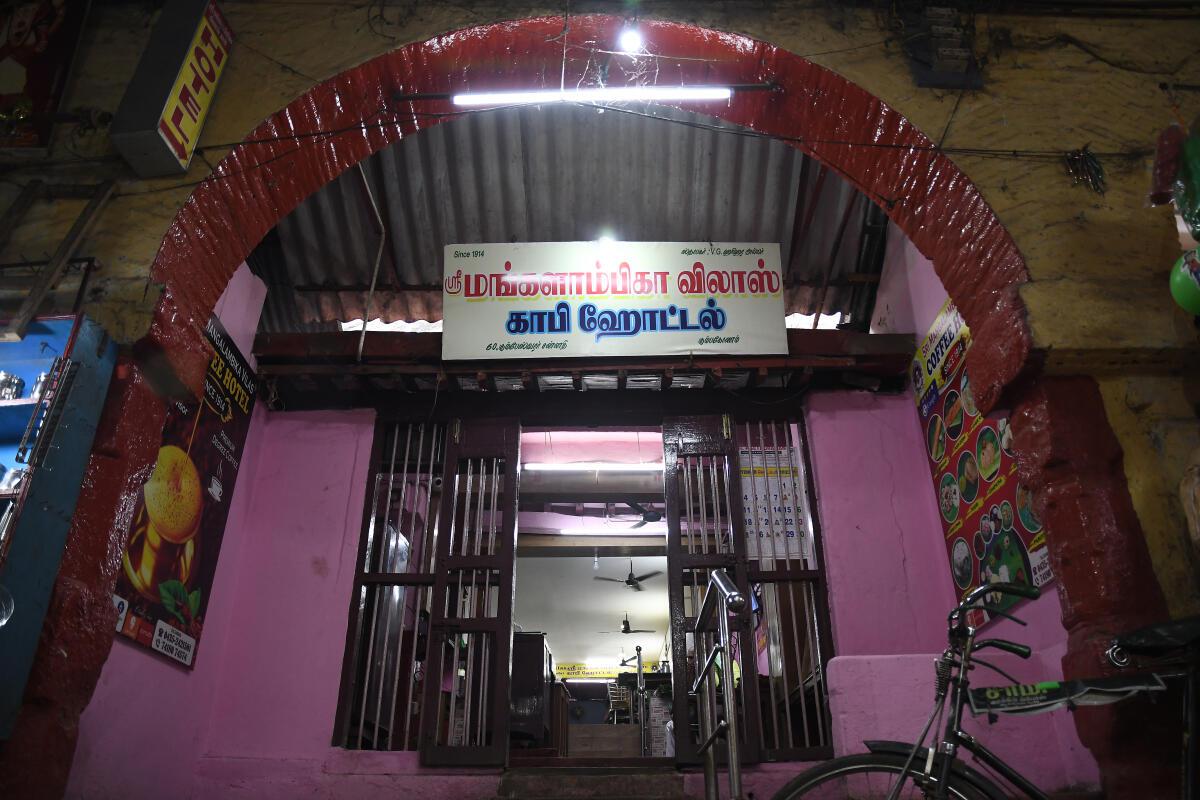 Sri Mangalambika Vilas Coffee Hotel | photo credit: Velankanni Raj
Wrapped in old world charm, this hotel has been operating for 109 years with the famous Degree Coffee as its flagship item. Hotel owner Rajagopalan Iyer and his wife Neela take us to their coffee station. "That's where it all started," says Rajagopalan, fondly called Ramani. "This would be followed by daily testing for the purity of the milk, rather than the density with a lactometer. The letter 'M' has to be shown in it. That's where the title 'degree' comes from," he says.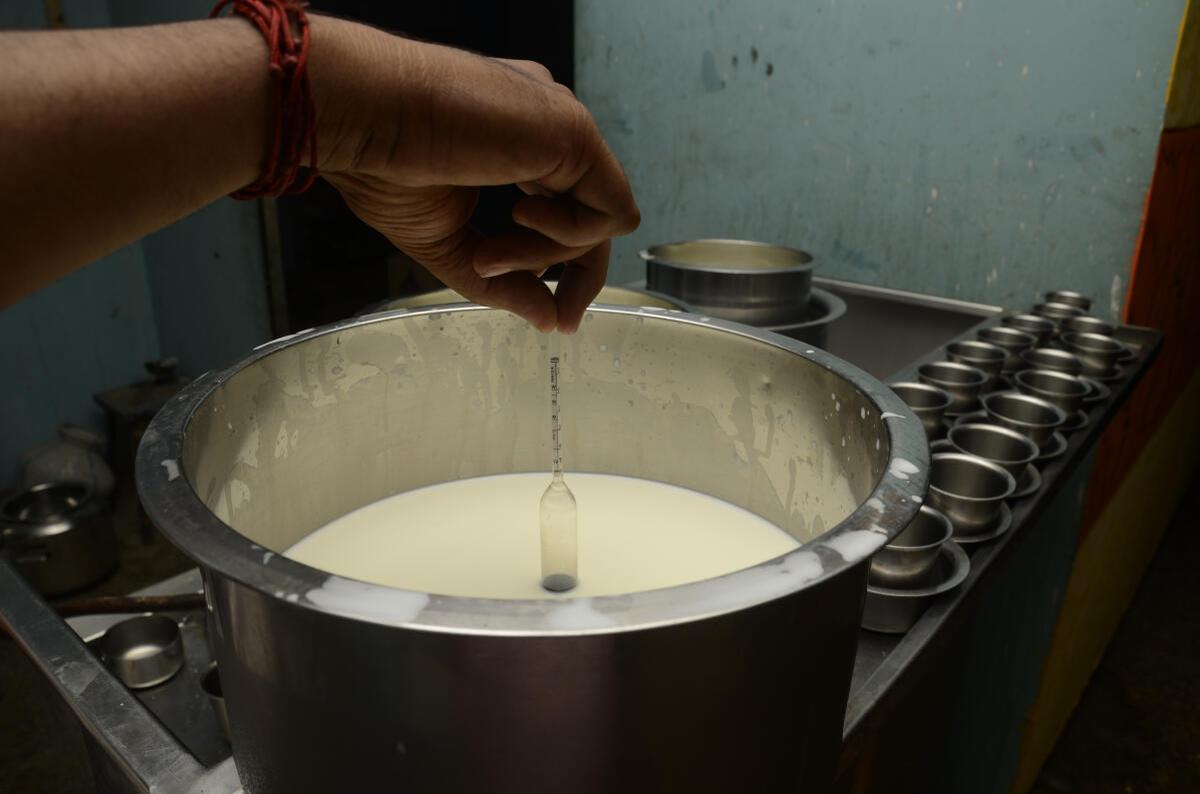 A lactometer being used to test the purity of milk on the basis of density | Photo credit: M Srinath
Neela interrupts, "We had our own cows and used fresh milk without adding water." While their only contender, the Panchami Iyer Hotel, closed its doors around 15 years ago, Sri Mangalambika Vilas carried forward the heritage beverage.
Their trusty coffee master Swaminathan arrives just in time for the evening crowd. , Rendu degree copy," Neela informs him. For degree coffee, the brew is made fresh and only the first extract is used. Swaminathan first sprinkles a teaspoon of sugar into a filter. "This step is crucial. When we add the coffee powder and as soon as we add the boiling hot water, the sugar melts and blocks the holes in the filter so that the grains don't go through. As the sugar caramelizes, it also mellows the flavor," says Swaminathan. With a steady rhythm that can only come from years of practice, he adds the coffee powder, spoons it down gently, pours in the hot water and closes the filter to allow it to percolate.
past and future
Rajagopalan Iyer's father VG Harihara Iyer came to Kumbakonam at the age of 14 and started working in this hotel in 1914. "The hotel must have been functioning for some years before my father joined but we have no record of it. So we decided to go with the words 'since 1914'," said Ramani.
Dinner is being prepared in the kitchen. Neela takes a fresh idli which is still steaming. "The food we serve here is home-cooked and spices are used sparingly. The menu changes every day. we serve on mondays Gotsuwe have wednesday Cuddapahon Friday, Arisi Upma and steppes are like payment, podi dosai And bonda, Most of the stoves used here run on firewood, which Neela believes enhances the taste of the food. In case of emergency the gas stove comes to the rescue.
While the property belongs to the Kumbeshwar temple, these long-term tenants have made minor changes by adding vents for a smoke-free kitchen and solar panels to power their mixers and grinders. "My elder daughter watches all this through a camera from the US. Perhaps she will take the legacy forward after us.
Swaminathan comes looking for us and tells us that the decoction is ready. "Now we have vendors here who give us a special blend. Earlier, we used to roast it here and personally take it to the coffee mill to ensure it doesn't mix with Panchami Iyer's batch," they say.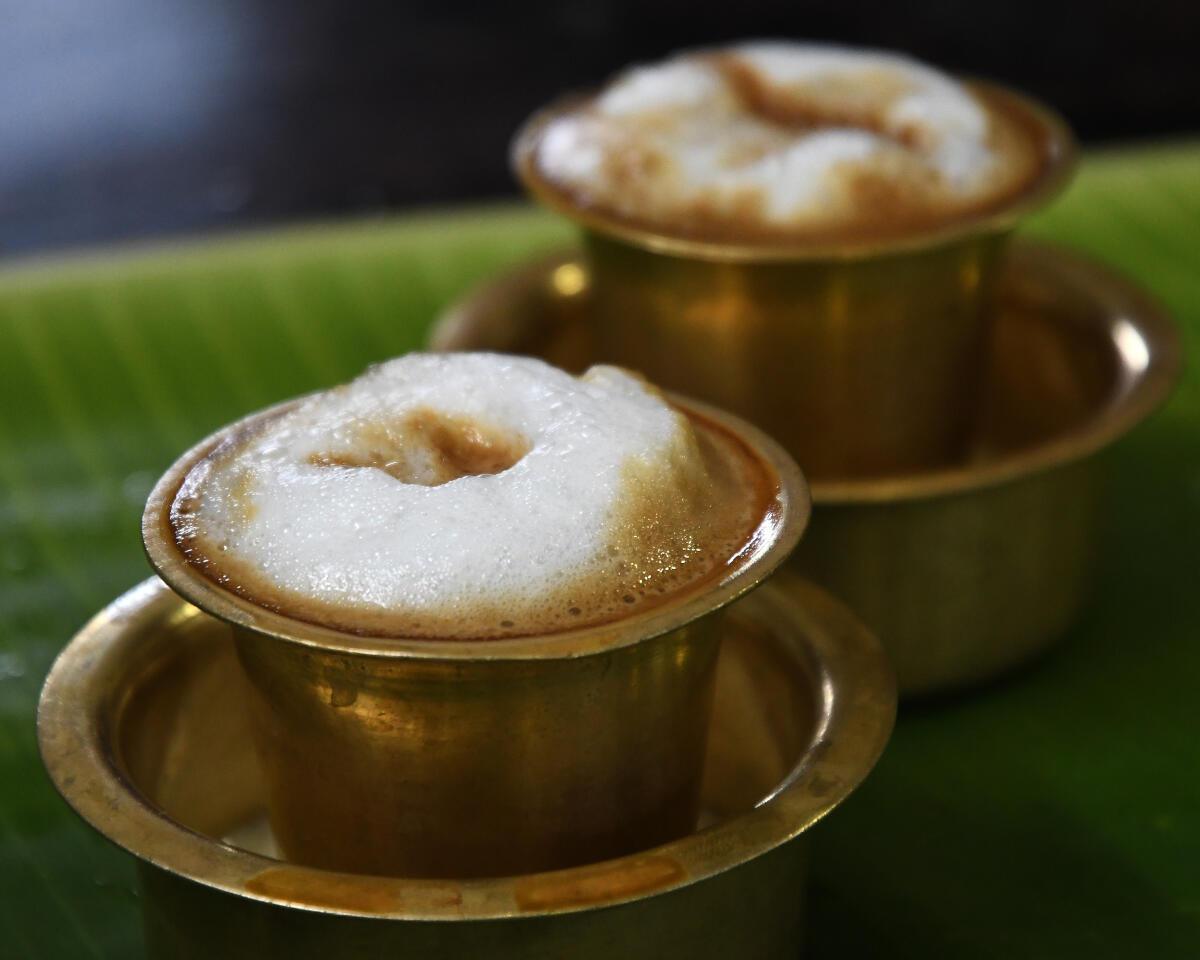 Degree Coffee at Sri Mangalambika Vilas Coffee Hotel | photo credit: Velankanni Raj
"Most of the coffee hotels here no longer have cows because they are difficult and expensive to maintain. Instead, we use 6% full cream milk which may qualify as pure milk," explains Neela. With no lactometer to test the milk, "does it still have a degree Have coffee?" we wonder.
Only degree coffee is served in a brass set while regular coffee is in stainless steel. Swaminathan adds sugar, pours 10 to 15 ml of decoction in the glass, then pours some milk, and stirs it occasionally by and glasses. Finally, he pours a few drops of frothed milk and kadha over it. Coffee, whether degree or not, is rich, creamy and sweet, as any good coffee should be.
At Sri Mangalambika Vilas Coffee Hotel, degree coffee is sold for ₹40 and regular coffee for ₹20