The eighth edition of the Asia's 50 Best Bar Awards ceremony, held at the Rosewood Hong Kong on Tuesday, 18 July, celebrated the continent's finest cocktail establishments. This year's list included entries from 17 cities and 12 countries, with Singapore leading the list with 10 entries, followed by Hong Kong with 10 and Japan with 7. India proudly holds four spots on the prestigious list, with Sidecar in Delhi, The Bombay Canteen and The Living Room in Mumbai, and Kopitas in Bengaluru, garnering the recognition.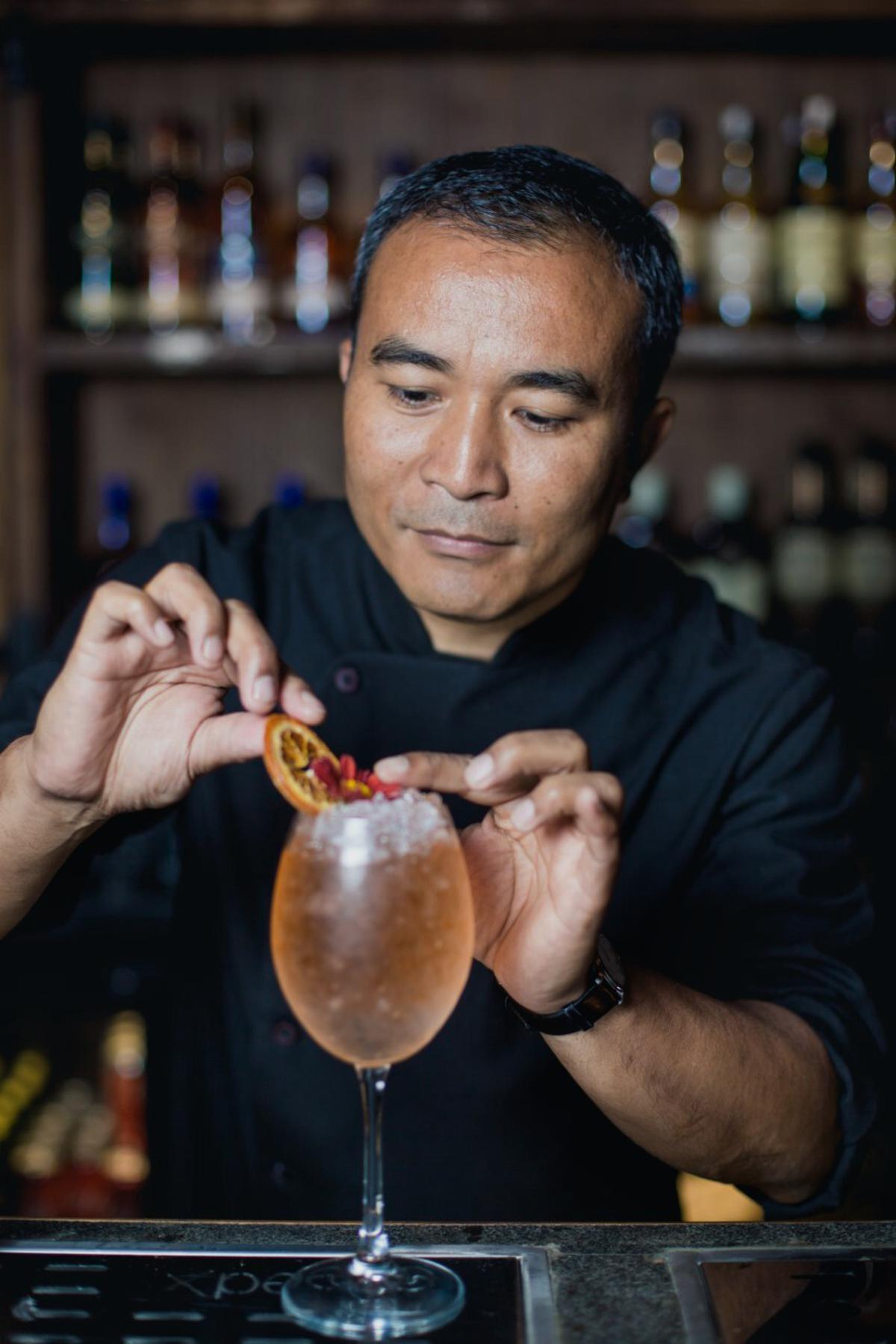 Sidecar, Delhi | Photo Credit: The Hindu
Sidecar, Delhi (Rank 18):
South Delhi's popular sidecar, ranked 18th, has made it to the list for the fourth year in a row. Owner Yangdup Lama, who is currently in Hong Kong preparing for a new menu presentation, expressed his gratitude, saying, "It is an honor and a reflection of the hard work of our team. This recognition drives us to remain focused on every aspect of our craft, from presentation to service, food and aesthetics. Our patrons love us not only for our drinks but for the overall experience we provide.
Lama highlighted the importance of continuous training, learning and innovation in the industry and emphasized the use of local ingredients and familiar flavors to create a wholesome bar experience. He also shared that the menu presented in Hong Kong will soon be introduced in Sidecar in Delhi. "There's a lot of new stuff coming to Sidecar soon," the mixologist teased.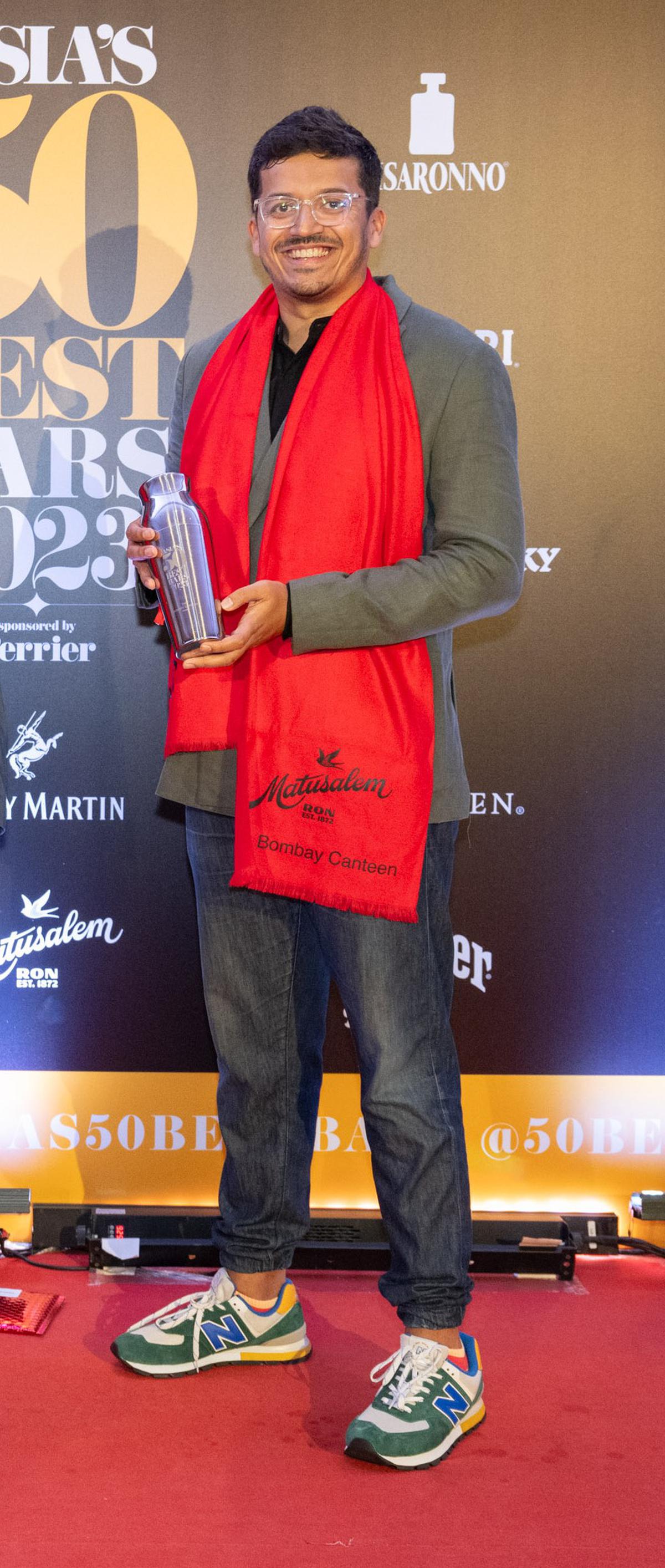 Yash Bhanez, Founder and COO of Hunger Inc Hospitality, owner of Bombay Canteen, at Asia's 50 Best Bars Awards ceremony in Hong Kong | Photo Credit: Special Arrangement
Bombay Canteen, Mumbai (Rank 35):
Bombay Canteen, a bar that embraces local flavours, rose from #76 on the list last year to #35. Under the guidance of Prantik Haldar, Head of Beverage Innovation, the bar offers a selection of classics reimagined with Indian roots. Each drink pays tribute to Mumbai's vibrant culture, with design elements such as a pop-up book showcasing the city's Art Deco architecture.
The Bombay Canteen's parent company, Hunger Inc. Expressing his delight, Yash Bhanez, Founder & COO, Hospitality, said, "This is not only a recognition of our efforts over the last year in creating a world-class bar menu, but also a step forward in the bar program at Bombay Canteen since its inception in 2015. Tremendous recognition of creativity and innovation to enhance.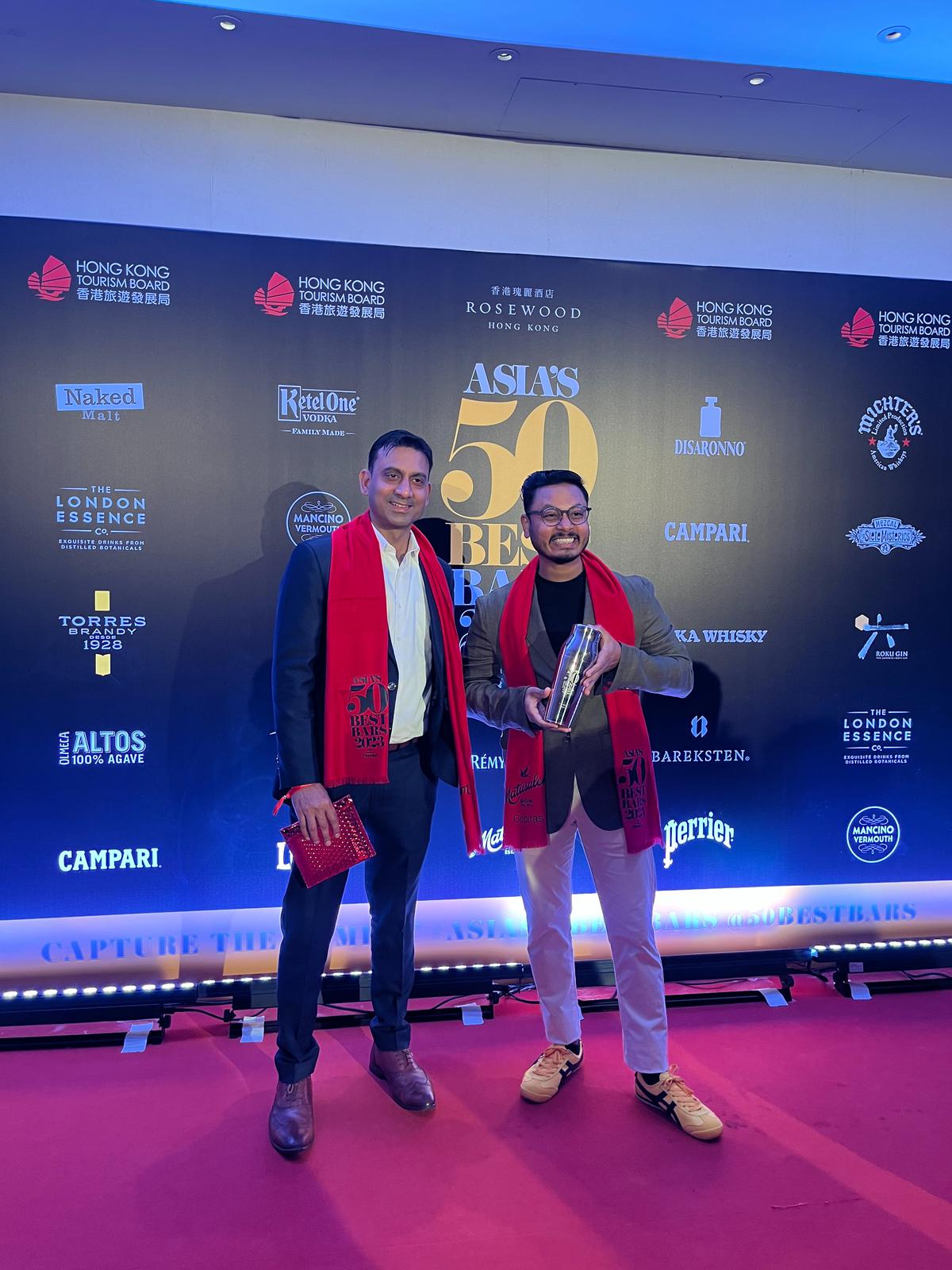 (From left) Savio Fernandes, director of food and beverages, Four Seasons, Bengaluru, with Sarath Nair, beverage manager, Kopitas, at Asia's 50 Best Bars Awards ceremony in Hong Kong | Photo Credit: Special Arrangement
Kopitas, Bengaluru (Rank 38):
Located on the 21st floor of the Four Seasons Hotel, Kopitas has carved a niche for itself as the cocktail mecca of Bengaluru. Headed by Sarath Nair, the bar stands out with its simple, clean and delicious cocktails. The judges were impressed by their green menu, which uses every part of the plant, such as seeds, roots, stems, leaves, flowers and fruits, to create unique cocktails.
Local ingredients including peanut brittle (Chikki), Vettivera (Poppy), nannari, and betel leaves contribute to their distinctive drink. Expressing his excitement, General Manager Ruben Kataria said, "It feels even more special to be recognized as we are the only hotel bar in the country to feature in this list. And we have been on the list twice and this year our ranking has improved.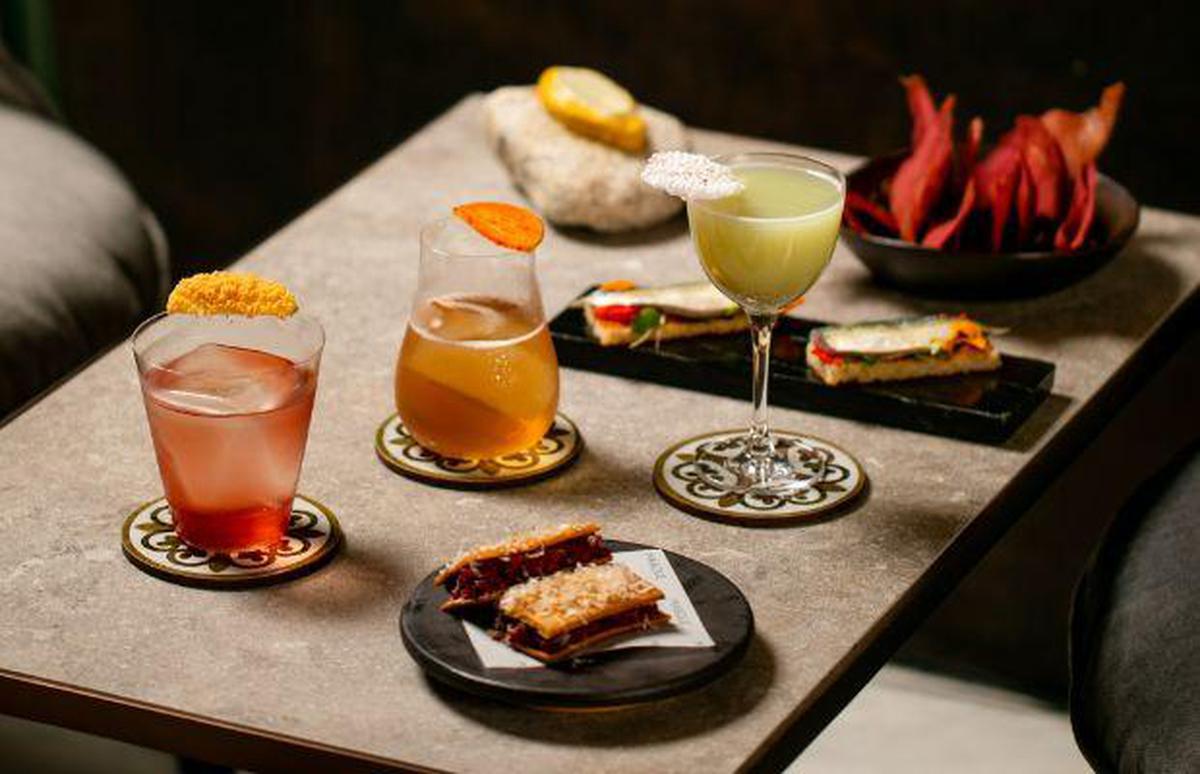 Living Room, Mumbai | Photo Credit: Special Arrangement
Living Room, Mumbai (Rank 48):
Masque's The Living Room climbed from #73 to #48 on the list. Located on the mezzanine level of a sophisticated space in a former cotton mill, this intimate cocktail bar, led by Ankush Gamre, showcases the flavors of India with a focus on innovation and sustainability.
The concise cocktail menu takes guests on a journey through the unique flavors of India, presented in contemporary styles using consciously sourced ingredients. From sea buckthorn to house-crafted black garlic, the drinks reflect Masque's ethos and standards.
The presence of four Indian bars in the Asia's 50 Best Bars 2023 list reflects the remarkable growth and creativity within the country's cocktail landscape. These bars have embraced their own unique identities and flavours, impressed the judges and cemented their position as pioneers in Asia's cocktail scene.