On any Wednesday at exactly 1 am, 49-year-old Nimish Gupta, a techie, can be found at a restaurant with his old lunch companions – the Koramangala Lunch Group. While their name suggests Koramangala as their meeting place, the group has shifted to an Andhra restaurant in HSR Layout due to relocation of some members. Nimish clarifies, "Since some members moved out, we decided that every first Wednesday of the month, we would try a restaurant in HSR Layout."
Nimish, 59, and Devesh Agarwal co-founded the group seven years ago. Reflecting on their initial bond, Devesh says, "Nimish and I became friends because of our shared passion for aviation. He delighted in telling me about his culinary exploits, so I suggested we try those recipes together at least once a week.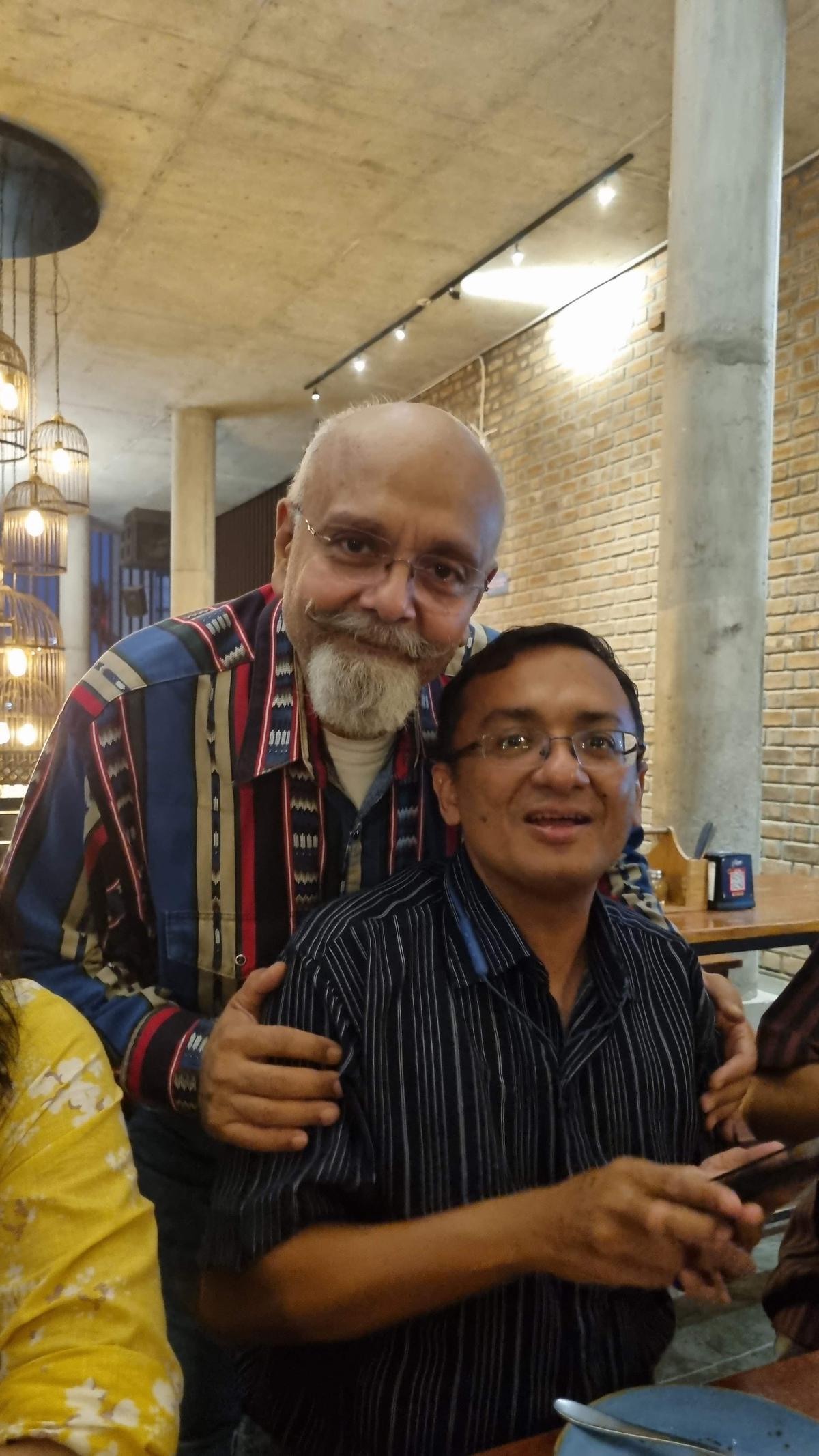 (From left) Devesh Agarwal and Nimish Gupta, founding members of the group, at lunch | Photo Credit: Special Arrangement
Recognizing the constraints of his busy schedule, Nimish admits, "Mondays and Tuesdays are always chaotic, and weekends are reserved for family and other commitments. We realized that Wednesday was the perfect compromise, giving us the opportunity to gather for lunch." Initially just two members, the Koramangala lunch group has now expanded to 11 active participants on WhatsApp.
The group gathers every Wednesday at a restaurant, with the location chosen being determined by a majority vote among the members. At the beginning of each month, members can submit their recommendations, shaping upcoming culinary adventures. In the first week of every month the group moves to an establishment in HSR Layout, while remaining loyal to Koramangala for the rest of the week.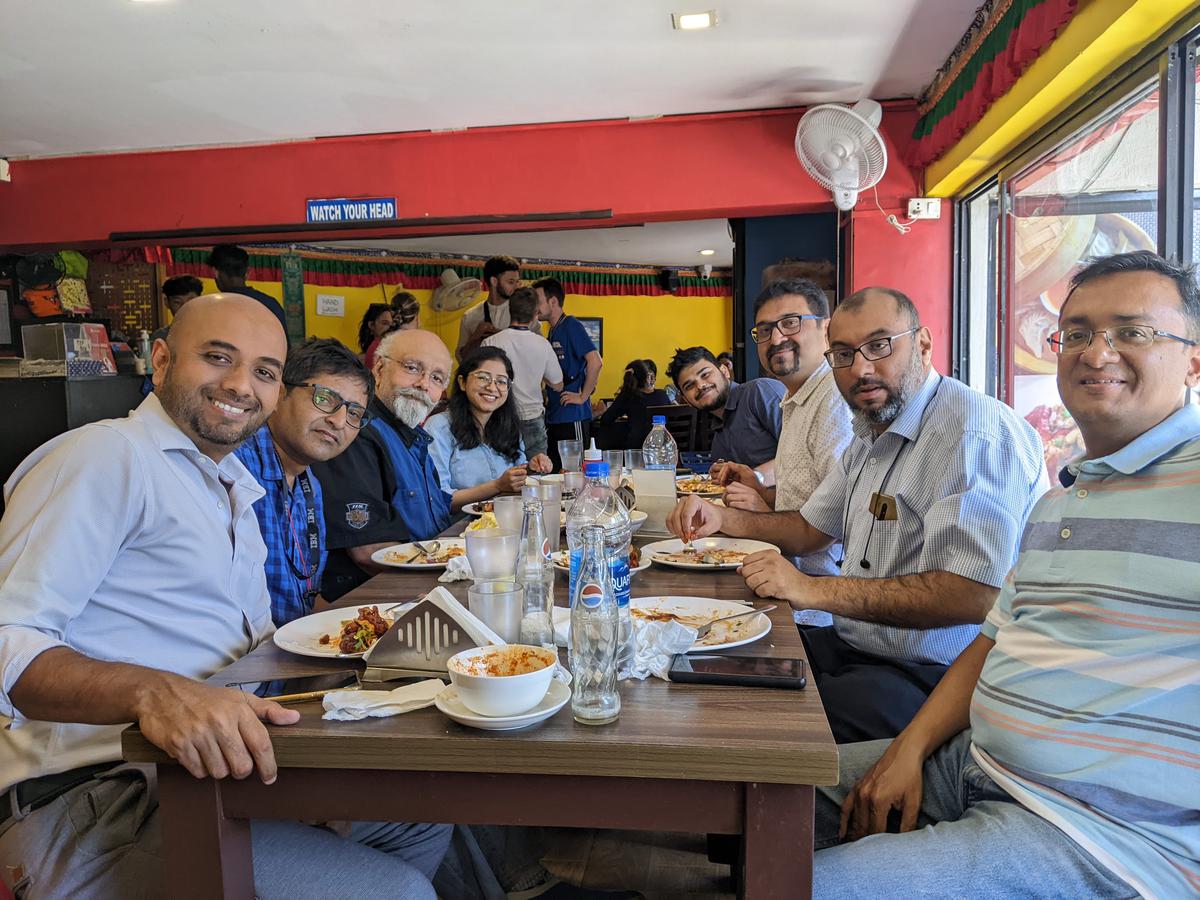 Koramangala Lunch Group | Photo Credit: Special Arrangement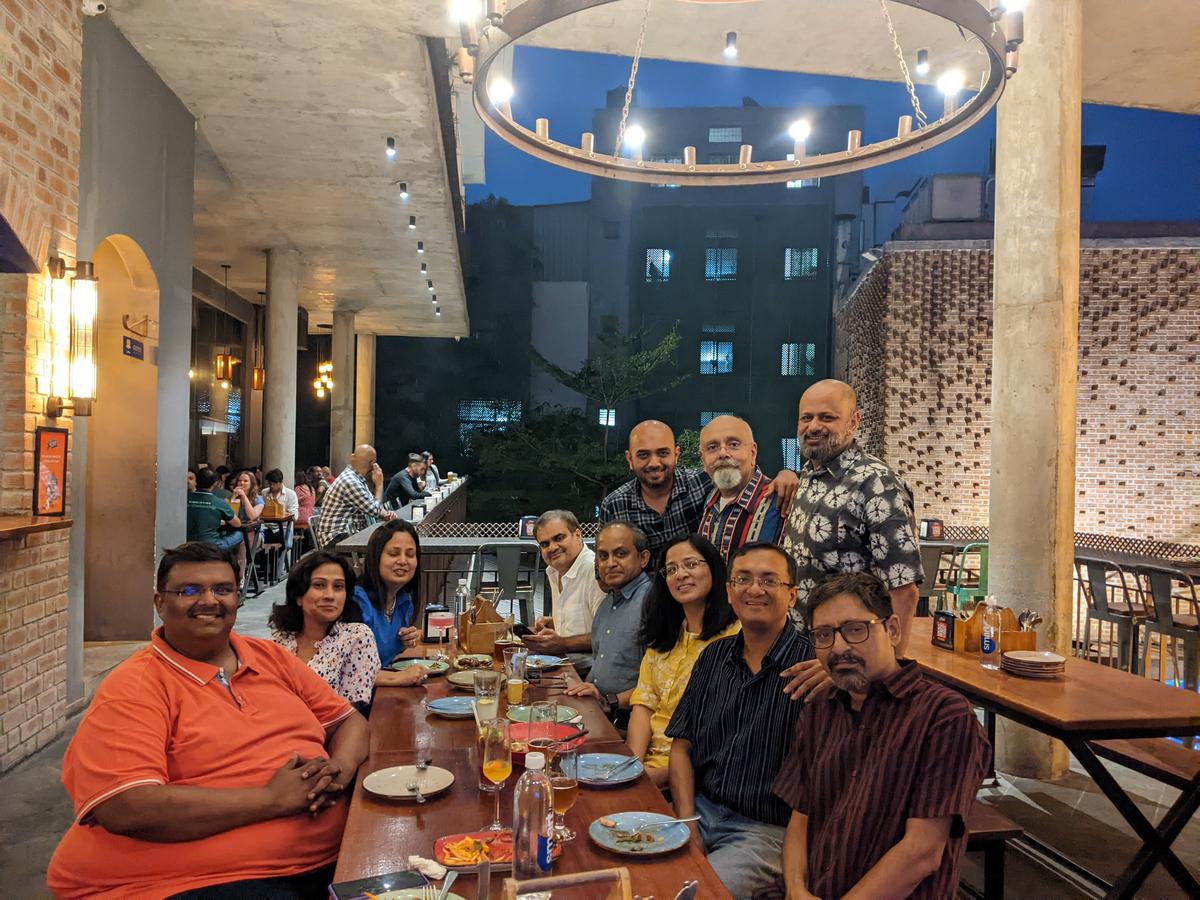 Koramangala Lunch Group | Photo Credit: Special Arrangement
"We refer to our HSR visit as our 'outside' experience," laughs Vivek Vaid, a member for the last five years. "If I were dining alone, I would go for a starter, main course and dessert. misses a wide range of However, with a large group, we can sample most of the menu, ensuring nothing is wasted," he explains.
In order to maintain the vibrancy and commitment of the group, a policy has been put in place for frequent absences from Wednesday lunch. Individuals who go missing for more than two consecutive weeks are removed from the group. While members are encouraged to bring friends along, interested new participants must demonstrate their dedication by attending three consecutive meals before becoming official lunch group members.
Group member and home chef Priyanka Jagathy explains, "Participating in at least three meals allows us to gauge compatibility, gauge their vibrancy, and ensure their commitment as regular participants."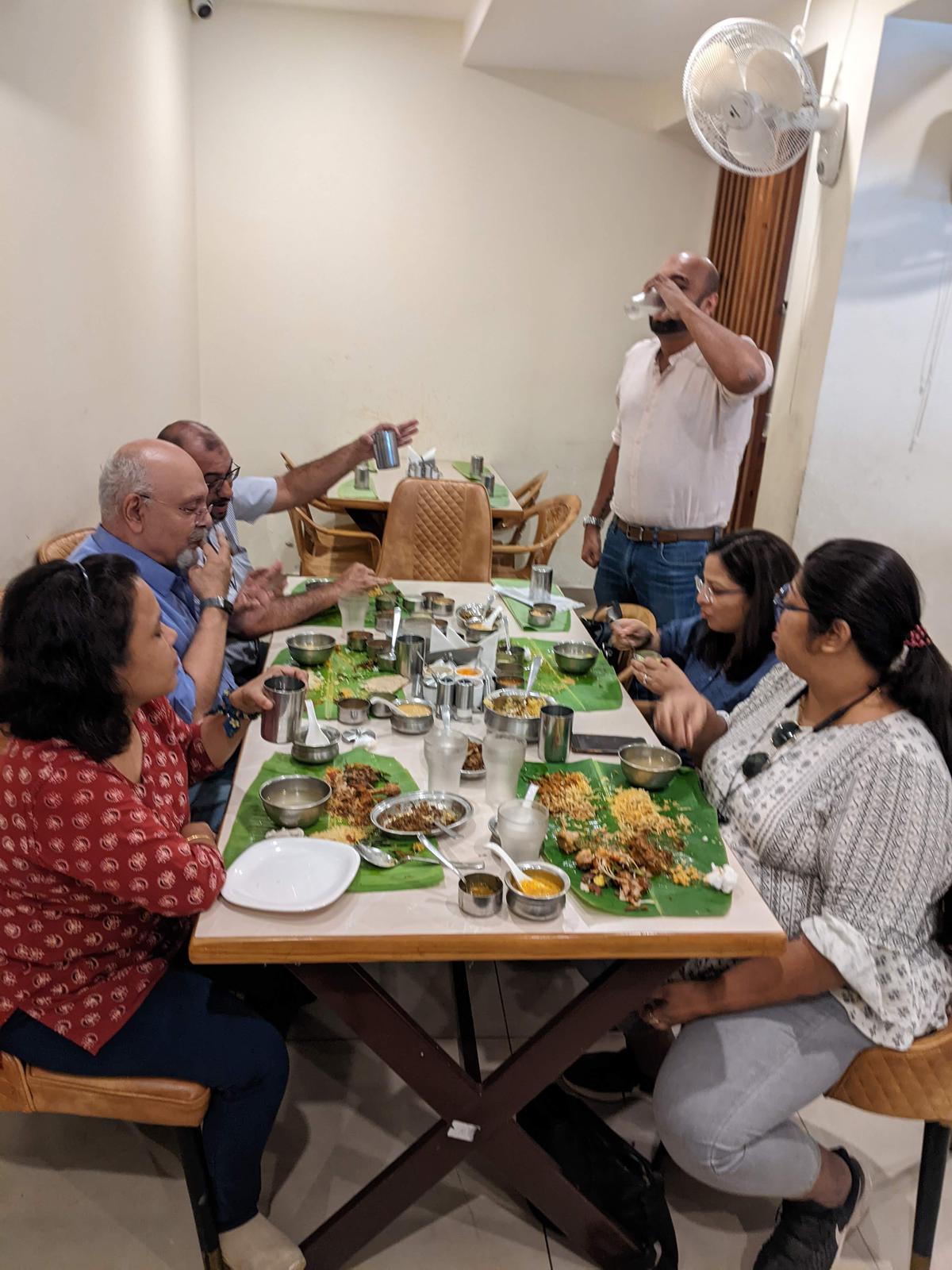 Koramangala Lunch Group | Photo Credit: Special Arrangement
Over the years, the group has grown closer. "The secret sauce is definitely the friends we've made along the way. I wouldn't miss my Wednesday lunch for anything. It's my weekly meeting with friends," explains Jaideep Gandhi.
Because when they gather each week, they demonstrate that true satisfaction lies not just in eating good food, but also in savoring the relationships they've built—a feast that feeds both the stomach and the soul.
Joining Jaideep for Wednesday's lunch, his wife Ishita Desai reflects on her transition from Gujarat to Bengaluru in 2020. "With no friends to come, this group holds a special place in my heart. I really cherish the friendships I have made here. Even in the worst of hours, I know I can count on them for support," she says.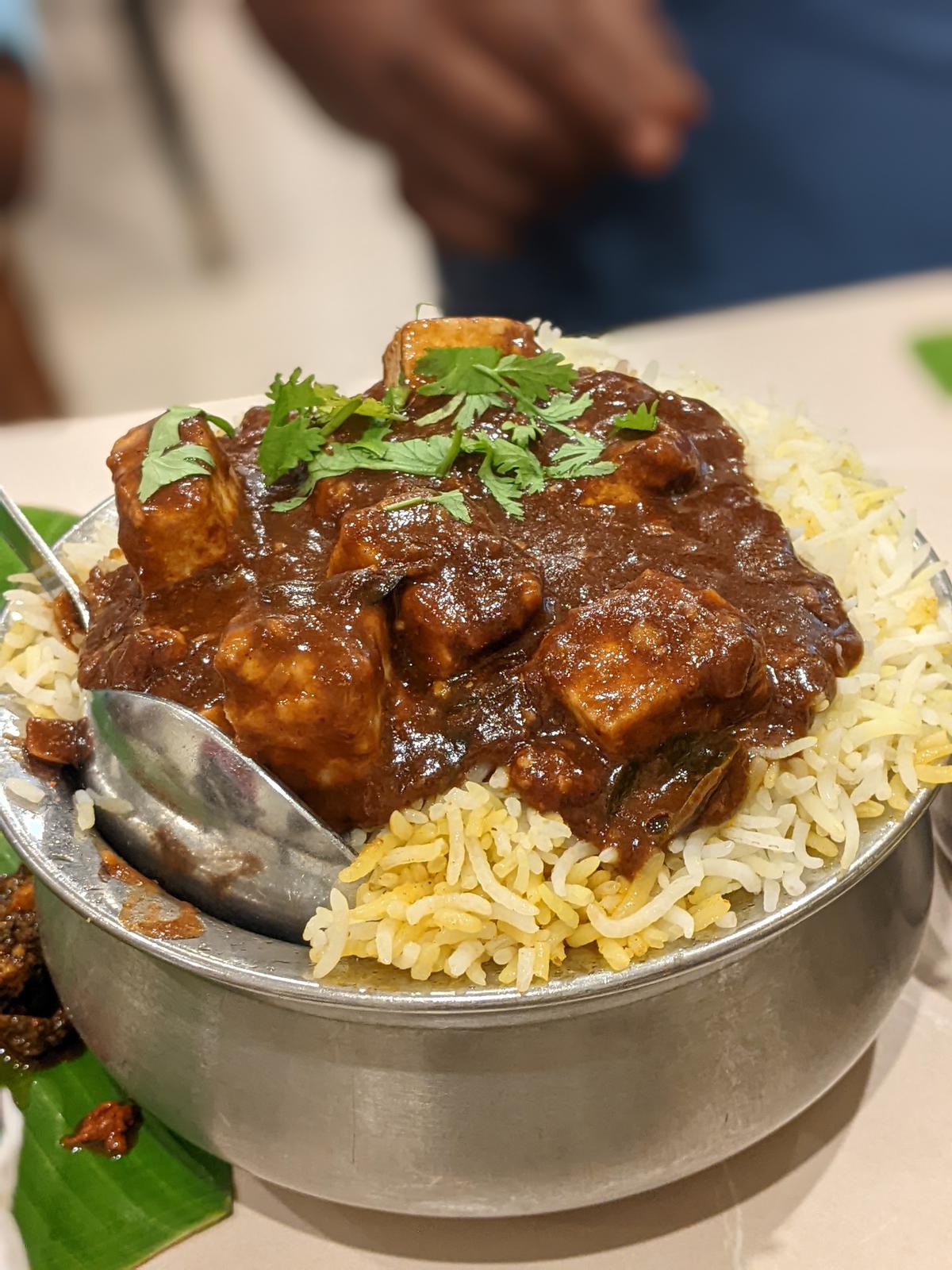 ullavachari paneer biryani | Photo Credit: Special Arrangement
Amidst the lunch gathering, an animated dialogue begins led by Paul Abrahams, a 44-year-old polyglot fluent in seven languages. Joining their fellow members, they delve into captivating topics related to the origin of fish, diverse culinary traditions and the amazing similarities found in the flavors of Andhra cuisine. This cordial ritual has become an important part of their lives.
With an unwavering passion for gastronomy, Paul finds in this group a harmonious convergence of kindred spirits who share his deep appreciation for the art of food. "Here, we gather as fellow enthusiasts, engaging in stimulating discussions about cuisine and flavours," he shares.
Yet, the connections made transcend the boundaries of culinary discourse. "We have become seamlessly integrated into each other's lives, making our presence felt at family gatherings and important milestones. Through the ups and downs of life, we stand together as a steadfast support system," he shared.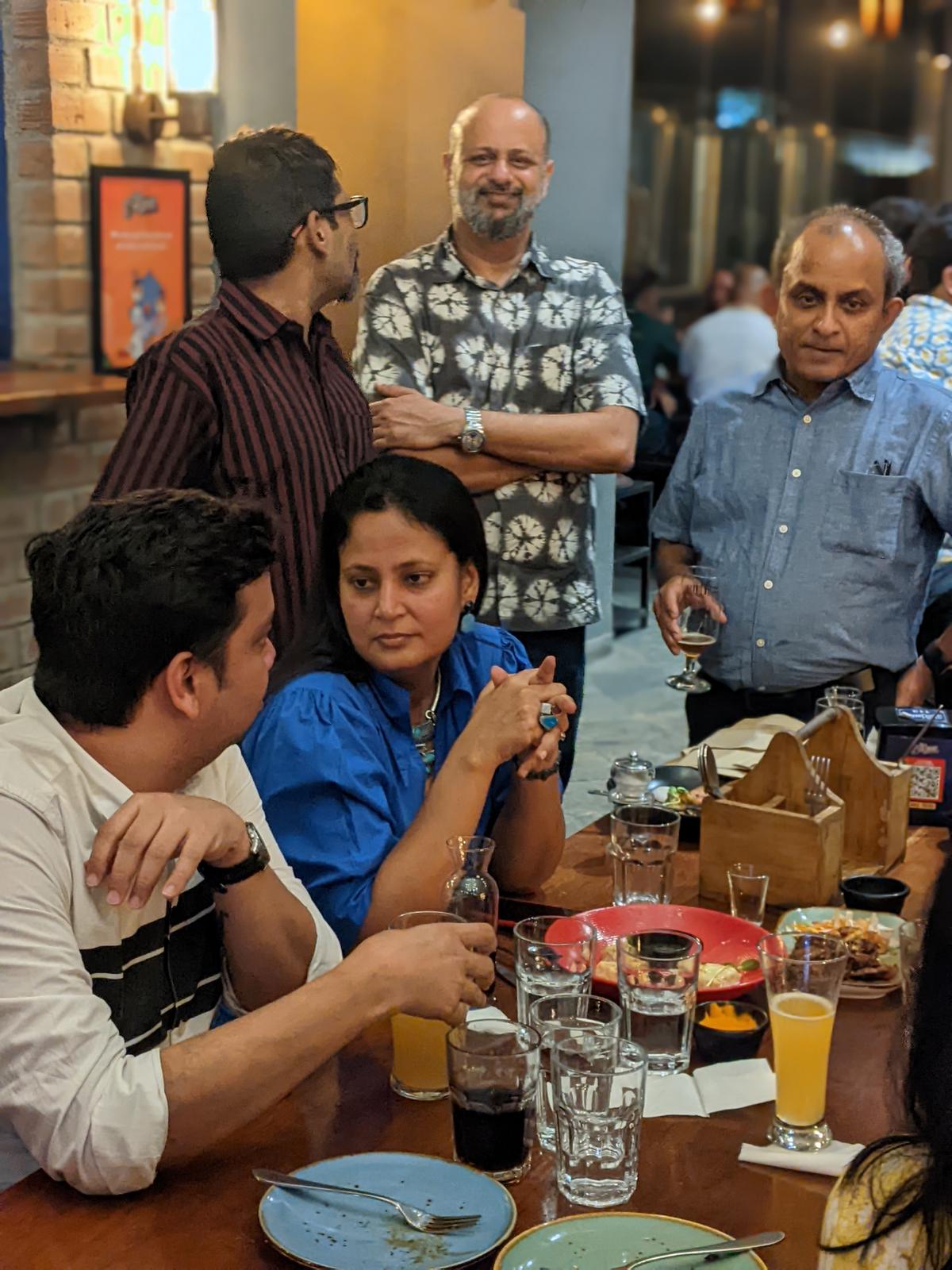 Koramangala Lunch Group | Photo Credit: Special Arrangement
When the pandemic spread and the lockdown was imposed, physical meetings became impossible for the group. However, they adapted literally together. Nadir Aslam, 42, who owns a store in Brigade Road, found himself longing for the company of his friends when the lockdown began. "I proposed why not have lunch over video call, and so we never broke our Wednesday lunch routine," he says. Despite the distance of his store from Koramangala, Nadir diligently takes leave every Wednesday to be there with the lunch group.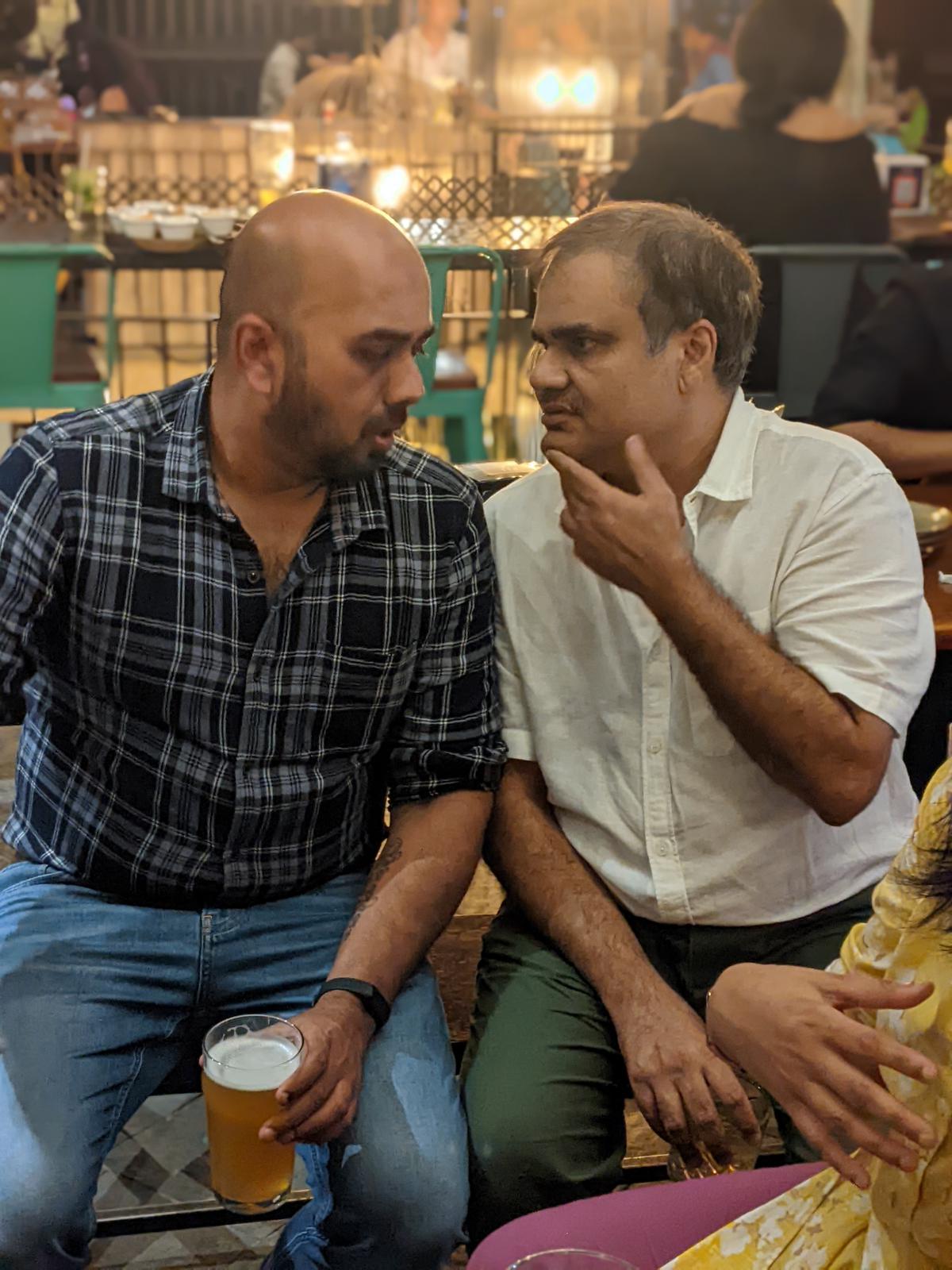 (From left) Jaideep Gandhi and Vivek Vaid | Photo Credit: Special Arrangement
The punctual members of the group, arriving at 1 pm sharp, waste no time in ordering their favorite starter and eating right away. "When it comes to food, we start on time. Others may join us later, but we base our orders on the best recommendations from restaurant staff or popular dishes," explains Nimish.
At Andhra Vilas in HSR Layout, a cornucopia of flavors awaits as the group enjoys their selected dishes: Two Eggs Veluli Karam, Chilli Chicken Andhra Style, Nellore Mutton Biryani, Ullavachari Paneer Biryani, Two Fish Roast Andhra Special, Two Prawn Fry, Ullavachari Chicken Biryani, Mutton Keema Fry, Three Chicken Dry, Three Mutton Fry, Seven Andhra Meals and 10 Lime Soda. Around ₹7,470 later, a snapshot captures the culinary triumph, indulging in a visual feast of their lunch history in Google Drive.
Nimish eagerly recommends the Ullavachari dish to later visitors, insisting, "Ullavachari is really extraordinary, so be sure to try it." Some members wait patiently, sampling dishes ordered by their fellow diners before choosing their own meal. Soon, the lunch table reaches full capacity as eight persons gather, joining two separate dining tables.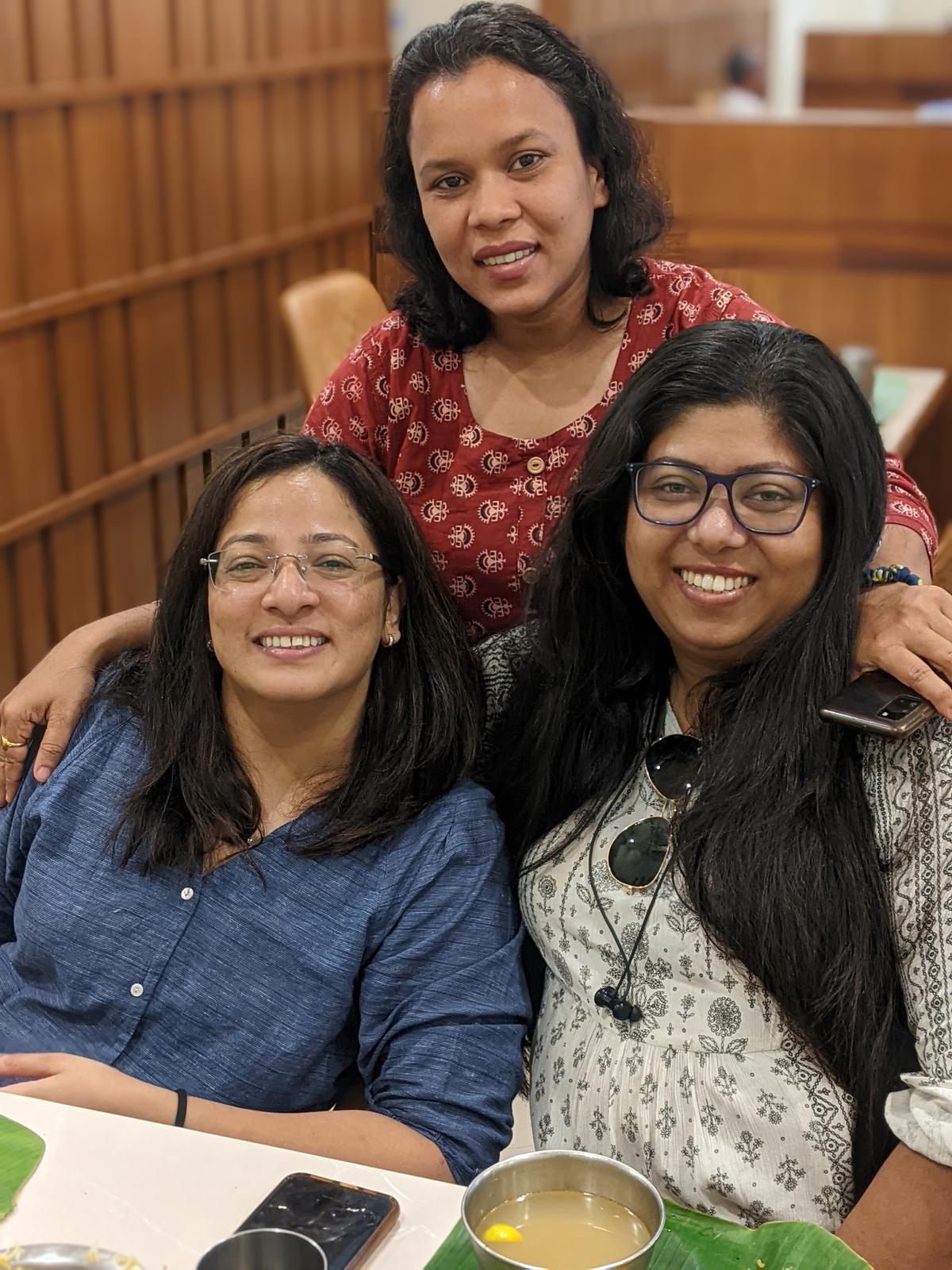 Koramangala Lunch Group | Photo Credit: Special Arrangement
"Three members could not come this time, but it is okay. We will meet him next week," says Devesh. "That's the beauty of our group — our decisions are democratic, and we really enjoy each other's company. We look forward to our Wednesday lunch, which is probably why we've been active for seven years," he adds.
As lunch comes to an end, and conversation gradually subsides, a feeling of satiety prevails among the members. Between their delicious adventures and shared laughs, something much deeper is woven into the fabric of their friendship.
In their Wednesday meeting, they not only enjoy the taste of a variety of cuisines, but also have spirited discussions on food, kinship, camaraderie and survival. In a bustling metropolis that often lures people into a maelstrom of monotonous routine, this group has unleashed the power of collective sustenance – where breaking bread becomes the architect of connecting souls, leaving no doubt in their hearts does not remain.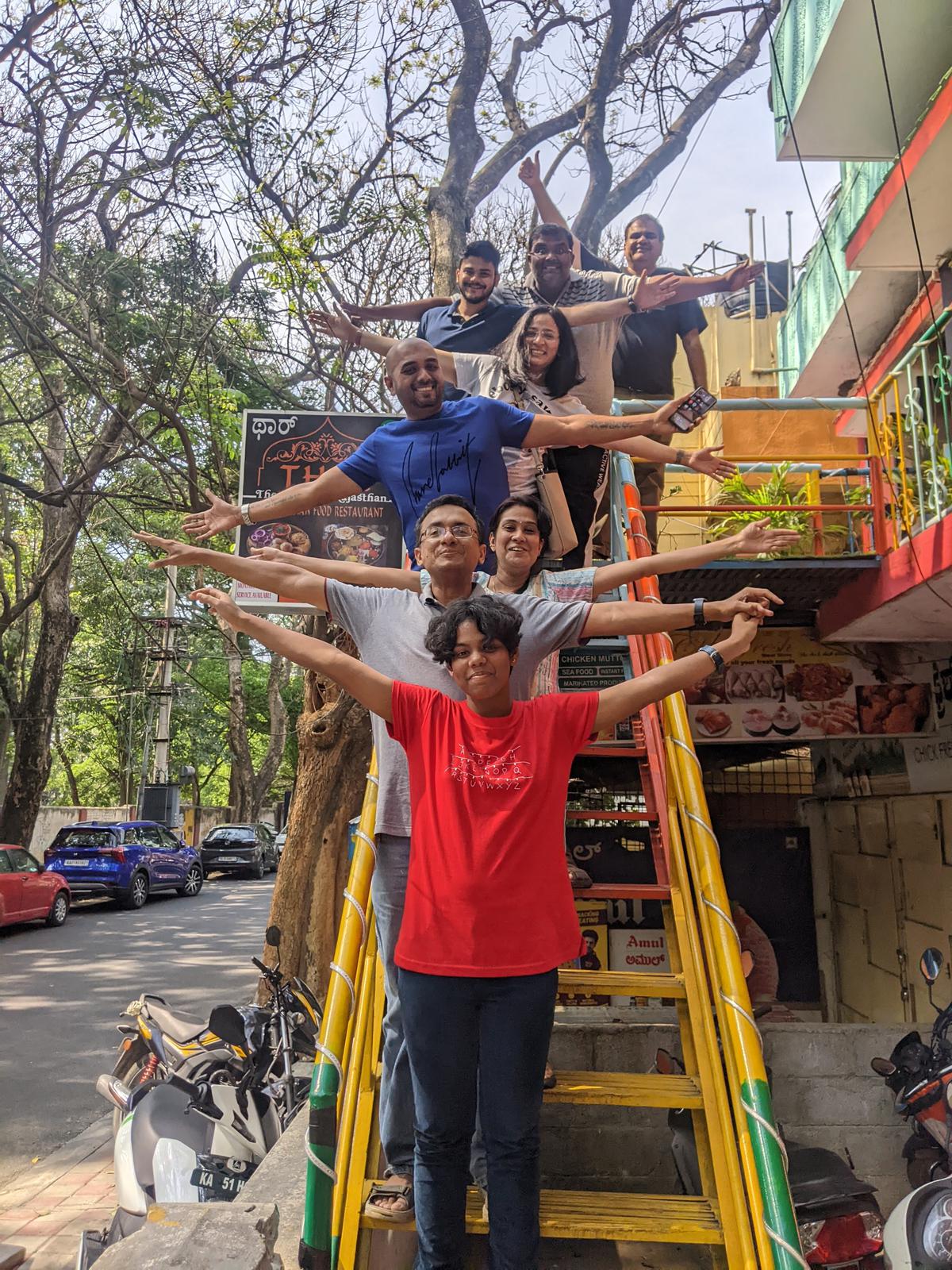 Koramangala Lunch Group | Photo Credit: Special Arrangement
With the bill settled, Blinky immediately gets dressed, prompting the group to head out for their traditional photo session. It has become a ritual, ingrained in their seven-year tradition.
And so, plates empty and hearts full, they bid farewell to their next delicious rendezvous. In this culinary tale, they've discovered the recipe for a truly rich life—a generous portion of laughter, a touch of friendship, and a hearty dollop of togetherness. Bon Appetit indeed!