"There is so much you can do with the jackfruit," Bushra Faisal says. She is a member of Chalissery Chakkakkoottam, a collective of 15 homemakers who are into making value-added products from jackfruit.
A resident of Chavakkad in Thrissur district, Bushra travels 18 kilometres to Chalissery in nearby Palakkad district whenever there is a training session or to sell homemade products at 'Chakka chantha' (jackfruit market). Sahida Aboobacker, another member of the collective, points out that very bit of a jackfruit can be converted into a new product. "We enjoy that process though it is cumbersome," she says.
Chalissery Chakkakkoottam was launched in December last year and the members are part of a WhatsApp group of nearly 500 members. This is among many such collectives in the State making a range of jackfruit treats, thanks to Chakkakkoottam, a WhatsApp group of jackfruit lovers, which was formed in 2019. This group registered as a company, Chakkakkoottam International Private Ltd, in 2021. The company, located at Pattimattam in Ernakulam district, markets different jackfruit-based products through supermarkets and e-commerce platforms.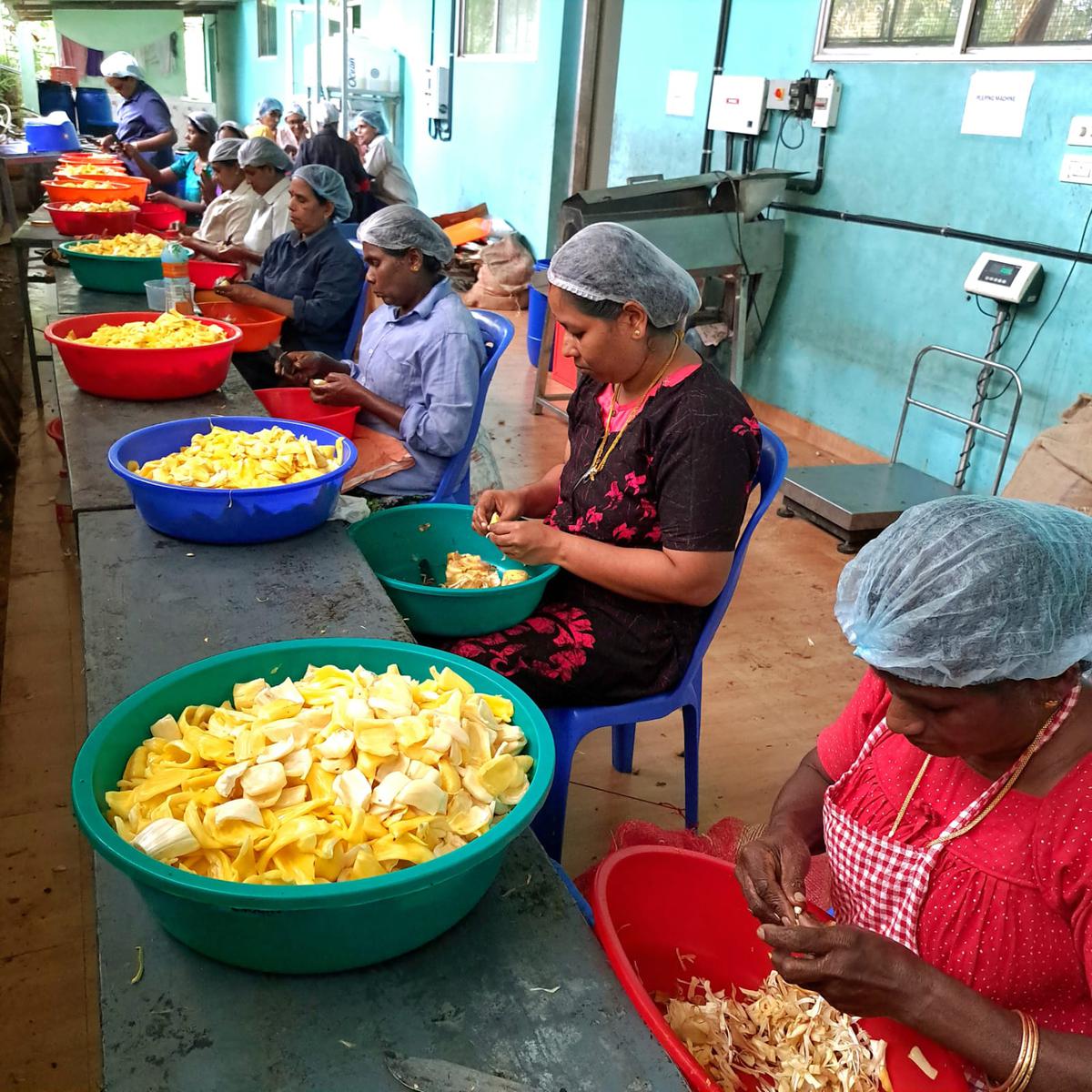 "While there are seven common groups, 21 groups function in 14 districts with some of the districts having more than one WhatsApp group. In addition, there are WhatsApp groups in 941 panchayats, 87 municipalities and six Corporations," says Anil Jose, founder-coordinator of Chakkakkoottam WhatsApp group and one of the six directors of the company.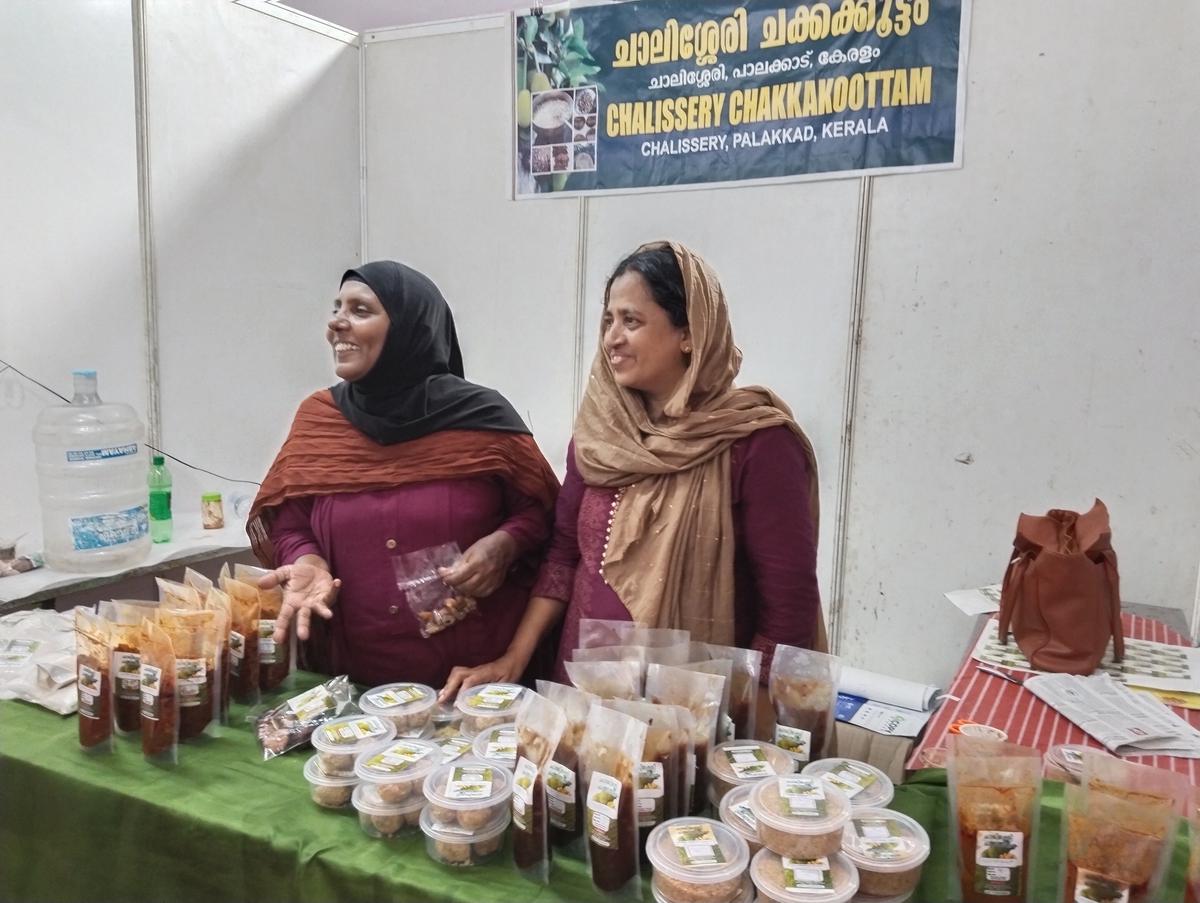 He says Chakkakkoottam was born out of the need to find ways to make use of tonnes of jackfruit going to waste every year. The discussion started around the time when jackfruit was declared the official fruit of Kerala in 2018. Once the group was formed, word got around and there was an influx of fans of jackfruit — from those who love to binge on jackfruit to those selling saplings and value-added products from the fruit. This included those who loved eating jackfruit to those who sold jackfruit saplings and manufacturers of jackfruit-based products.
They were encouraged to form WhatsApp groups in their respective panchayats and once the number of members crossed 400, Chakkakkoottam trained members of these groups.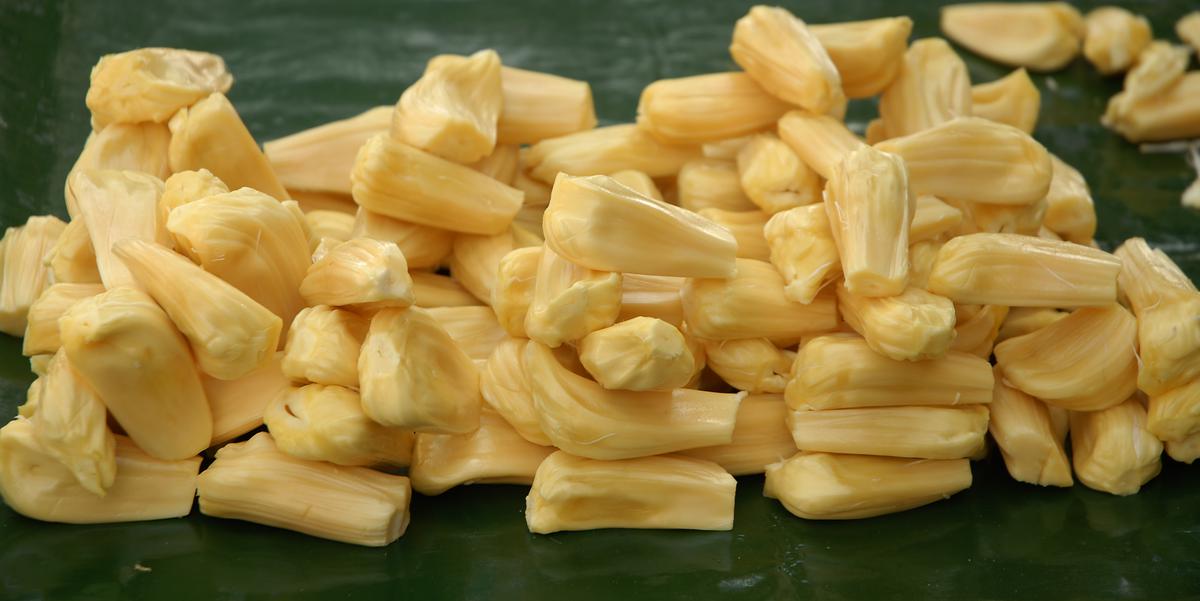 "Kerala is behind Karnataka, Assam and Orissa in jackfruit production. Even then around 60 crore jackfruits are produced here every year, of which less than 20 crore fruits are used. Over 100 products can be manufactured from the fruit. So the State can get a turnover of ₹1 lakh crore if we are able to make value-added products," says Manu Chandran, managing director of Chakkakkoottam International.
King of fruits
Jackfruit is now considered a superfood since an array of value-added products can be made from all parts of the fruit — seeds, bulbs, carpels, rags and core.
Chakkakkoottam has a panel of trainers. Krishi Vigyan Kendras also imparts training. "We selected 25 panchayats and conductedtraining in 16. Of this five panchayats are actively into manufacturing different products," says Anil. The training includes sessions on making value-added products, such as pickles, snacks, squash and cakes. "We help them understand how to choose jackfruit saplings and teach how to look after the sapling. Maintenance of machinery and equipment to pluck the fruits etc are also introduced at the training sessions," adds Anil.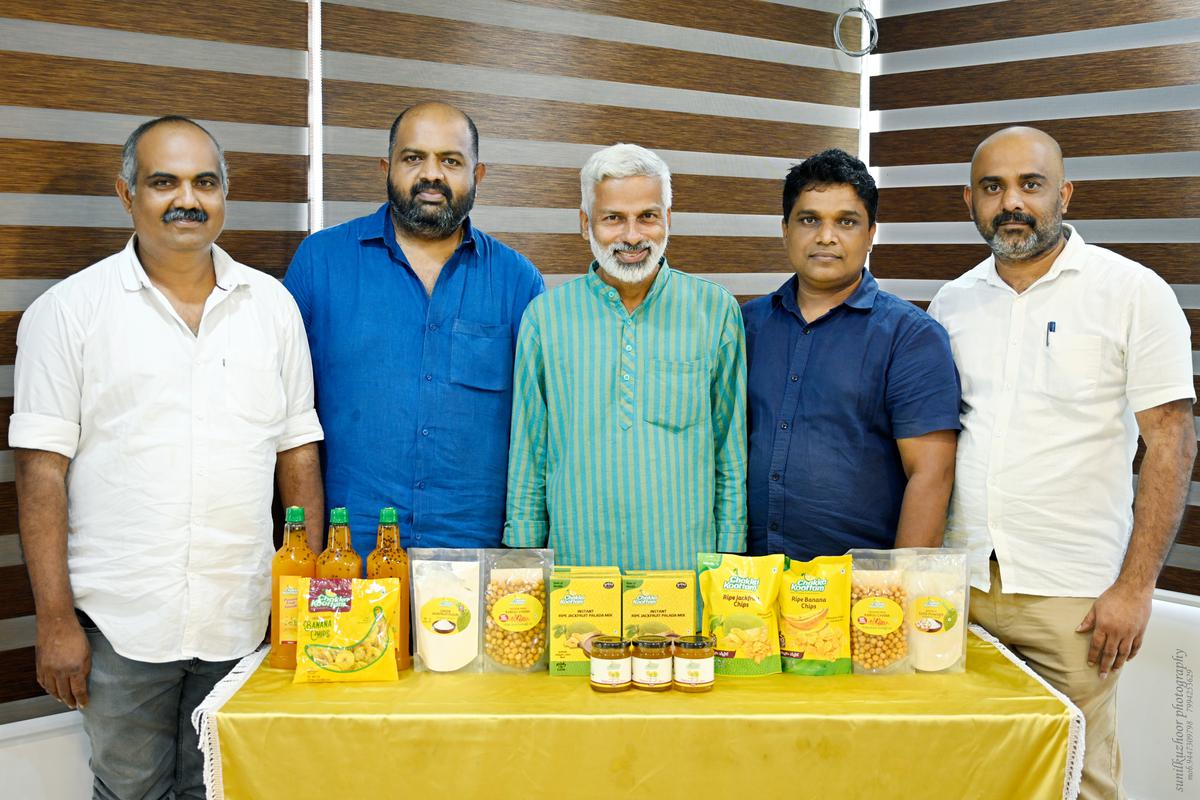 Besides Chalissery, Nagalassery panchayat also in Palakkad has also launched a range of products. A group at Kodenchery in Kozhikode district has initiated the process to get registered as a company, Kodenchery Jackfruit and Fruit Products Pvt Ltd. "Fifteen of us are behind this venture," says Tomy Cherian who has been spearheading the activities of the collective along with CJ Andrews. "Jackfruit grows aplenty in our panchayat. If there are 10 trees in a plot, you end up getting 1,000 fruits at least, most of which rot. Manufacture of jackfruit chips has been a cottage industry for some time. That's all we have been doing. Over the last few years we have come to realise the worth of jackfruit through various entrepreneurs and their business ventures. That's when we decided to get into this."
All about jackfruit
The directors of Chakkakkoottam International are Ashok R, Manu Chandran, Anil Jose, Vipin Kumar, Sabu Aravind, and Ciby Mon. Currently, it sells 16 jackfruit products that can be kept at room temperature in addition to 25 frozen products. An innovative product is instant palada payasam mix, launched during Onam 2022. The product range has chips, jackfruit flour and powder, ready-to-cook chilli tender jackfruit, squash, jam, tender jack burger patties, preserve, jackfruit seed powder, halwa, candy, avalose podi, etc.
"Frozen products such as bulbs and slices of raw jackfruit, jackfruit seed cuts and tender jackfruit cuts are exported to the US. Frozen ripe jackfruit bulbs have markets in UK and Australia. Besides the 4,000 sq ft plant at Pattimattam, a new production unit will come up at KINFRA Industrial Park, Nellad, in Kochi," says Manu.
The company is planning a Jackfruit Experience Centre at Kakkanad in Kochi. This centre will have a shop for Chakkakkoottam members to market their products and a restaurant serving jackfruit-based dishes and ethnic food of Kerala. Visitors can learn about varieties of jackfruit and attend training sessions.
Panangad, Chathamangalam and Kunnamangalam are other panchayats in Kozhikode where Chakkakkoottam trained residents. They have conducted sessions in select panchayats in Kannur and Malappuram as well.
"Pickle made from idichakka (tender jackfruit) is the special on our product range. We have stocked dried idichikka for future use. Products made from jackfruit seeds will be added to the product range," says Thulasi Muhammad Basheer, coordinator of Alakode Chakkakkoottam, a 10-member collective from Kannur.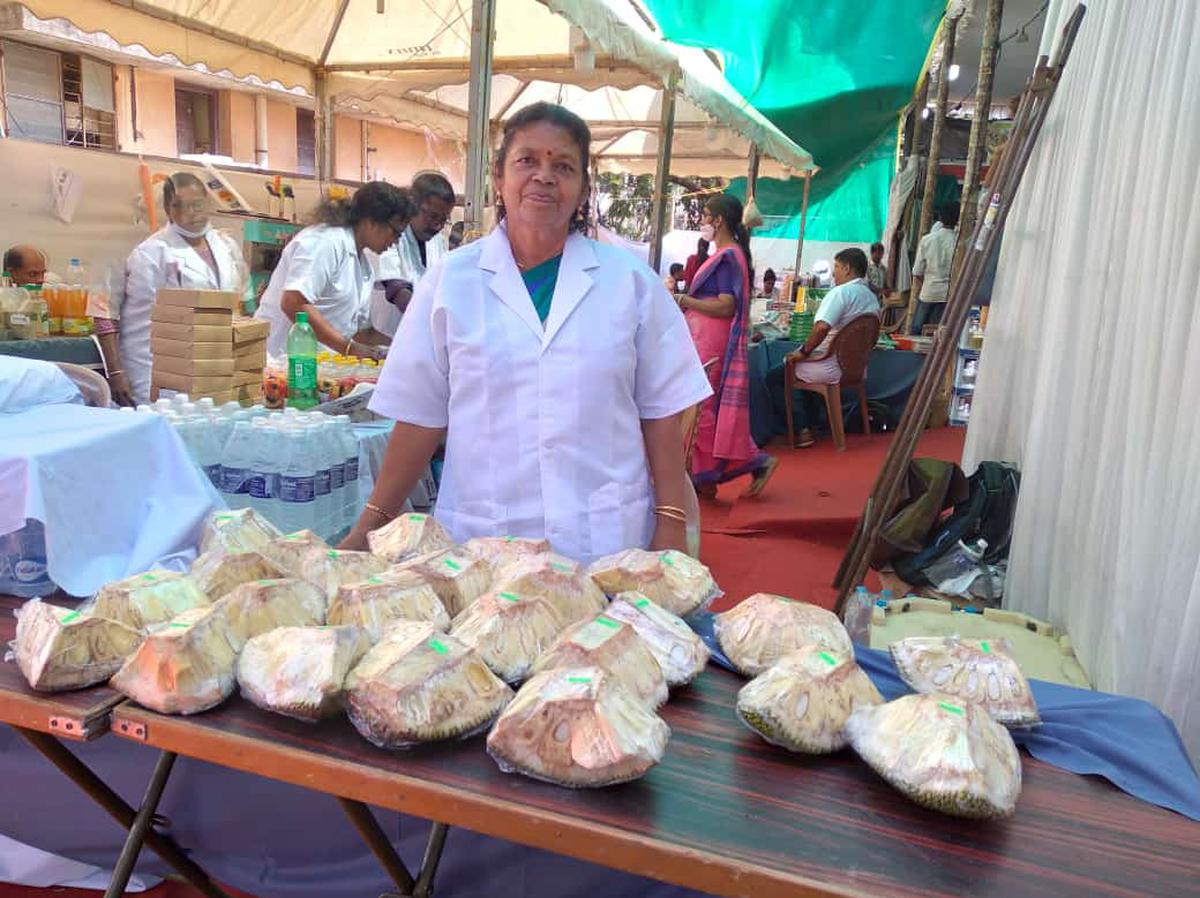 Sujatha K, secretary of Chalissery Chakkakkoottam mentions that they have already made 60 products from the fruit. "We ensure that the fruit does not go waste. The members are earning an income as well," she says.
Meanwhile, Chakkakkoottam is planning to hold jackfruit festivals every month. "We are looking at conducting Chakka Mahotsavam at least 200 days in a year. Our aim is to encourage more people to come into this industry. In fact, we are already seeing the change since there has been an increase in the number of jackfruit farmers," says Manu.