Seventy years before this May's coronation weekend, when Elizabeth II was crowned queen in 1953, the British Empire had yet to be fully abolished. Curry and curry powder remained in vogue, the result of a colonial, European gaze on Indian food, and cultural appropriation was not yet in vogue.
Hence, for the late queen's party, coronation chicken—a spin on the Mughlai creamy korma of India's medieval past, a style of meat dish that is distinguished by its use of cream, saffron, and dried fruit—has a sweet-and-sour flavor profile. Badam – can be savored without scrutiny: was this cold chicken with curry powder (a British invention, not Indian), and crème fraîche as much an act of appropriation as the much-discussed pocketing of the Kohinoor? In a Europe where colonial legacies are being re-examined these days, Charles and Camilla have wisely shunned curry or Kohinoor for coronations. His "official coronation dish", a spinach-broad beans-cheddar quiche – aspires to be egalitarian, English in its choice of cheese and local vegetables.
However, as the new monarch is crowned, it is tempting to watch with irony how in a post-lockdown, post-Brexit country, royal heritage is being replaced by retail, dependent on erstwhile 'natives' Is. For a long time now, London's creation and earnings have been heavily influenced by tourists and expatriates – of whom wealthy Arabs, Russians, Chinese and more recently Indians have formed a part. Ultra-high net-worth Indians, as realty reports will tell you, have been buying holiday homes and investing in real estate especially in the last few years, including post-lockdown.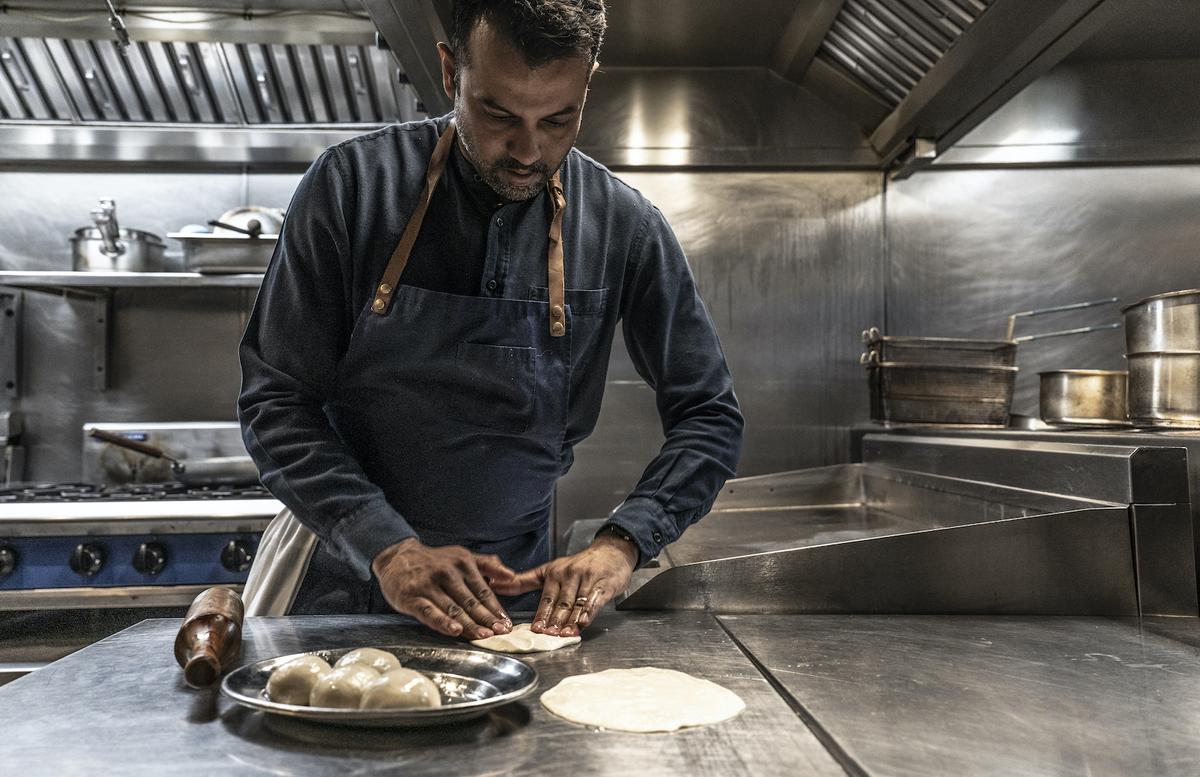 A snapshot of Hopper | Photo Credit: Special Arrangement
Oothappam and Old Monk Pudding
This spring, Indian money seems wiser than ever. The new Raffles, an elite 125-room hotel with multiple restaurants, has been invested by the Hinduja Group and will open in the iconic old War Office, where British Prime Minister Winston Churchill once sat. What could be more ironic than this? And while curry houses still abound, they are clearly out of step. Madras or sweet korma curry is no longer the flag bearer of "Indian", even to the masses. The "Frenchified" Indian style of the 1990s-2000s is also gone, move out the muted salmon tikkas of yore. Instead, chefs and restaurateurs are serving up family recipes and street food-inspired dishes in stylish settings that invite conviviality.
Gunpowder Tower Bridge, on the corner of Brick Lane, Spitalfields, a fancier sibling of the smaller 2016 neighborhood eatery, sprung up in the middle of the pandemic. On Tower Bridge, the luxurious new restaurant is expanding and popular with the corporate crowd which is slowly returning, although many central London restaurants are still struggling to fill their lunches. But this new ammo is always full. Its Chettinad pulled duck with 'othappam' and Kashmiri lamb chops, the recipe of which belongs to the owners' family, not to mention Old Monk rum pudding, all paying homage to many different Indias. But there is a certain 'authenticity' to the small plates, despite the lack of a common theme. This is Indian food that X, Y and Z people can claim and eat in India too.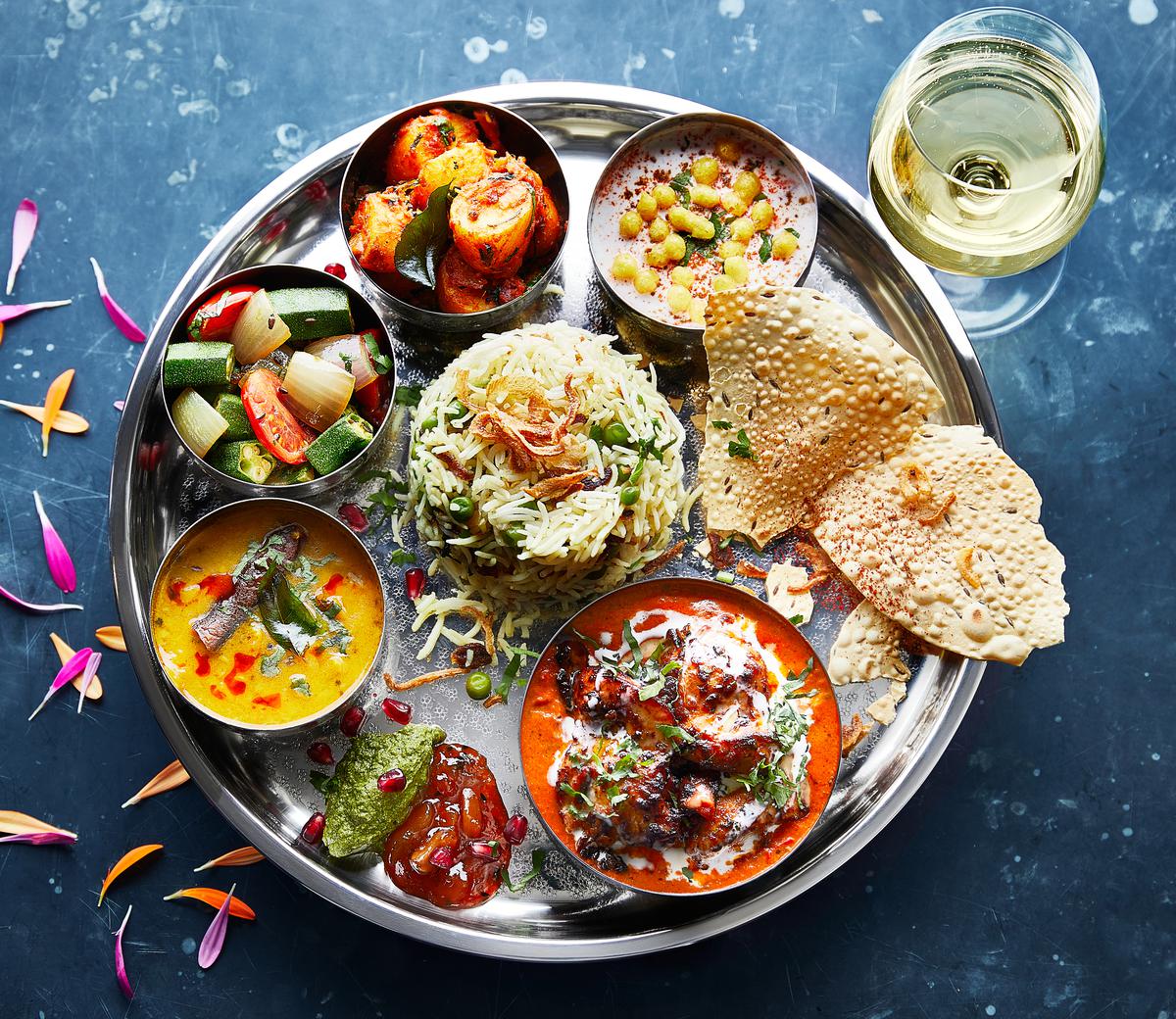 A plate in the Masala Zone | Photo Credit: Special Arrangement
In Oxford Street, Chowringhee, which came up in the middle of the pandemic and is co-owned by restaurateur Anjan Chatterjee and Aditya Ghosh of Akasa Air, is also packed on a weekday. With its kosha lamb, seabass paturi, hing aloo dum, spicy hilsa and tender jackfruit dum biryani, it doesn't hold back on Pashto, mustard, or Bengaliness, even though there's nothing "ethnic" in its contemporary, clean decor. Such restaurants offer a more nuanced feel than those red-lantern or brass-tongued ones of the past where the look was ethnic but the food was Anglicized. Instead, these new spots are part of a regional wave of sophisticated, yet fun, trendy and accessible Asian restaurants, where young chefs and restaurateurs are trying to feel authentic to themselves.
enter legacy recipe
Take to social media and you will find chefs talking not only about cuisines but also about their cultures. "Chefs are going back to their roots and diners want to sample their cultures and be transported to another world through food," says Sharath Jeevan, OBE, a leadership expert who works with restaurateurs. does, observes. Banaras chef Sameer Taneja told me how "awareness and understanding of spices has been strengthened" among chefs and diners in London. "I use khas root (a Lucknowi spice) to smoke my proteins and also taimur (a Himalayan spice similar to Sichuan pepper) in dishes… I don't think my food is Frenchized at all, I am sure it is deeply inspired, inspired by the cultures and traditions of India," he says.
Apart from regional Asian, Indian and Sri Lankan, West African cuisine is also in vogue. "Swallow" (a greasy dough) foods such as tuwo shinkafa (made by the Hausa people of northern Nigeria) are all cultural and culinary nuances that London now offers. While the poster child of Nigerian food in London is probably the upscale Ikoi, with its Michelin stars (getting reservations is now a task), Nigerian food representing the cuisines of West Africa's nearly 200 tribes is now in sections – from trendy bars to Versions of classics and tapas from Chuku to typical buka (serving traditional fare) like Lola Afrik and takeaways. The pandemic has fueled this rise of regional cuisines brimming with bold flavours. Despite higher labor costs and the cost of living crisis after Brexit, where people have cut back even on buying M&S food, supper clubs that survived on pop-ups during the pandemic are now opening neighborhood restaurants in central London . , "The rise of nani/auntie chefs has also contributed to a keen interest in regional foods. When I go to the supermarket, I see a lot of non-Asian people buying ingredients to cook at home," says Revati Sharma Singh, an artist who has lived in London for two decades.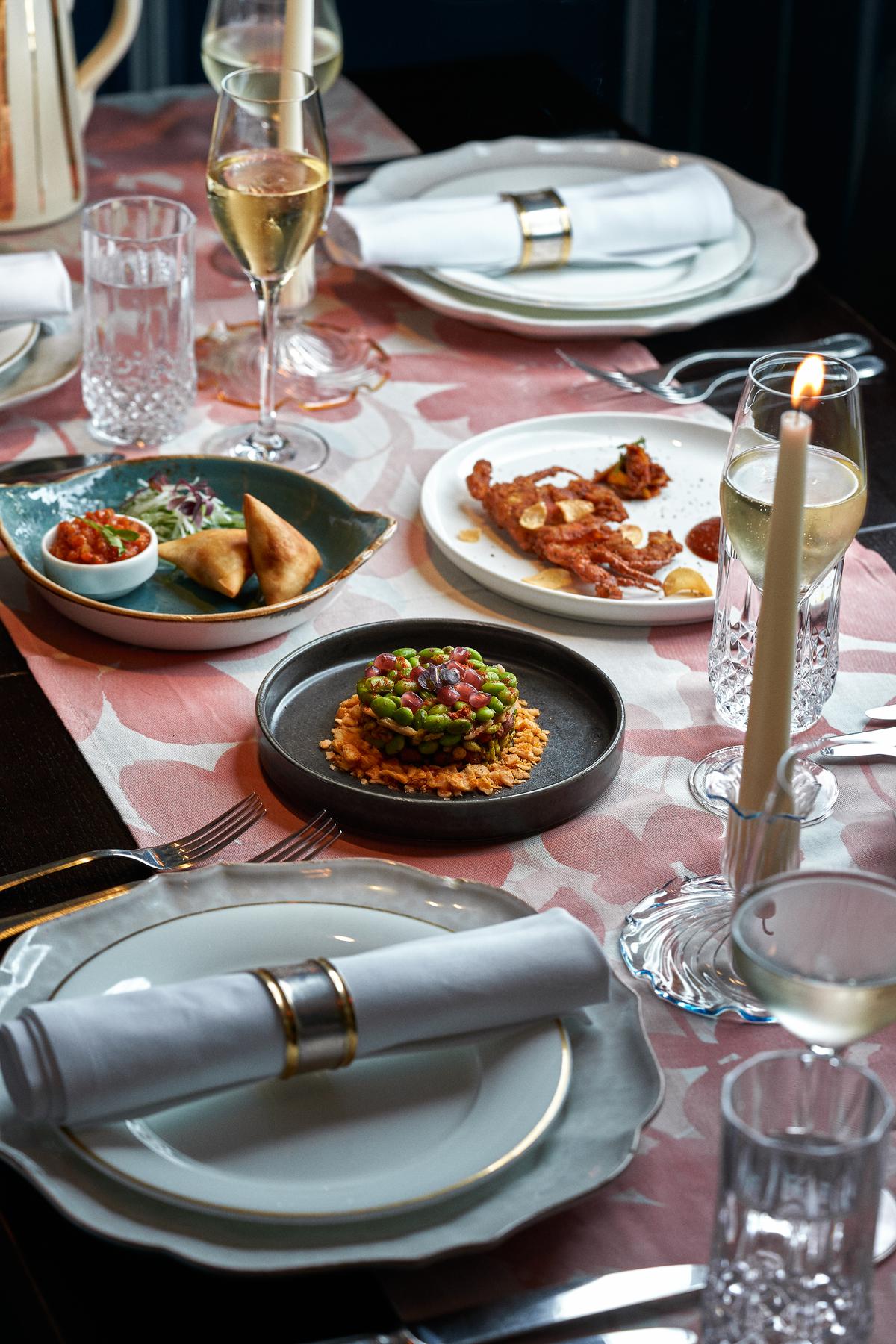 Food in Jamwar | photo credit: Jean-Baptiste Strub
cultural relevance
"Morish food", as Hopper's co-founder and culinary director, Karan Gokani, puts it – solid, hearty and "genuine", is also a post-lockdown phenomenon perhaps due to its strong grasp of taste and life. is for "People no longer want those little and pretty-looking things that don't taste good," he explains. This emphasis on bold flavors combined with cultural authenticity is very different from the London of two decades ago. When veteran Camellia Punjabi first introduced the thalis in London, she faced backlash due to cultural ignorance. "Some people said we weren't giving them enough protein," she says. This summer, Punjabi's MW Eat (co-owned by his sister Namita and brother-in-law Ranjit Mathrani, in which he is a director) is set to open a 200-seater Masala Zone, its mid-market brand "Actual". Indian "chaat, street food and thali" at Piccadilly Circus in front of the iconic statue of Eros.
Indian restaurants in London are also looking beyond the Indian menu. One of the most influential and fastest growing luxury restaurant groups, LSL Capital is headed by Samyukta Nair and her father Dinesh of the Leela family. While their Jamavar and Bombay Bustle are popular, the group has recently opened a range of luxury concepts in Mayfair: these include Mimi Mei Fair (Chinese) Koyan (Japanese) and Sokka (Mediterranean French, in collaboration with renowned chef Claude Bossi) Are. "We want to pay tribute to our roots and showcase the best of Indian hospitality internationally," says Samyuktha.
The empire is long gone; New ones are being made.