Picture this: a freshly washed banana leaf on which is served an elaborate sadya, complete with avail, thoran, a heap of hot rice, payasam, and other Kerala delicacies. If you are visualising eating this meal at a restaurant, think again. It is in fact a miniature sadya, crafted in clay, and mounted on a fridge as a magnet. Miniature food art has been around for a while, but these four artists continue to take the art a step ahead by crafting everything from dollhouses to chef pins featuring favourite treats.
Shilpa Mitha @ Sueno Souvenir
Chennai-based Shilpa Mitha is known for her elaborate and endearing miniature food creations including a plate of idli, masala dosa, biriyani and croissants. This year, the artist has collaborated with chef Avin Thaliath, co-founder and director of the Lavonne Academy of Baking Science and Pastry Arts, to create a range of chef coat buttons. It is a collaboration "between someone who calls herself a fake chef and a real chef" laughs Shilpa, speaking of this new range featuring pain au chocolat, tarts, pizza, sourdough, and more.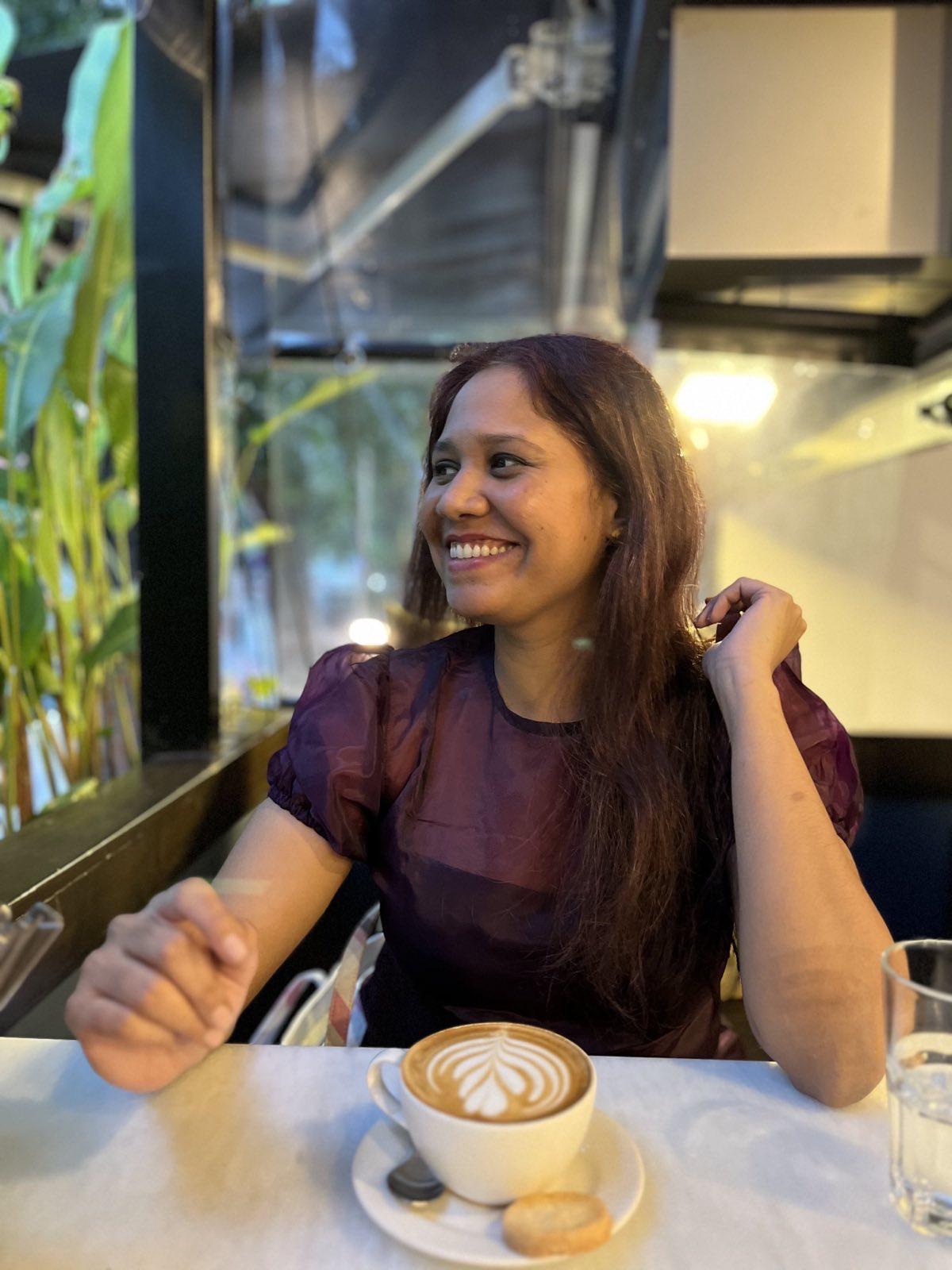 "It was Avin's idea to come up with accessories specific to chef coats and he came up with the idea of buttons. After multiple trials and errors and iterations, we finalised something that would work and now we have both button covers and pins. These are fully customisable so chefs can wear something that's unique or special to them," she says of the range named #Wearyourfood.
Buttons upwards of ₹650 and the magnets upwards of ₹1,000. Pre-order on suenosouvenir.in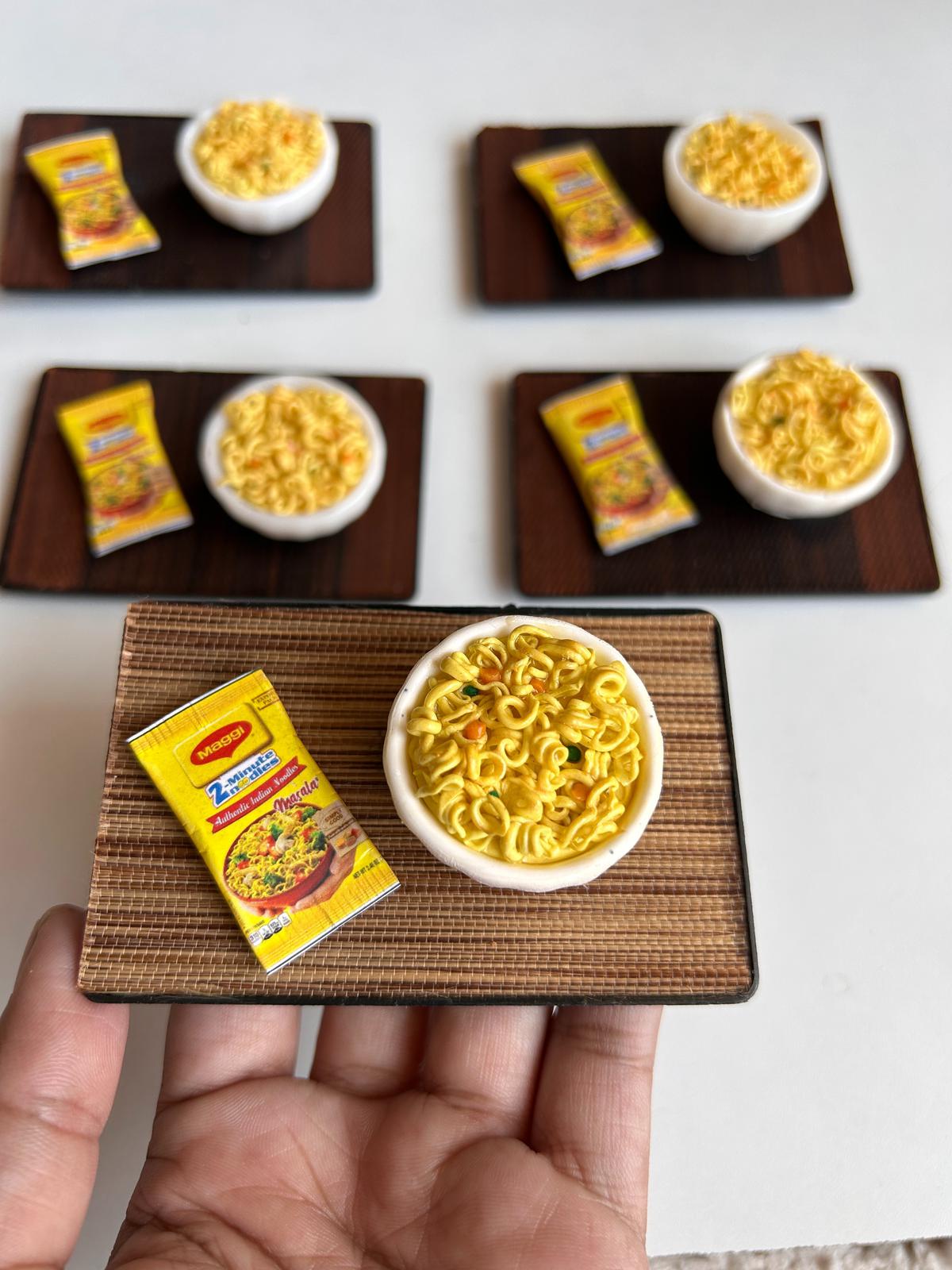 Ameena Sahifa @ Ameena Sahifa
As the world closed up during the pandemic years, Ameena Sahifa took to learning miniature art. "I'm blessed with immeasurable patience," says the Coorg-based artist who works with resin, polymer clay, chalk pastels, etc. to make miniature food magnets, earrings, custom dollhouses, and artefacts.
While the self-taught artist is thrilled to pursue her passion, she says there are many challenges too. For instance, dealing with clients who back off due to the pricing. "It takes a lot of attention to detail to craft these miniatures that not many understand."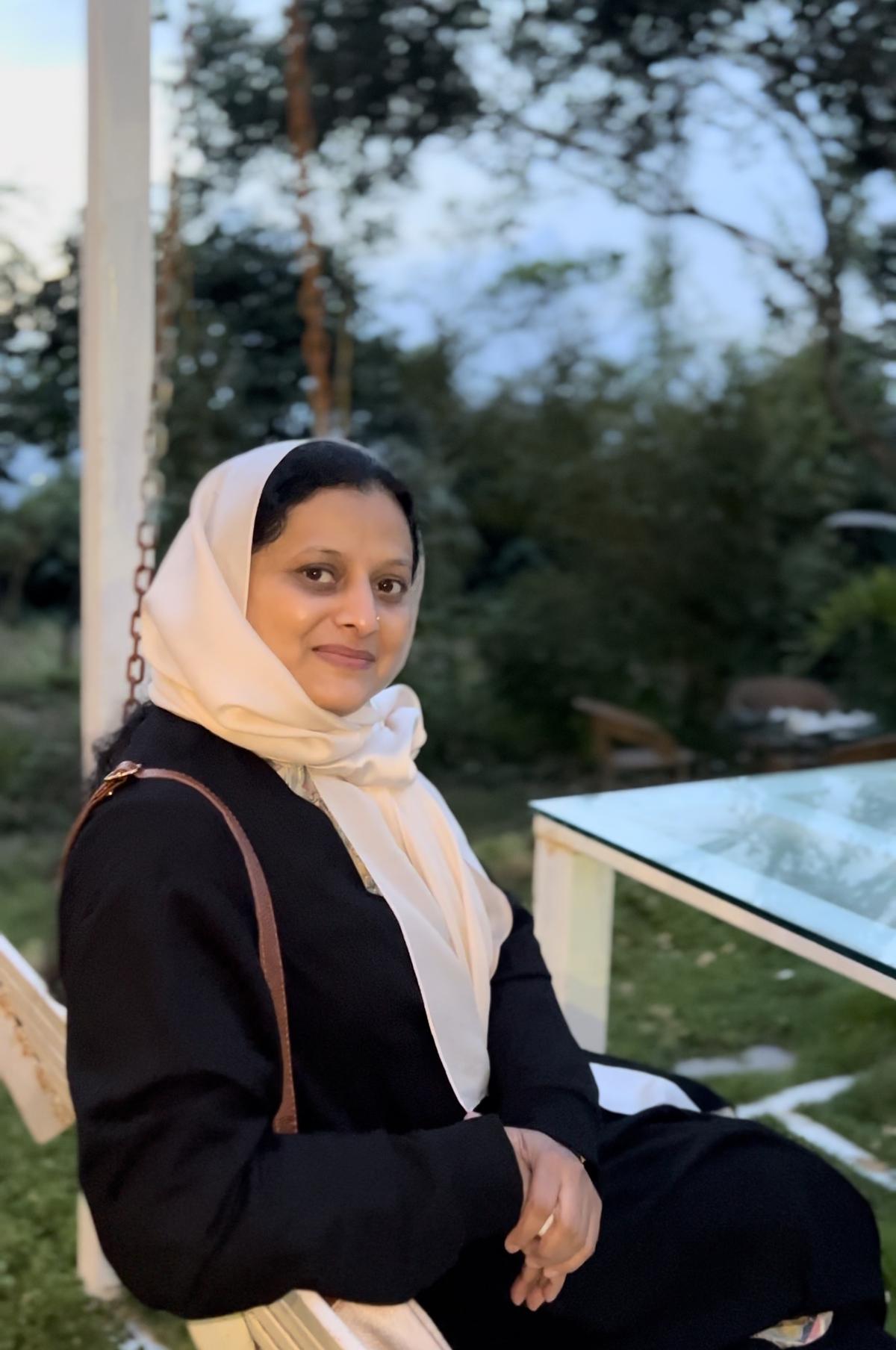 "The miniature masala dosa, idly-vada, Maggi, oreo biscuits, bread basket, and pizza are my bestsellers," says Amina. It takes her approximately a week to craft one miniature, whereas the custom pieces take longer.
Also, her location makes it tough to garner a wider audience. "I live in Madikeri, and not many are aware of my brand. I cannot take bulk orders as I'm the sole person working on the art," says Amina.
Upwards of ₹500. @ameenasahifa on Instagram 
Kirti Basal @ Hello Miniverse
When Kirti Basal moved to Bengaluru in 2018, it was a YouTube video and some homemade clay that kickstarted her journey as a miniature food artist. Having dabbled in various art forms as a child, chancing upon miniature art came as a surprise even to her. "I never thought I'd make a career in the arts. I first experimented with a miniature horse, and went on to craft a dosa that turned out well," says Kirti, 34, who founded Hello Miniverse in 2019.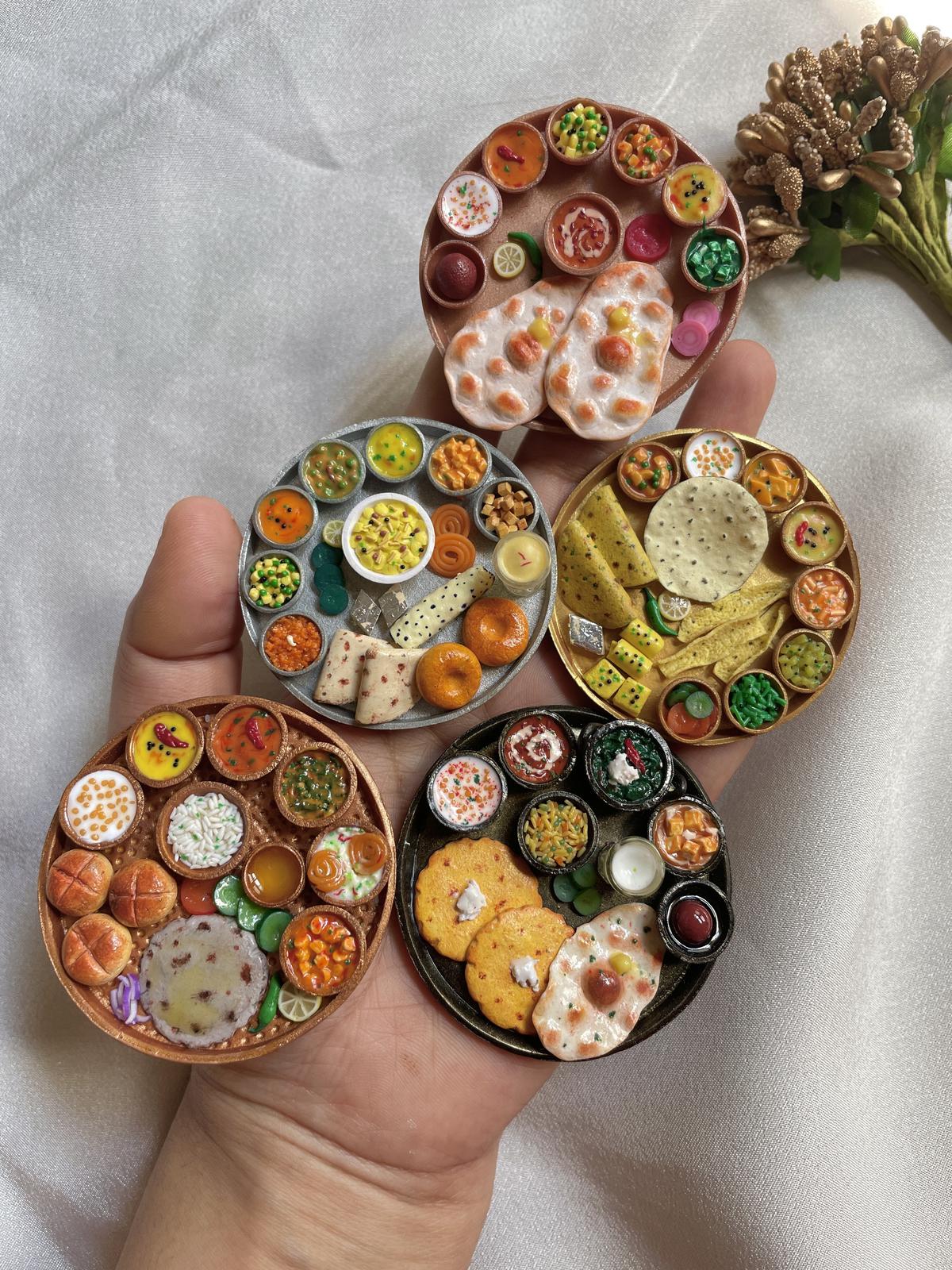 I started making more Indian food miniatures and used to upload them on Twitter. An Onam sadya miniature went viral within a day on my post and this motivated me to take it up full-time," says the artist who was working as a social media influencer prior.
A quick look at her Instagram page — with over 120K followers — has miniatures of Punjabi thalis, chocolates, cheese platters, and sizzling brownies, among many others. "But it is the chai and Parle-G earrings that have been the most popular," says Kirti who crafts these designs into fridge magnets, polymer clay earrings, keychains, necklaces, bracelets, cufflinks, and finger rings.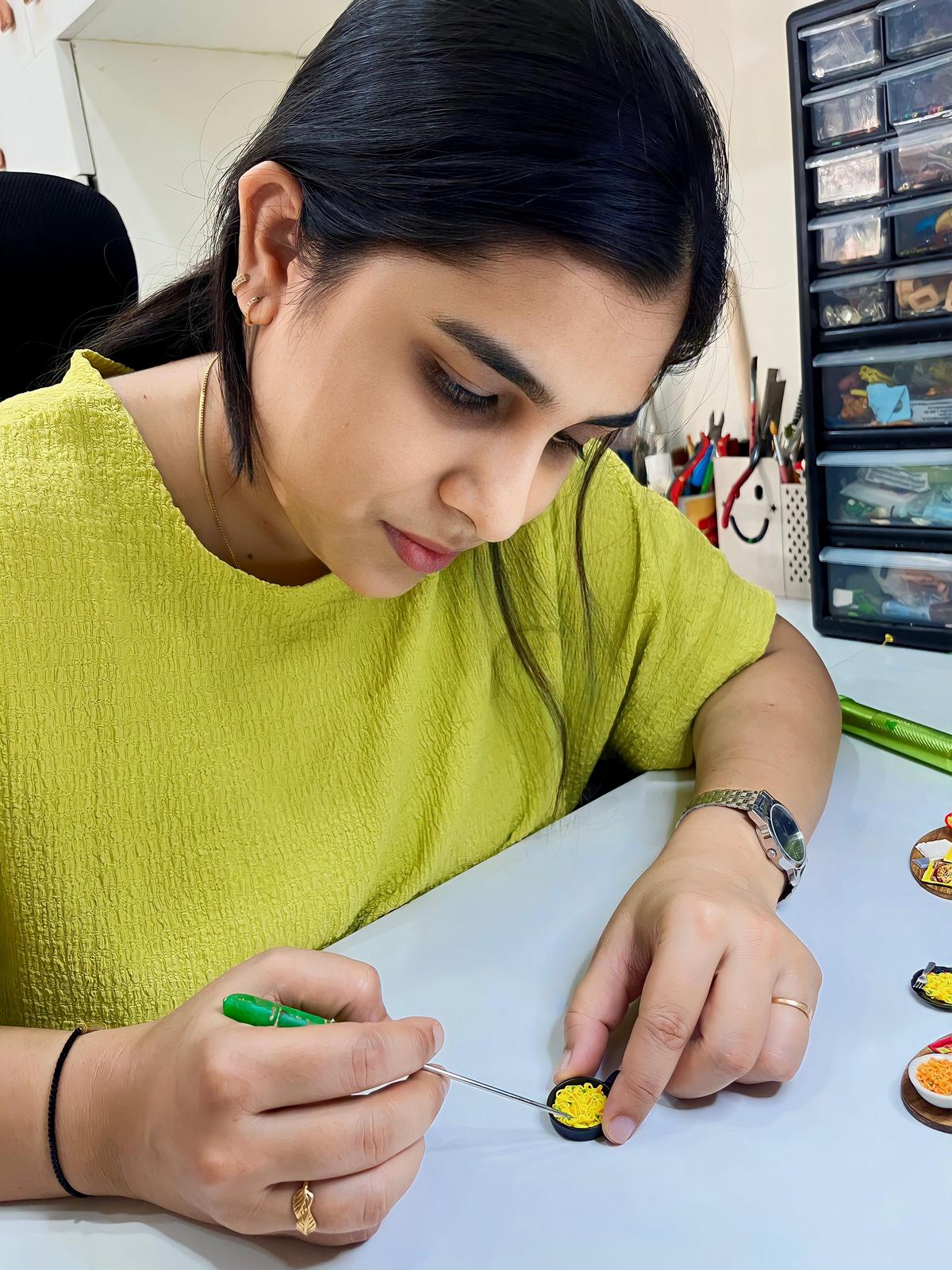 Kirti explains how she underwent a "process of trial and error with various polymer clay brands, as certain selections displayed susceptibility to post-baking breakage". The crucial challenge, however, lay in "thoroughly attaining the precise colour and texture, as even the slightest difference in these aspects could compromise the authenticity of the creations."
Upwards of ₹300 on hellominiverse.com
Agnika Banerjee @ Agnika Creations
As a child, Agnika Banerjee was passionate about creating objects from different materials, especially air-dry clay. "I also loved collecting miniatures, and used to gift my handmade creations to friends and family occasionally," says the now full-time artist who switched over from a corporate career in 2017.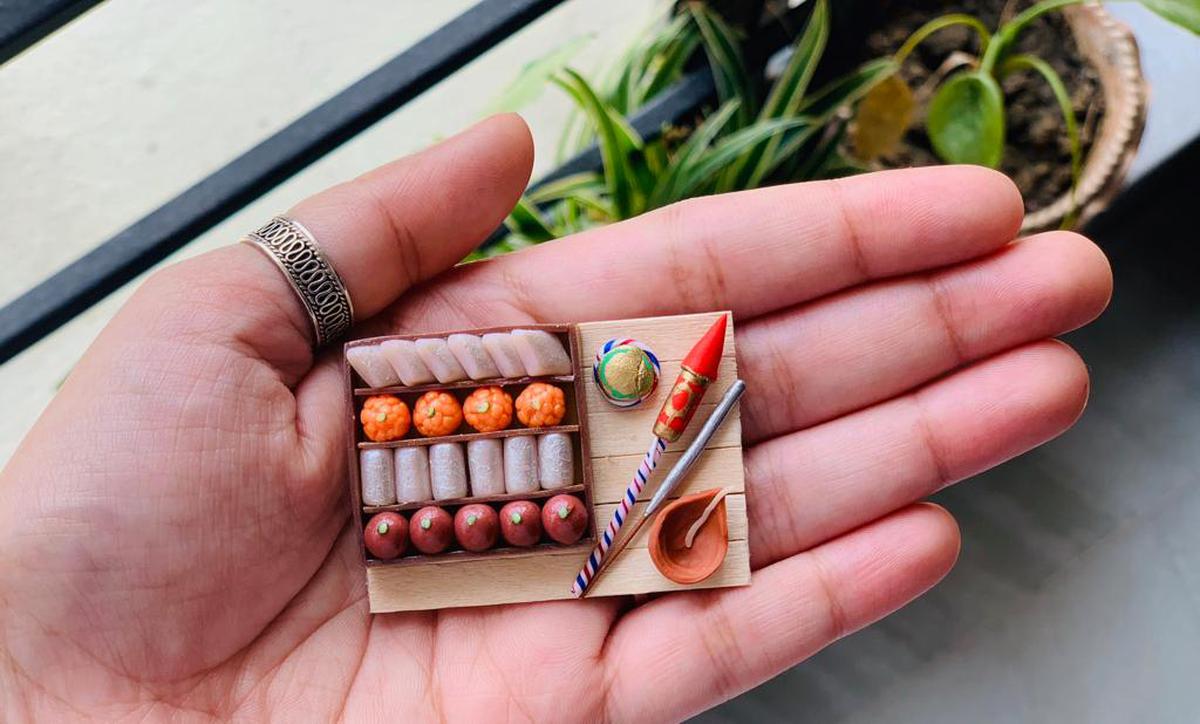 Over the last few years, Agnika has sold her creations in the US, UK, Singapore, and Australia. "It was for my mother's birthday that I decided to make a miniature birthday cake," says Agnika, who researched online and found baked clay as a great material to work with. Soon, she was experimenting with fast food favourites such as pizzas, fries, sandwiches, cookies, and cake, and started receiving orders.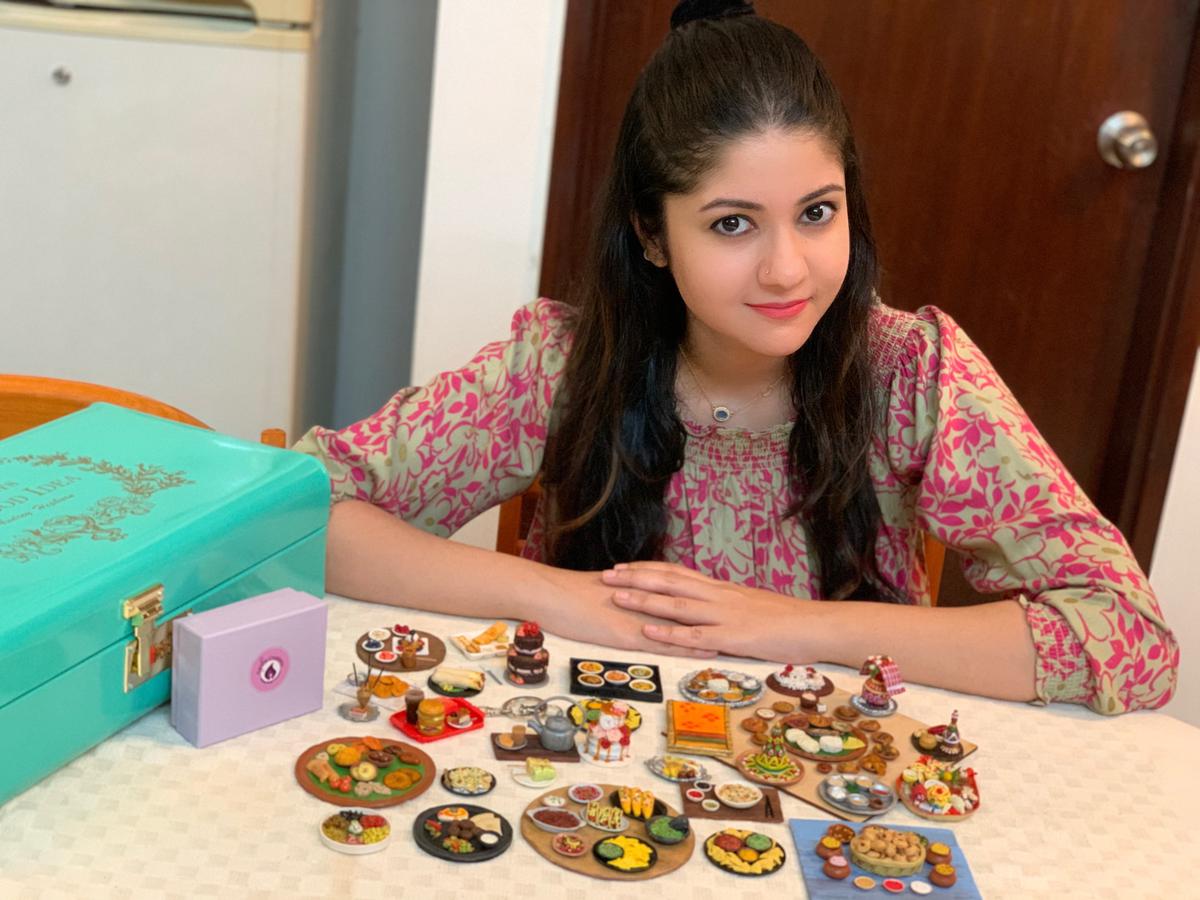 Gearing up for the festive season, Agnika is now creating mithai platters, brass pooja flower baskets, Diwali savoury platters, Christmas cakes, and cookies.
Upwards of ₹975. @agnikacreations on Instagram