Chef Brendan Pang with Chef Simran Singh Thapar, Executive Chef, The Leela Palace, Bengaluru | Photo Credit: Special Arrangement
MasterChef Australia's popular Brendan Pang's passion for food was sparked by his Chinese-Mauritian grandmother, who he fondly calls 'Grand-Mere'. Building on that foundation, he ventured into dim-sum, a dish for which he is now famous.
The chef, who was recently in India, hosted a six-course dinner for the first time at The Leela Palace's pan-Asian restaurant, Zen, in Bengaluru.
Coming out of the crisis on MasterChef Australia, Chef Pang says the show had a profound impact on his culinary development. "I've always thought there's only one way to do something," he reflects. "What MasterChef taught me was that you can take something and make it taste or look good in so many different ways."
The limited ingredients and time constraints on the show inspired her to get creative in the kitchen. It also taught him an invaluable lesson in staying true to his Chinese-Mauritian heritage.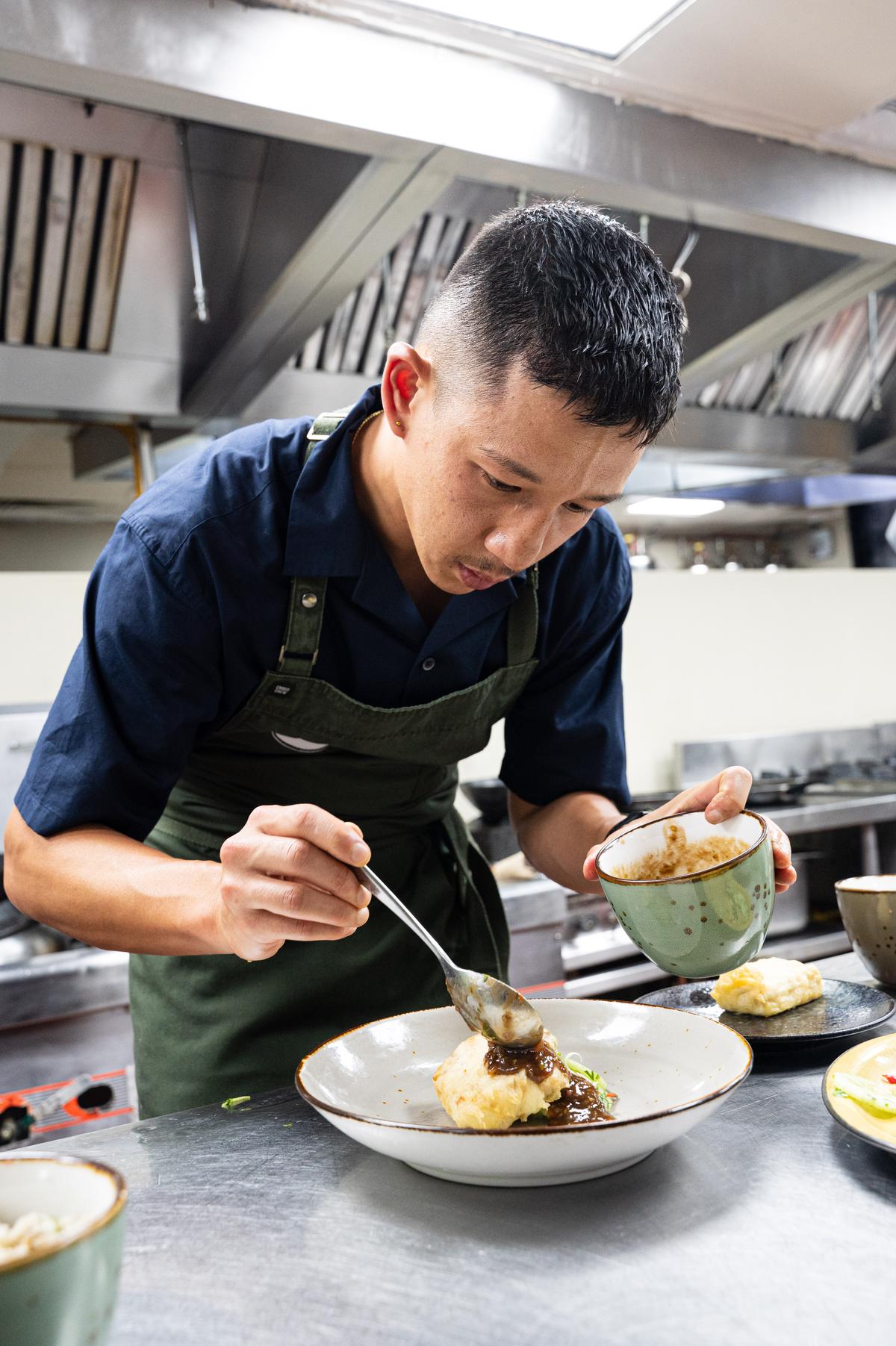 Chef Brendan Pang in the kitchen at The Leela Palace, Bengaluru | Photo Credit: Special Arrangement
Since his appearance on the show, Chef Pang's career has flourished on many fronts. He now dedicates himself full-time to the food industry and runs his own dumpling kitchen called Dumplings in his hometown of Perth. (Her frozen range of dumplings can be found in stores across Australia.) She has written two cookbooks this is a book about dumplings And it's a book about noodles,
In discussing his menu for India, Chef Pang emphasizes the importance of culinary traditions passed down through generations. "It's about sharing my style of food."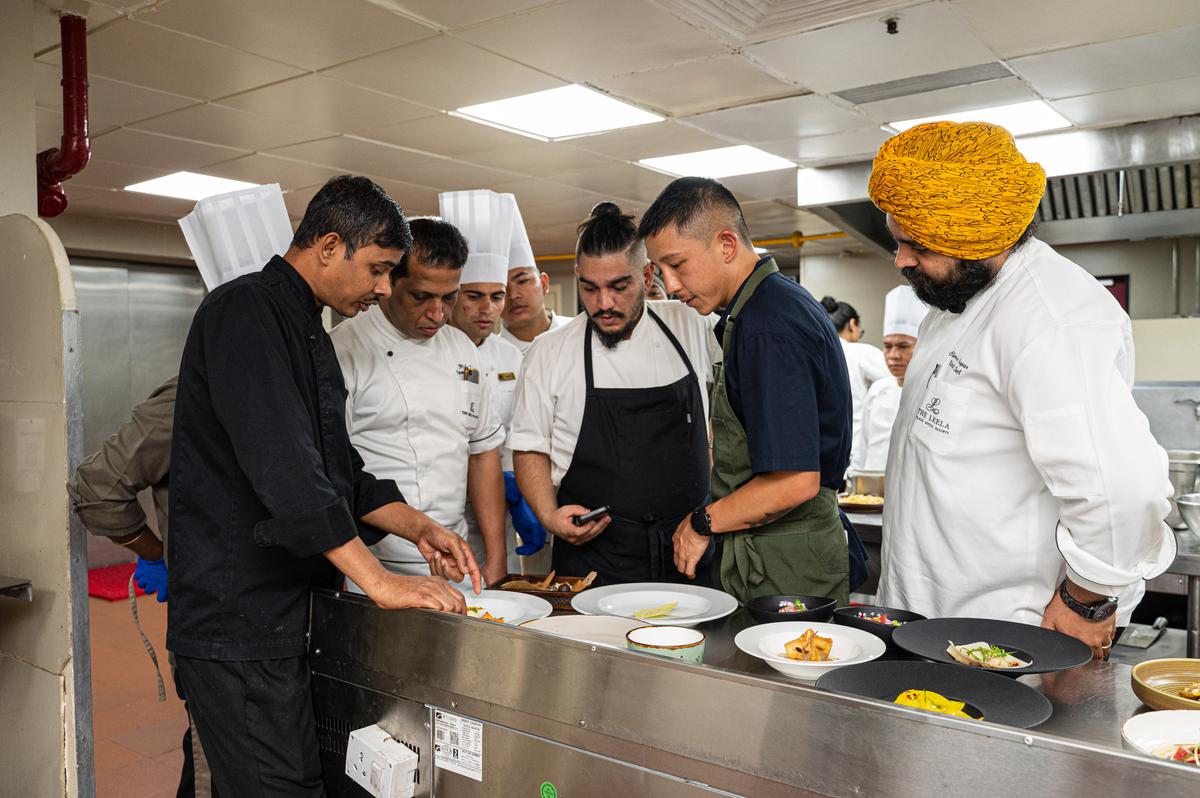 Chef Brendan Pang with staff at The Leela Palace, Bengaluru | Photo Credit: Special Arrangement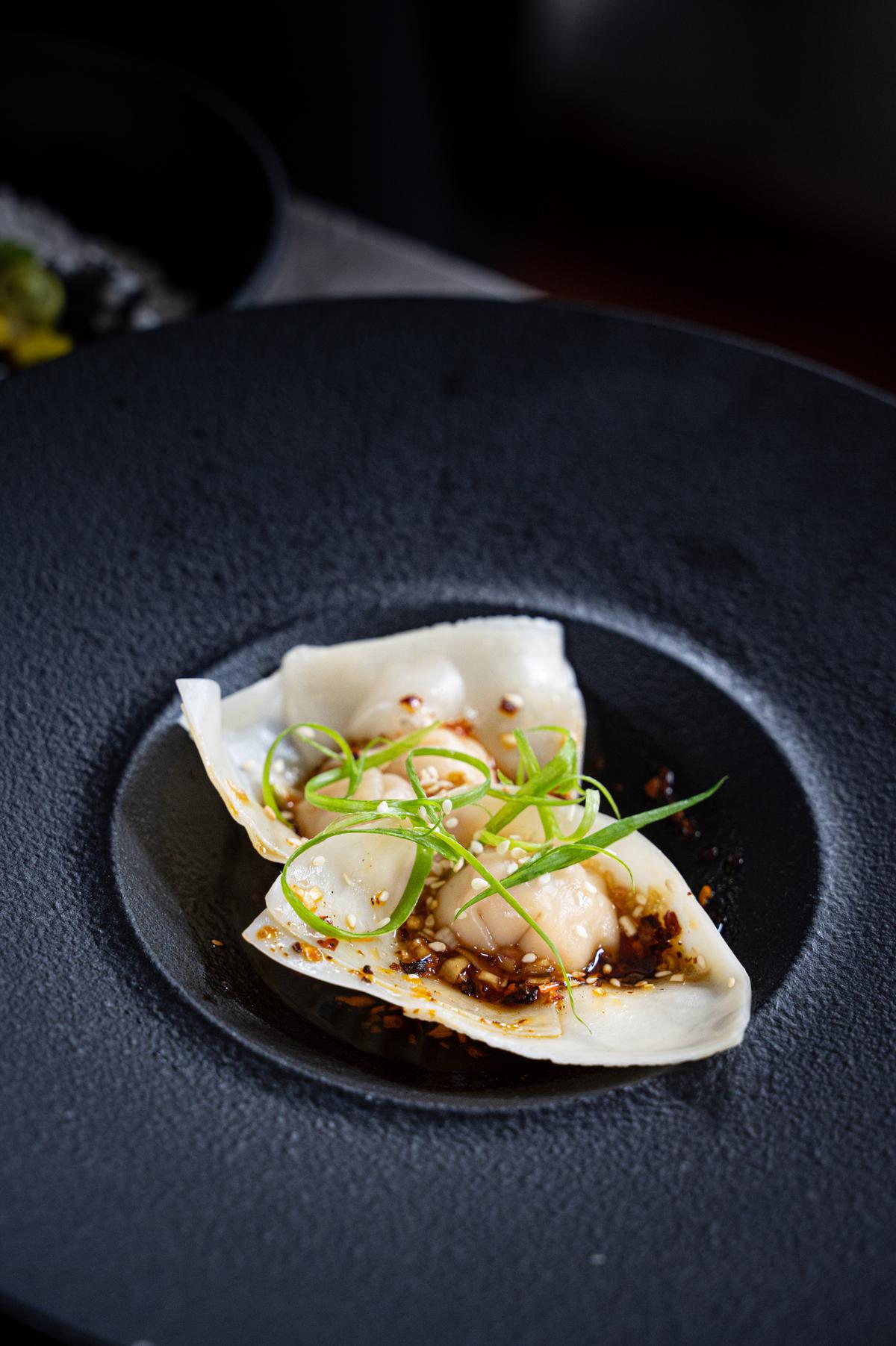 Shrimp wontons with black vinegar and tamari dressing, Sichuan chili oil, green onions and toasted white sesame seeds | Photo Credit: Special Arrangement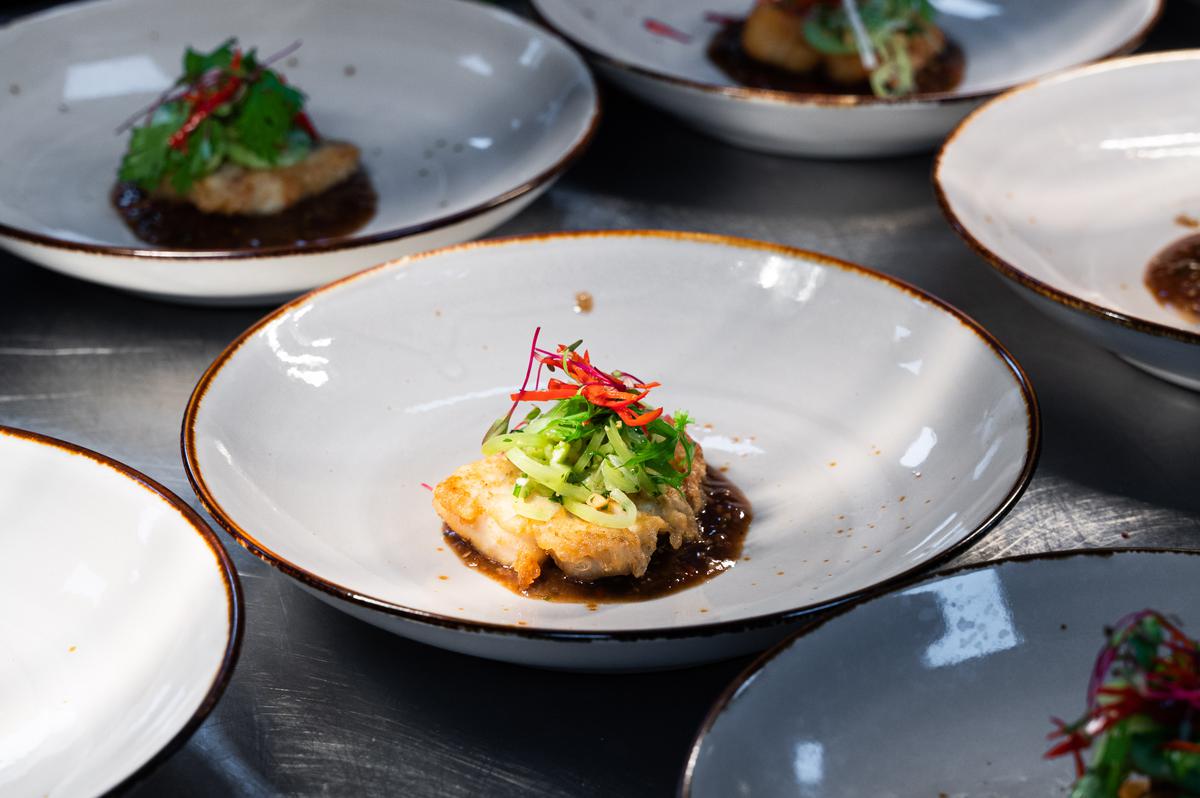 Crisp Sweet and Sour Barramundi with Cucumber and Fresh Herbs | Photo Credit: Special Arrangement
"For me, the deep connection with food and my family is what fuels my passion. I cherish the memories of being the home cook, sharing the love of cooking with my loved ones. It's a deep part of who I am."
Reflecting on the similarities between Indian and Chinese-Mauritian cuisine, Chef Pang says that both have a rich historical and cultural background. "I feel closely connected to this cuisine as my Mauritian upbringing was influenced by a strong Indian ideology".
"Growing up we ate a lot Dhol Puri, small dumplings, and street fried items, as well as many Indian sweets and I loved every bit of it. Many of the flavors I've experienced in India are acceptable and familiar to me, even if they are slightly different. So I am quite excited to try something else.
Pang embarks on his Indian culinary adventure Dosa, "I fell in love with its rich taste… I've had it before, but it was nothing like what I've had here in Bangalore. I also tasted some Chinese-Indian dishes, which were really delicious. It has all the flavors and aromas that I love – lots of garlic, spice, chili and fried foods.' and then there was Barfi, "I found it excellent, a perfect symphony of sweetness and texture."
For The Leela Palace event, Pang presented his unique take on Chinese cooking, paying homage to tradition while infusing it with a playful spirit. Guests savored their famous silky shrimp wontons, served with a delicious-sweet-sour vinegar dressing and house-made chili oil.
The meal also included pan-fried mushroom and truffle potstickers, truffle and egg fried rice, and sweet and sour fish.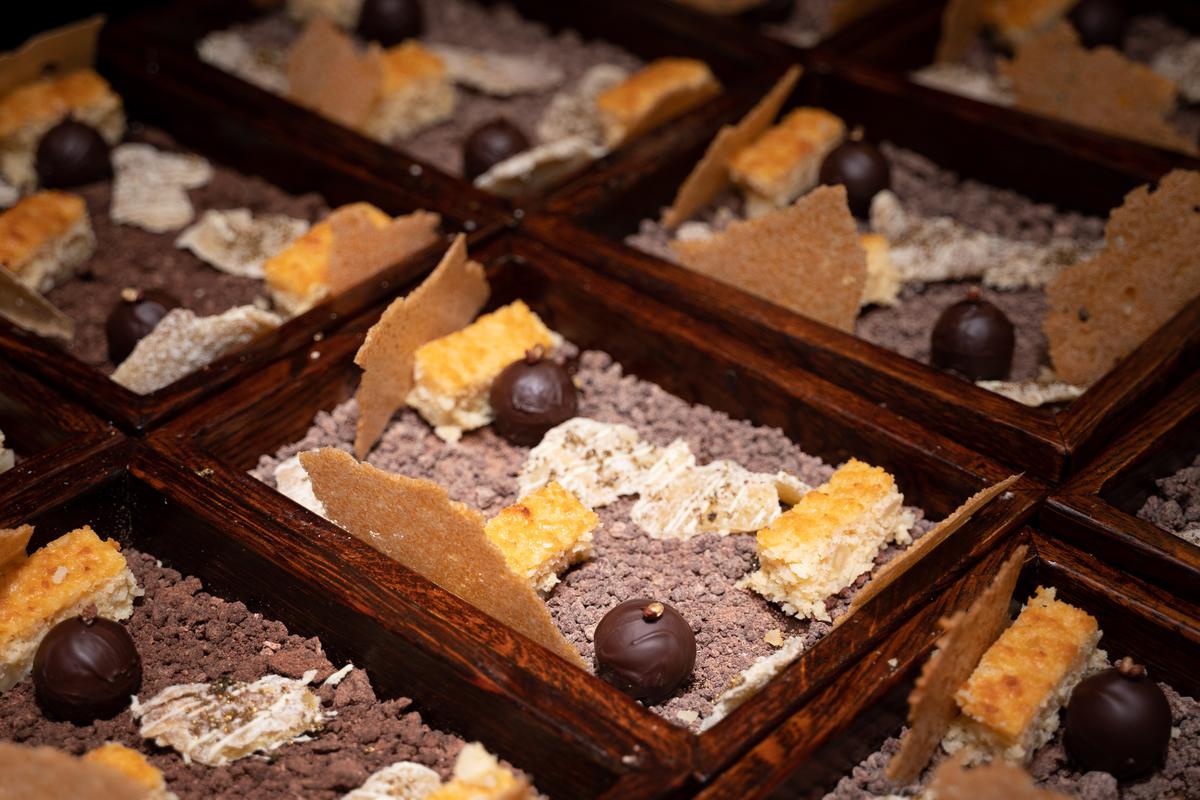 Petit Four – Pineapple and Sichuan Pepper and Chocolate Bon Bon | Photo Credit: Special Arrangement
"To Bengaluru, I brought my take on Chinese cooking," revealed Pang. "It honors tradition with time-honored recipes, but I've added a modern, accessible, and fun twist."