Sundal sellers of Marina
A young lad with a steel container balanced on his shoulder, weaving his way through a crowded Marina beach: this image has long been synonymous with Chennai. Marina is lined with food trucks and stalls selling everything from 'Chinese' to spring potato. But years ago, it was beach sundal that people munched on as they sat by the waves with their feet outstretched.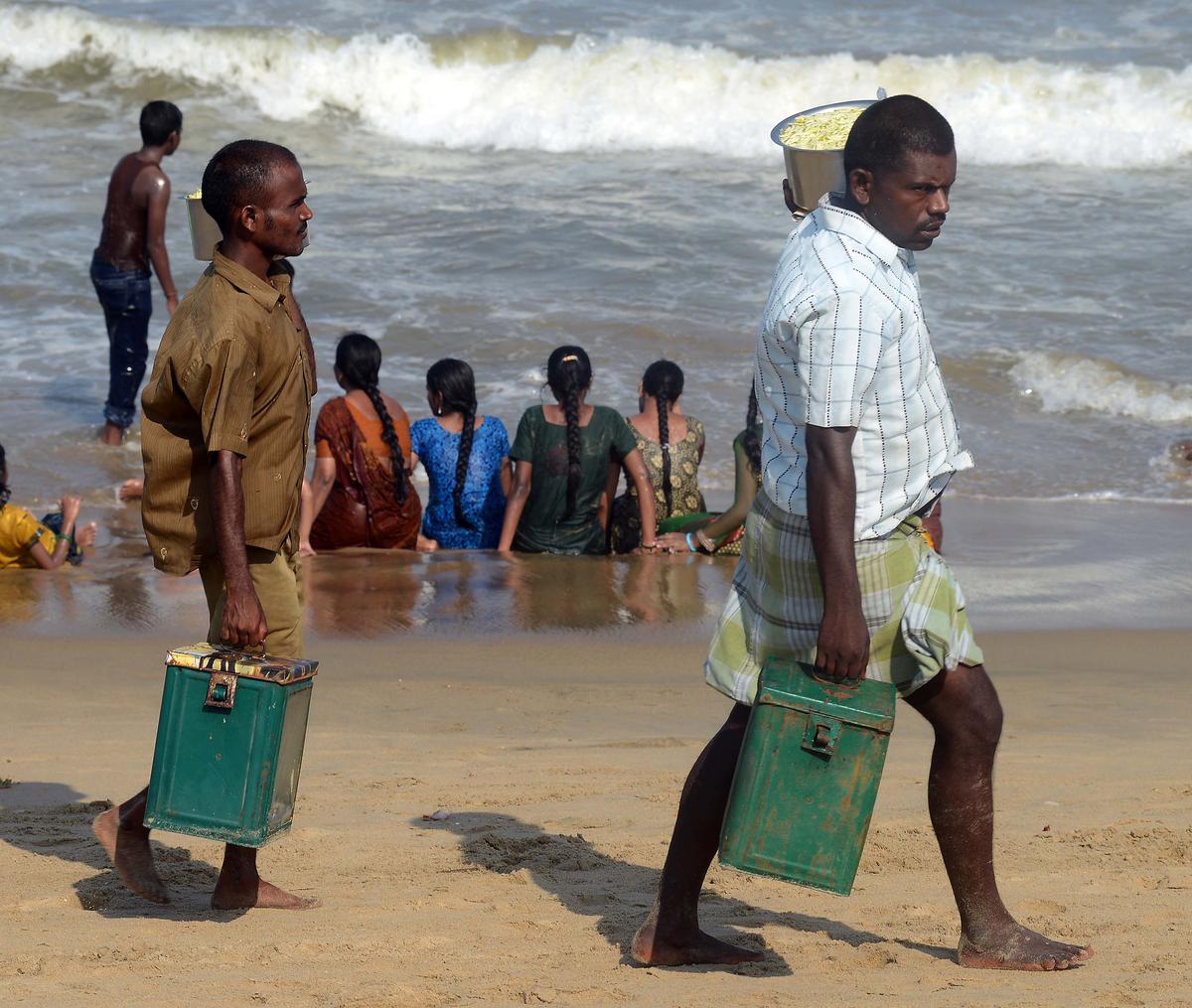 Trudging through the sand on a Friday evening, we meet 34-year-old M Kumar from Paramakudi, who has brought two kilograms of sundal to sell. He bends a knee, placing the steel container on it and packs some 'thenga, manga, pattani sundal' in a paper cone. The white peas sundal, cooked to perfection and garnished with scraped coconut and thin slivers of raw mango, tastes just like it did a decade ago.
"The sundal sellers are all from Ramnad district near Madurai," says M Kumar of JK Sea Shells, a souvenir store that has been around since the 1990s behind the Triumph of Labour statue. "They would arrive here in small teams and stay at Nochi Kuppam for six months a year," he explains adding that they are small farmers looking to earn a living when rains and other factors such as labour shortage failed them back home.
"They would make the sundal at home and sell it at the beach from 4pm to 8pm," he adds. "These days though, I see only a handful of them; perhaps people prefer fast food to their sundal." Kumar remembers how these lads would all walk back home together, exhausted, but happy to have made a little something to be sent back home.
Jannal bajji shop
Twenty-five years ago, a V Krishnamoorthy, who had just retired from his job as a cook at the madapalli (temple kitchen) at Kapaleeswarar temple, opened the hall window of his Mylapore home. It overlooked the narrow Ponnambala Vadyar Street, and taking a seat by it, Krishnamoorthy thought of a business idea. The family was in need of financial support, and Krishnamoorthy, being a skilled cook, decided to put to use his expertise. K Sargunanathan, whose sister married Krishnamoorthy's son, recalls how Krishnamoorthy was known for his delicious tamarind rice, sakkara pongal and sundal.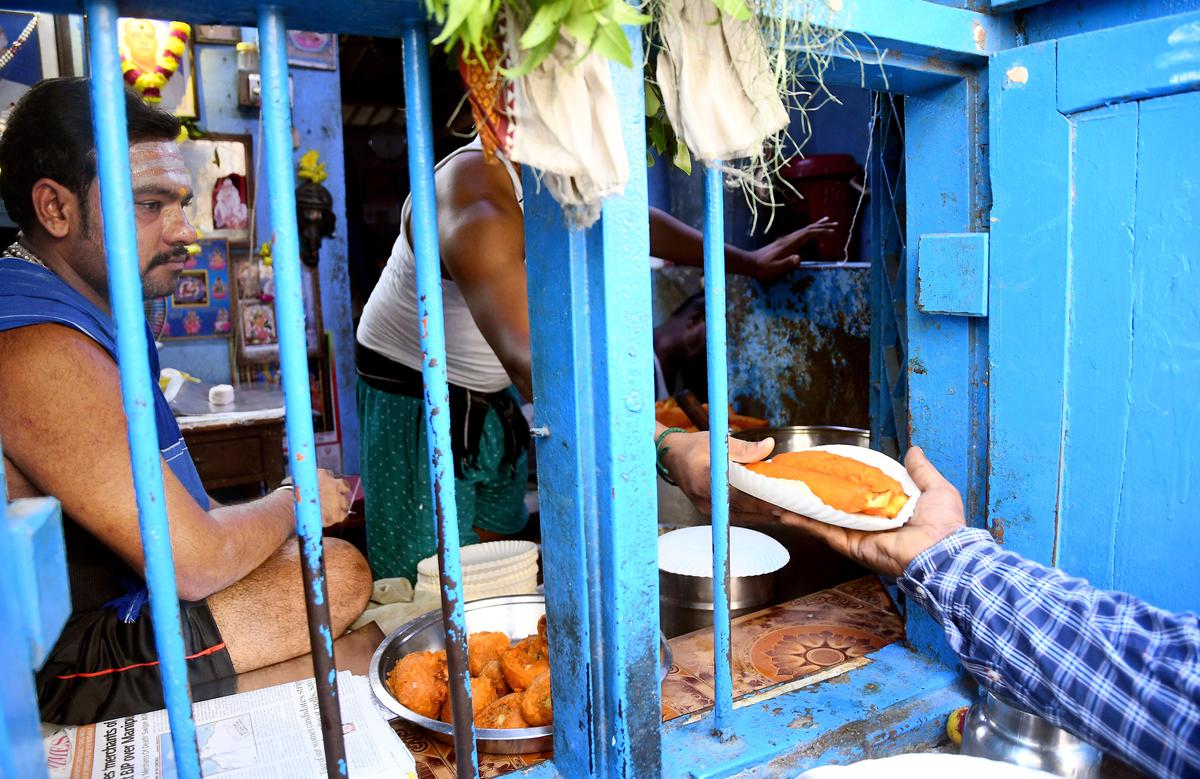 Today, the shop is open from 7.40am to 10.45am, and sells pongal, poori, idli and vada. In the evenings, from 4.45pm onwards, there is a range of bajjis on offer, including bondas, idli and dosa. "Krishnamoorthy's son Sivaramakrishnan took over after him and after his death during the pandemic, my brother-in-law V Chandrashekar and his sons run the business," explains Sargunanathan. Jannal kadai is closed on Sundays, and Sargunanathan says that customers knock on the blue window even on their day off, asking if there are bajjis to eat.
Fish fry at Bessie
The 2004 tsunami changed the course of lives of the people of Odai Kuppam at Besant Nagar. "Fisherfolk families who lost everything to the disaster, started looking for other means to earn a living," says A Dinesh Kumar of Pooja Fish Fry, a stall selling fried fish at the beach. "Before the tsunami, there were only a handful of stalls; now there are over 15 of them," says the 28-year-old, in between handing plastic plates of crisp fried fish with a side of sliced onions to customers.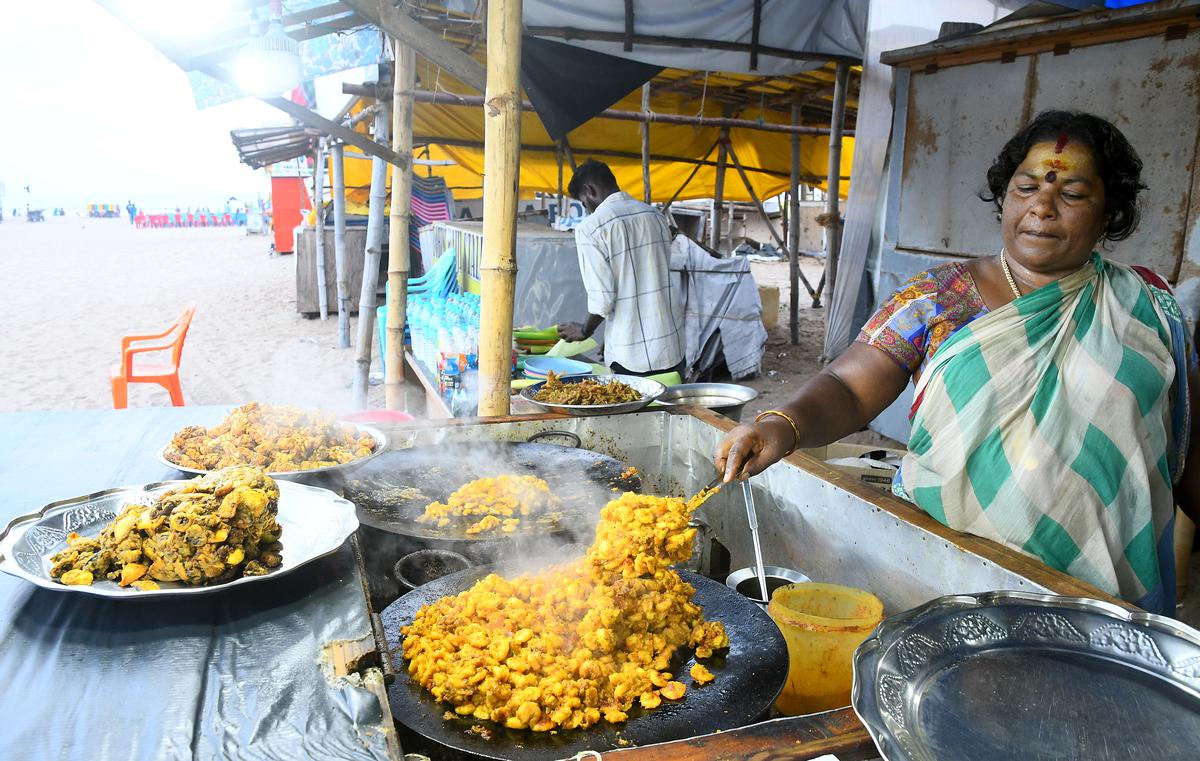 Dinesh is a fisherman himself, but like the others in his kuppam, has chosen to sell fried fish since he finds the work more profitable and risk-free when compared to fishing. "All of the stall owners are from Odai Kuppam," he points out, adding: "We head to Kasimedu or the Chintadripet market at 4am to buy fish. We then wash and sort them, and marinate them in a masala prepared at home."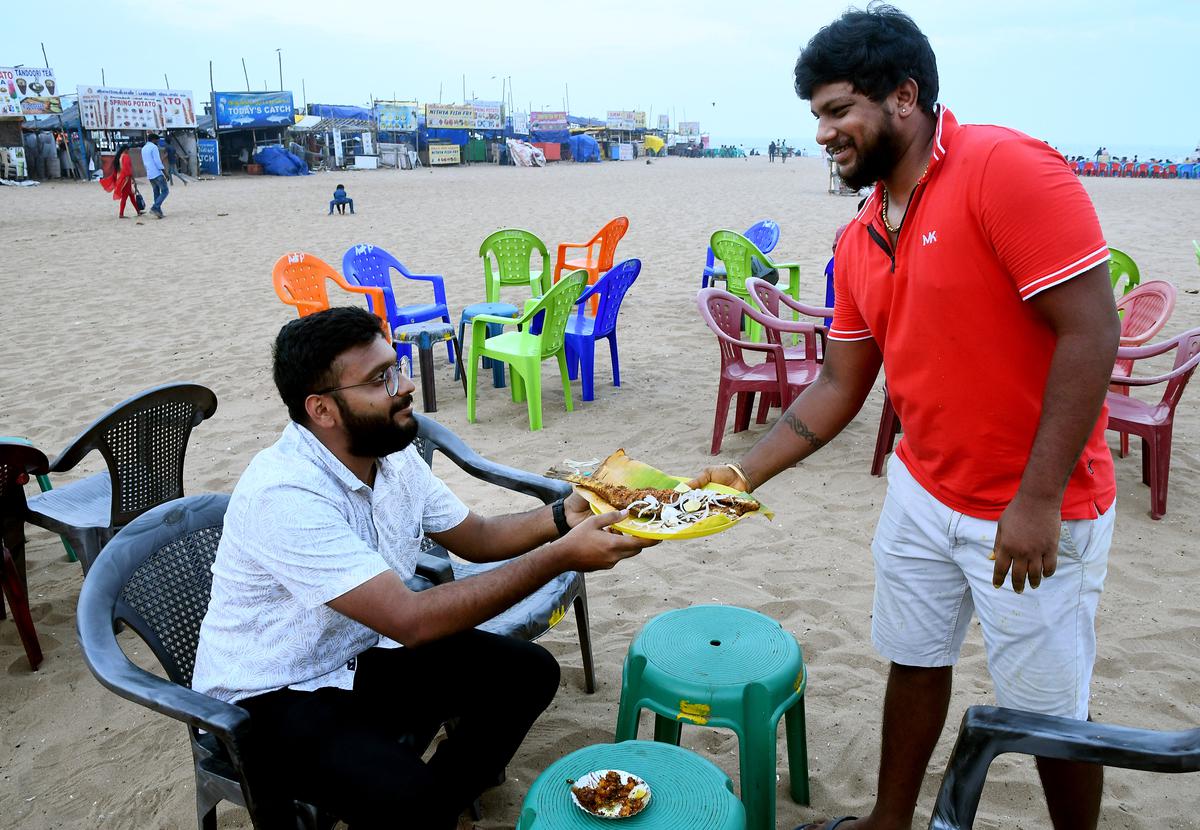 Fried fish is an Elliot's tradition. The rickety plastic chairs with legs sunk into the sand, tables with neon green water jugs and tumblers are unique to this stretch of the beach. Here, we can choose the kind of fish we want fried from the display in front of the stalls. They sit there dusted with a fiery red masala, and are mostly always fresh. The prawn fry is a must-try, and the vaaval (pomfret) and vanjiram (seer) are easy to eat on the beach, given that they come with fewer bones. And remember to have a water bottle in hand.
Burmese food, Vyasarpadi
For the residents of Chennai, the sight of push carts selling Burmese dishes such as atho, bejo and mohinga is nothing new. But what many of us don't know is that we can come across some unusual Burmese food, prepared with ingredients from Myanmar, in the by-lanes of Vysarpadi. Sastri Nagar, better known as Burma Colony has numerous such eateries. 
On 16th Street, beside a shop selling Burmese groceries since 1992, is a stall with breakfast options such as mopeto, black rice porridge with karuppu kavuni arisi (black rice-based dish). The stall is run by Selvi, who learnt to prepare these dishes from her mother. Everyday at 7am, Selvi sets shop in front of their grocery store. Breakfast here is competitively priced between ₹15 and ₹30 per item.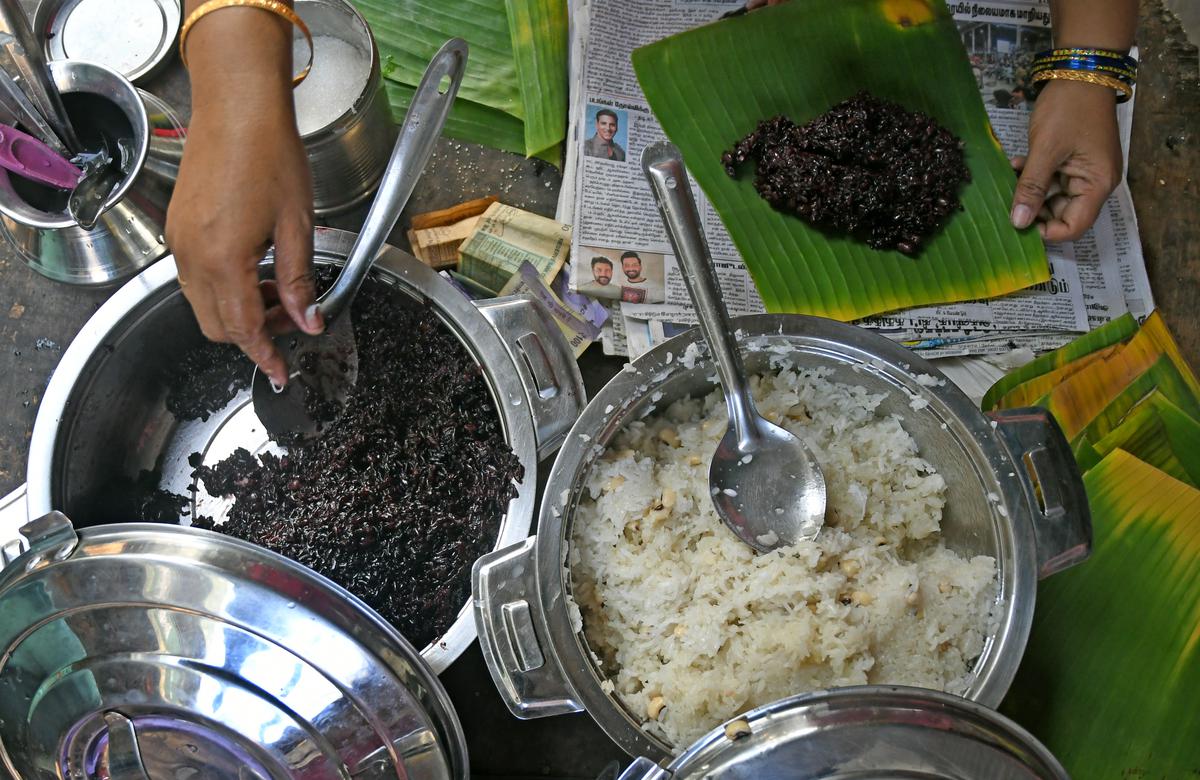 Selvi offers mopeto, which is black or white rice flour dough stuffed with grated coconut and country sugar, then wrapped in banana leaf and steamed. Then there is black sticky rice, which is pressure-cooked with lobia beans and served with a topping of grated coconut and country sugar; kavuni rice porridge and babio, which consists of white peas soaked overnight, then cooked with salt. David (Selvi's husband) makes monthly trips to Moreh, Manipur (on the India-Myanmar border) to bring groceries and black rice.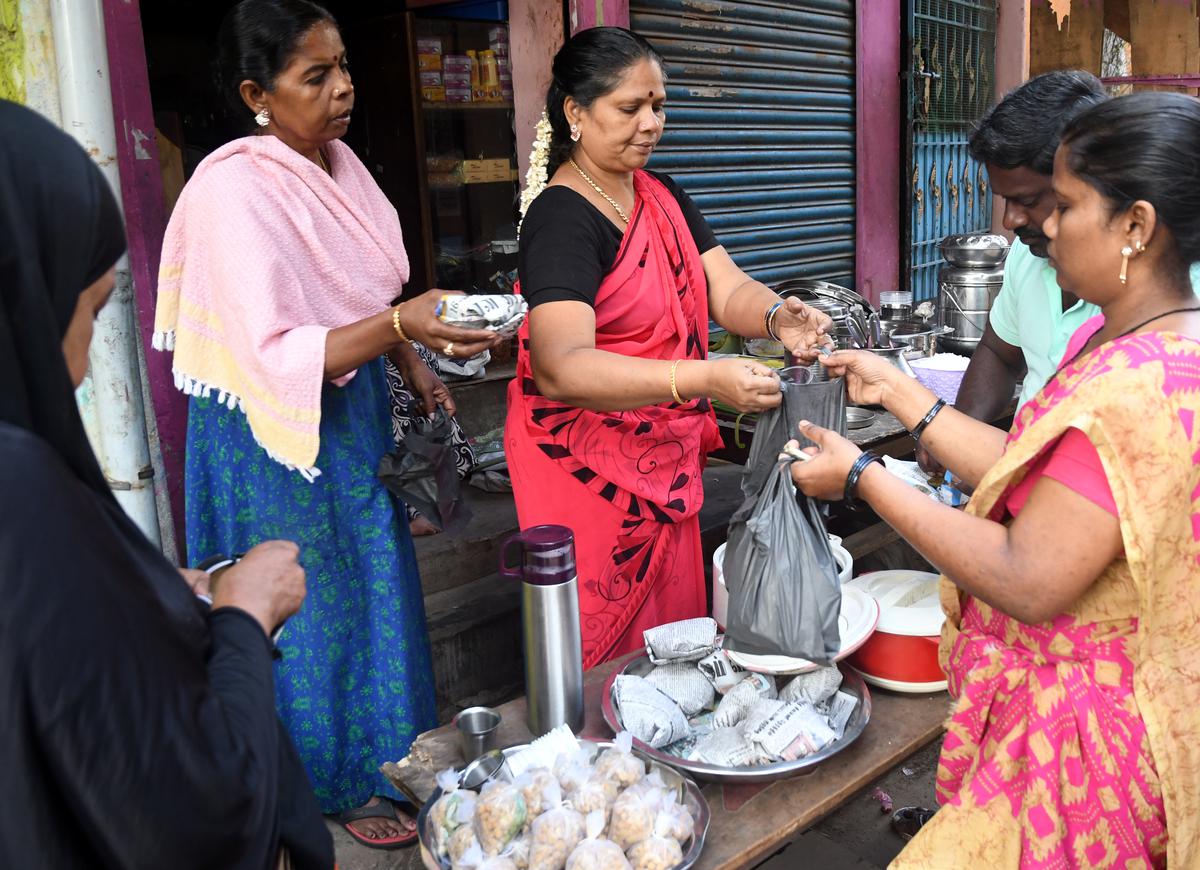 Close to the shop, in the market area, 60-year-old Vasantha Mani has been selling Burmese desserts such as molesan and chonamuki for 12 years. Molesan is made with rice flour, coconut milk, jaggery and sago. Chonamuki is a Burmese halwa made with sooji, rice flour, shredded coconut and coconut milk.
Burmese repatriates have been living in Vyasarpadi since the 1960s. Bernard D Sami, director, Loyola Institute of Social Science Training and Research, explains how the British in India were importing rice from the US in the 1800s. "When the Civil War broke out in 1861, it became difficult to source rice. Burma turned out to be a fertile land for the British to cultivate rice. They needed people who knew how to work in the rice fields, and so people from Thanjavur and Ramnad districts were taken to Burma," he says.
He adds that after the coup d'eat of 1962, Indians were asked to become citizens or leave the country. "The repatriates reached Gummudipoondi and were given places to stay in Sharma Nagar (Sastri Nagar), Vyasarpadi and Annai Sivakami Nagar in Ennore. Some of them opted for the jobs offered by the Government and some became traders. The perfumes, soaps and gadgets they brought from Burma were sold at Burma Bazaar in Parry's corner. Burmese food also gained popularity and the repatriates set up stalls in front of their homes."
Vada curry
Some Chennai families observe the tradition of preparing vada curry on weekends and festivals. In many homes, hot idlis and vada curry is served for breakfast on Deepavali day. The dish is said to have originated in small eateries and tea shops in Chennai many decades ago. The idea being that leftover masala vada is crumbled and added to a simmering curry and served as an accompaniment to idli or dosa. Generally not available outside of Chennai, it bears the prefix 'Saidapet.'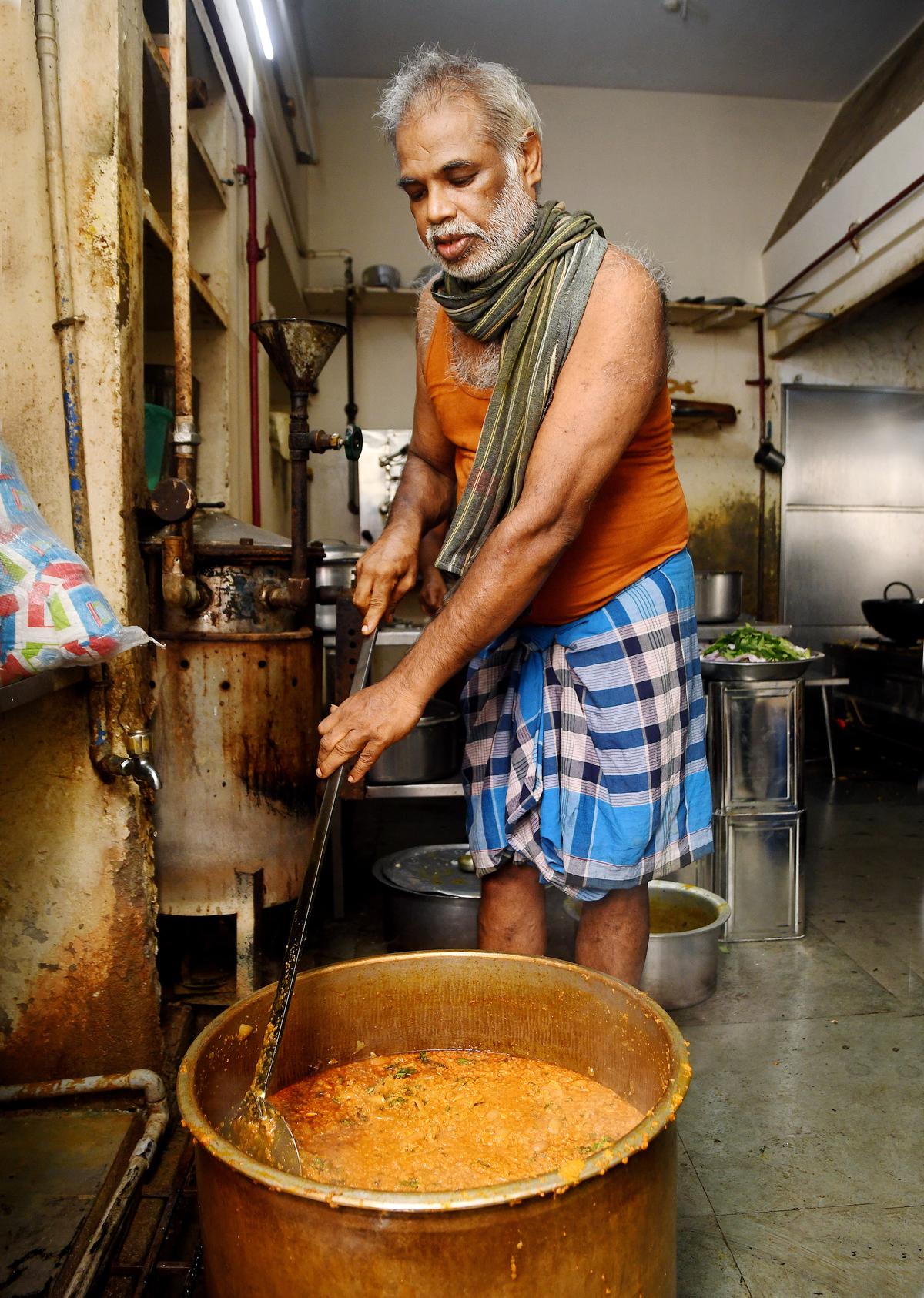 Says city Chef K Damodaran: "During my days at the Corporation High School, Manthoppu in 1961, I remember being handed packets of idlis with vada curry from a restaurant in Saidapet, after the Saturday NCC drill. It was such a treat. For the past 55 years, I have been eating the curry every Saturday from the same place: Mari Hotel."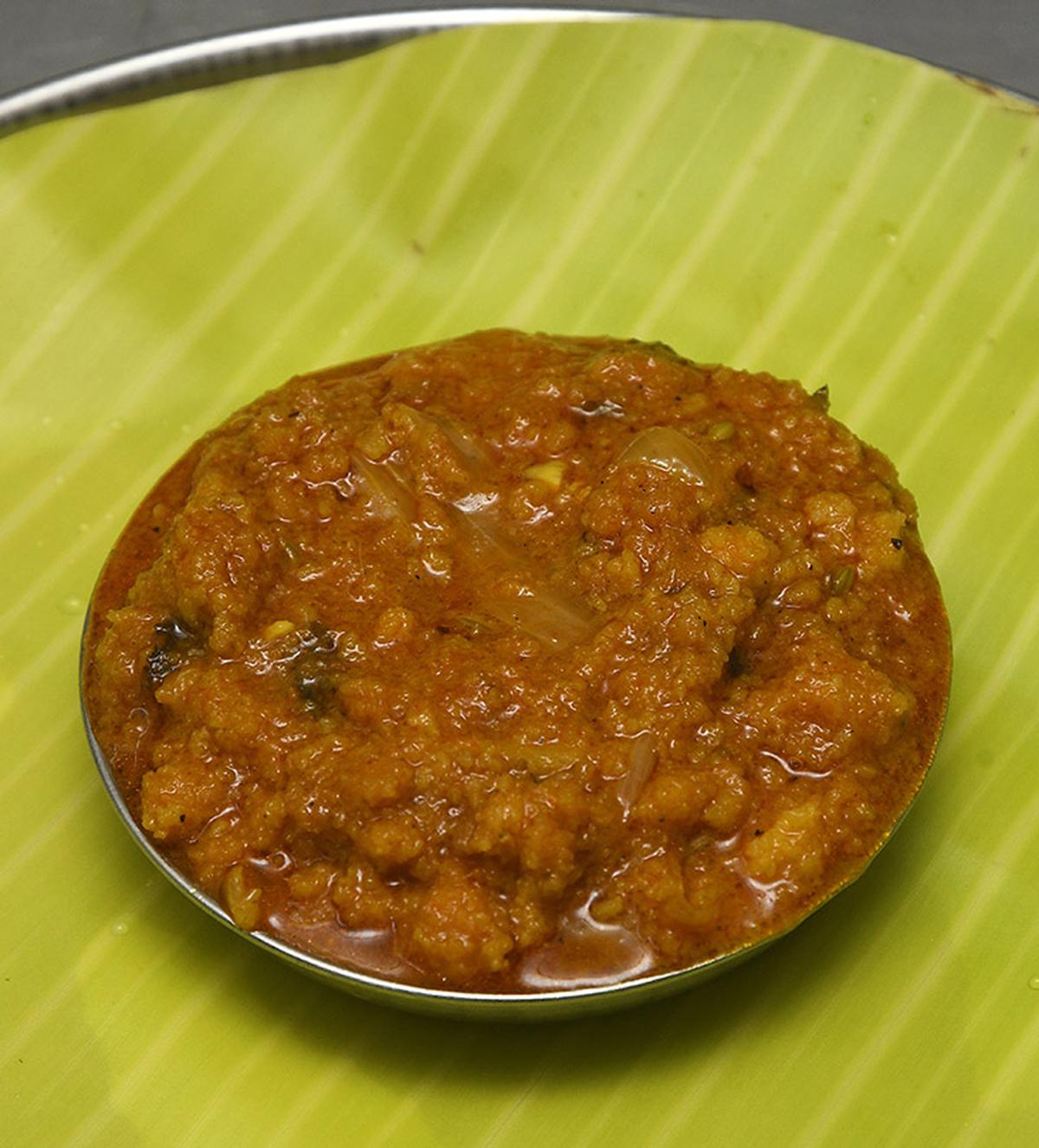 The iconic Mari Hotel in Saidapet is 73 years old and is run by brothers M Krishnamurthy and M Kumaran. Mari Hotel was founded by PP Marimuthu, as a tea shop where he also sold idli, dosa, vada and pongal. In 1994, the place was renovated and launched as a full-fledged restaurant. "Those days, many tea shops used leftover masala vada and prepared a kurma-like dish. My father developed and standardised the dish by using fresh dal and adding his signature garam masala powder, that led to the popularity of our vada curry," says Krishnamurthy.
Here, vada curry is sold throughout the day and two variations are made: with pattani dal and channa dal. "We use pattani dal to make it affordable as channa dal rates have gone up. But on demand we make channa dal vada curry too," says Krishanmurthy. Business starts by 7.15am and closes by 9.30pm, and during this time, vada curry alone is sold for ₹20,000 per day. Vada curry is best when had with crisp dosa, idli and poori.