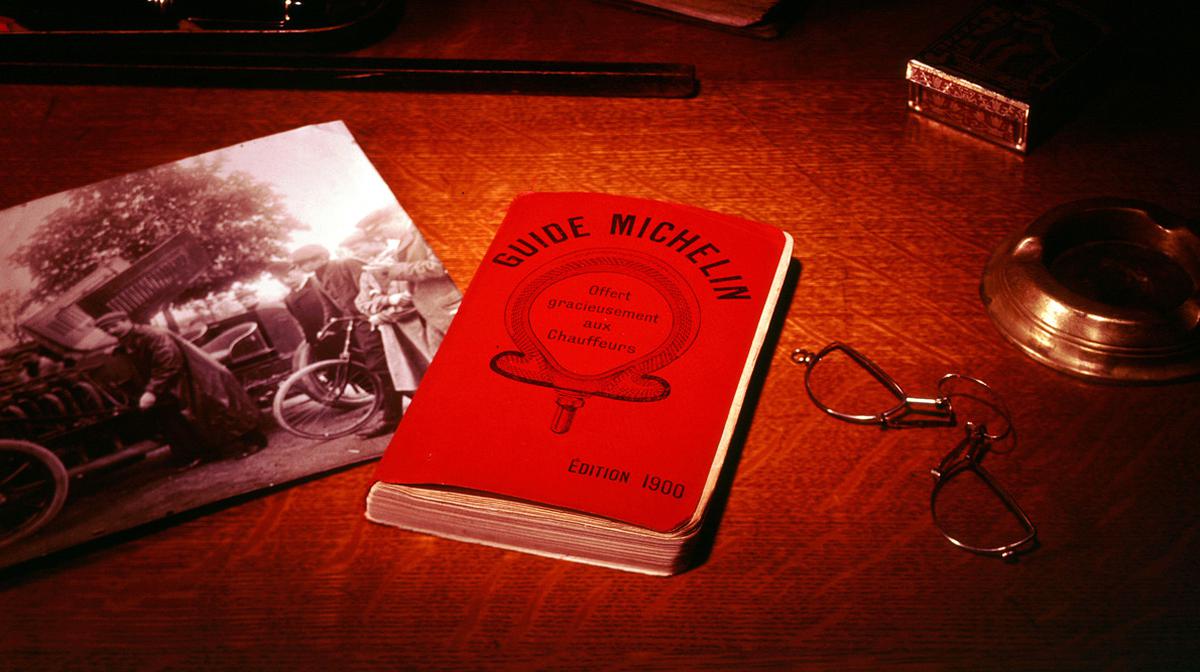 A copy of the Michelin Guide 1900 edition
How do you recreate the taste of home? In Dubai, three young Indian chefs recently brought attention to modern Indian food when they were awarded Michelin stars for their restaurants, Tresind Studio and Avatara. And while their sumptuous multi-course menu impressed the guests and judges with their creativity, the biggest win was distilling familiar Indian flavors and presenting them authentically on a global platform.
Chef Himanshu Saini of Tresind Studio, who was awarded two stars; Chef Rahul Rana of Avatara, who was awarded a star and Chef Onkar Valve, who won the prestigious Young Chef Award, are inspiring ambassadors of Indian cuisine.
At 35, Himanshu is also the corporate chef at Passion F&B, which runs Carnival, Amara, Avatara and Tresind Studios in Dubai, all of which were mentioned in the guide.
With over 13,000 dining establishments, and some of the biggest names in the culinary world – including Gordon Ramsay, Heston Blumenthal and Nobu Matsuhisa – Dubai is a famously competitive market when it comes to restaurants. The Michelin Awards, seen as the Oscars for food, are awarded by a group of the industry's notoriously harsh, anonymous inspectors, who travel the world in search of the best restaurants.
Following a recent high-octane Michelin awards ceremony at Dubai's plush new Royal Atlantis hotel, the chefs discuss how their hometowns influence their cuisine.
Chef Himanshu Saini: Traceind Studio, two Michelin stars
"Attitudes towards Indian food are changing around the world," says Himanshu. "When I started traveling, I realized that the perception of Indian food in the West is still very poor. It is still thought of as a 'takeaway' and curries and breads.
Stating that there is no point in talking about 'modern Indian' food when people know very little about the cuisine, Himanshu says that the first thing guests are shown at Tresind Studio is a map of India. The 16-course menu is divided into North, South, East and West, with four courses from each region.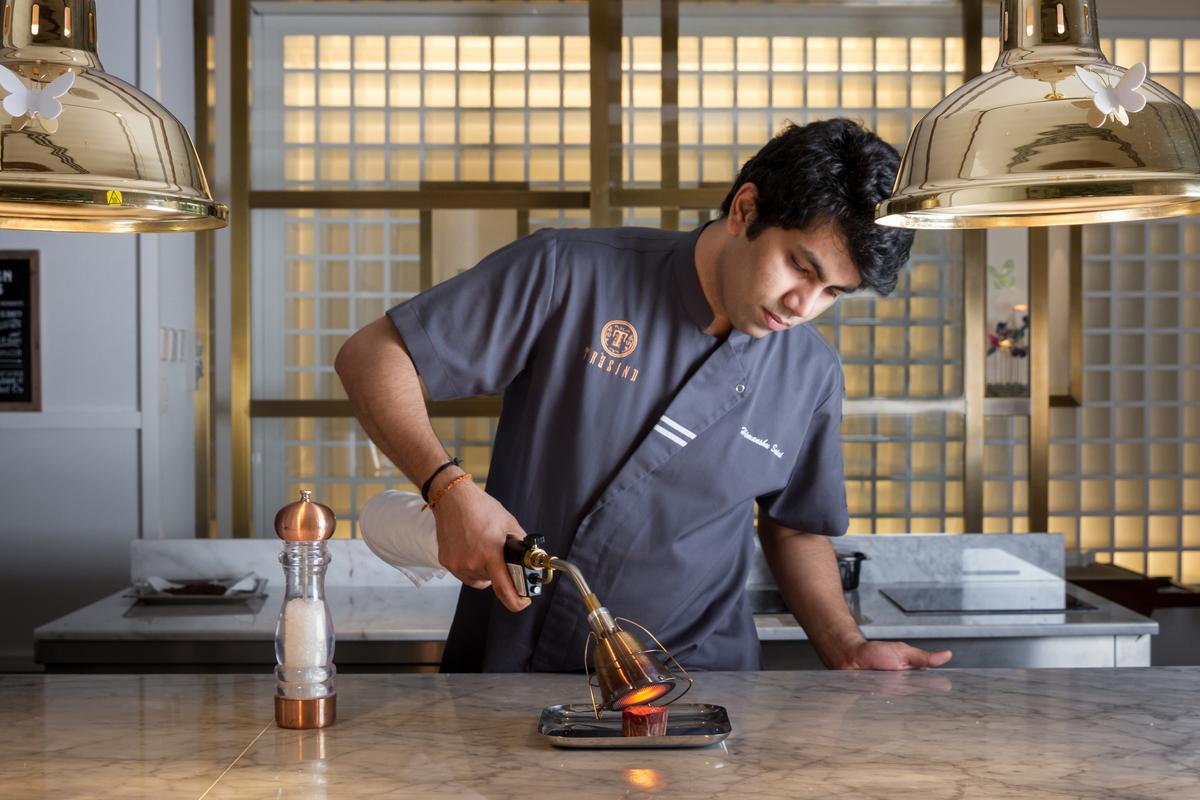 Chef Himanshu from Tresind Studio
Defensively, there is no rice or roti on the menu, which enables the team to offer more variety to guests. Himanshu also deliberately avoids all the clichés of luxury dining. "You won't find any caviar, foie gras or wagyu on my menu….it makes the whole experience more unique," he says.
For example their practical course, which showcases Kerala, begins with a banana leaf and develops with beautifully choreographed live plating. "Each chef comes out with an ingredient. Pineapple, mango curry, ice cream with coconut and black pepper. Papadum and rasam are served on the side…" says Himanshu.
They say that familiar flavors bring back old memories. For Himanshu, who grew up in Old Delhi – where he helped his mother and grandmother in the kitchen – his kebab course is a tribute to his childhood. "When you make kebabs, what's left on the tawa is the tastiest part. We'll use a flatbread to scrape that off. Hence, we serve guests kebabs that are still cooking – the aroma and taste transport them to the streets of Delhi. I have seen people shedding tears with that dish.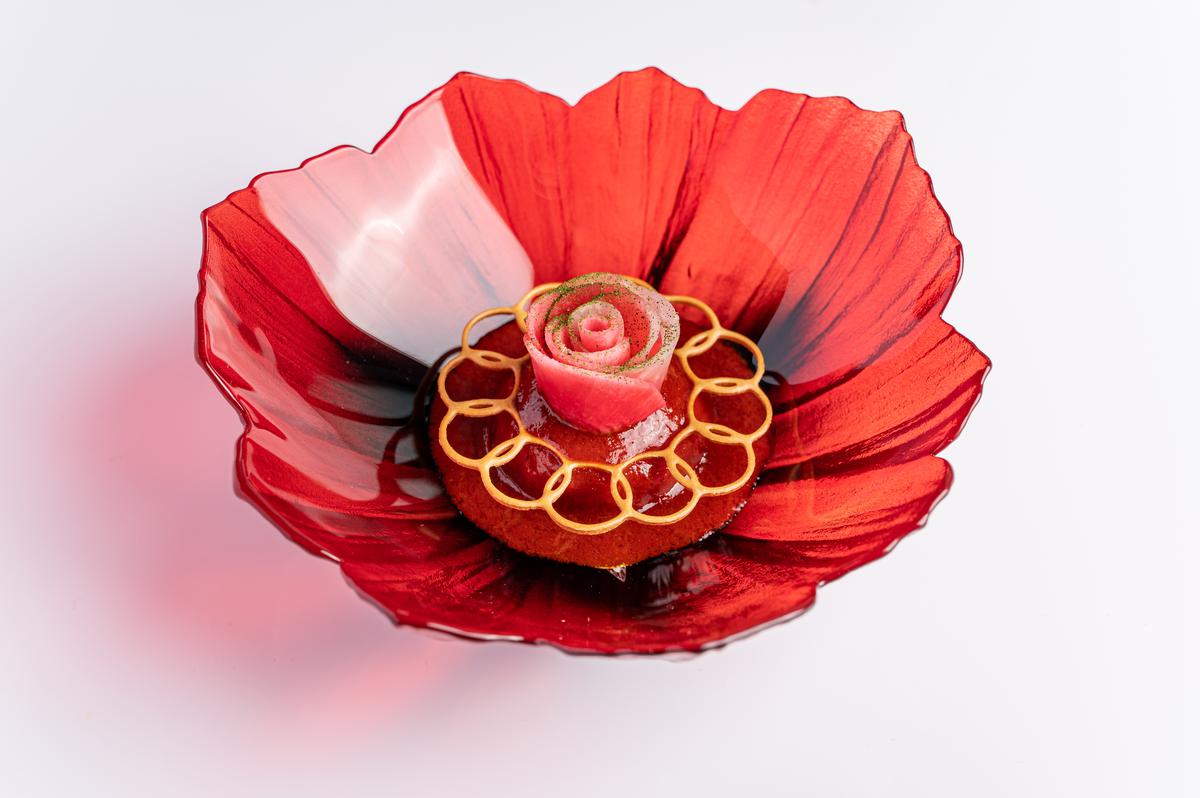 Galouti Kofta, Spicy Kohlrabi and Quince Curry, Tresind Studio
Getting the modern Indian food right, according to Himanshu, depends on getting the flavors and spices right. "I worked under chef Manish Mehrotra at Indian Accent in Delhi, and he used to tell us to first make the food as palatable as possible, then think about how to put it on the plate. Even now, we follow the simple philosophy of serving the taste that we love to eat," says Himanshu. Not surprisingly, instead of a modern fermentation room, Treskind Studio houses the pickling space. "Being a Delhi boy, my palate needs those flavours."
Himanshu says, "Michelin is like the World Cup, in terms of football… When I spoke to my mother and said I was stressed about the awards, she asked what it was about," says Himanshu, "Now that I've won, they're so proud. They keep doing research and sending me trivia!"
Chef Rahul Rana, Avatar, One Michelin Star
"When I go to my home in Rishikesh, my mother always makes me Gaith's Paratha… They are full of kulthi, and I love it," says chef Rahul Rana.
As part of the 16-course Avatar menu, Rahul serves his home-grown interpretation of this dish with Chole Bhature. "We serve kulthi ki sabji with ragi bhatura, and temper the potatoes with jakia, or wild mustard," he says.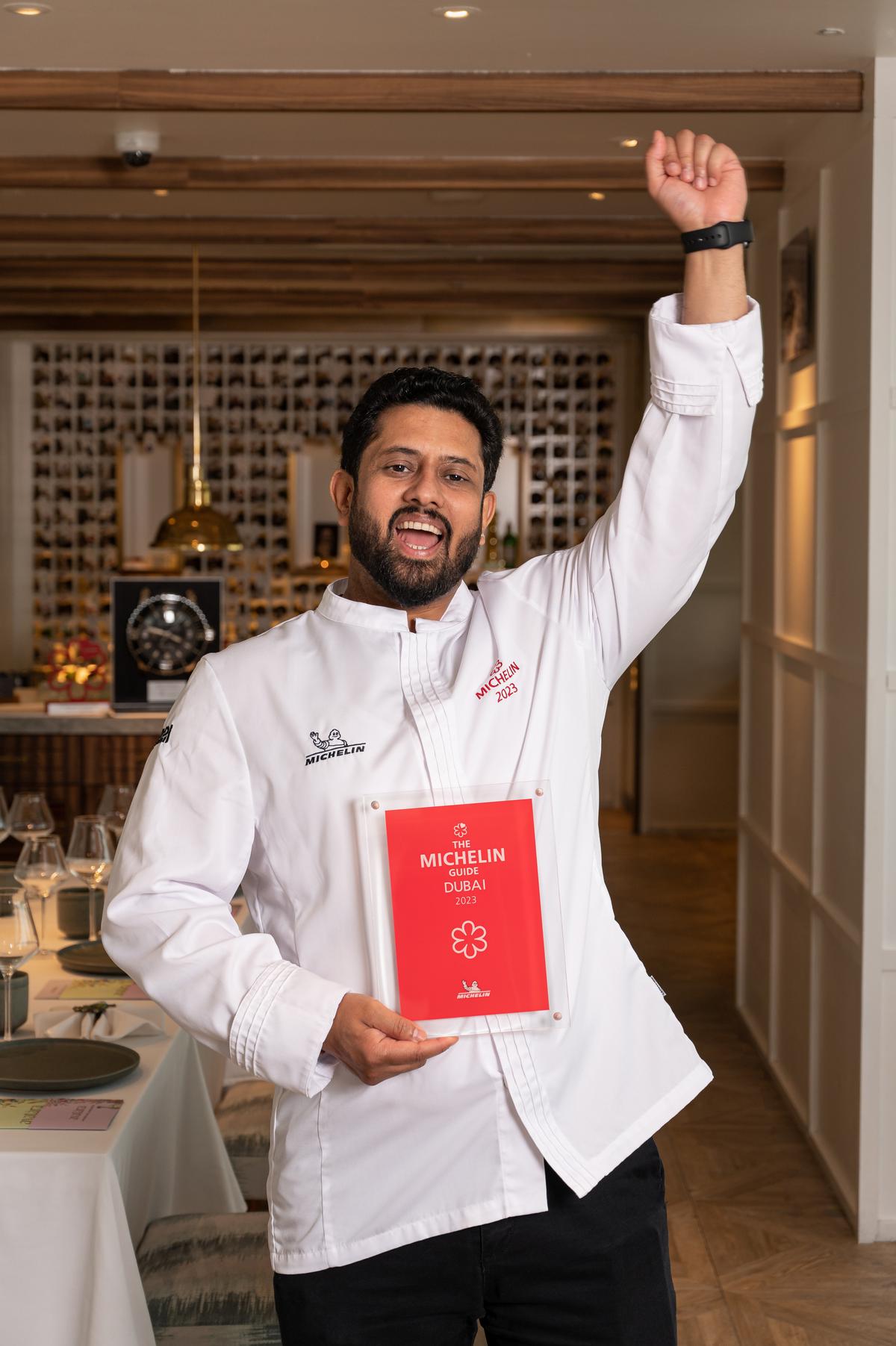 Avatar's Chef Rahul Rana
Avatara has taken an interesting and bravely contrasting route to compete with Dubai's ultra-luxe menus with caviar and champagne. "We are vegetarian," says Rahul, which is a new concept in Dubai's fine dining space.
He set himself another challenge. "We don't use onions or garlic, because they have too much flavor." The result is a delightfully whimsical menu that features the hero vegetables we often take for granted. "I asked my team what vegetables they didn't want to eat, and we started with: bitter gourd, bottle gourd, turnip (Bitter gourd, bottle gourd, turnip)," says Rahul, laughing, "I don't know why people hate so many vegetables!"
Their solution is to understand and complement the nature of each. "Bitter gourd needs to be balanced, so I pair our Ghee Roasted Karela with Mango Sambar Gelato and Dosacrisps. we serve Bottle gourd Stuffed with papadum waffles and pickled pumpkin."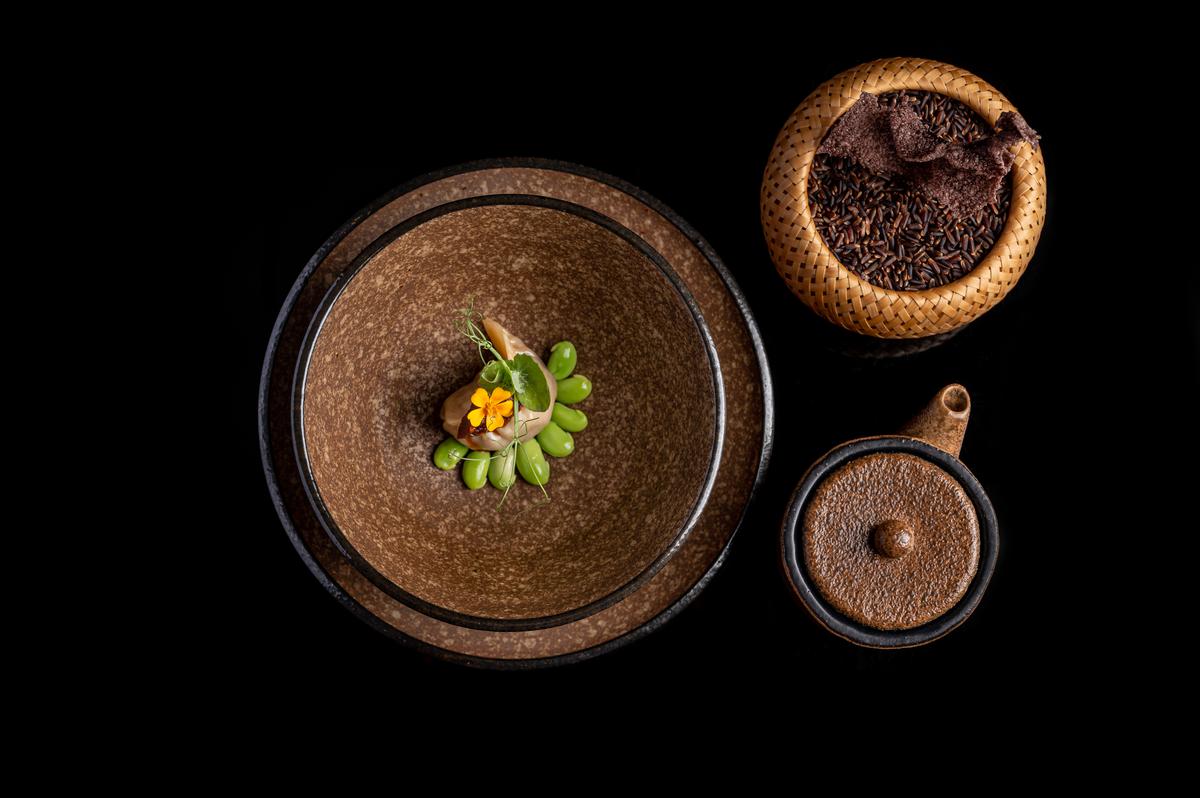 Vegetarian Fine Dining in Avatara
The 37-year-old chef introduces a touch of exotica using ingredients sourced from his home state, Uttarakhand. "We serve Java plum sorbet with our own version of Baal Mithai, made by our pastry chef, who is from the Almora region," says Rahul. "Our new menu features Burans flowers, which are native to Uttarakhand and Nepal grow in
Omkar Valve: Michelin Young Chef Award
"I still don't have words for how happy I am," says chef Onkar Valve, who won the Michelin Young Chef Award at the age of 29. The Michelin panel praised his professionalism, saying he had " cool and nourishing aura as well as an exceptional taste". The fact that his restaurant avatar got its first star at the same event made the celebration even sweeter.
Back in Mumbai, his parents are beaming with pride. "Initially they didn't know what Michelin was. My father worked as a driver at The Leela Hotel. And my mother used to run a food stall at fairs, where I would help her cook fried fish and soul curry ," says Omkar. "But he saw the ceremony on YouTube, and understood it was a big deal."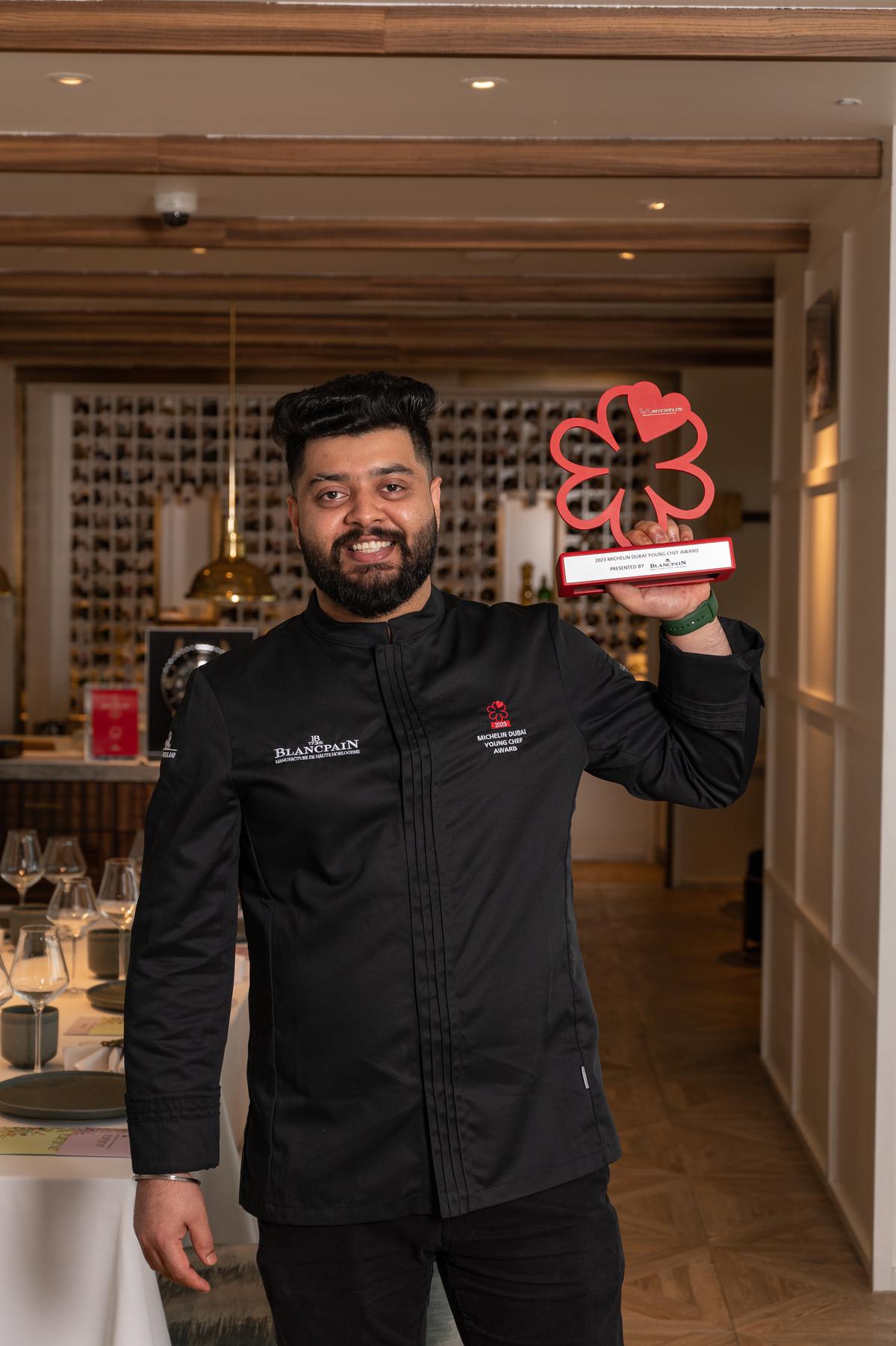 Avatara's chef Onkar Valve
Growing up in Bandra and then Dombivli, Omkar's first encounter with the restaurant was when he saw Leela. "We used to go to staff functions, and I thought – this is my dream. This is where I can see my future." Inspired by his mother's cooking, he joined Anjuman-e-Islam in Mumbai to learn hotel management and catering, after which he worked for Sofitel BKC.
A senior chef suggested him for a job in Dubai, and Omkar worked steadily for the next six years. "Working here is fun. You have to be quick, you have to think fast… I've also learned how beautiful you can be with plating, and how innovative you can be with menus.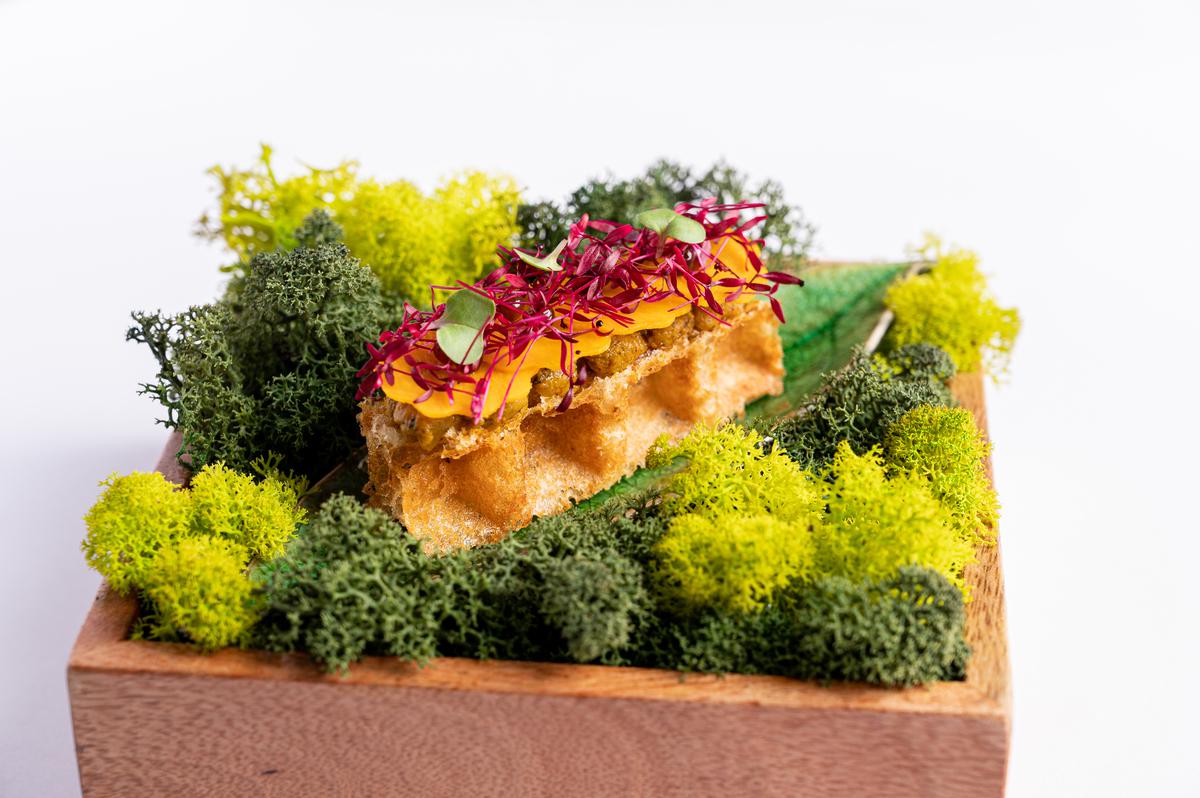 At Avatar, the plating is attractive and the menu is innovative
It is also a difficult task. "Every day there are challenges," says Onkar, "for example, we have a salad made of pomelo, where we remove each strand with tweezers and arrange it in a circular manner. And I do this everyday.
As he gets more comfortable at Avatara, he's incorporating some of his mom's flavors into the new menu. "Nothing so far, to be honest. But the new menu will have a bit of Marathi influence."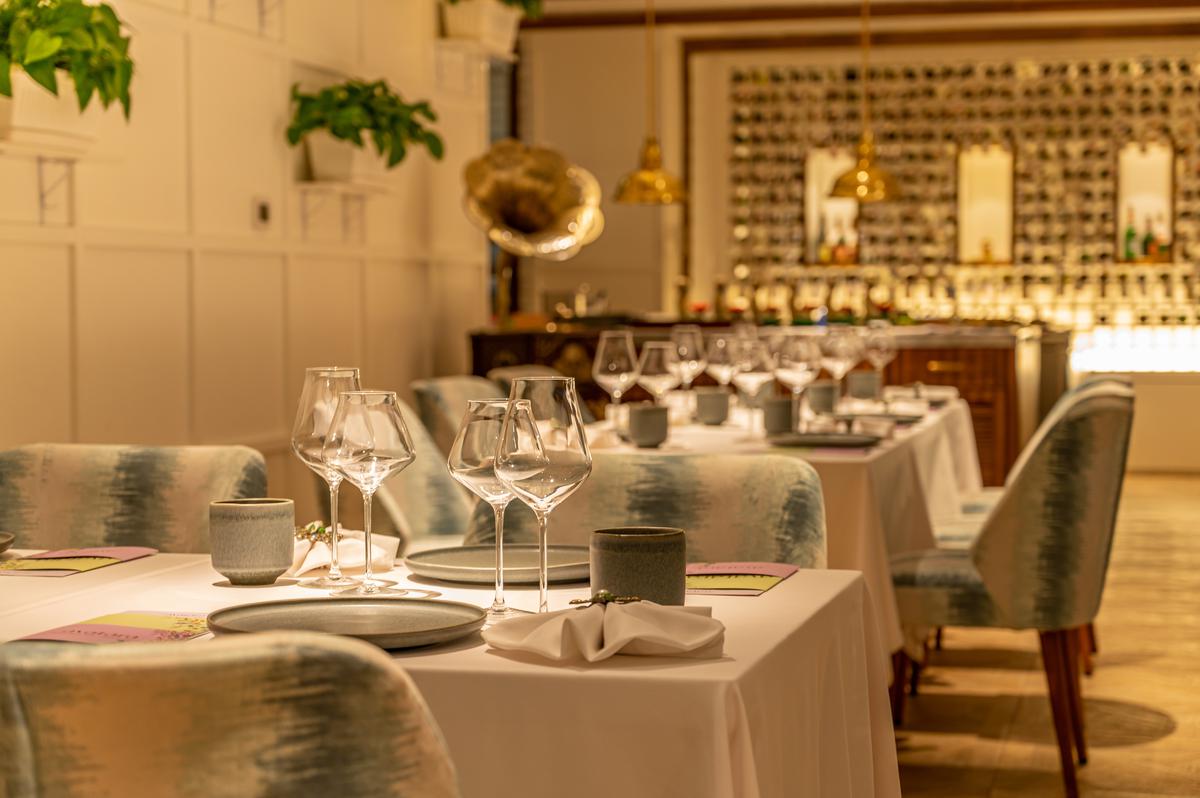 interiors in avatara
In the meantime he is looking forward to his next trip home. "When I'm there I don't cook. I enjoy eating everything I've missed. Especially my mother's chicken curry, which I crave all year round.
The author was in Dubai at the invitation of the Dubai Department of Economic and Tourism.