Aishwarya. This is the word that pops into your mind as you enter Öz by Kebapçi, located on the second floor of UB City Mall. A concierge opens the door for you with a practiced smile. An ornate three-foot fountain welcomes you to the reception. The metal doorway arch leading to the dining room features intricate floral patterns. Inside, you find more elements of elegant extravagance, such as kaleidoscopic oriental rugs adorning the walls, hanging decorative lamps emitting a soothing golden-yellow light, multicolored stained glass panels on the counter, plush chocolate-brown wooden chair cushions Dramatic, dark marble table top—even the plate (white with blue floral pattern) looks like it should be in a living room showcase. you just don't Eat a to Z; You good food.
Öz (yes, with an umlaut over the 'o'), in Turkish, means essence or core. Asim Shah, the restaurant's founder, believes the name resonates with the place because the food and ambiance try to capture the spirit of Turkey. "With most of the materials and cutlery, elements of the interior decor – paintings, hand-woven rugs, lamps – the 6000 sq ft dining space are from Turkey. Mert Duyal, an interior designer from Istanbul, set up the space," he says.
Asim's family used to work in ship chartering. Therefore, he has traveled a lot of the world – especially Turkey. As a culinary enthusiast, he became fond of Turkish cuisine and felt he could fill the need in India for a venue that served premium Turkish food.
On a sultry afternoon (by Bangalore weather standards), we were first served a cocktail glass, Lime & Ginger, a pale yellow fizzy drink with a slice of lemon and three mint leaves floating on it.
With thirst quenched, we started our lunch with Mersimek Çorbası, a lentil and chickpea soup made with vegetable stock, olive oil, and a drizzle of chili oil. It tastes like homemade lentils. So, it's familiar, warm and cozy all at once. But the spice, though less obvious like an underpainting in an artwork, makes Mersimek Çorbası what it is.
Oz by Kebapsi
Address: UB City, Level 2, Concorde, 1, Vitthal Mallya Road, KG Halli, D'souza Layout, Ashok Nagar, Bangalore
Time: 12:30 pm to 12:30 pm
call: 7090677771
Surroundings: fine dining
Wallet Factors: ₹1,800 for two
Next, we get the mezze platter with three slices of pita bread and three types — classic, avocado, and beetroot — that are creamy, smooth, and subtly spiced.
The Antep Chicken Kebab – served with aioli (a cold sauce consisting of an emulsion of garlic and olive oil), roasted tomatoes, and strips of bell pepper, onion, and cabbage – looks and tastes different from Indian kebabs Is. The pieces of meat look wavy. They also have a thicker texture (compared to the Indian counterpart) due to the addition of shredded carrots, celery, and egg whites.
We also tried two lamb-based dishes – Kilis Lamb baked in the oven (which is covered with a layer of pita bread) and Lamb Manti (basically, dumplings with minced lamb) – traditional Turkish dishes. Displays rich flavor and texture.
But the most dramatic of the dishes we tried was the vegetarian one: paneer lokum. Half cooked, soft marinated paneer in isot pepper comes with smoky mashed potatoes and vegetables. But before we can get to that, we get to see a little fire drama. The server, equipped with a flame torch, melts a cube of butter before setting the cheese on fire and sprinkling it over the entire dish. This act of charring adds a crispy texture and smoky flavor to the cheese.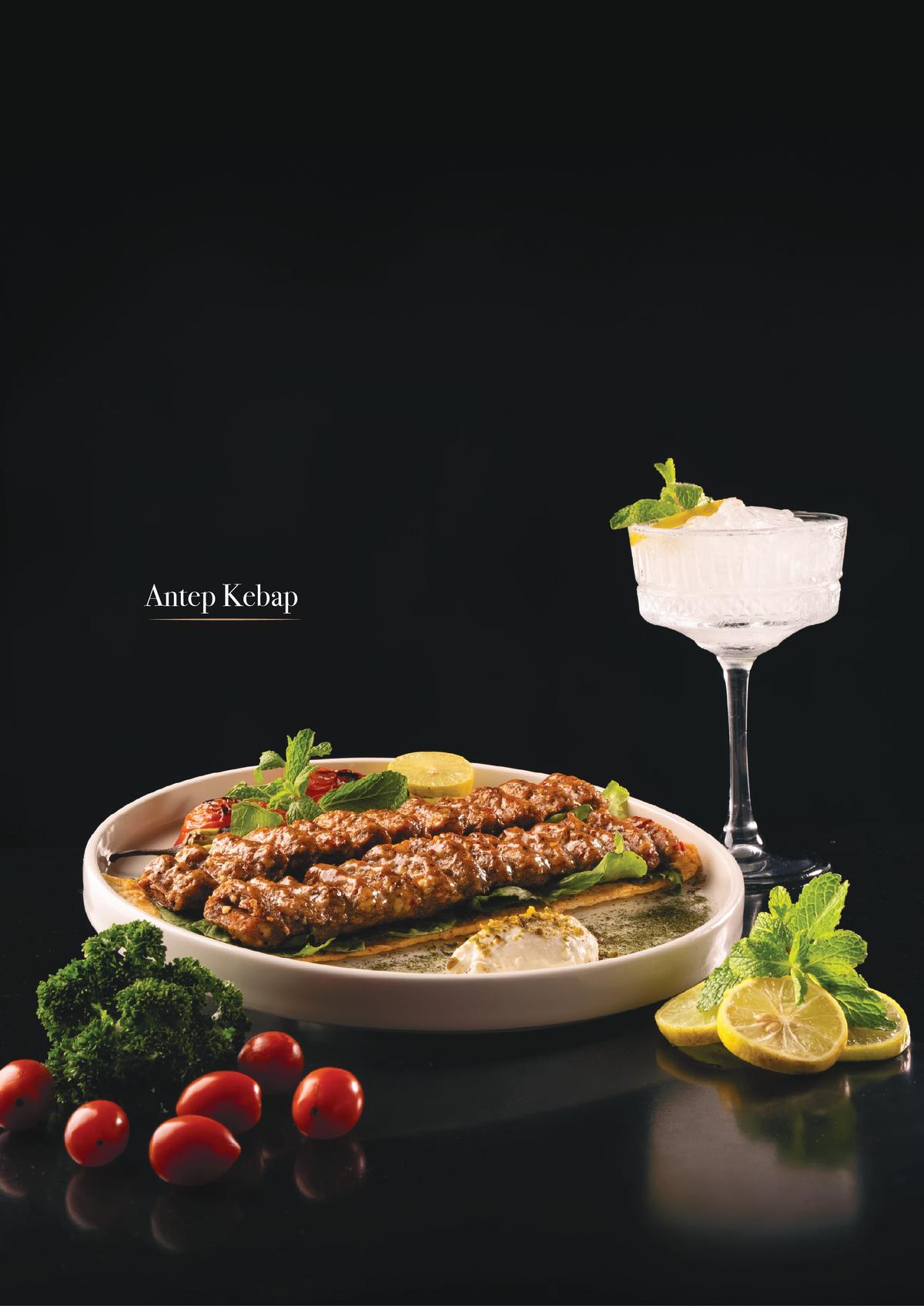 Antep Kebab in Oz | Photo Credit: Special Arrangement
The next item on the table has a peculiar name: Imam Beildi (which translates into Turkish as 'the Imam has fainted'). According to one legend, a Turkish imam fell in love with the dish and fainted with joy. His wife, who had prepared it, thought he was dead. But when the Imam awoke, he said he "fainted with joy" and requested that his wife prepare the dish again.
The brinjal-based meal – garnished with cashews, coriander, and pomegranate seeds – was prepared like a celebrity at a gala dinner. Almost all the dishes are so photogenic that we almost feel guilty for eating them. There is one recurring character that never fails to escape our attention. Like Stan Lee in the Marvel movies, pomegranate appears in almost all of the ornate dishes.
Finally, as we were dangerously close to slipping into a food coma, we were treated to catamer, a traditional Turkish pastry made by layering thin sheets of dough with butter and then folding and rolling the dough to create a flaky and crispy texture. Served. A large piece of dondurma (Turkish ice cream) was applied to a pistachio-filled flat pastry, which was then folded and cut into four pieces.
We chewed And, with that, we fell in love with Türkiye.