Pattappas
The atmosphere at SVR Marriage Hall is celebratory, though there is no wedding. Popular wedding caterer LV Pattappa and his team are working tirelessly, taking orders, handing over the tokens, and packing Deepavali bakshanam (traditional sweets and savories) for customers. "I have been organising the Deepavali mela for the past 38 years," says the celebrated 76-year- old cook who caters to over 160 weddings in a year. He adds, "It gives me immense pleasure to meet, greet and reconnect with our customers. This one week event brings people together and we provide breakfast, lunch and snacks along with coffee for everyone here… the celebratory ambience makes everyone cheerful."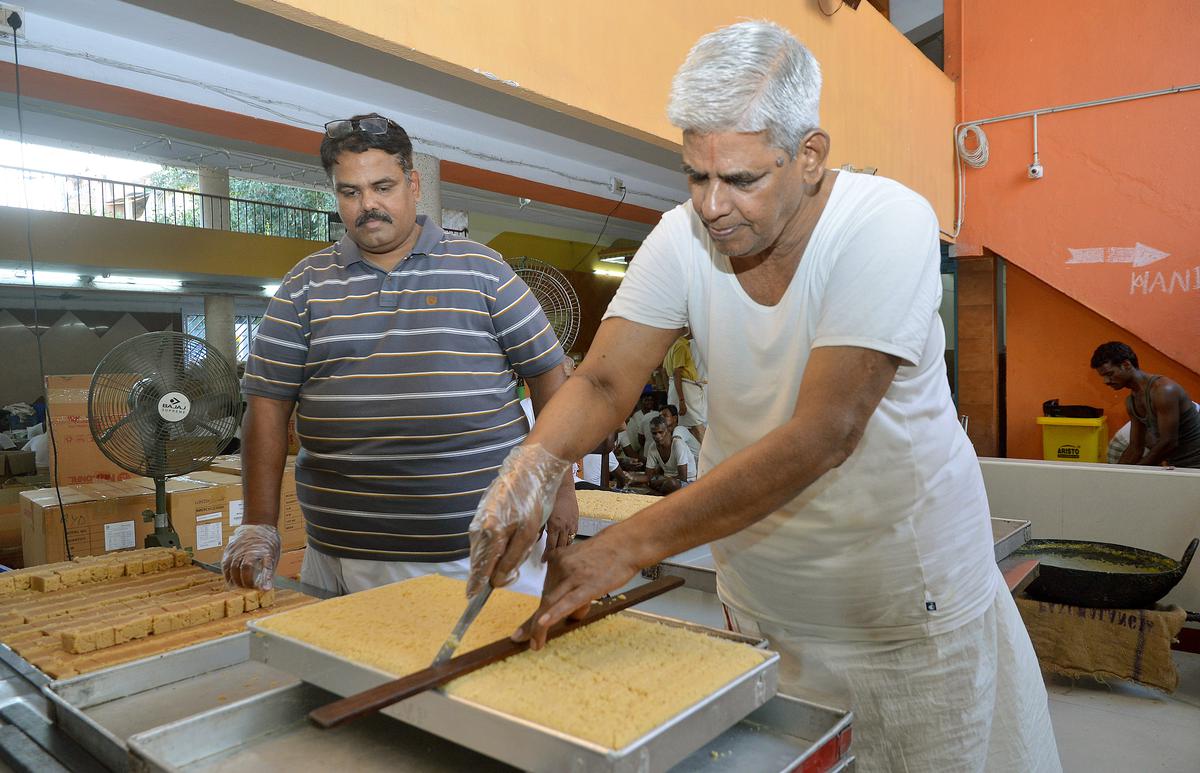 The team begins from scratch with each recipe, so their 250-plus staff work for eight to nine hours everyday during the mela. Balaji, Pattappa's son explains that all their sweets and savouries are handmade, so they only prepare limited quantities. He adds that quality control is stringent: "We have masters who are assisted by two helpers each. My father and other senior cooks check every batch before packing."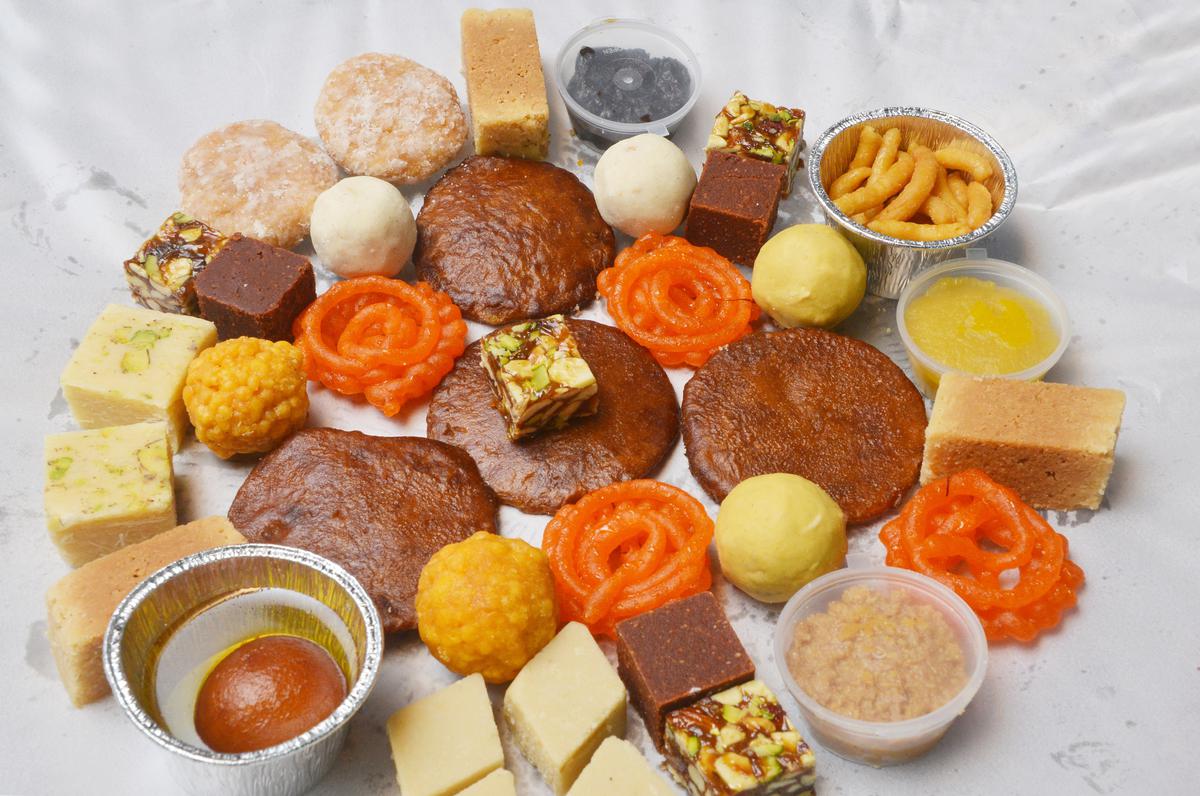 Pattappa, despite his advanced age, is in charge of preparing their signature sweet, badam halwa. He says he makes 150 kilos of it everyday. "This is a sweet that has to be prepared with care, it has to be cooked to the right padham (consistency) and without using excess ghee," he says, scooping out a generous dollop of the still warm delicacy and handing it over to us for a taste.
Balaji says that this year they have had an overwhelming number of orders from corporate clients. As always he adds, "there are also a huge number of enthusiastic elderly people who visit so they can courier bakshanam for their children and grandchildren living abroad". Try their bestsellers, which include jangri, ladoo, mysore pak, and ribbon pakoda. Also sample their thirattipaal (traditional milk sweet made using full fat milk, ghee and jaggery) and nukkal (whole cashews dipped in sugar syrup) which are relatively rare. Pattapas has also launched a podi range this year.
At SVR Marriage Hall (formerly Hemalalini Kalyana Mandapam),  272, Avvai Shanmugam Salai, Royapettah. On till November 11, 10am to 9pm. Overseas and domestic courier is done. 9840184546
Sri Sastha Catering Services
RK Venkatesan of Sri Sastha Catering Services who conducted a live sale counter last year at a wedding hall has decided to prepare the sweets and snacks at his 10,000-square-feet central kitchen in Porur this time. At this central kitchen, his 25-plus staff work with masters who prepare sweets and savouries. Each master is assisted by two juniors. "I hire temporary staff (about 80 of them) for Deepavali season, sabha canteen and for weddings," he says. Venkatesan says he makes approximately 13,000 kilograms of assorted sweets and 7,000 kilograms of savouries during this week. "Most of the sweets are made using ghee, we end up using 1,650 kilograms of ghee and 236 litres of groundnut oil to prepare this volume," he says. Despite the tiring work, this is a festive time for the staff as well. Most caterers give a cash bonus to their staff, along with new outfits for their entire family, fire crackers and of course sweets and savouries.. "As a good majority of them prefer to go back to their native town or villages to celebrate the festival with their families, I give them leave for few days and hand over the bonus for permanent staff as well as cash incentive for temporary staff," says Venkatesan.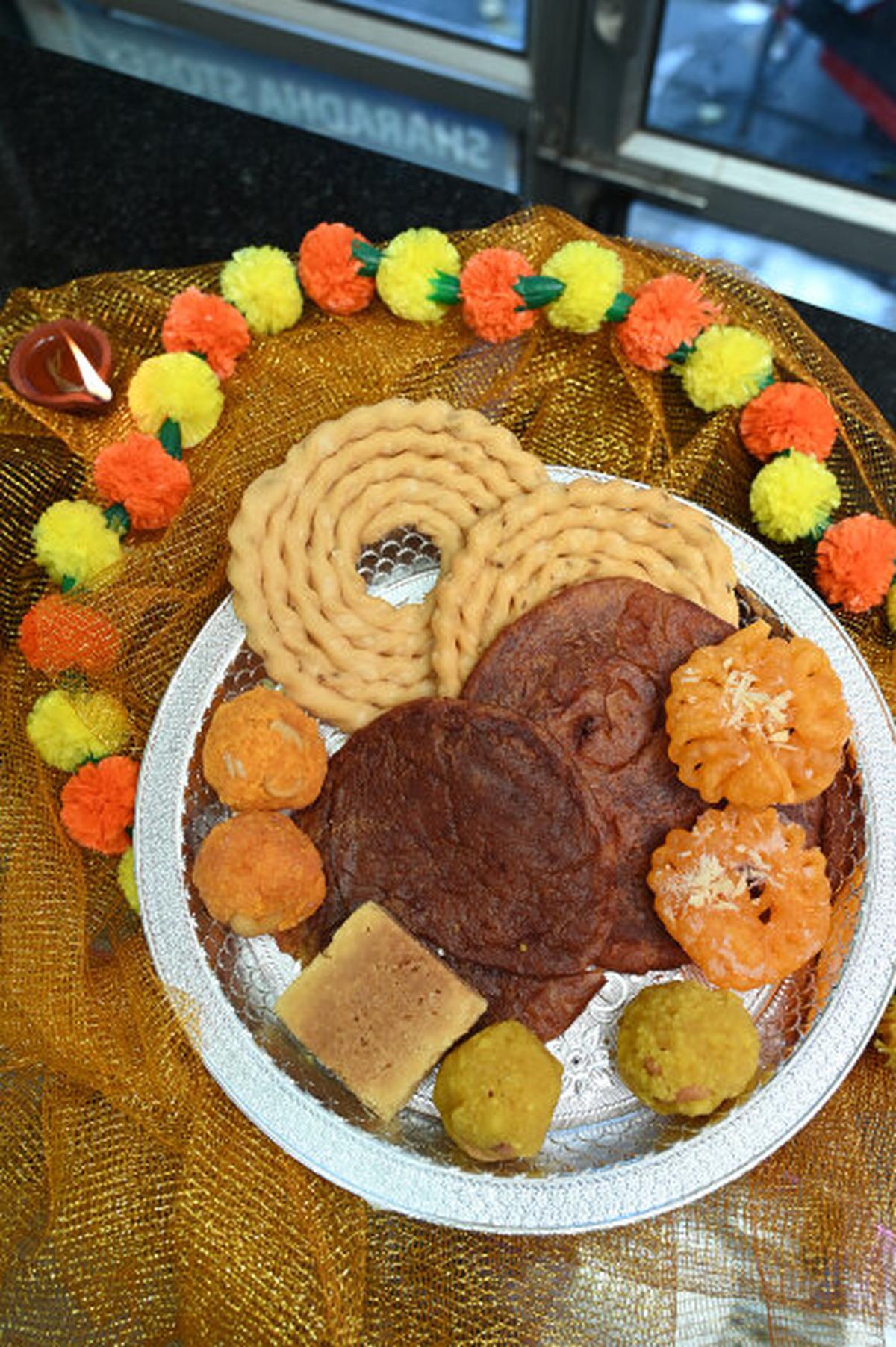 "Due to heavy rains predicted ahead of the festival, I decided not to hire a venue, instead I am taking pre-orders from customers and delivering at home," says Venkatesan, adding that their ladoos, including the maa ladoo, rawa ladoo and boondi ladoo, are especially popular. They are also known for their kai murukku, special mixture and kara sev. Venkatesan says that the process to make the sweets is complex. "It has to be done carefully as the margin of error is high," he says, adding, "Especially, while making mysore pak, if the consistency goes wrong, the entire lot cannot be sold." Over here, they make sweets that are smaller in size, so that the number of pieces per kilogram is more. "As we distribute sweets to friends and neighbours, keeping the size smaller is economical and there is value for money," he says.
Sri Sastha Catering Services, Porur, orders taken till November 9. To pre-book, call 9840144561.
Arusuvai Arasu Catering
At Arusuvai Arasu Catering's Deepavali Bazaar, held at Vidya Bharathi Kalyana Mandapam in Mylapore, you can try their milk sweets before you buy them this year. At the bazaar, the popular wedding caterer is bringing together a team of chefs and masters to dish out about 25 types of sweets and seven types of savouries. "This is the first time we are conducting such an event and as we are known for innovative ideas, we have brought masters and cooks from Kolkata to prepare a range of milk-based sweets," says R Soumya, daughter of Arusuvai Nataraja Iyer. "All the ingredients are supplied by us and the cooks prepare the sweets we request them to make," says Soumya, adding that the team of six makes a range of treats including nuts burfi, kaju cake, badam cake and sugar-free milk sweets. Soumya says they are also making more contemporary sweets, which include a rose petal cookie (a milk-based, rose-flavoured sweet topped with dry rose petals) and badam custard apple (an almond sweet shaped like a custard apple). Of their traditional snacks, the kai murukku and seedai are crowd favourites.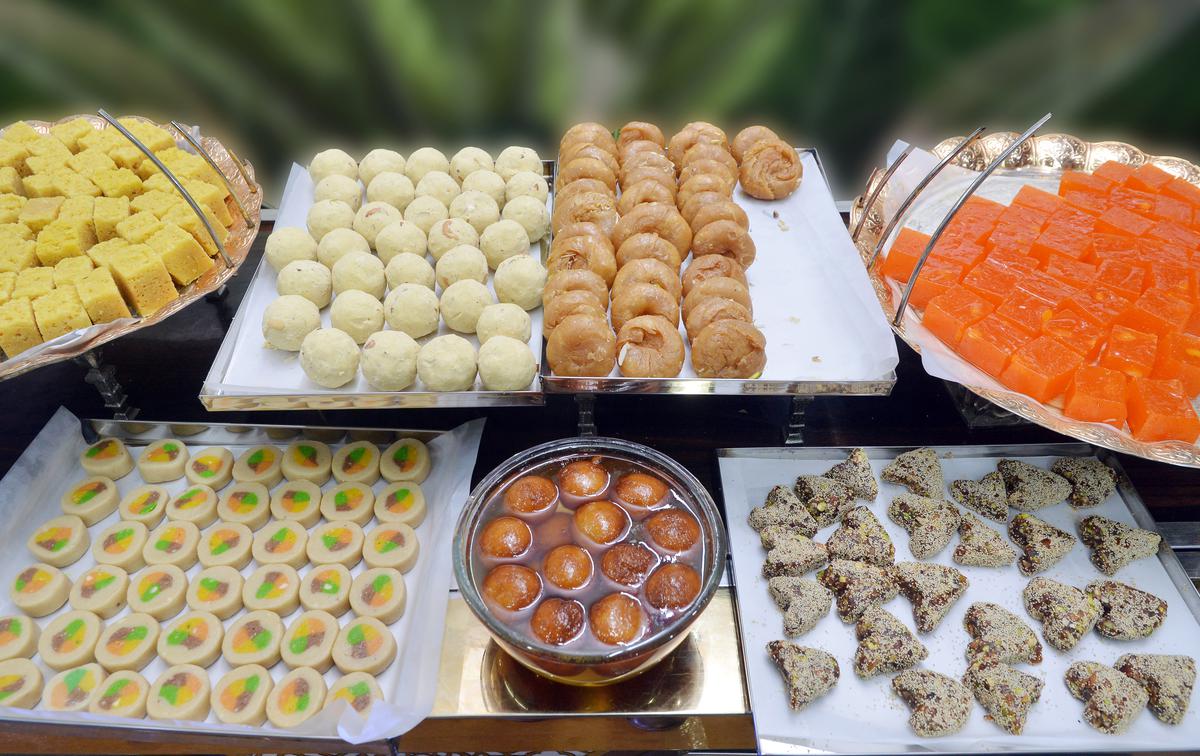 N Sridhar of Arusuvai Catering says that apart from the traditional sweets such as adhirasam, ladoo, jangri and badusha, they also sell sweets that they are well-known for from their wedding catering menu. They cater to over 250 weddings in a year. "Our kasi halwa, Asoka halwa and badam halwa are in high demand," says Sridhar. Since so many customers are careful about their intake of sugar, he says they have a range of sugar-free, milk sweets as well as sweets made using only dry fruits.
Try their adhirasam, ladoos, kai murukku and ribbon pakoda. "All of our staff are like family and therefore we celebrate the festival by providing them and their spouses new clothes, for themselves and their spouse, crackers and bakshanam and they take time off from work for a few days," says Sridhar.
Arusuvai Arasu Catering, Vidya Bharathi Kalyana Mantapam, Mylapore. Bazaar is on till November 12 from 9am to 9pm. Overseas and domestic courier is available. 9444408847
Arrvee Catering Services
At the Arrvee Catering Services, a 30-year-old catering company in Mandaveli, Bharath Varadarajan and his team are preparing for a last minute surge of orders.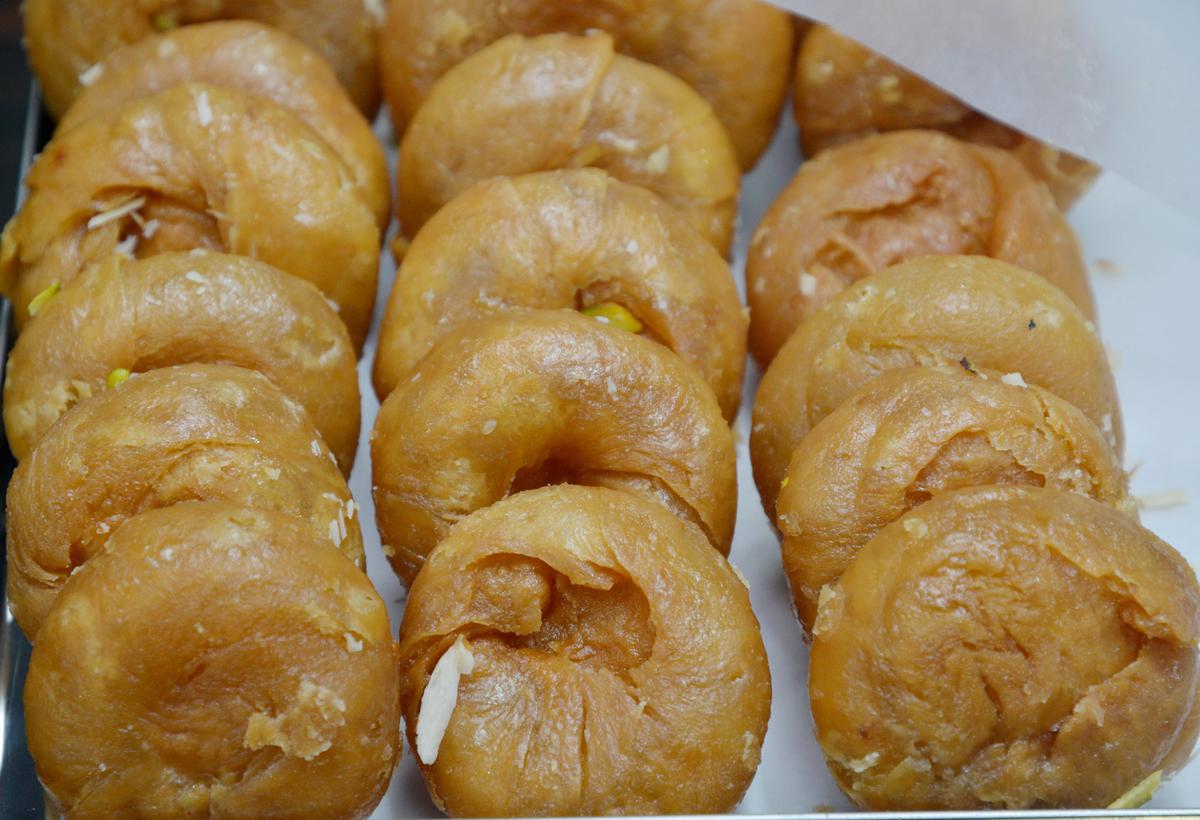 "For Deepavali, it is always traditional sweets that are preferred which is why we focus only on ladoo, Mysore pak, jangri and badusha. For savouries, it is always mixture, kara sev, ribbon and boondi," says Bharath, who couriers well-packed sweets and savouries to customers in Bengaluru, Coimbatore and Hyderabad. Cashew cake, adhirasam and badam halwa are made only based on pre-orders and Bharath has initially made 50 kilos of each and 75 kilos of savouries, based on pre-orders. "We normally make five kilos of sweets and savouries extra to meet the last-minute rush. We have customers who reach out on the eve of the festival and we try to meet the last minute requests," he says.
Arrvee Catering Services, Mandaveli. Pre-orders taken tll November 10. Phone: 9176000221