An array of delicious dishes is spread on the table. Photo Credit: Special Arrangement
Chef Jaishankar is determined to revive your grandmother's recipes. At the recently launched Sangamathirai at the plush Feathers Hotel in Manapakkam, his menu is inspired by his travels to remote villages in Madurai, Pollachi, Karaikudi and other regions of Tamil Nadu.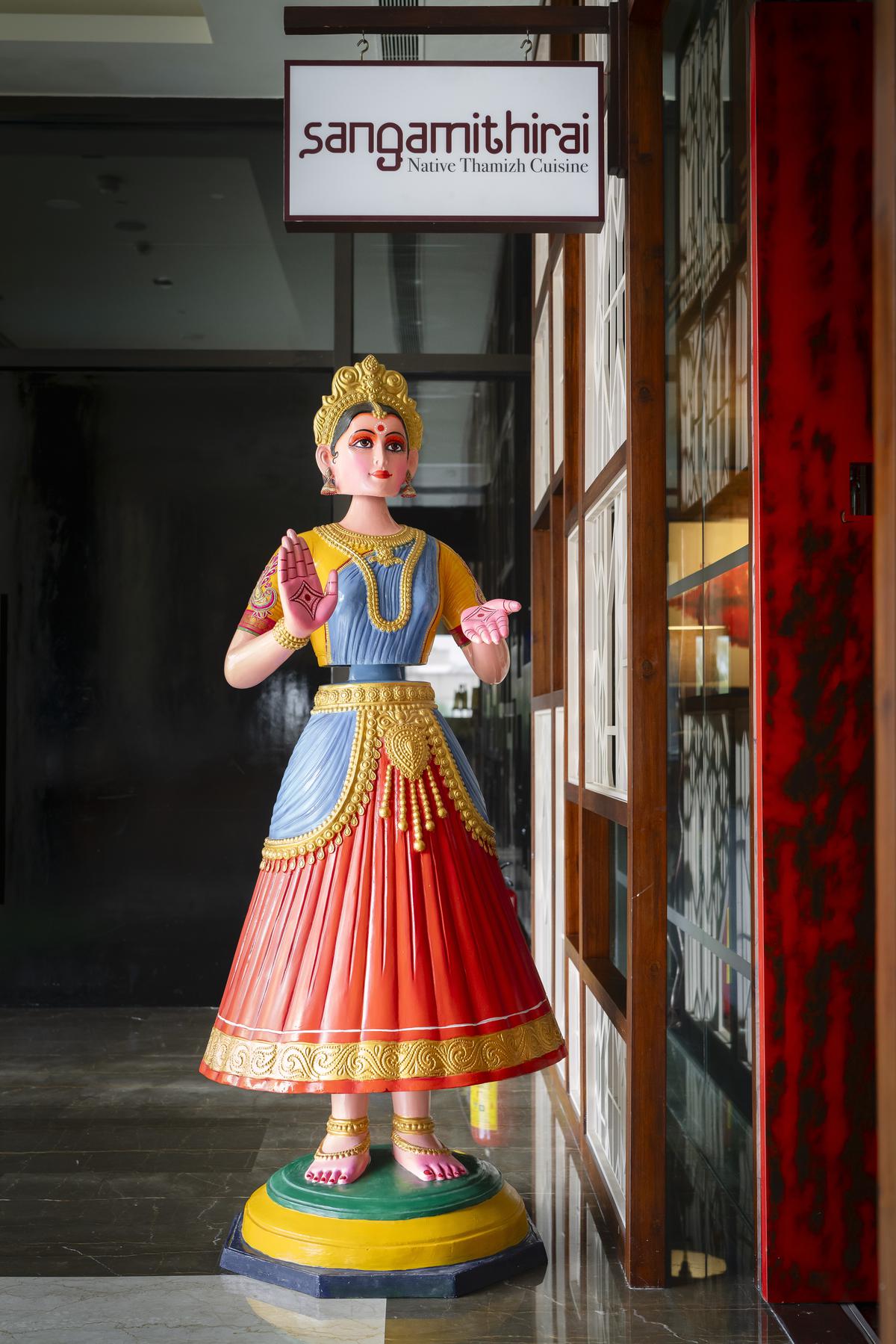 Restaurant entrance | Photo Credit: Special Arrangement
"We have forgotten our grandmothers' recipes," he says. Hence, their menu, like a trip down memory lane, includes childhood favorites like nenjelumbu rasam, karandi omelette, banana leaf pudding, and more .
General manager S Sriram says the ingredients used to prepare the food are sourced from farmers running free farms, where farmers provide food directly to buyers. The ghee used here is made from the milk of indigenous cows. The utensils in the kitchen are mostly made of brass and some dishes are cooked over coal fire to enhance the taste. All the spices are hand-grinded on a manual grinder by home cook Uma Devi who has 45 years of experience in cooking rustic authentic Tamil food.
The interiors of the restaurant are decorated with heritage silk Kanchipuram sarees, which are hung on the walls. GI-tagged Thanjavur dolls sit on each table and patrons are served a plate of complementary pappadums Which come with coconut, ginger onion and tomato based dips respectively.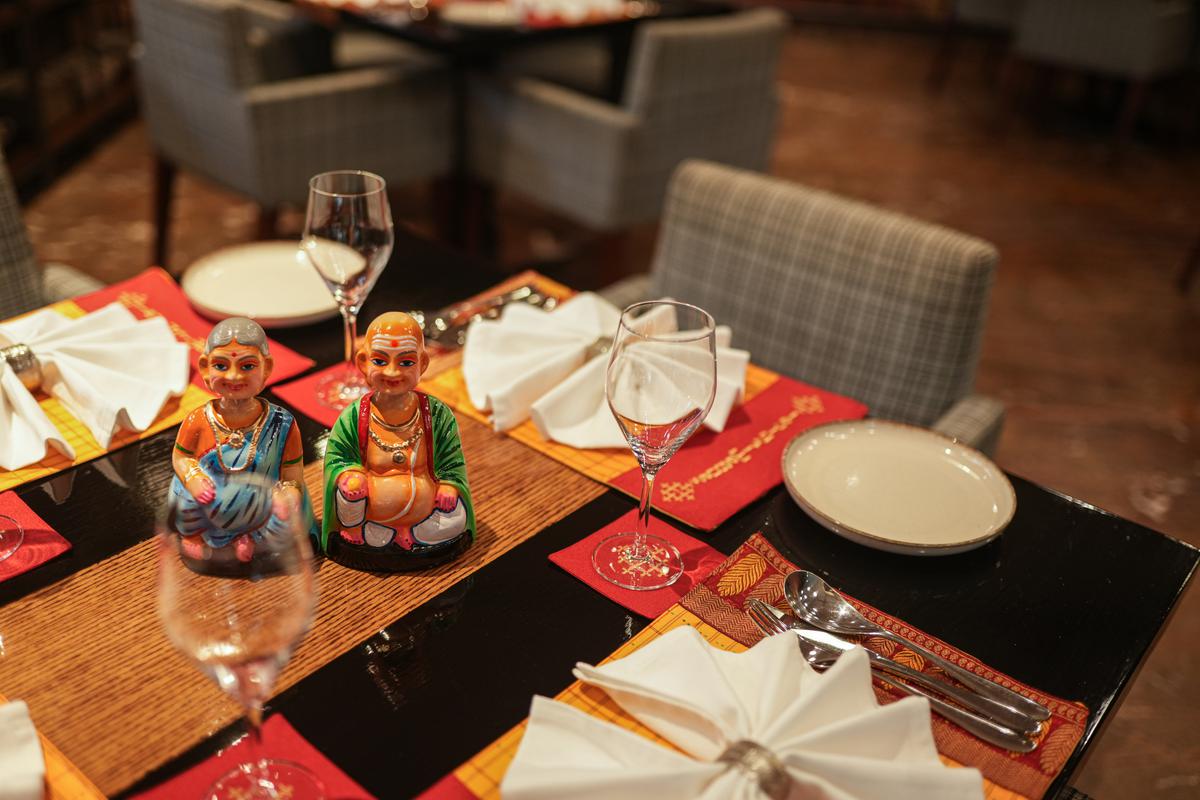 Thanjavur dolls are seated on each table. Photo Credit: Special Arrangement
We start exploring the menu with a bowl of Nenjelumbu Rasam or Mutton Ribs Soup. The simple preparation is light, tangy and also ideal for summers. a shot of ommm Soda water or rose water acts as a delicate palate cleanser. try your hand as you eat pallankuzhi The board is placed for patrons to learn and play traditional Tamil board games.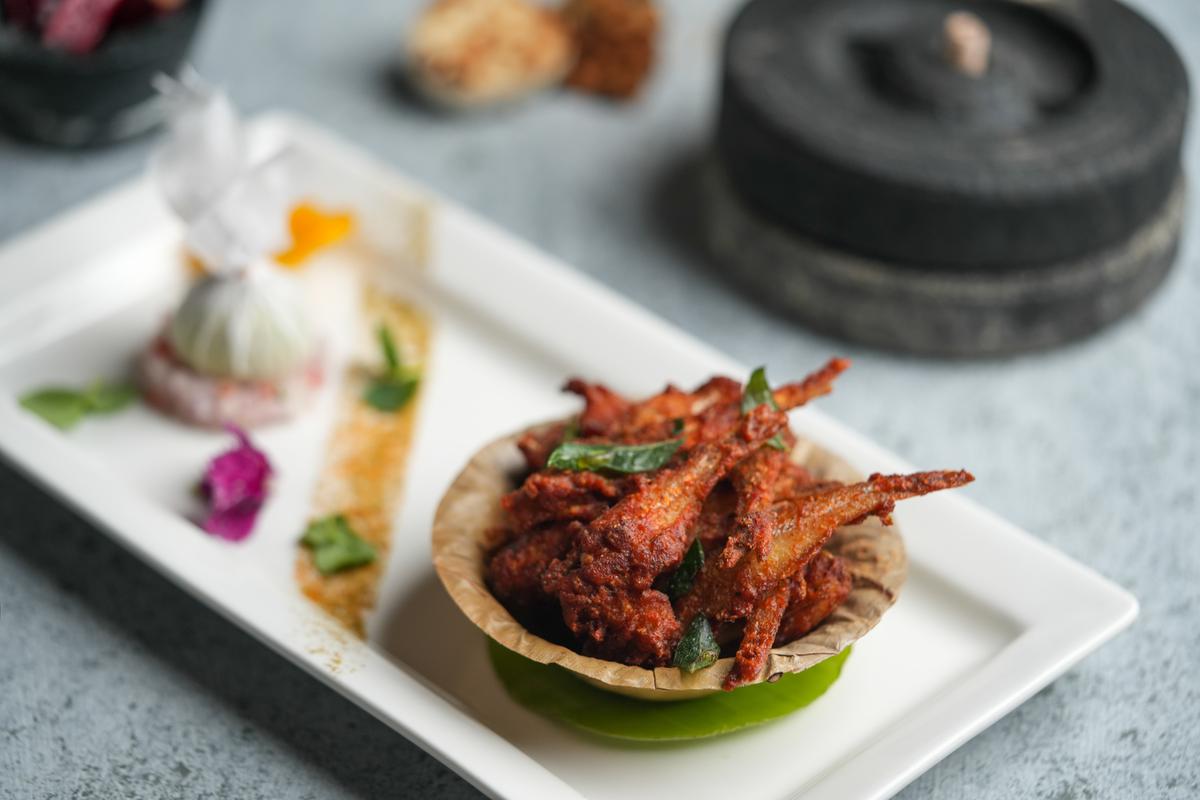 Next, we tried Rasa Podi Neethili Veruval or shallow fried anchovies, spiced with lemon. To compare to the anchovies, we ordered the famous Lamb Ghee Roast. However, although the melting gravy was full of flavor – those spices didn't soak into the meat, which was quite tough.
Try the black chicken or Kadaknath chicken sourced from Madurai. This relatively rare chicken has a flavor almost like mutton, and is brownish-black in color, similar to lamb meat. Although the preparation was delicious, the meat was not soft.
Although the dishes on the menu come in small enough portions for one person. The weirdest thing on the menu – the Chatpati Mutton Biryani is a generous serving.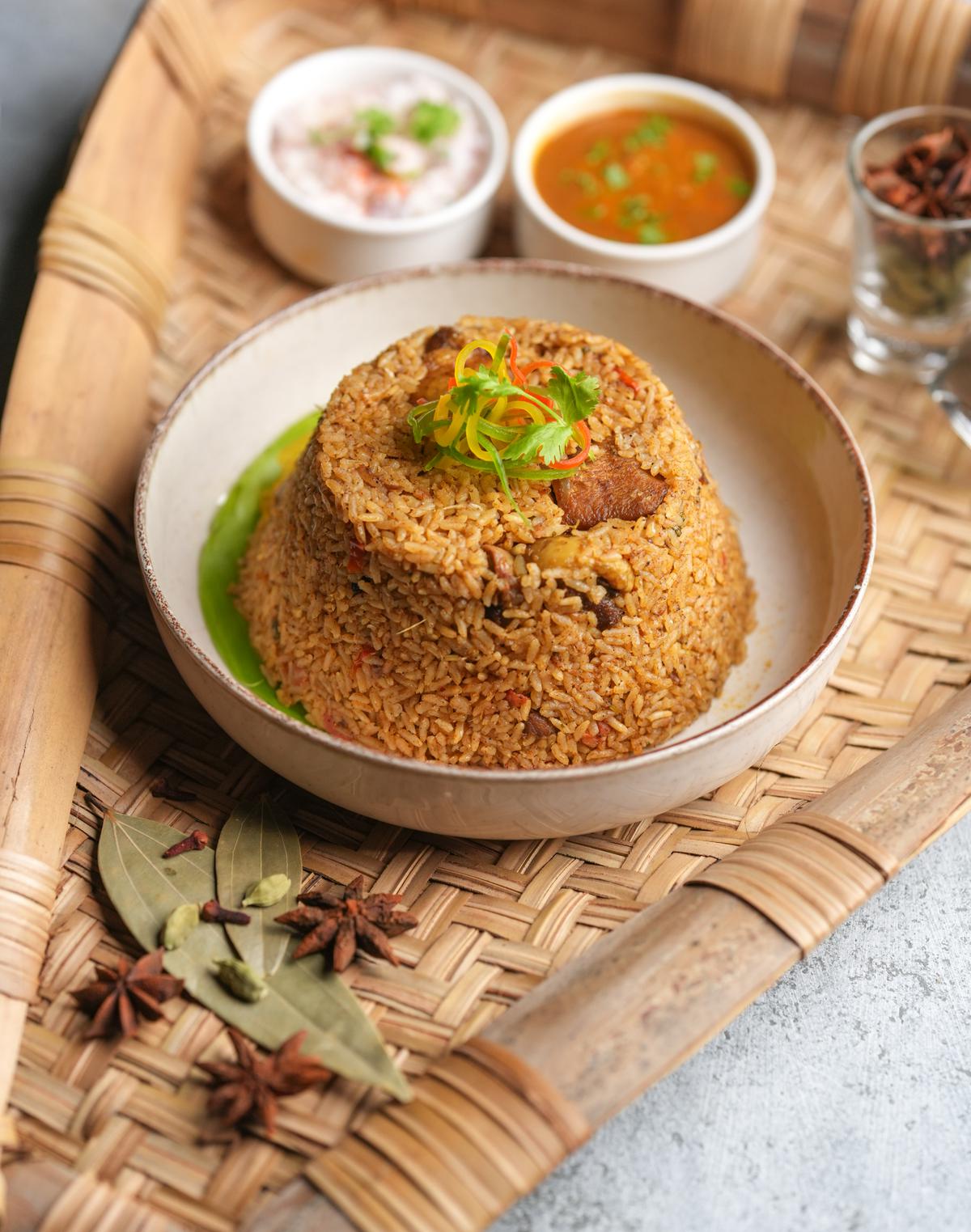 vellattu biryani or mutton biryani | Photo Credit: Special Arrangement
As we eat the last bite of Biryani, we savor it Paal Kozhu Kattai for dessert. Made with coconut milk, the light gravy was light but soothing after a heavy meal.
Cost for two with alcoholic beverages is ₹3500. Sangamithirai 4 is located at 129, Mount Poonamallee Road, Manapakkam, Chennai. Call 044 6677 6969 for reservation.