Biryani is food. Biryani is business. Biryani is part of Hyderabad's brand identity. Every day a minimum of three lakh dinner plates of biryani are cooked and consumed in Hyderabad in vessels that can hold about 40 kilograms of the rice-meat-spice one-dish meal. Its flavour and aroma are a combination of the quality of ingredients, the cooking method, and as in all things creative, the experienced hand of the khansama.   
Also read: The art of Hyderabadi biryani
At Alpha Restaurant and Cafe near the Secunderabad station, which sees lakhs of footfalls as hundreds of trains stop and go, biryani packets are available day and night for train passengers on the go. At the Hyderabad Airport, where baggage check-in now takes just 45-60 seconds, Paradise Cafe has an outlet for air travellers to pick up parcels for their family and friends. Food delivery app Swiggy says it delivered 3.5 lakh biryanis on New Year's Eve in 2022-23 across the country, with 75.4% of consumers choosing Hyderabadi Biryani.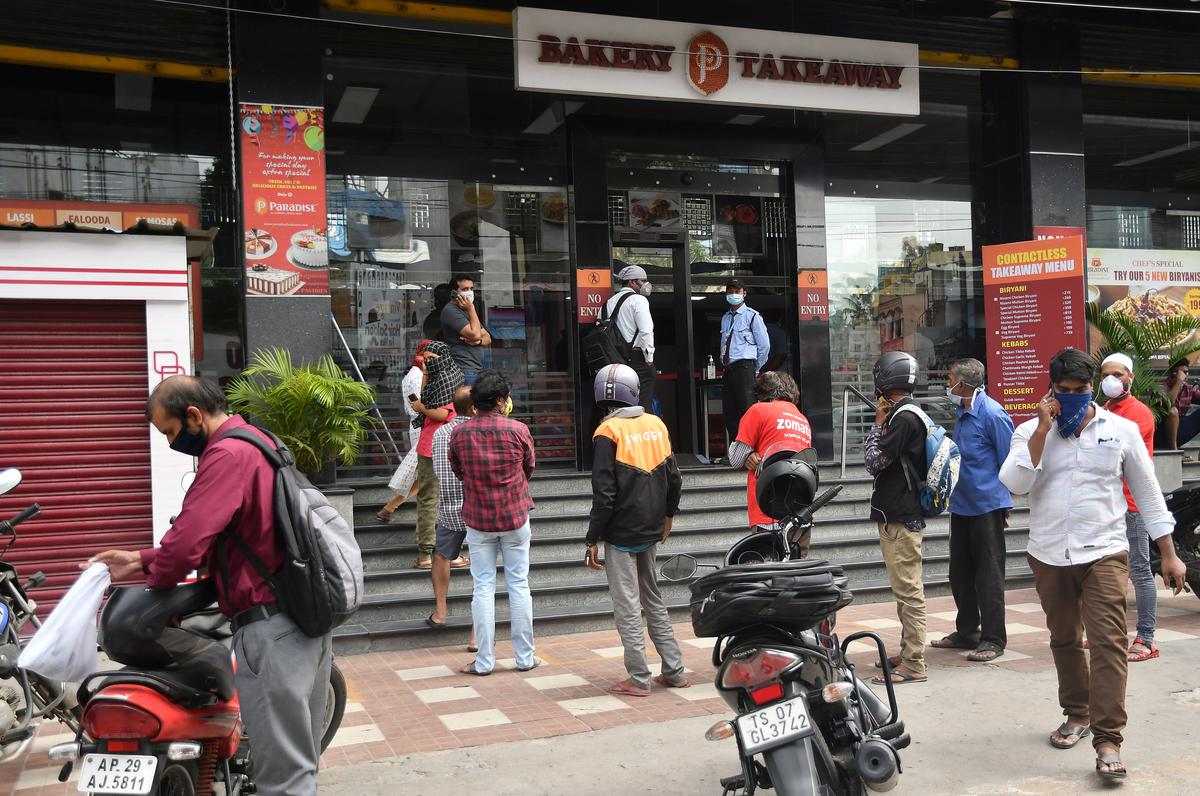 From celebratory dish to a must-have staple
The Persian word birian means fried or roasted. This one word implies that the Hyderabadi biryani refers to parts of the meat at the bottom of the vessel that gets partially roasted due to high heat. Linking the dish to Persian migrants who came to India, like the Qutb Shahis who ruled between 1518 and 1687. This was followed by another wave of migration from Persia in the 1930-50s.
While there's no consensus on what constitutes a Hyderabadi biryani, typically, it is cooked in a degh, a vessel that has a wide bottom and a tapering top so it can be sealed after the layers of rice are added, so cooking happens on dum (the steam generated inside the pot). Flaming charcoal is heaped on top of the sealed vessel for even cooking. Raw marinated meat and rice are cooked together to create the final product, kachhe gosht ki biryani (raw mutton biryani). 
What's the big secret? 
The secret is big enough that the Geographical Indications (GI) tag application for Hyderabad biryani was abandoned in 2017 by the applicants after they realised they would have to share the formula and details. The Registry wanted "detailed product specifications; process and method of production (quality and hygiene practices) adopted by the producers with specific uniqueness with the comparative analysis report with other products". This leeway on labelling has been exploited to the extent that Hyderabad biryani and Hyderabadi dum biryani can be found everywhere in the country today.    
At dozens of restaurants and cafes, the dish becomes available at noon are served late into the night. The demand is such that many of the restaurants no longer can cook on the premises and have hired halls where it is cooked and ferried to the restaurants.

Also read: Style of cooking gives 'Hyderabadi biryani' its rich flavour
The price ranges from ₹80 per plate at street corners to ₹1,250 for a clay pot at Hyderabad's luxury ITC Kohenur. And then, there are the jumbo variants like the one served in a three-foot diameter plate in Dinehill and those served in buckets that can suffice for 10 persons or the handi for 30 persons. 
What makes Hyderabadi biryani unique?
The Persian word Birian means fried or roasted. This one word ensures that Hyderabadi Biryani is accurately biryani as parts of the meat at the bottom of the vessel get partially roasted due to high heat. The Lucknowi, Kolkata or Dindigul or Ambur or Thalassery biryanis are cooked with enough water so that there is no roasting of meat.
Biryani degh: Degh is an oddly shaped vessel with a wider bottom and a tapering top so that it can be sealed after the layers of rice are added. Flaming charcoal is heaped on top of the sealed vessel for even cooking.
Kache Gosht ki Biryani: Hyderabad biryani is the only one where raw marinated meat and rice are cooked together to create the final product. When the ingredients are cooked separately and mixed, it is called Pakki biryani.
Dum Biryani: Hyderabad biryani is cooked on dum (Persian breath) or in its own steam. A fat roll of dough is used to seal the vessel after all the layers of rice are added so that it gets cooked in its own steam.
Zafrani biryani: One of the links to the biryani with royalty remains is that of saffron-infused milk or ghee added to the layers of rice to bring oomph and separate the dish from plebeian food.  
There are choices in meat cuts, like nalli (marrow bone) or raan (thigh), and an assortment of toppings of chilly chicken and boiled egg.  
Mohammed Majeed, the owner of Pista House, best known for its haleem, estimates that every mealtime, about 5,000 deghs are cooked that can fill 30-35 plates of biryani. 
As Hyderabad expands westwards, some savvy businesspeople have opened restaurants that cater to the crowd of office-goers, college students, and expats who want to sample city life. Among the first to cross the Musi River that runs through the middle of Hyderabad, is Mohammed Rabbani of Shah Ghouse Café. "Around 2009-10 we found that a large number of people at our Shahalibanda outlet were travelling from HiTec City and Gachchibowli. I decided that to move part of our business here," says Mr. Rabbani.   
Biryani booming
A partial insight into the boom in the biryani business can be tracked through meat sales in Telangana. In 2014, the State produced 5.42 lakh tonnes of meat; in 2021-22, this was pegged at 10.04 lakh tonnes, according to data from Telangana Socio Economic Survey.
Telangana produces 9.29% of meat that is consumed in the country for a State that occupies 3.40% of the country's area. In 2019, the Gross Value Add of meat production in Telangana was pegged at ₹11,426 crore and chicken production at ₹6,476 crore.
Hyderabad's four slaughterhouses—Chengicherla, Amberpet, Bhoiguda, and Jiyaguda—process an estimated 15,000 goats and lamb every day; on Sundays, the number goes up to 40,000, according to industry estimates.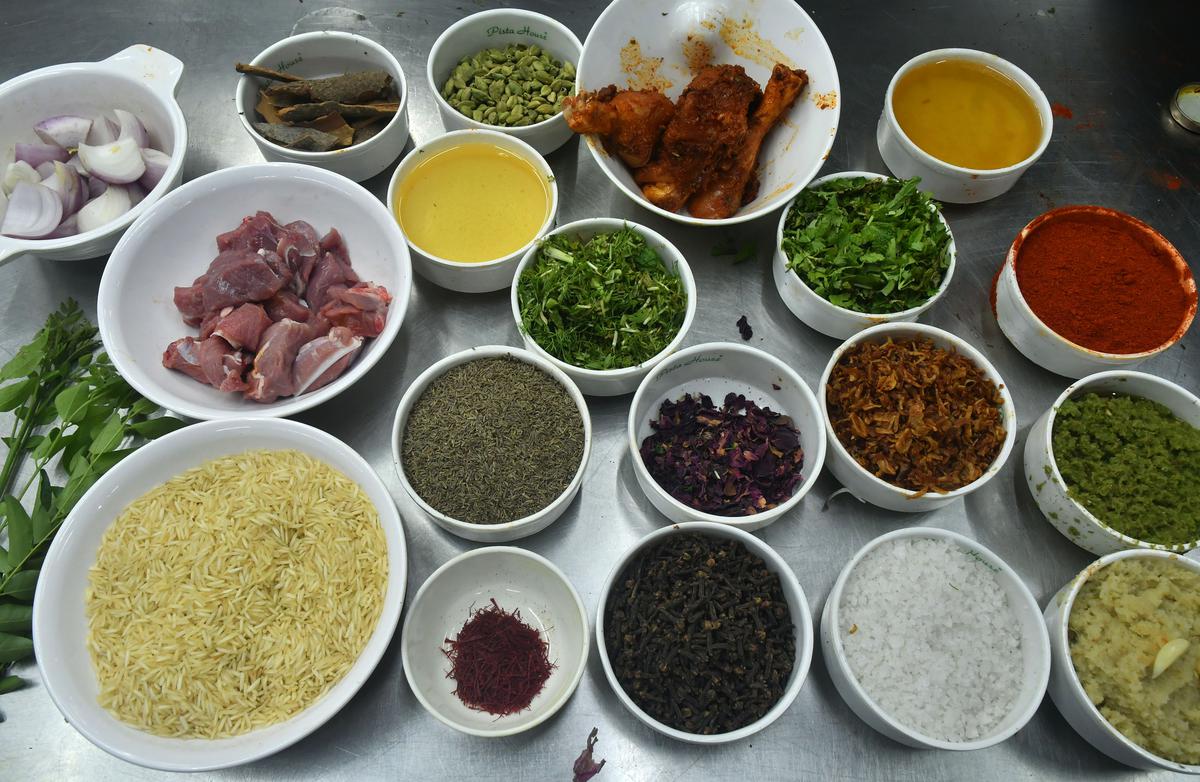 This meat is matched by the truckloads of rice that get ferried from Punjab, western Uttar Pradesh, and Haryana, with the restaurant owners signing private deals on prices and supply. Then there are spices, some exotic as stone flower (moss), to the mundane shahjeera (black cumin), each sourced and measured out for each biryani vessel.     
How does he ensure that all the 40 outlets of Pista House have a biryani that tastes the same? "I make sure that the spices that go into each cauldron have the same potency and are in the same quantity. The quality of meat is ensured by purchasing from municipal slaughterhouses (there are some illegal operations)," says Mr. Majeed, who is set to open a restaurant inside a decommissioned Airbus-320 at Shamirpet on the outskirts of Hyderabad.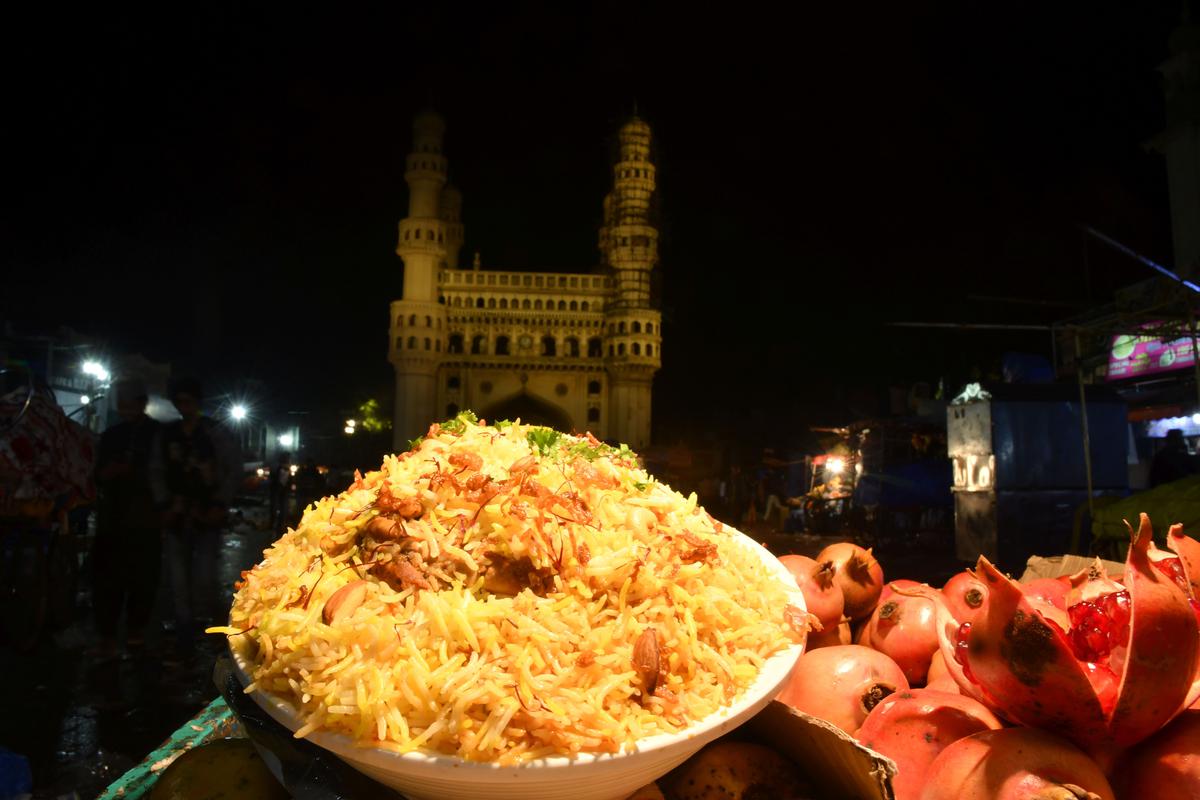 "These are Telangana potel, the most prized meat as the animals graze in open land and the meat is lean. This can make a difference between a good biryani and an average biryani," says Mr. Raza, who trades in lamb and goat brought from the surrounding areas of Vikarabad, Sangareddy, and Medak districts.  
While there is an obvious hunger for biryani, purists scoff at the quality. "Hyderabad has killed its biryani. There is a massification that panders to masala and spices. Biryani used to be aromatic. The aroma of spices and herbs has been ruined by people who want spicy food," says Emcee and entrepreneur Anuj Gurwara who travels across cities for his work. " But economically, you cannot beat it. A dish with rice and roti would cost more than a biryani," says Mr. Gurwara.
Hyderabadis blame 'outsiders' for creating the masala-fied version. Sure enough, there are diners who ask for double masala or 'extra masala'. At Peshawar Restaurant near Lakdi ka Pul, the steward gruffly says that the outlet serves zafrani (saffron) biryani which doesn't have extra masala.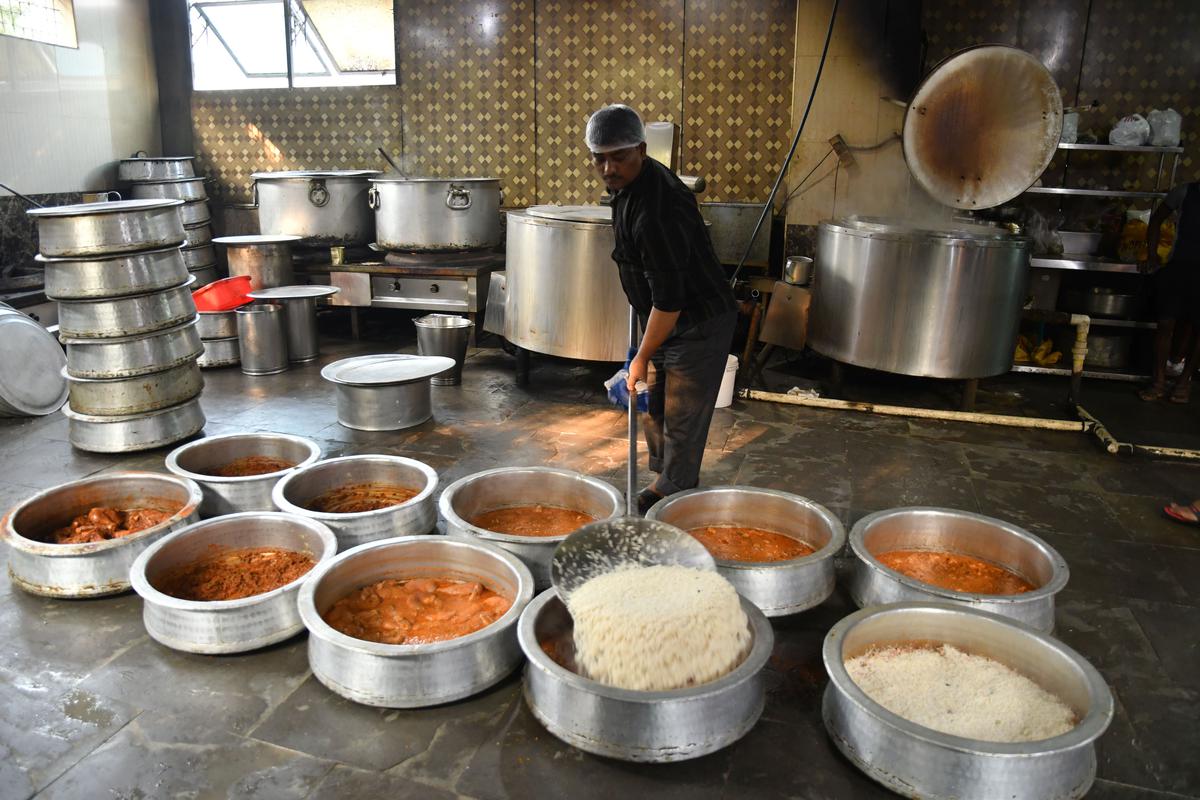 Shaadi ki biryani   
While the aroma and fragrance remain the talking points, the key ingredient is the quantity of meat. Though the commercial biryanis have a rice-to-meat proportion of 80:20, most wedding biryanis tweak it to 60:40, improving the quality dramatically.     
But true 'Hyderabadi shaadi (wedding) ki biryani', prepared by traditional khansamas or chefs, uses 1.5 kg of mutton to a kilo of rice. "The marinade comprises cumin, cinnamon, cloves, ginger-garlic paste, green chillies, curd, milk, lemon juice, and fried onions. The marination time — between four and six hours — is something restaurants cannot do as they are dealing with large quantities that must be served quickly," says Taha Quadri from Professional Catering Services.   
Johnathan Paul, 32, a communications professional from Hyderabad, describes the shaadi ki biryani as a sentiment. "The distinct taste of the biryani cooked over wood and the subtle flavours is a treat," he says. "I have had shaadi ki biryani several times. Which is why I am going to engage the services of a bawarchi to cook Hyderabadi biryani at our next family event," he adds.   
The curiosity over shaadi ki biryani and the eagerness of a large number of people to try it is reflected in an attempt to monetise it. Restaurants began offering "Shaadi ka Table" and "Valima ka Khana", a curation of dishes that are served at Hyderabadi weddings and invariably includes biryani.
The consistency of biryani at weddings, Mir Zubair Ahmed from the MBA Caterers, 50 years in the business, says it is rooted in ustaads (master chefs) keeping a tight grip on consistency. "Young boys, irrespective of faith, are initiated into the profession. They begin, under the watchful eye of the ustaad, by slicing vegetables. They are subjected to rigorous training, and often tough love. Only after several years, if the ustaad is satisfied, they are allowed to have their own team," Zubair says.   
Both Mr. Zubair and Mr. Taha say that the dawati pakwaan, or traditional shaadi ki biryani that is the true Hyderabadi biryani.  
'No standard Hyderabad Biryani'
But there is no standard Hyderabadi biryani. Historian Amanda Lanzillo writes that there was a diversity of culinary practices in Hyderabad. And while migrants from north India did have a hand in the evolution of food culture in Hyderabad, there is an emphasis in historical records on "Iranian and trans-regional migrants who moved into the city in the seventeenth and eighteenth centuries". The Hyderabad State, he further writes, "incorporated new practices into their cuisine".   
In what reflects diversity in biryani recipes, Siasat published a translation of a cookbook from the Asaf Jahi period that contained nearly two dozen biryani preparations of the Nizams, some of which were Dulhan Biryani, Khaam Biryani, Rumi Biryani and Mahboobi Biryani. 
Pushing the biryani market is social media. About 15 years ago, Zareena Sha was goaded on by her children to start a food business after a particularly successful office potluck. Today, at 56, she is one of the busiest caterers, with an Instagram page aiding her business. The result: anyone with patience and time can order and get authentic home-cooked biryani. In the process, she has trained dozens of neighbourhood women who have branched off independently. "Of course, some ingredients and formulas are secret," says Ms. Sha.