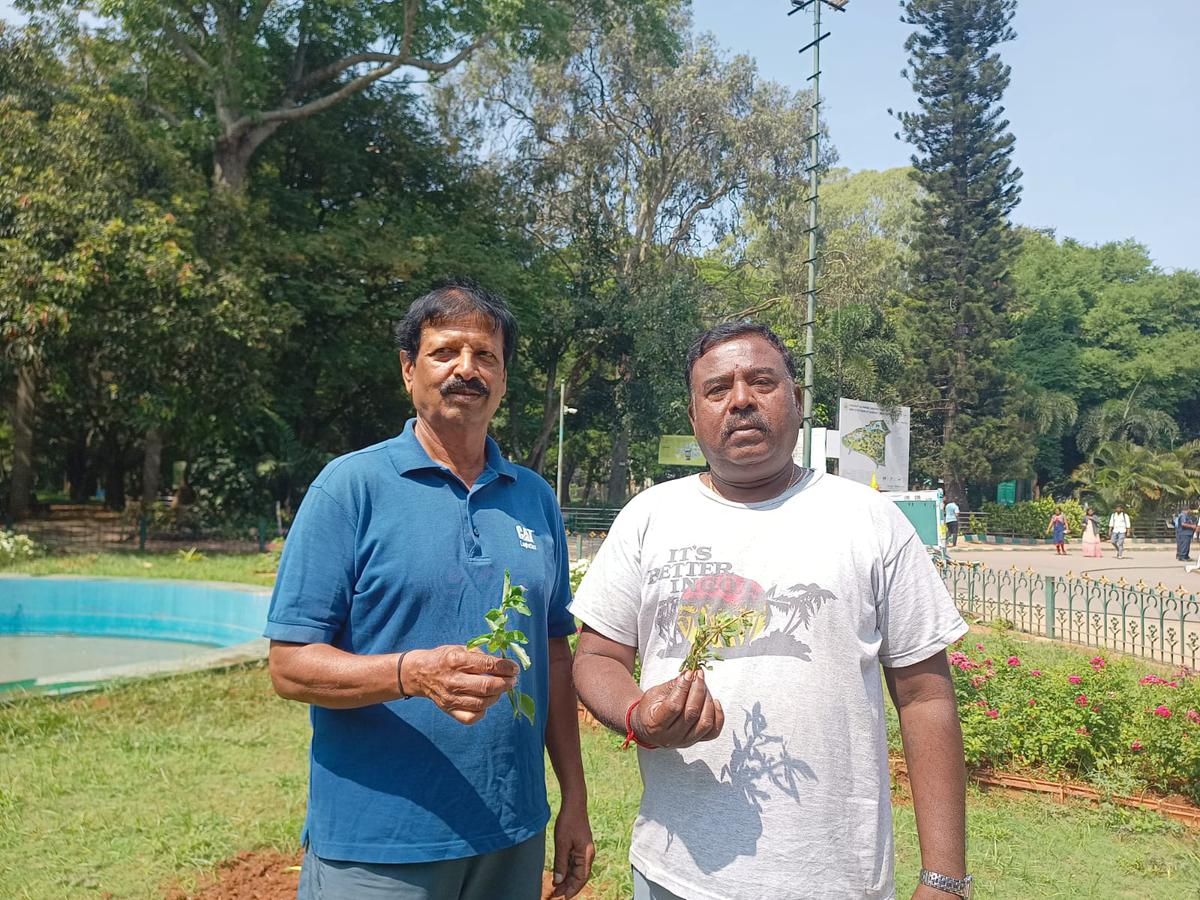 (From left) Balu N and Govindaraju GV with their herbs | photo credit: Swati Nair
A quiet morning begins at around 9 am in the serene Lalbagh Garden in Bengaluru. Gouramma diligently goes about her routine job of watering the plants, but goes the extra mile. While removing unwanted weeds, she carefully selects a few twigs, sprinkles water on them, and carefully stores them in plastic lids. "When I return home, these are my dinners," shared the 48-year-old, who has dedicated 14 years of his life to maintaining the park. She is there daily from 8 am to 5 pm.
Many other ground staff, mainly women, engage in foraging within the garden to collect whatever they can find for their homemade curries. "Earlier we used to explore different varieties of plants, but now with the unpredictable rains it is not the same," says Gouramma.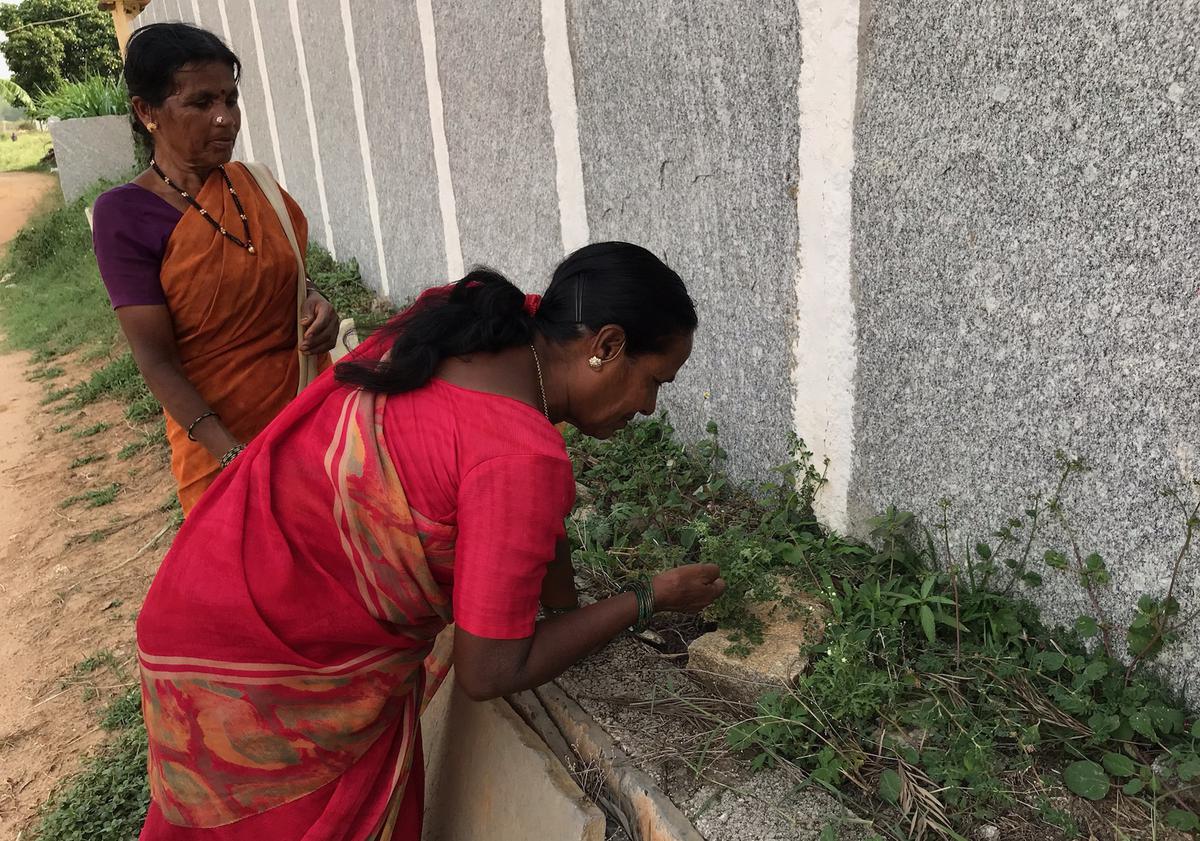 Women searching for food in Sarjapur | photo credit: special arrangement
Lalbagh Garden, situated on 240 acres of land, has an assortment of green leaves, locally known as "soppu". Within its verdant boundaries, one can find Dodallagiri Soppu, Goni Soppu, Hulli Soppu, Neeruhongne Soppu, and Huvuhongne Soppu – Coveted by all the hardworking ground staff for their personal use. These plants commonly grow in the wild on farms and their leaves are part of many traditional foods such as Bass Saru, Masoppu and mixed vegetables Palya,
Read this also | Foraging in Nagaland: Unveiling the Culinary Secrets of Naga Cuisine
"We are barely able to make ends meet at home, why buy when they are growing anew in the forest here," says Chikkamma, who has been working in the park for 8 years.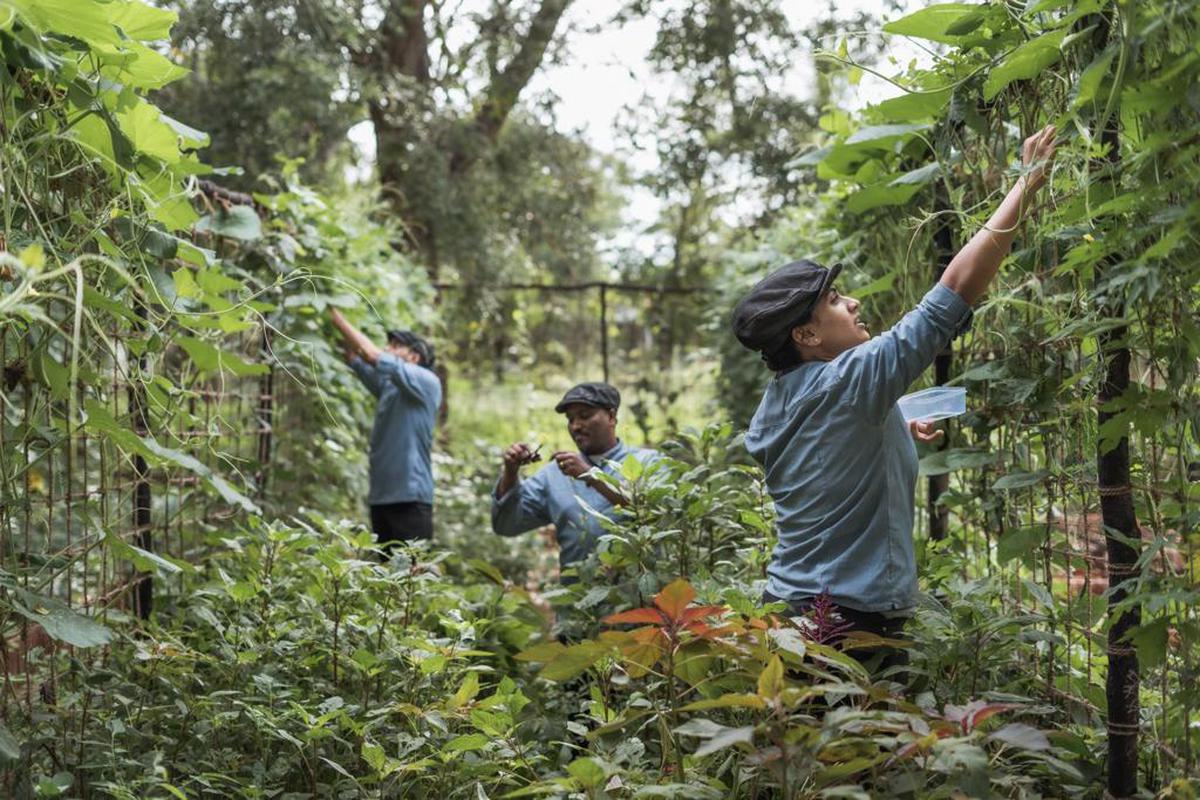 Foraging for Ingredients in Farmlore | photo credit: special arrangement
Not only the dedicated staff of the park, but regular morning walkers from nearby areas also get the opportunity to forage for their meal before leaving. One such walker, Govindaraju GV, 59, shares, "Whatever little bit I find, I collect to take home for curry. Greens are really good for kids".
Sharing a similar sentiment, another park jogger, Balu N, 60, says, "You will not find such variety soppu varieties in the market. It is always the usual fenugreek, spinach, mint and coriander. The young generation of the house is unaware of these unique things. soppu types and their associated traditional dishes.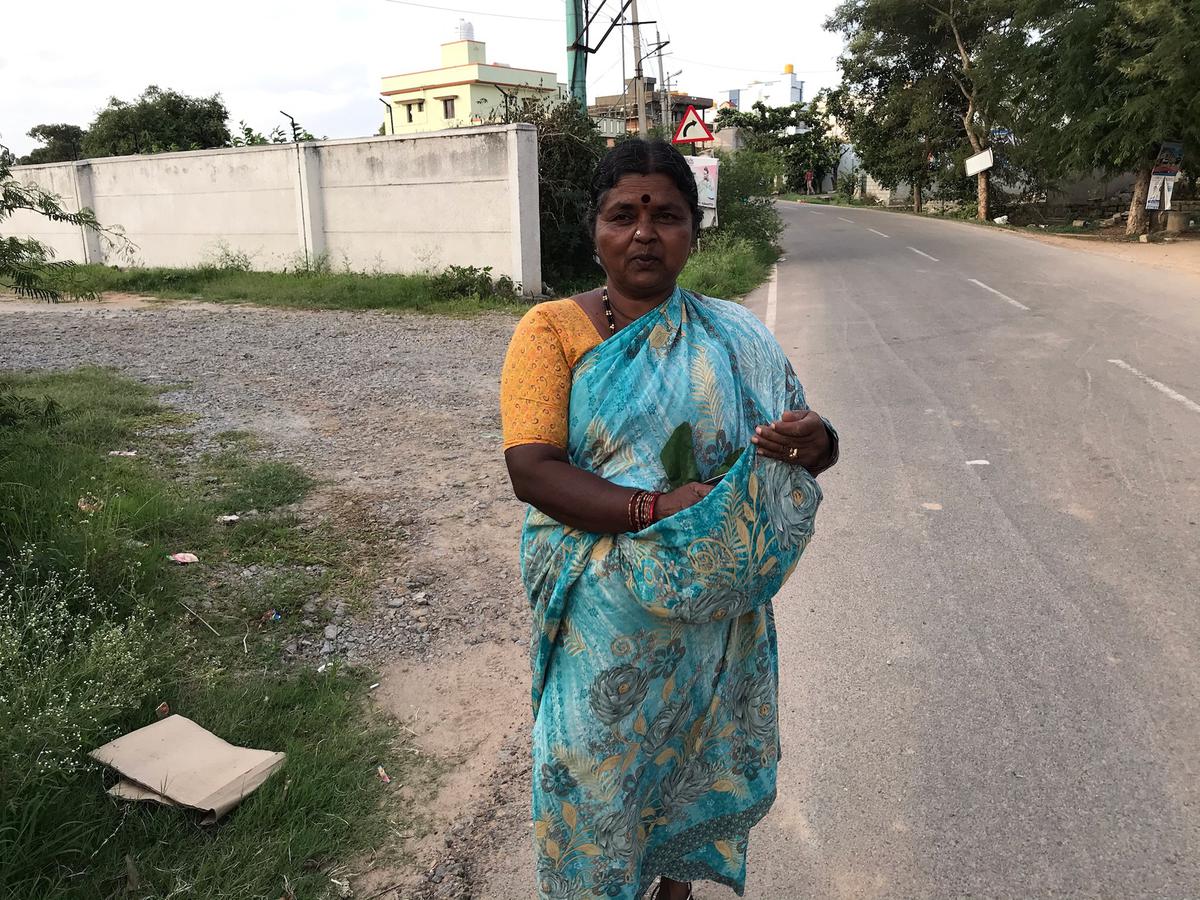 With a local herb from Sarjapur | photo credit: special arrangement
Govindaraju says, "If I want to buy these soppu, I have to go to villages, outside Bangalore. However, now that I know some of them grow wild right here in the park, I pick just enough for our meals at home."
Additionally, Chikkamma and Gouramma purposefully prepare certain plants for their medicinal benefits. Chikamma explains,Daglagiri Soppu highly effective for the maintenance of insulin, while Kirunelli Known to support liver health.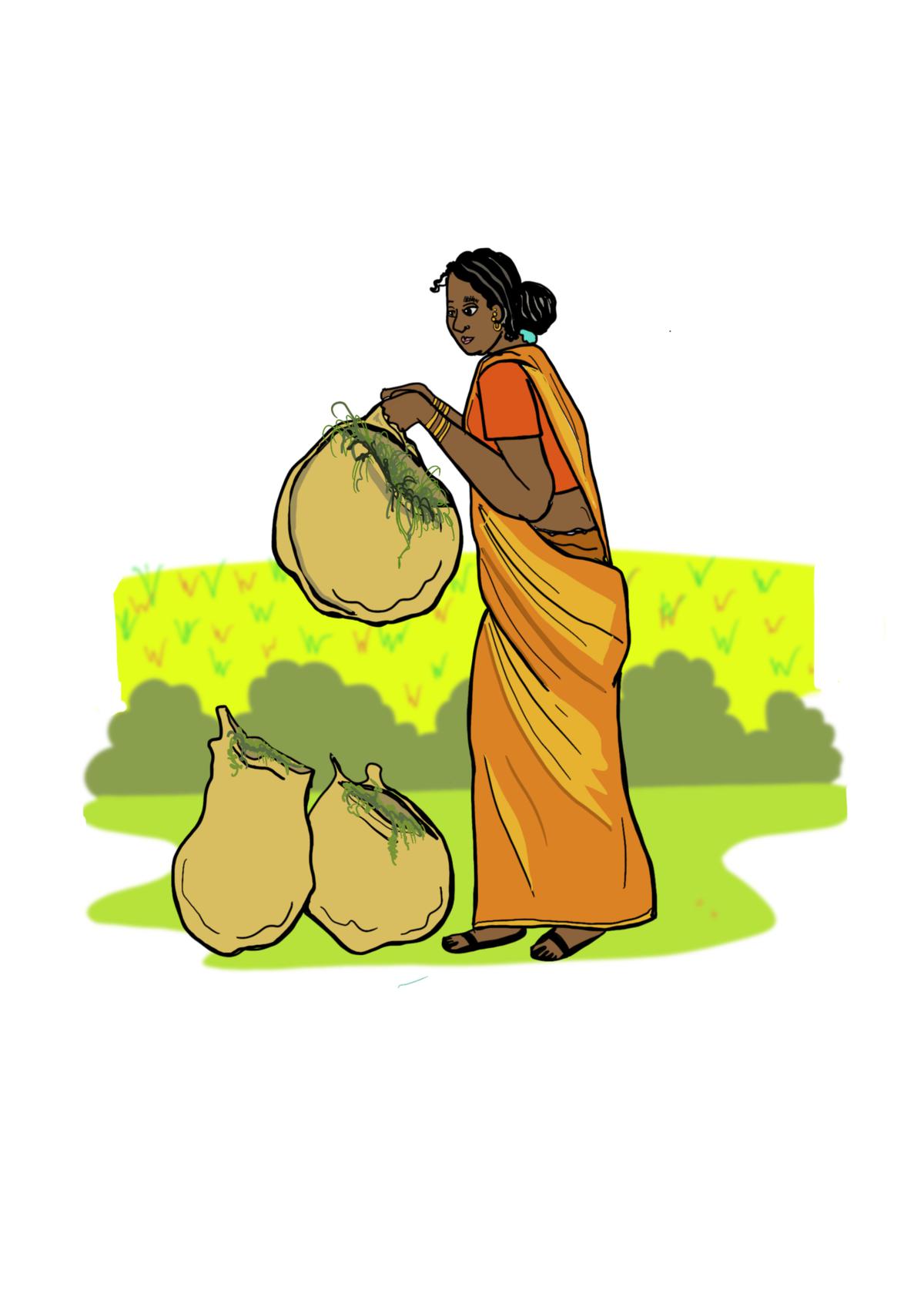 Illustration of woman with her forest herbs from book chasing soppu
, photo credit: special arrangement
A recent study by Azim Premji University suggests that grazing is prevalent in Bengaluru. The research paper, titled "Patterns of urban grazing in Bengaluru city", highlights grazing practices in areas such as Ulsoor, Siddhapura, Banashankari and Talaghattapura, highlighting its occurrence even in a metropolis.
"We often see people searching for fodder in various parks, lakes and vacant plots, especially in wetlands. This is true not only for Bengaluru, but also for other Indian cities such as Kolkata, Mumbai and Delhi," explains ecologist Harini Nagendra, one of the study's researchers and a leading voice in understanding urban ecology.
She further stresses the connection between policy makers and ground reality, stating, "There is a misconception among city officials that pasture is confined to rural areas, but our research demonstrates otherwise," in the book says co-author of chasing soppu,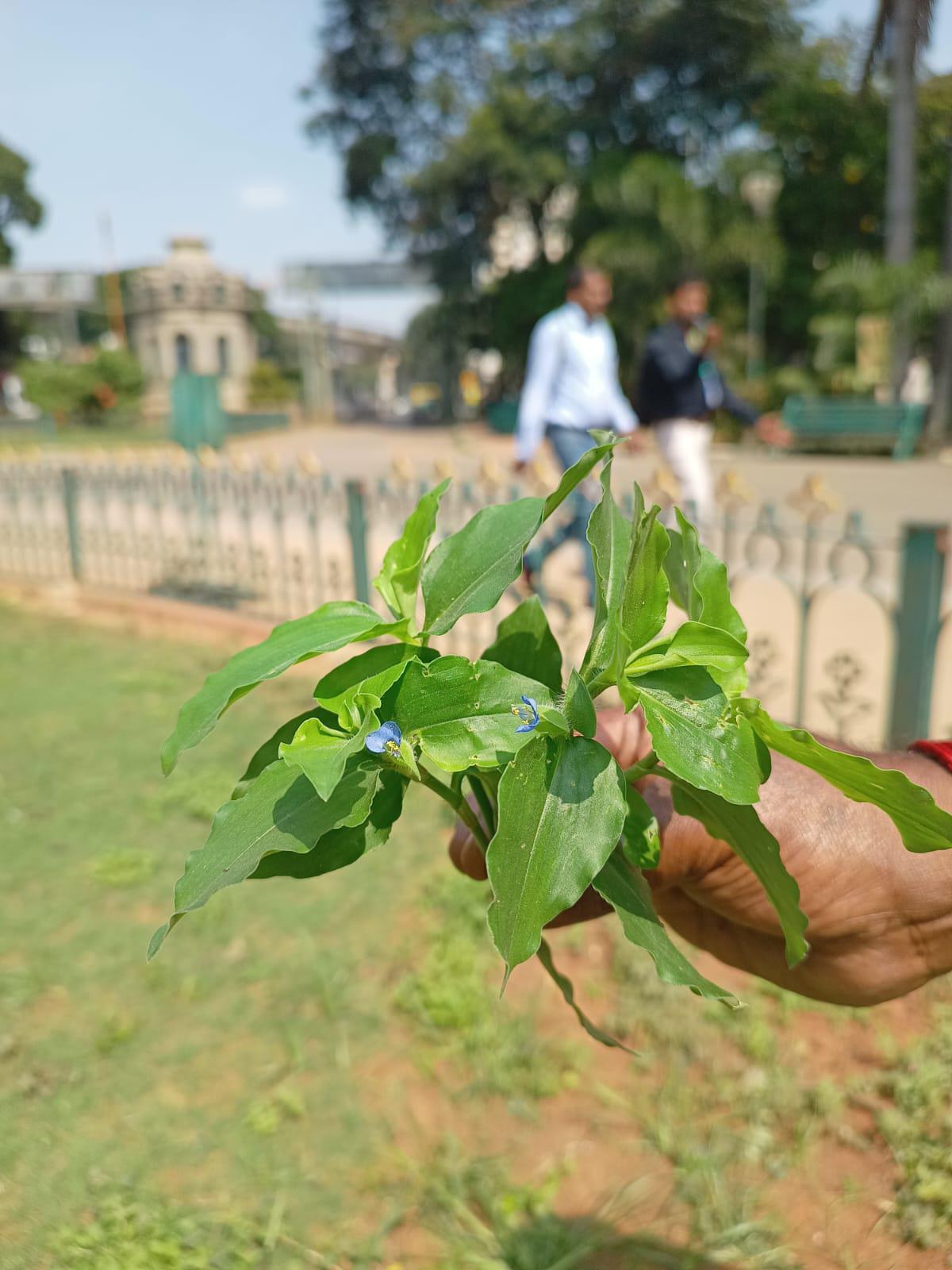 Kanne Soppu in Lalbagh | photo credit: Swati Nair
Lower socioeconomic individuals, especially those affected by urbanization, engage in foraging. Therefore creating accessible green space in urban environments is vital to the well-being of these marginalized communities in the city.
Interestingly, awareness about foraging has spread beyond marginalized communities. Following the pandemic, there has been a renewed interest in pastureland among the urban elite, who are now attending workshops and talks about pastureland in the city.
Chef Johnson Ebenezer hosts a distinctive dining experience in the city at his restaurant, Farmlore, where he creates dishes using ingredients that are grown directly on the premises or plucked from the woods.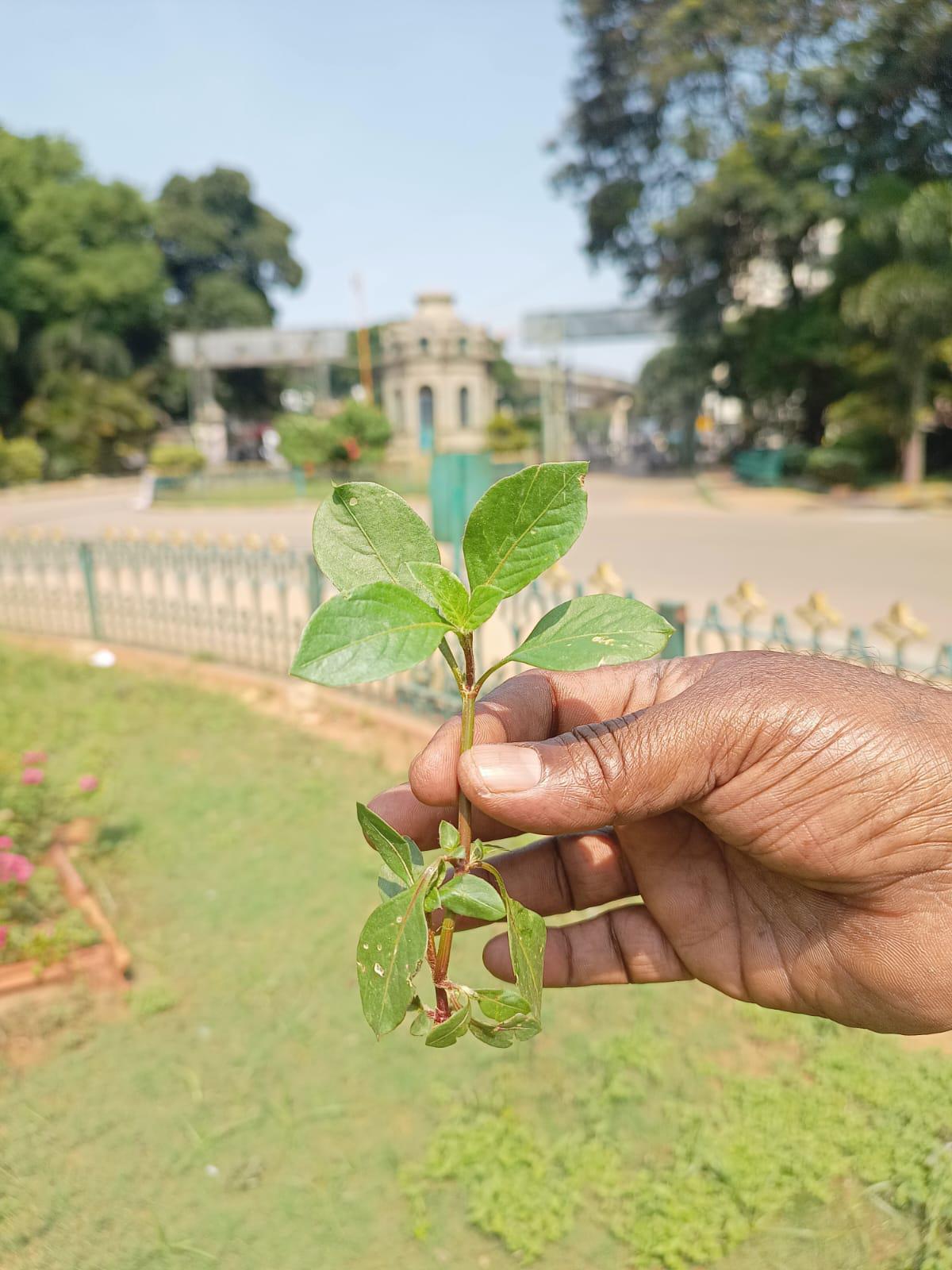 Huvuhongane Soppu in Lalbagh | photo credit: Swati Nair
He explains, "Our vast land of 30 acres gives us herbs and leaves in abundance which is synonymous with geography. Naturally, their diversity fluctuates with the changing seasons, with even greater diversity during the monsoons. Prominent ones include Huli Soppu (Sour Greens), Wood Sorrel (Clover Leaf), Brahmi, Pennywort, basilpurslane, amaranth, nasturtium and Gongura,
He further elaborates, "The purslane provides a pleasant mix of subtle sourness and saltiness. On the other hand, nasturtium and blackcurrant bring a peppery kick to the palate. Huli Soppu and Wood Sorrel provide a tangy flavor, while Pennywort introduces a unique combination of peppery and citrus notes. Finally, the spearmint we seek has a sharp minty tone with a gentle touch of sweetness.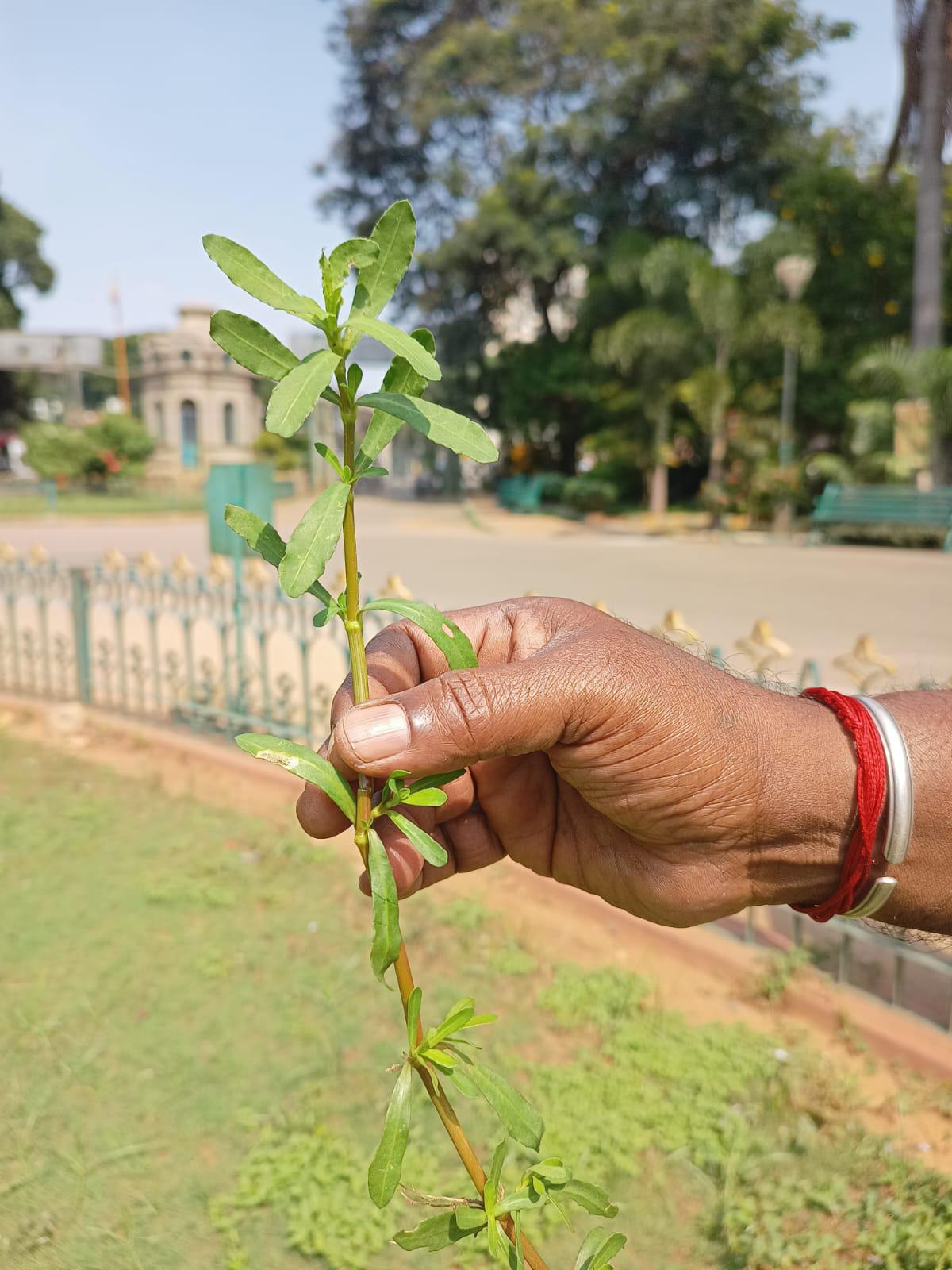 Neeruhoangane Soppu in Lalbagh | photo credit: Swati Nair
"Through foraging, they aim to reclaim common spaces, increase nutritional diversity and create a deeper connection with nature," says Suresh Kumar G, who lives in Sarjapur.
Alongside his cultivated crops, he allows indigenous wild vegetation to flourish, attracting people from surrounding areas to gather food and learn to cook with him. The land showcases a diverse array of plant species including square, purslane, moringa, spinach, gongura, mustard, hyacinth beans, winged beans, sword beans, turkey berries, ivy gourds, gourds, and pumpkins.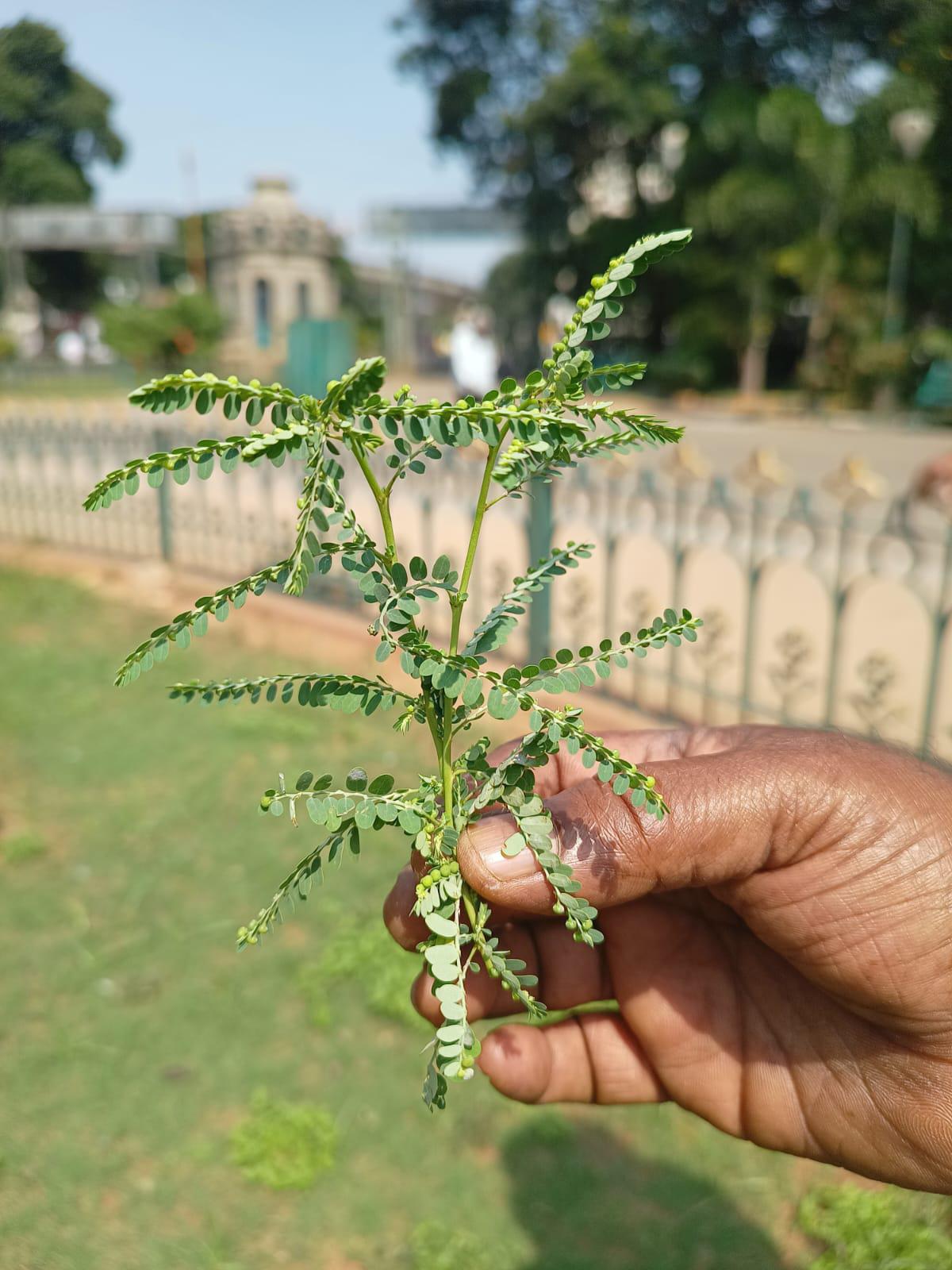 Kirunelli, a medicinal plant found in Lalbagh. photo credit: Swati Nair
Suresh says, "We let nature take over the land. People from nearby areas come here in search of food. However, he expresses concern about the current state of culinary traditions, commenting, "We are losing the recipes that our grandmothers used to make at home with our indigenous products. Cycling through five or six vegetables."
Within the rich botanical landscape of Bengaluru, the nutritional benefits of over 70 different species of plants flourish. While the average household usually relies on a limited repertoire of greens available in the market, villagers enjoy a much wider range of tastes. "They have access to greater nutritional diversity, which adds depth to their diets. However, ruralites report a decline in diversity due to urban challenges," says Harini.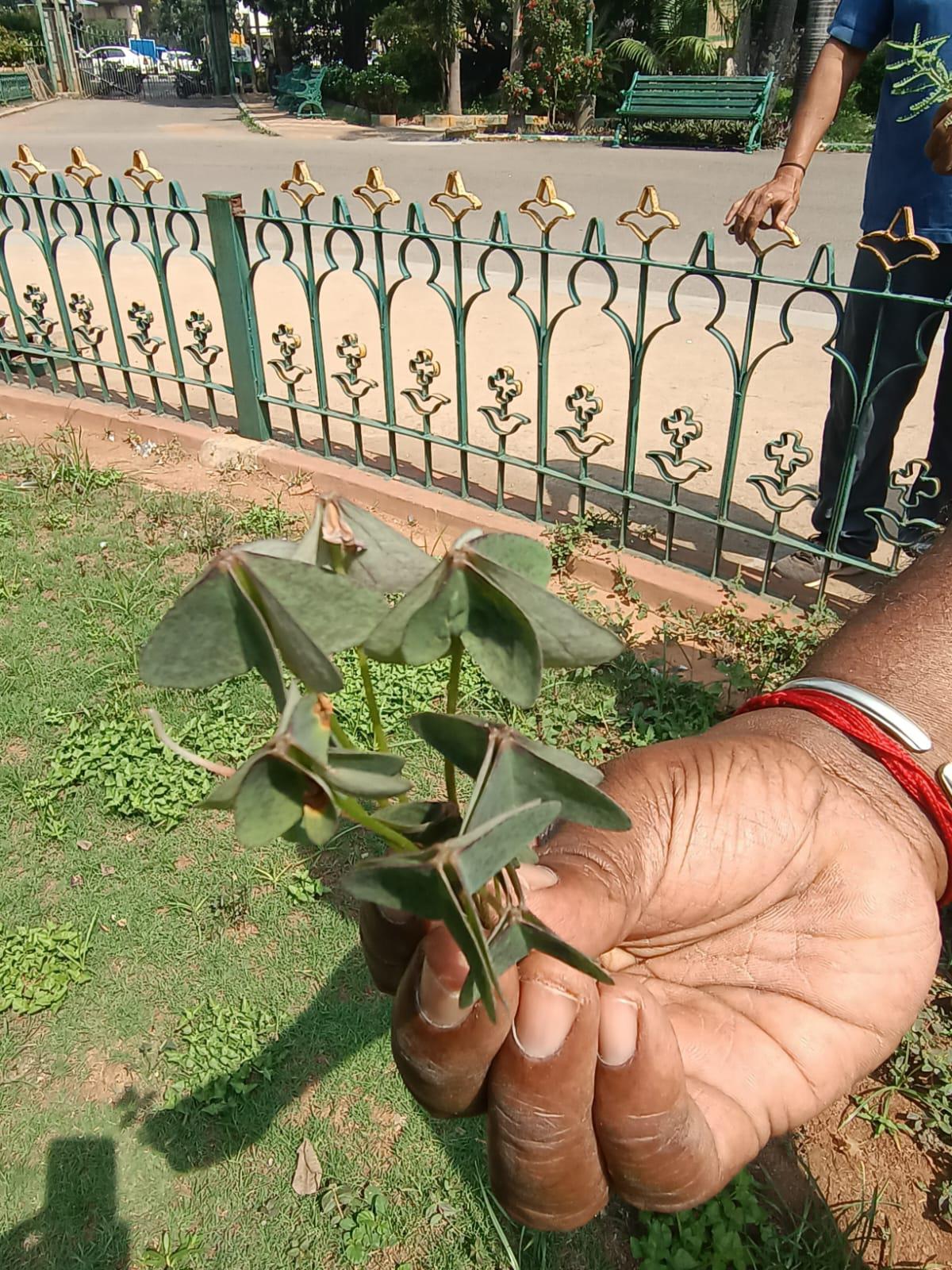 Huli Soppu in Lalbagh | photo credit: Swati Nair
Highlighting the challenges faced by the forest dwellers, Harini explains, "Parks which used to be in abundance of greenery are now closed, and sewage dumping has polluted the lake shore, leading to consumption has become unsafe for."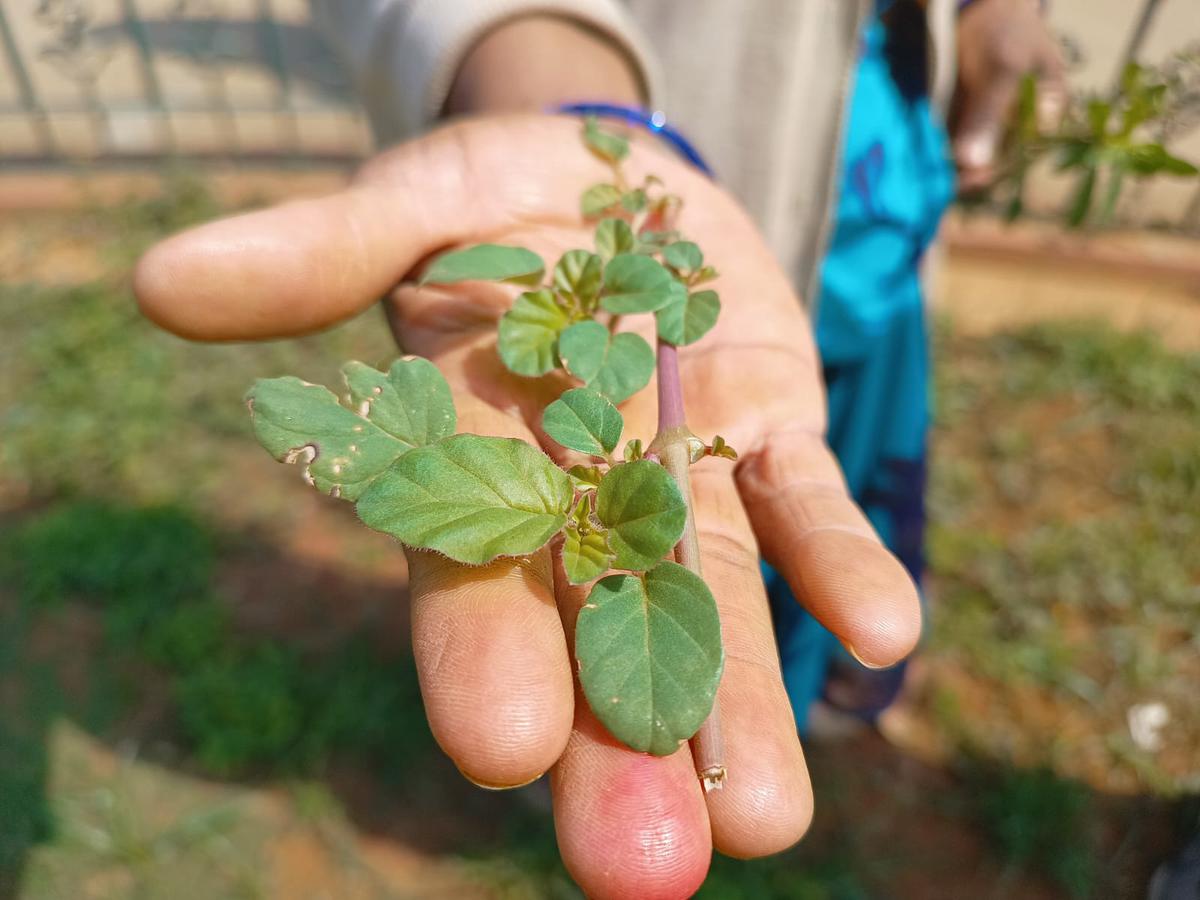 Daglagiri soppu in Lalbagh | photo credit: Swati Nair
Pollution is one of the most significant threats to foraging practices. Garbage flows and the presence of plastic and other waste in lakes and wetlands prevent forest dwellers from using what they find for cooking or feeding their families. The preference for ornamental plants in public spaces and landscaping exacerbates this issue, reducing the availability of forage species in the city.
Recognizing the importance of preserving foraging traditions and reconnecting people with nature, the researchers propose incorporating the knowledge and expertise of local women who are already well versed in foraging. "Women, especially those from more vulnerable urban groups, primarily bear the burden of providing food and especially nutritious food. They keep in mind the needs of infants, growing children and the aged, trying to ensure both nutrition and variety in daily meals on limited income," explains Seema Mundoli, faculty at Azim Premji University and co-author of the book. chasing soppu,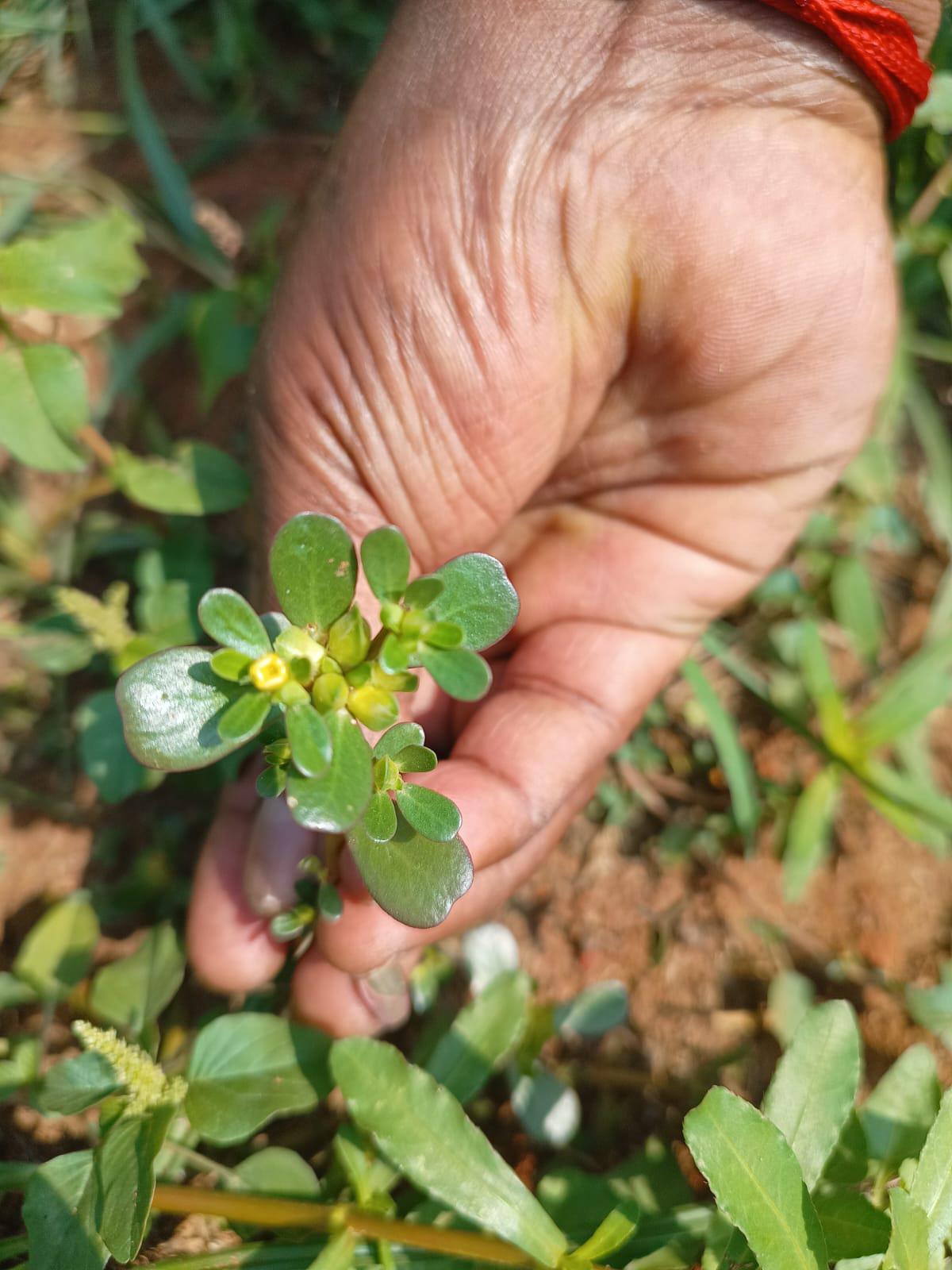 Goni Soppu in Lalbagh | photo credit: Swati Nair
Women usually adopt innovative methods to make children eat their greens such as mixing them Casserole Or eggs so that the taste and nutrition are balanced. During her research, Seema learns, "Anything that women do that requires them to leave the house, or go to a shop for example, they are always on the lookout for something to add to their meals. soup And PalyasWhich will also save money otherwise spent on buying vegetables".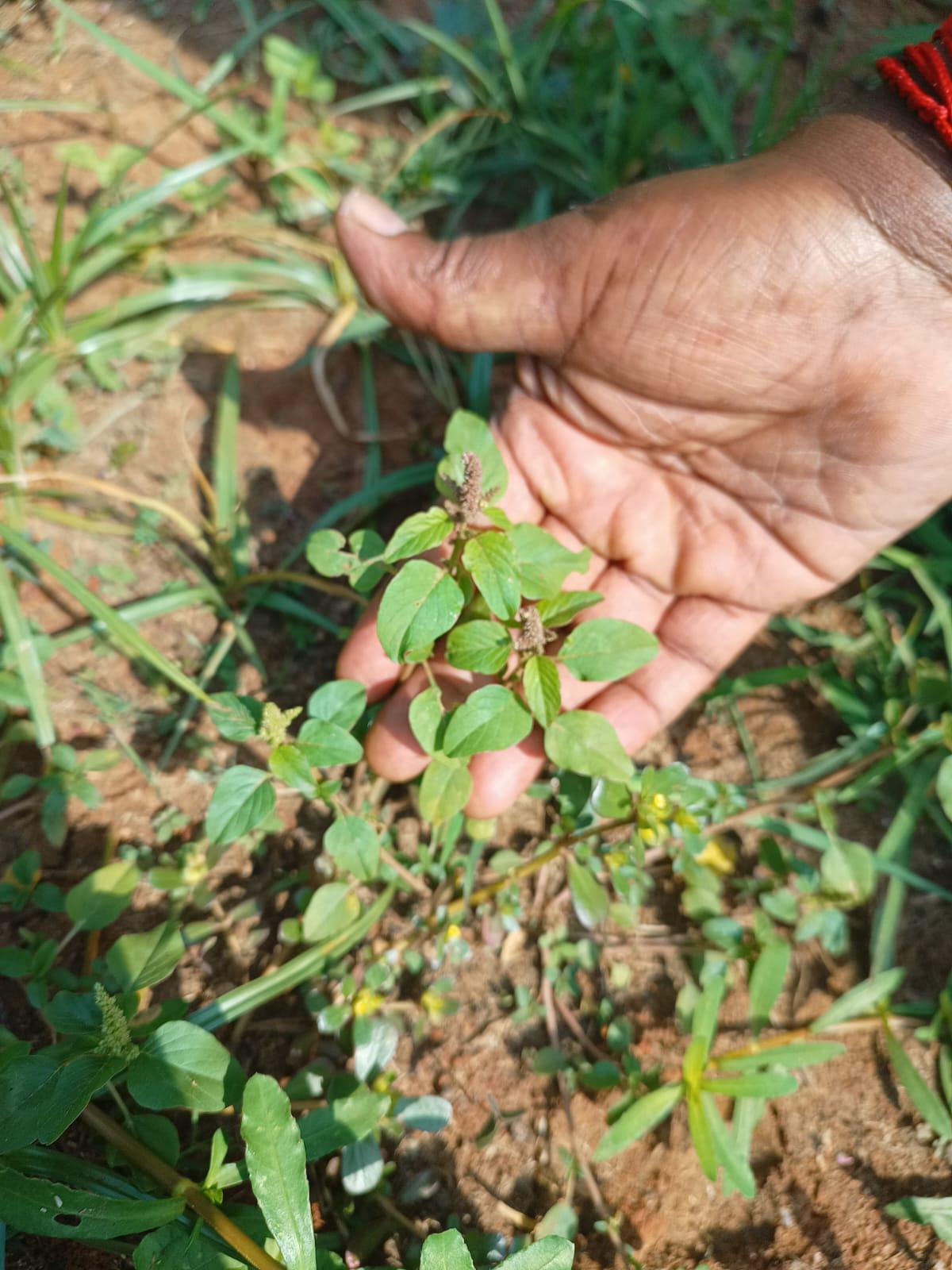 Dodalgiri soppu in Lalbagh | photo credit: Swati Nair
To ensure the practice of forage eating continues in urban areas, the researchers suggest an inclusive approach. Harini proposed that local administrators should consider organizing foraging classes led by knowledgeable women in parks such as Lalbagh and Cubbon Park.
"These women have been working in the city parks for many years and know them closely. They have invaluable traditional knowledge and can serve as experts, passing on their knowledge to interested individuals through guided foraging walks and ticketed workshops. The income earned can go back into the maintenance of the park," she adds.
forging in bangalore
Studied in forging practice: Ulsoor, Siddhapura, Banashankari and Talaghattapura
97% of rural women in Bengaluru
Belong to socially (90%) and economically (81%) disadvantaged groups
76 species are sought for food (76%), medicine (26%), and cultural practices (18%).
Foraging occurred in unused land (32%), parks (32%), farmland (12%), native villages (12%), nearby woodlands (9%) and home gardens (3%).
Source: Azim Premji University
rare greens
Bengalis who do not have access to a variety of medicinal and culinary greens in city markets have found a unique solution by placing orders with women vegetable vendors in specific markets such as those near the Banashankari bus stop. Whether it is making hair oil, boosting brain power or reviving old recipes, customers tell their specific needs to the women vendors at these markets.
The vendors, in turn, diligently collect the requested greens during their travels within the outskirts of the city or to native villages and then sell them to their customers in the city. This system ensures the availability of sought-after greens that may otherwise be scarce, as women vendors leverage their networks and personal connections to cater to the diverse culinary and medicinal needs of Bengalis.