Navratri, the nine-night Hindu festival, is far more than a celebration; it's a profound spiritual voyage entwined with devout fasting and lively festivities, all dedicated to the worship of the goddess Durga in her myriad divine forms. Typically celebrated in the Hindu month of Ashwin, usually in September or October, this festival symbolises the perennial triumph of good over evil, epitomised in the veneration of the nine incarnations of Durga. One of its most renowned legends recounts Durga's conquest over the demon king Mahishasura.
However, Navratri's fasting transcends mere dietary restrictions; it embodies a deep sense of devotion and discipline. Devotees meticulously adhere to a range of food limitations, abstaining from grains, specific vegetables, table salt, and certain spices.
"A traditional Navratri vrat thali comprises Sabudana Khichdi, Kuttu ki Roti, Singhara Atta Puris, Rajgira Paratha, plain yoghurt, fruit salad, Vrat Ke Aloo, coconut chutney, kheer (prepared with buckwheat or amaranth), fresh fruits (bananas, apples, pomegranates), and dry fruits and nuts (almonds, cashews, raisins)," notes Ganesh Amkar, executive sous chef, Courtyard by Marriott Mumbai International Airport who is hosting a vrat thali at his restaurant for the festive season.
The historical origins of the Navratri vrat thali, however, remain somewhat elusive. As noted food historian and academic Pushpesh Pant elucidates, "Orthodox Hindus fasted according to family tradition, consuming prescribed cereal-less, Satvik food, primarily phalahar (fruit)-based meals. However, the concept of a formal thali as we know it today did not exist."
In the past, Navratri fasting often involved dishes crafted from ingredients such as buckwheat, water chestnut (Singhada), makhana, and potatoes. The fast wasn't uniformly observed by all family members nor was it followed throughout the entire nine days of Navratri, the historian notes.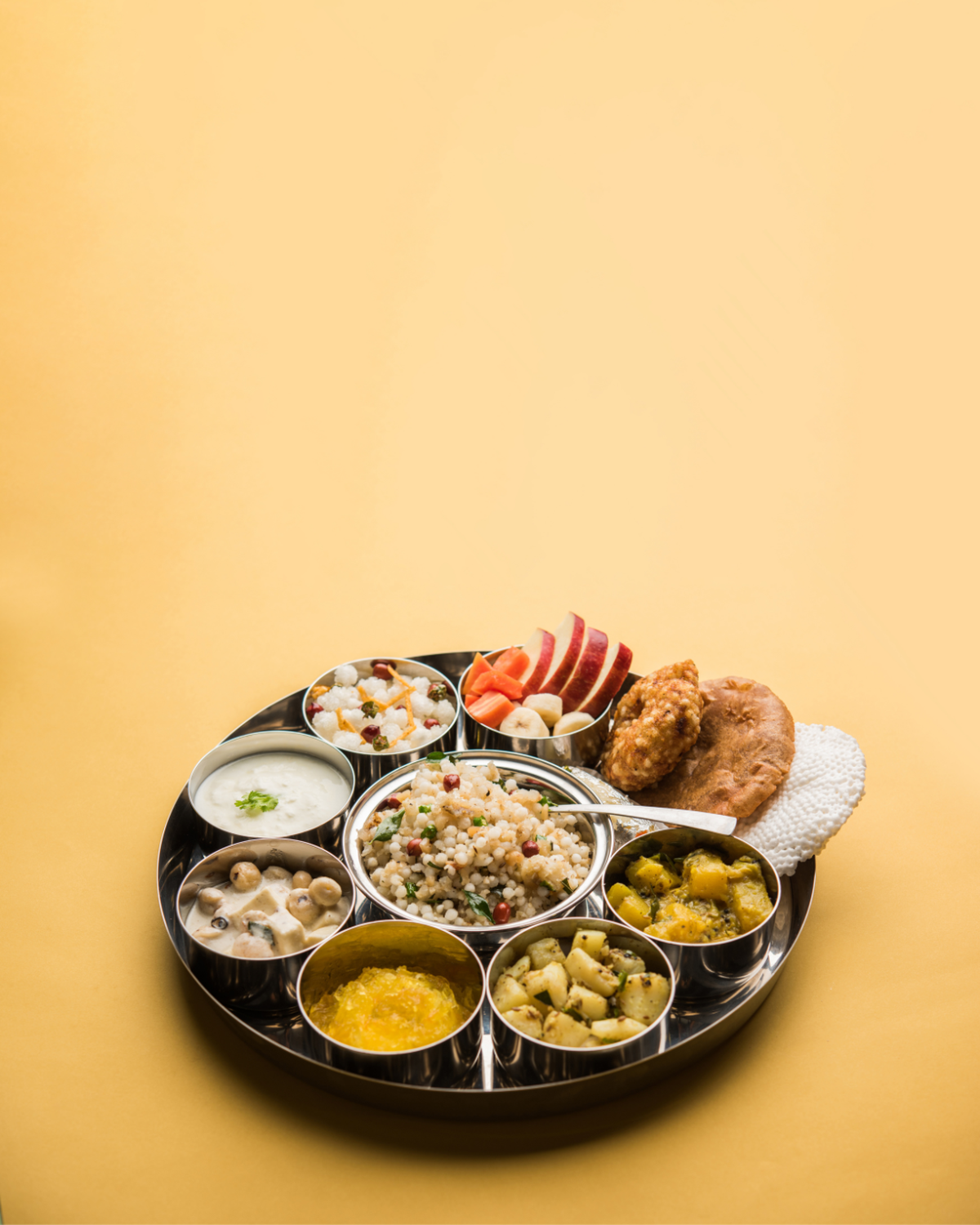 The 1970s witnessed a significant transformation in the concept of the Navratri thali. This era was marked by the ascendance of religious identities and the fashionable embrace of rituals and customs among those who lived in cities.
While many often perceive Navratri as a Gujarati festival with a Gujarati thali, archaeologist and culinary anthropologist Kurush F Dalal debunks this notion, stating, "That is a misconception. There's a Navratri thali in Uttar Pradesh and Maharashtra, and in Bengal, for the Durga pujo, a notably non-vegetarian thali is served, whereas in Gujarat, it's a strictly vegetarian affair."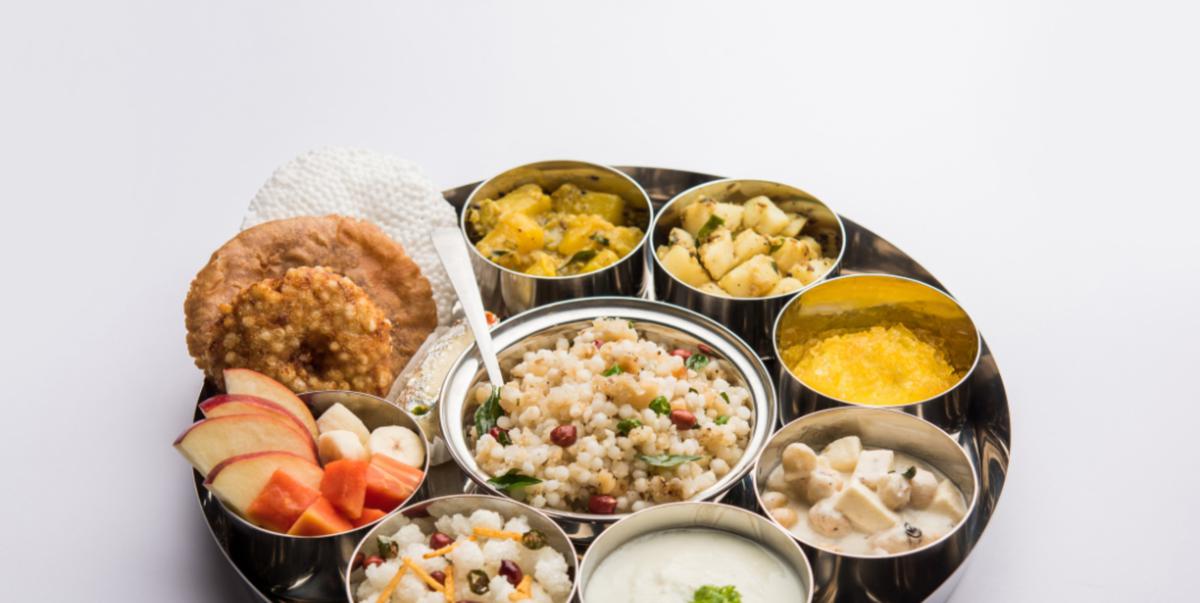 "If you mention a non-vegetarian thali to a Gujarati, he or she won't believe you. Even some regions of Bihar incorporate meat in their Navratri thali. Hence, the constituents of a Navratri thali truly vary across the country," he elaborates.
The concept of the Navratri thali is predominantly a north Indian phenomenon. Pushpesh asserts, "The all-India context of a thali has been created artificially by vegetarian evangelists."
In the modern urban landscape, a notable transformation in dining preferences among many Indians has emerged. There's a growing inclination towards ordering vrat thalis or dining out, moving away from the traditional practice of preparing all vrat food at home.
This shift has also been embraced by restaurants, as Pushpesh points out, "For restaurants, it's a commercial opportunity to keep the cash registers ringing when many guests, even those who are not fasting, choose to avoid meat and fish during Navratri."
In 2016, Domino's introduced a special vegetarian pizza during Navratri, made with water-chestnut and white millet flours. The pizza featured mozzarella cheese with rock salt substituting for common salt, and a topping of tomatoes, paneer, and crunchy sabudana. The tomato sauce was prepared without onions and garlic, adhering to fasting constraints, the company emphasised.
City restaurant chefs are innovatively embracing fasting ingredients and introducing new items to vratthalis. At The Westin Mumbai Garden City, executive sous chef Amandeep Singh puts a South Indian spin on the traditional North Indian vrat thali. He incorporates jackfruit and banana chips, offering a fusion of Navratri flavours that highlight India's diverse culinary traditions during this festive season.
As we savour these inventive Navratri vrat thalis, we see that the Navratri thali is more than just a meal — it's a reflection of India's multifaceted culinary heritage, with each year adding new chapters to its evolving story.