A view of the recently renovated Rick's bar at Hotel Taj Mahal, Delhi | Photo Credit: Special Arrangement
It's not every day that a restaurant manager insists you watch a movie before coming over to have drinks or dinner with you. But Rick's manager Anushka Bagchi told me to watch the Hollywood classic casablanca before coming over for a drink at his bar. And not without reason.
The re-launched Rick in the iconic Taj Mahal, New Delhi is inspired by the Academy Award winning classic. Like the film, where protagonist Rick Blaine builds a sanctuary offering respite from the chaos of World War II, Rick's aims to be a refuge for its patrons, where they can relax with great music, distinctive cocktails, and casual dining. Can Everything at Rick's is inspired by the movie.
The deco is very 1940s, though with a modern touch; The furniture takes you to a bygone era, the bar (counter) is made of marble, with beautiful lamps on the tables. The venue is as trendy as it is classic, with cocktails and food a treat in its decor.
The cocktails are subtle, layered and offer a unique twist with global influences and artisanal ingredients. The Umami Uget, for example, is a clear cocktail made with fresh tomatoes, miso, strawberries, and tequila, served with housemade dark chocolate. the cognac-based Cantonese sidecar made with the red grape saccharum (which is made in-house) and a strong smoky Chinese tea, lapsang souchong; The saccharum makes cognac sweeter and tastier to those who find it too strong and the tea has flavors you wouldn't expect in a cocktail. But my favorite is Blaine's brew,A version of the Espresso Martini made with gold rum with unusual ingredients like sesame seeds, honey, fresh pineapple juice and soy – each sip you take offers a new flavor, each taste intense.
"We design cocktails with a focus on techniques and ingredients; We have retained many of the classics but with modern twists. And there is a certain amount of flair with which they are presented," says chef Arun Sundarraj, director of culinary operations, of a drink.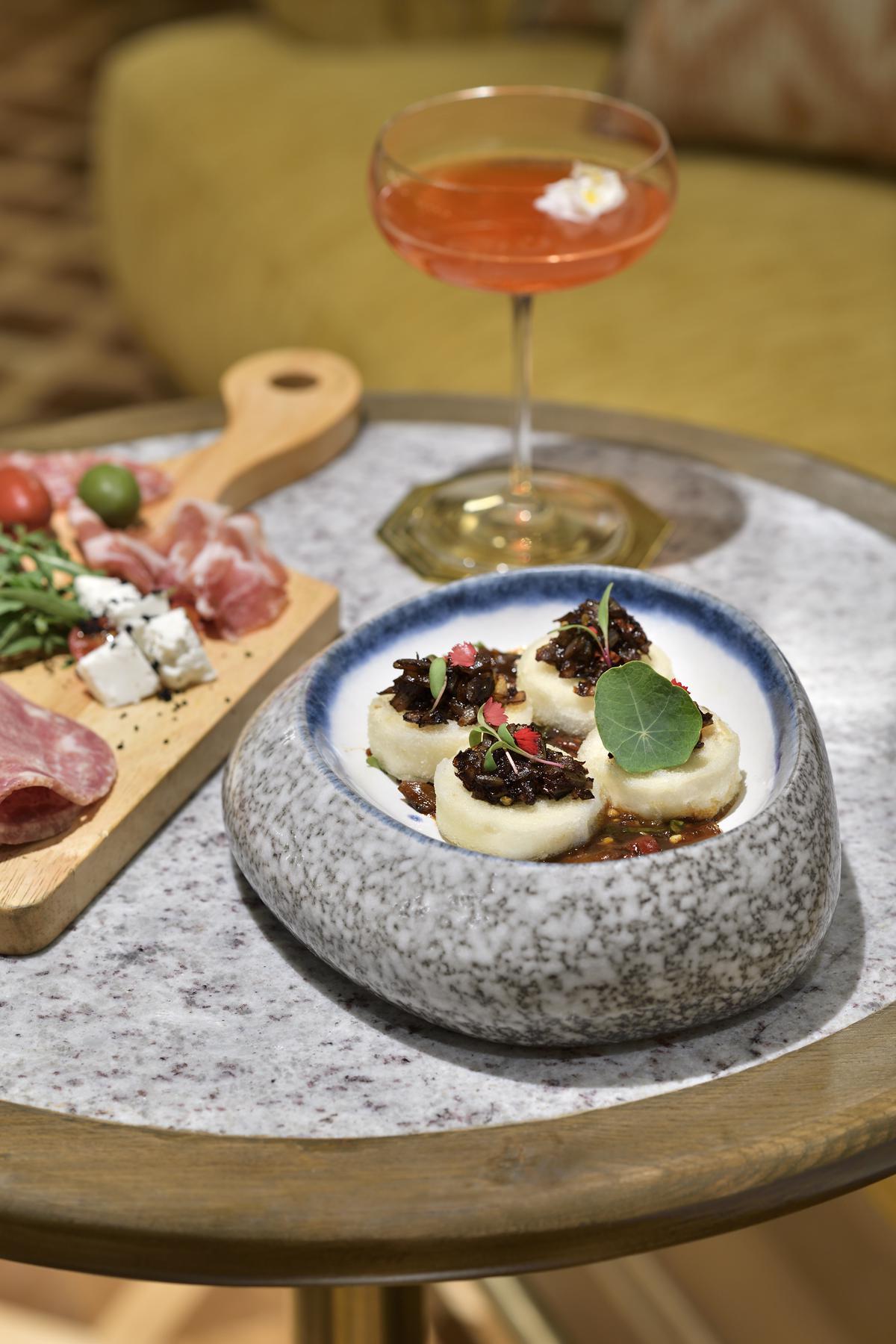 food menu | Photo Credit: Special Arrangement
Rick's isn't just about cocktails. There is also great food and music.
In its food menu, Rick's offers a mix of flavors from around the world and caters to both Delhi's local crowd and in-house guests, many of whom are expatriates. Like the cocktail program, the focus is on ingredients and techniques. Sundarraj explains, "The food here is a balance between carbs, proteins, fried and cooked and we have brought together the essence of many international flavors to create a complete menu." And so, are the small plates, salads and food bowls, where dishes like duck rolls and currywurst sausages sit next to prawn balchao naan, ceviche and Texan burgers.
The music ties everything together beautifully. Whether it's the melodious 'Loongi' tunes that kick off the evening that turn into high-tempo numbers as the night progresses, the live DJ on weekends or the pianist that reminds you of Sam casablanca Rick has everything.
,