Easter in India | Photo Credit: T.Singaravelu
Chicken Roast with Borma Bread
Cooking Time: Marination Time: 30 minutes | Cook Time: 30 minutes
Cuisine: Kerala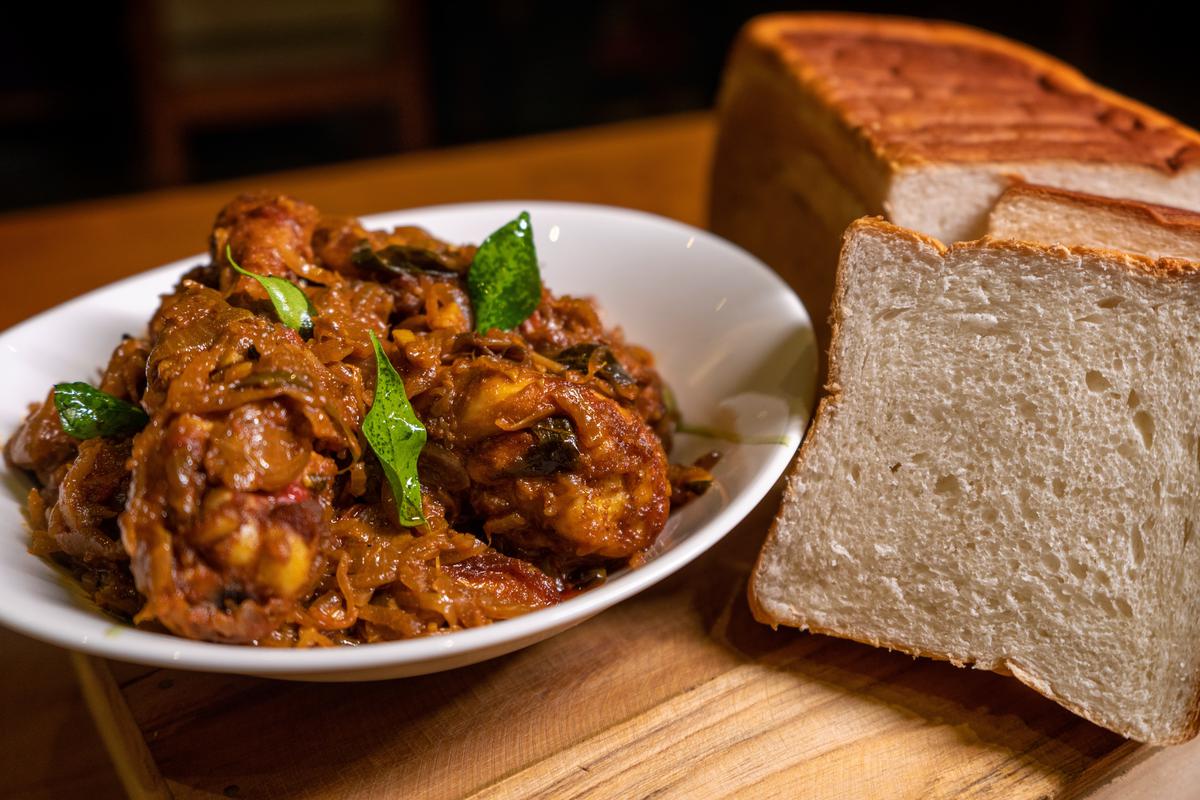 Chicken Roast with Borma Bread
Component
Chicken with bone (60 – 80g pcs each) – 500g

Potato (quartered) – 100 grams

Coconut oil – 1 liter

Onion chopped – 3 cups

Tomato – 1 cup

Ginger – 1 tbsp

Garlic – 1 tbsp

Green chili – 1 tbsp

Curry leaves – 1 sprig

salt to taste

Turmeric Powder – 1 tsp

Kashmiri chili powder – 1 tbsp

Black pepper powder – 1 tsp

Coriander powder – 1/2 tbsp

Garam masala – 1 tsp

Coconut milk – 1/2 cup
Preparation
Marinate the chicken with salt and turmeric for 30 minutes.

Deep fry the chicken till half cooked and fry the potatoes in the same oil. Keep it aside.

Heat oil in a pan and add chopped green chillies, ginger, garlic and curry leaves.

Add chopped onion and fry till it becomes transparent and add all the spices.

Cook for five minutes.

Add chopped tomatoes and cook well.

Add half the fried chicken and cook for 15 minutes and add fried potatoes. Finally add coconut milk and finish.

Serve hot with traditional sweet borma bread.
Recipe by Chef Reggie Mathew, Chef and Co-Founder, Kappa Chakka Kandhari, Chennai and Bengaluru
Chicken Cafereal
Cooking Time: Prep Time: 12 hours Salting + 1 hour Prep | Cook Time: 40 minutes
Cuisine: Portuguese-Goan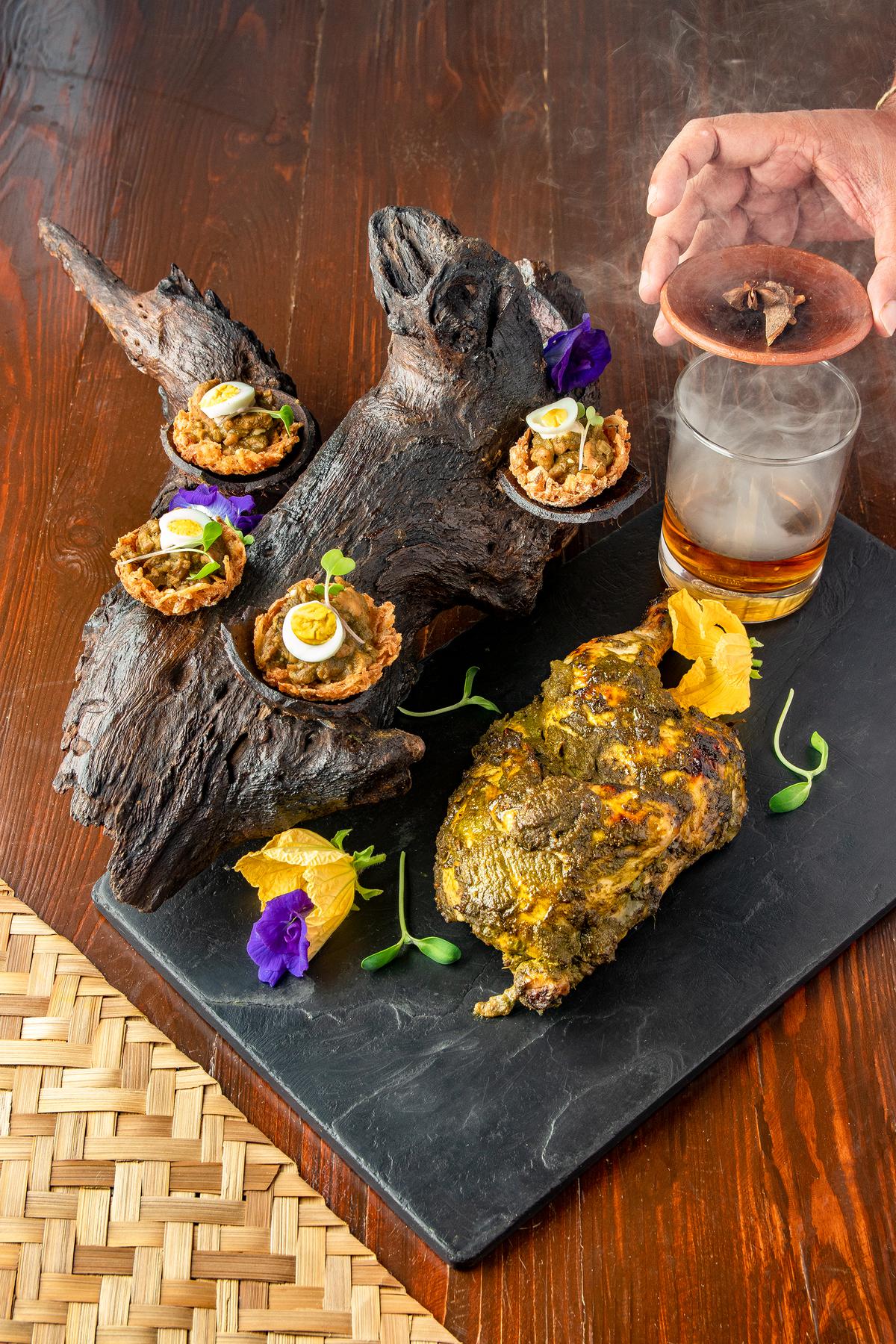 Chicken Cafereal
Component
Bone-in mixture of chicken thighs and drumsticks (skin on) – 750 g

Fresh coriander with stalks – 1 bunch

Green chilies (depending on how spicy you like it) – 4-5

Garlic – 3-4 cloves

Ginger root – 1.5 inch

Black pepper – 8-10

Cloves – 3-4

Cinnamon – 1 inch

Cumin – 1/2 tsp

Cone Vinegar (amber colored gounti/homemade is better) – 2-3 tbsp

fresh squeeze of lemon juice

dark rum – 60 ml

Pork fat (for frying on the grill) – 2-3 tbsp
for salty
water – 3 liters

Salt – 1 cup

Sugar – 1/2 cup

Black pepper – 8 – 10

Bay leaf – 2-3

Cinnamon – 1 inch

Fresh orange slices – 1 inch
Preparation
For best results, it is recommended to brine the chicken overnight, 12 hours prior to marination

Once the brine is done, remove the chicken pieces and pat them dry thoroughly with a kitchen towel to ensure that the marinade penetrates the meat.

Score your chicken pieces and set them aside in a bowl. Then in a blender, blend all the ingredients together till it becomes a smooth paste.

Adjust the seasoning of the marinade with salt and lemon juice to taste and add the chicken to marinate for at least 1-6 hours.

Once marinated, place on a charcoal grill or heat a heavy bottomed wok / cast iron pan and cook on medium heat from all sides. Cook on each side for two to three minutes.

Optional: Finish cooking the meat in the oven for six to seven minutes after roasting.

Burn marks go a long way! Serve with homemade roasted potatoes and lemon wedges
Note: We've found that brining chicken, although unconventional, produces a moist and tender chicken. In addition, the use of dark rum and pork fat in this recipe both add great flavor, although they are optional.
Recipe by Chef Avinash Martins, Cavatina, Goa
Mutton Thanni Kuzhambu
Cooking Time: Marination Time: 30 minutes | Cook Time: 30 minutes
Cuisine: Tamil Nadu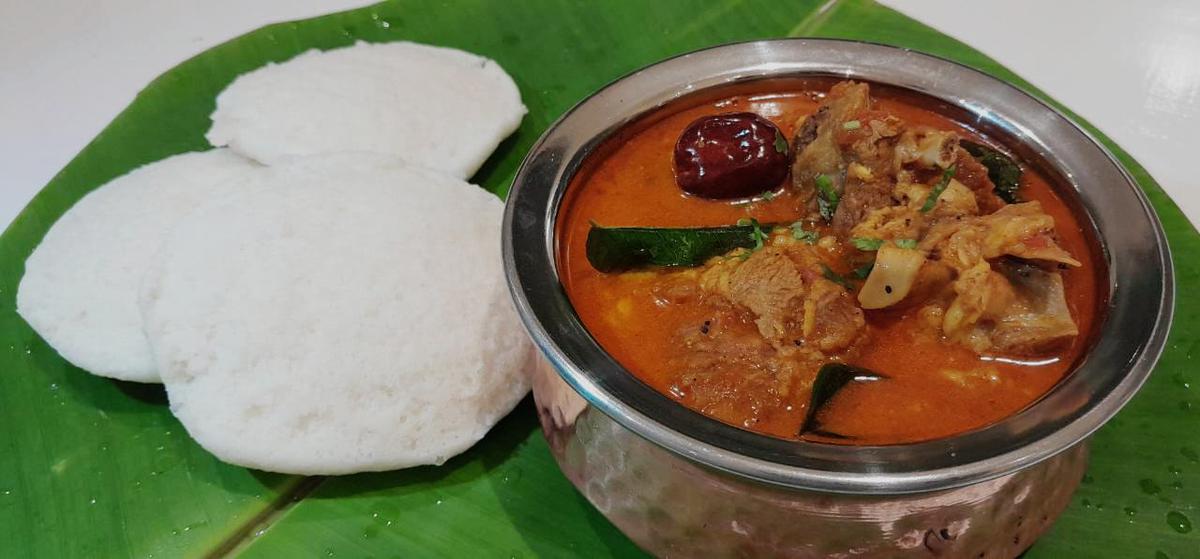 Mutton Thanni Kuzhambu
Component
for marination
Mutton – 1/2 kg

Salt – ½ tsp

Turmeric powder – ¼ tsp

Chilli powder – ½ tsp

Black pepper powder – ¼ tsp

Ginger garlic paste – ½ tsp
to Kuzhambu
Groundnut oil – 2 tbsp

Bay leaf – 1

Cinnamon – 2 inch

Cove – 5

Fennel – ½ tsp

Green chili – 1

shallots – 15

Ginger garlic paste – 1 tsp

Tomato – 2

Chilli powder – ¾ tsp

Coriander powder – 1 tsp

salt to taste

Water – 2 cups (approx)

coriander leaves
Preparation
Wash and clean the mutton pieces thoroughly.

Take mutton in a bowl.

Add salt, turmeric powder, chilli powder, ginger garlic paste and black pepper powder.

Mix all the things with the pieces and keep this marination aside for 20 to 30 minutes.

Heat oil, add bay leaf, cinnamon, cloves and aniseed.

Add green chillies, onions and fry well till the onions turn light brown in colour.

Add ginger garlic paste and fry till the raw smell goes away.

Put the mutton pieces along with the marinade.

Now add tomatoes and mix well.

Also add spice powder, chili powder and coriander powder along with salt.

Cover the mutton with water.

Cook the mutton with spices in a pressure cooker till six whistles.

After the pressure is over, open the lid and garnish with coriander leaves.

Serve hot with idli or dosa.
Chef Jesu.S. Recipe by Lambert, Executive Chef, Savera Hotel, Chennai