Hyderabad-born chef Asif Rasheed Syed, who now lives in Naples, Florida, recently cooked typical Hyderabadi food for US Vice President Kamala Harris' Bakrid party.
Chef Asif, who owns Chef Asif's popular 21 Spices, a trendy Indian restaurant, says he is not only honored but also invited by Kamala's office to host a dinner for 130 dignitaries at her official residence in Washington DC. They are also surprised when asked to make arrangements.
For the dinner menu, Asif selects popular Hyderabadi specialties of the city Patti Samosa (A crispy samosa also called Irani samosa, served with Irani tea at Irani Cafe in Hyderabad), grilled arc (Pan Marinated Grilled Lamb Chops) and Patthar ka gosht (meat cooked on a stone top grill). Dessays included double sweet, a deep fried bread pudding, Sheer Korma (fine hand-made vermicelli fried in ghee and cooked with sweetened milk and nuts), Kubani Ka Meetha, a Hyderabadi Traditional Apricot SweetsAnd Gil-e-FirdausA Kheer A preparation made of rice and bottle gourd.
Patty samosa made to look like a money bag
Speaking over the phone from Naples, Chef Asif says, "I was born and brought up in Hyderabad and take a lot of pride in our traditional food. I'm always looking to see how I can put my city's food on the global food map. Since I was sitting down to make a Hyderabadi menu for Bakrid, I chose dishes that were different from the regular kebabs and starters. The brief was to put forward easy-to-eat options and avoid messy, gravy-laden dishes.
highlight

Shikampuri Kebab is another Hyderabadi specialty. It is served with parathas

Hyderabadi Haleem is a very popular dish made during the holy month of Ramzan

Shaadi wala red chicken is a dish specially made for weddings in Hyderabad.
Chef Asif also wanted the presentation to stand out. so his Patti Samosa made to look small PotlisThe stone meat Made from Wagyu beef and for arc He used New Zealand lamb.
21 Spices by Chef Asif, Maples Florida
Chef Asif R Syed is from Hyderabad
The restaurant that celebrates Indian food and presents it in a modern way
Popular for wide variety of Biryani and Curries
The main dessert of the restaurant is saffron-ginger ice cream.
Asif graduated in Hotel Management from Anwar Ul Uloom College in Hyderabad, then moved to Cyprus to pursue advanced courses in culinary technology. "Soon after, in 1999, I went to the US for a management program at Marriott Corporation; It was an uninterrupted internship program of 18 months. After the internship, I joined the Marriott Corporation for two years," he says.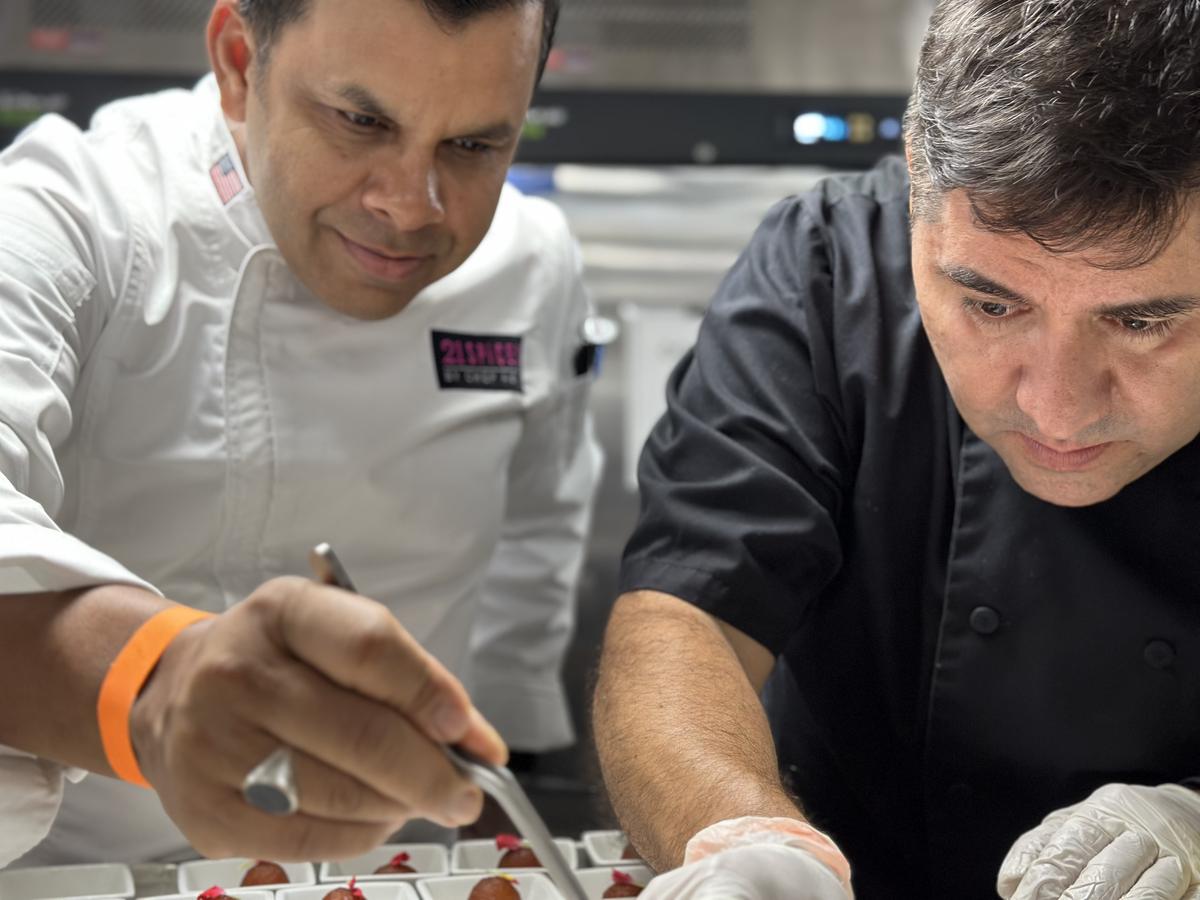 Chef Asif (in white) with other chefs at dinner.
From Marriott, he moved to Hilton as an assistant chef and became executive chef. He worked with Hilton for a total of 15 years. The chef became a popular public figure when he began participating in cookery shows. "I was in Guys Grocery Games, Cutthroat Kitchen with Elton Thomas in 2016 and beat Bobby Flay In Season 17."
But beat Bobby Flay, He was actually celebrated for defeating American celebrity chef, restaurateur and reality television personality Bobby Flay in a culinary performance with his signature dish. Tandoori Chicken, He says he achieved a high point in his career in 2019 when he successfully hosted a dinner at the James Beard House featuring innovative Indian cuisine. (James Beard was an influential American chef who pioneered television cooking shows.)
A proud Hyderabadi chef Asif says, "The joy with which the dignitaries enjoyed the dishes and asked me the details about the method of preparation, is what touched me the most. Kamla said that she is very happy to taste Hyderabadi cuisine and I should cook for her again.