Pani Puri Machines by Penguin Engineering | Photo Credit: Special Arrangement
On almost every street corner and in many eateries, a person makes a hole in the surface of a small puri and fills it with mashed potatoes and chickpeas, Boondi or peas and dip it in a cold, spicy and tangy dish Water. While we are busy popping these pani puris into our mouths to keep up with the pace of making, we tend to overlook the hygiene involved in preparing and serving this snack.
In 2017, when Akash Gajjar and Devendra Awhad, managing directors of Ahmedabad-based Penguin Innovative Engineering, went out on their break to enjoy a plate of pani puri, they fell ill and decided it was up to two engineers to solve it. There was a challenge.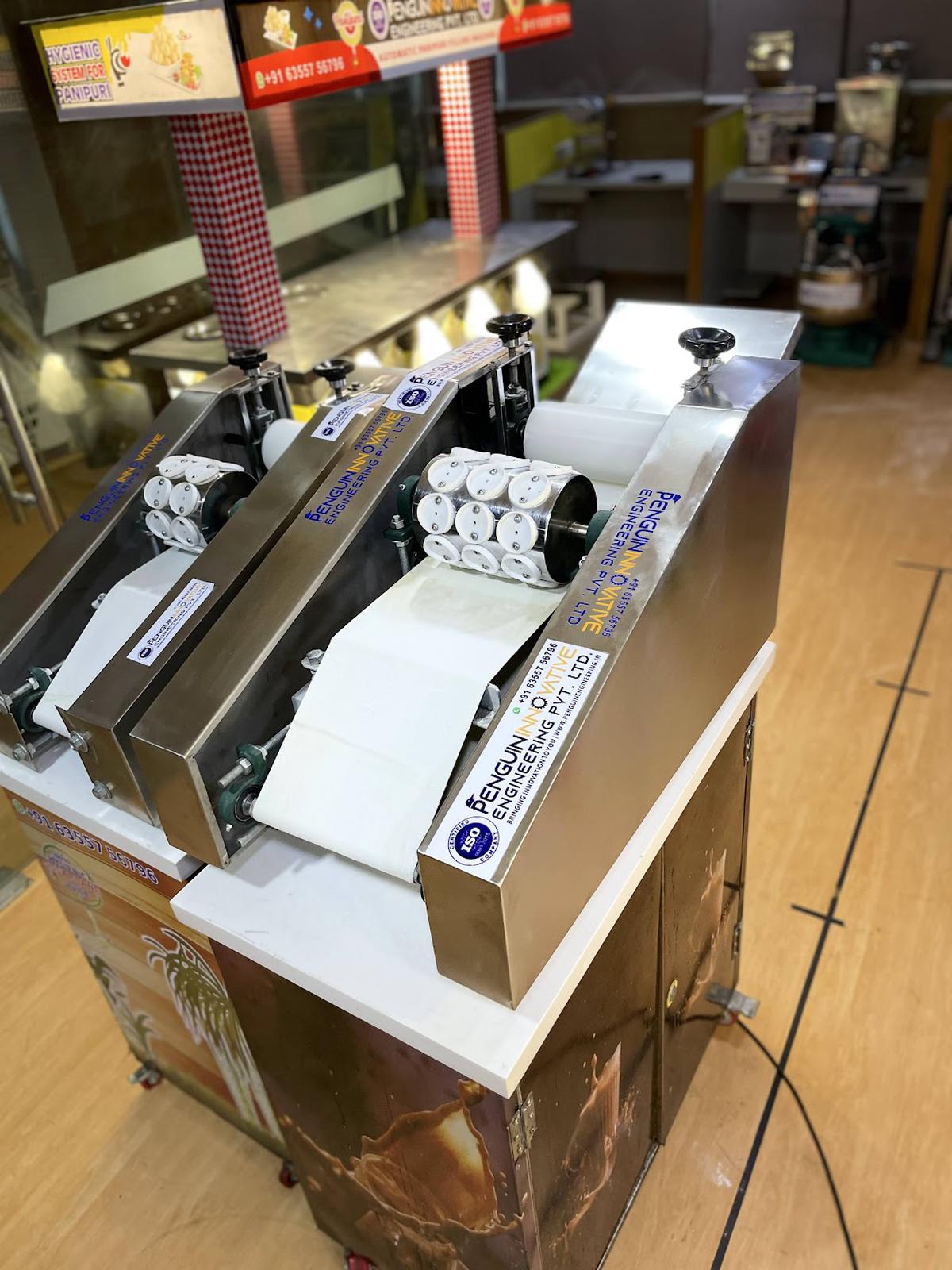 puri cutter machine | Photo Credit: Special Arrangement
Solution: Automatic Pani Puri filling and making machines. "These machines ensure a zero-contact process and last year we also came up with an automatic fryer to complete the cycle," says Devendra.
Pani puri filling machines are reminiscent of old fashioned soda vending machines where a tank is filled with liquid and a nozzle dispenses it. Only on this device, it is activated by a sensor and set to dispense the desired amount of scented water.
Despite being one of the most popular snacks across the country, it is also individual to every palate. "While some may like only spicy water, some may want to add a little sweet and tangy water as well. So the amount of water a person wants can be customized and there is also a manual button to start and stop," explains Devendra.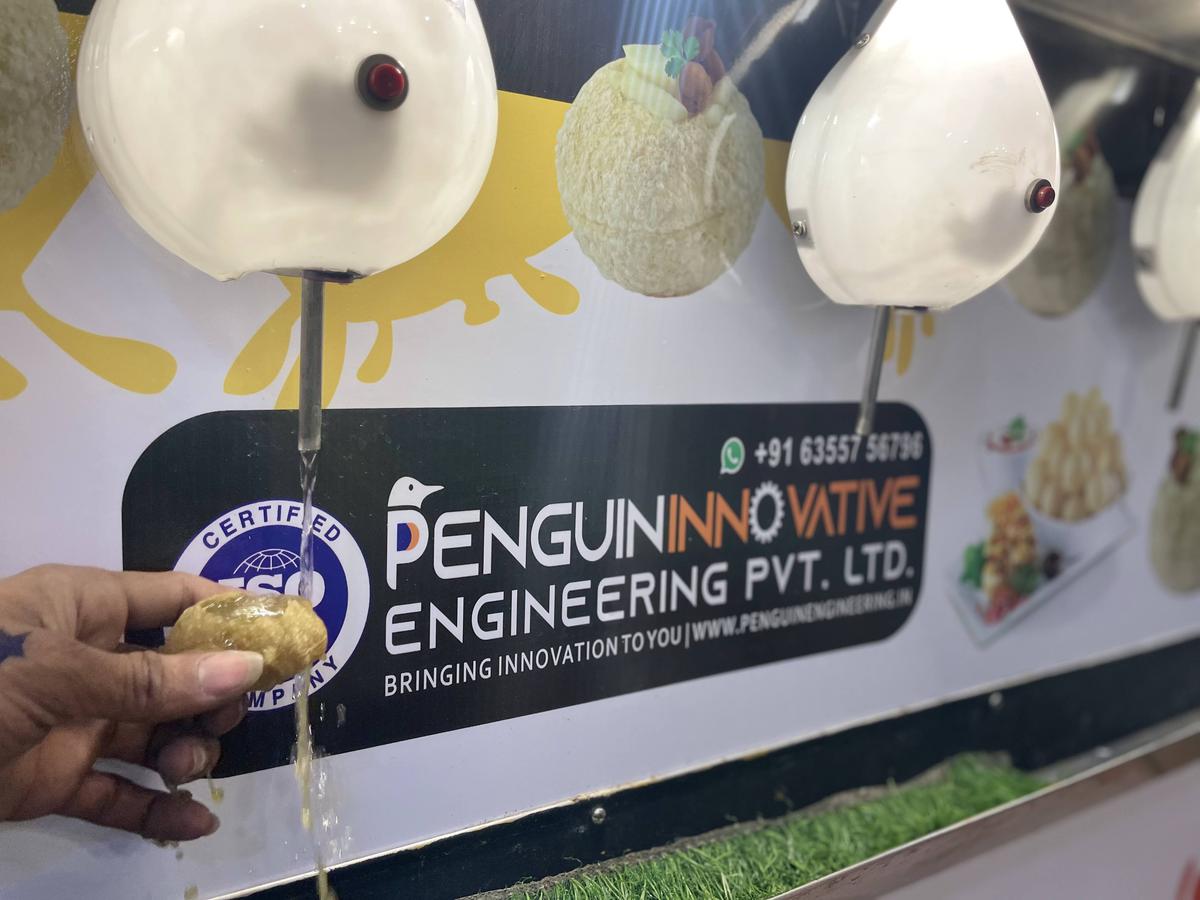 water vending machine | Photo Credit: Special Arrangement
The machine starts at ₹12,000, comes in 45 versions with one to 16 nozzles and a container to store the puris. The coin operated Pani Puri ATM machine, which is a popular choice among the company's customers, has six nozzles, potato dispenser and dispenses one puri at a time. It also makes ready-to-make water flavored powder which can be used with mineral water. Some variants also come as carts that can be pushed or attached to the back of the motorcycle and are battery operated.
There are about 50 other machines that knead the dough, flatten it, make puris, fry and store it. "We are also working on a machine that can pack puris in bags that prevent them from breaking," says Devendra.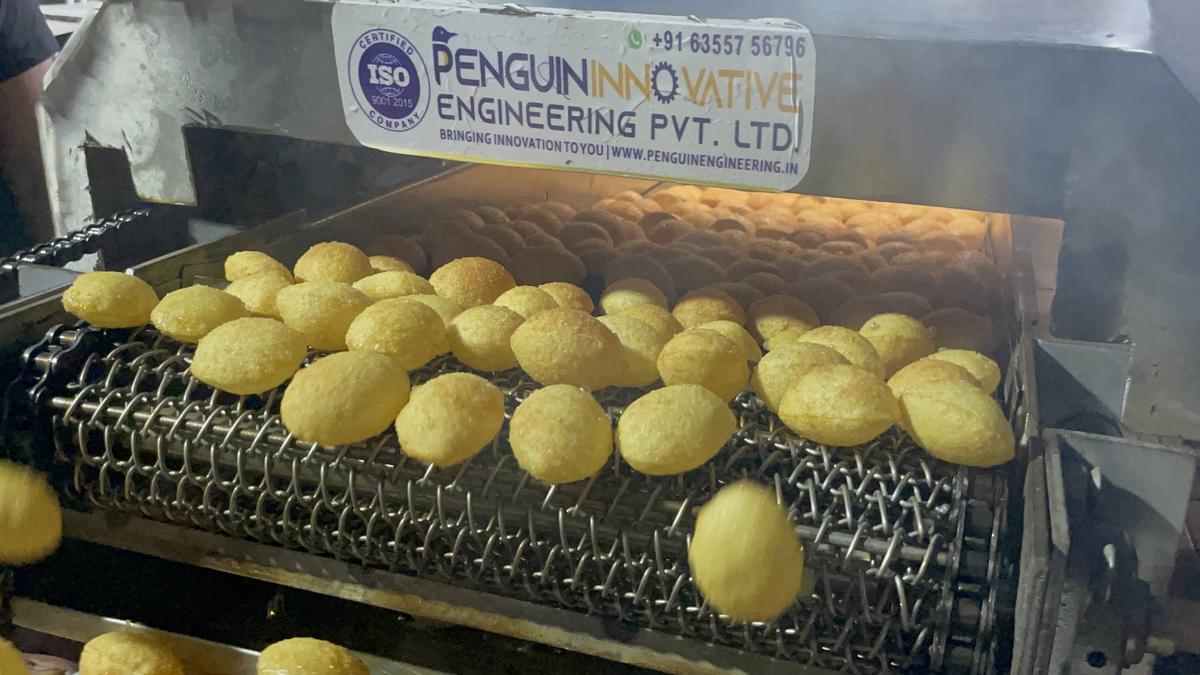 puri fryer | Photo Credit: Special Arrangement
Around 150 filling machines are sold every month and also exported to Canada, Amsterdam and United Kingdom. While most of these machines are popular among start-ups, the one-nozzle model has also been purchased by many street vendors. "Traditionalists often do not like these equipment but we have collaborated with some of them who make around two lakh puris a day using our machines," says Devendra.
On the lines of bringing a hygienic way of preparing and serving street food, the company also manufactures a coin-operated automatic bhelpuri machine that premixes all the ingredients before being dispensed from the nozzle at a speed of 30-40 plates per hour.
Bhel comes in a variety of flavours, from Jain Bhel, Dry Bhel and Special Bhel to 'Mexican' Bhel, and – hold your breath – Chocolate Bhel.
The company also manufactures sugarcane juice machines, automatic tea machines, and robotic serving arms.