There is a 70-year-old building on TM Soundararajan Road in Mandaveli with faded yellow paint and blue windows. On its front, there is a bright yellow signboard that reads Verghese Bakery. Downstairs, there is a glass door and whenever it opens visitors get a blast of cool air with warm aroma of sugar.
Displayed in refrigerated glass shelves are red velvet cakes, donuts and Japonais cakes – a rare find. "They're fresh and made today," says Krisma Rachel, daughter of Alex Varghese, the bakery's current owner.
In the kitchen, between commercial-grade mixers, is an electric oven that can bake about 10 trays of puffs, or about 40 loaves, at a time. Varghese Bakery transitioned from a wood-burning oven in the 1980s. At the sound of the buzzer, master baker, PR Paul, whips out a fresh batch of flaky, golden puffs, then arranges them on a cooling rack. "They'll all be sold out today," he says with a proud smile.
Chennai's buns and puffs have become an important part of the city's food culture. There are bakeries on every street corner selling reasonable prices, baked goods and snacks to students in uniform and working professionals. We explore four of the city's oldest bakeries, which have stood strong through wars, fierce competition and a pandemic.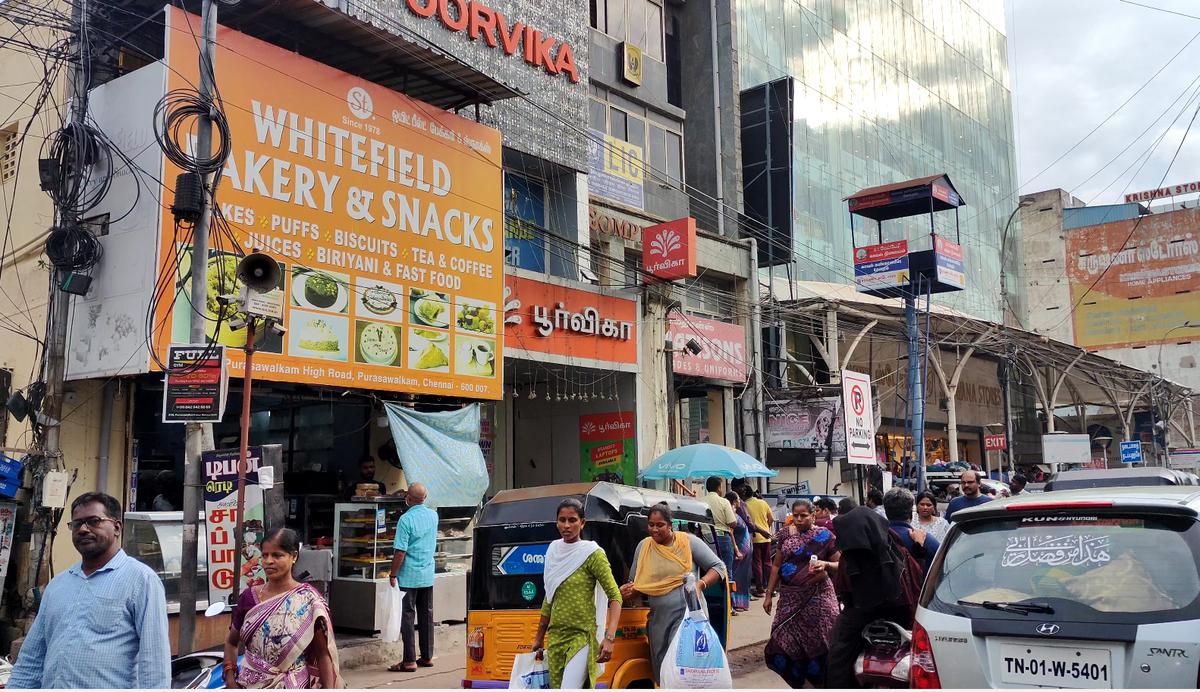 Whitefield Bakery | Photo credit: Johan Satyadas
Whitefield Bakery, Purasawalkam
By the Purasawalkam flyover, Whitefield Bakery is a must-see attraction. With polite staff, ample seating, and freshly baked goods, this bakery has been open since 1930. It was established by AS Loksah and handed over to Syed Sibagatullah in 1978.
"For an old bakery like ours to survive, people usually suggest that we adopt new trends. But our grandfather decided to serve fresh cream cakes because he believed that high sugar and cream could lead to obesity," says Ishaq Faizal, the bakery's current owner called Basha.
Along with fresh buns, breads, butter biscuits, puffs, rolls and their signature Coconut Naan, Whitefield Bakery still does not serve fresh cream cakes and believes that the consistency and quality of these products will take them further.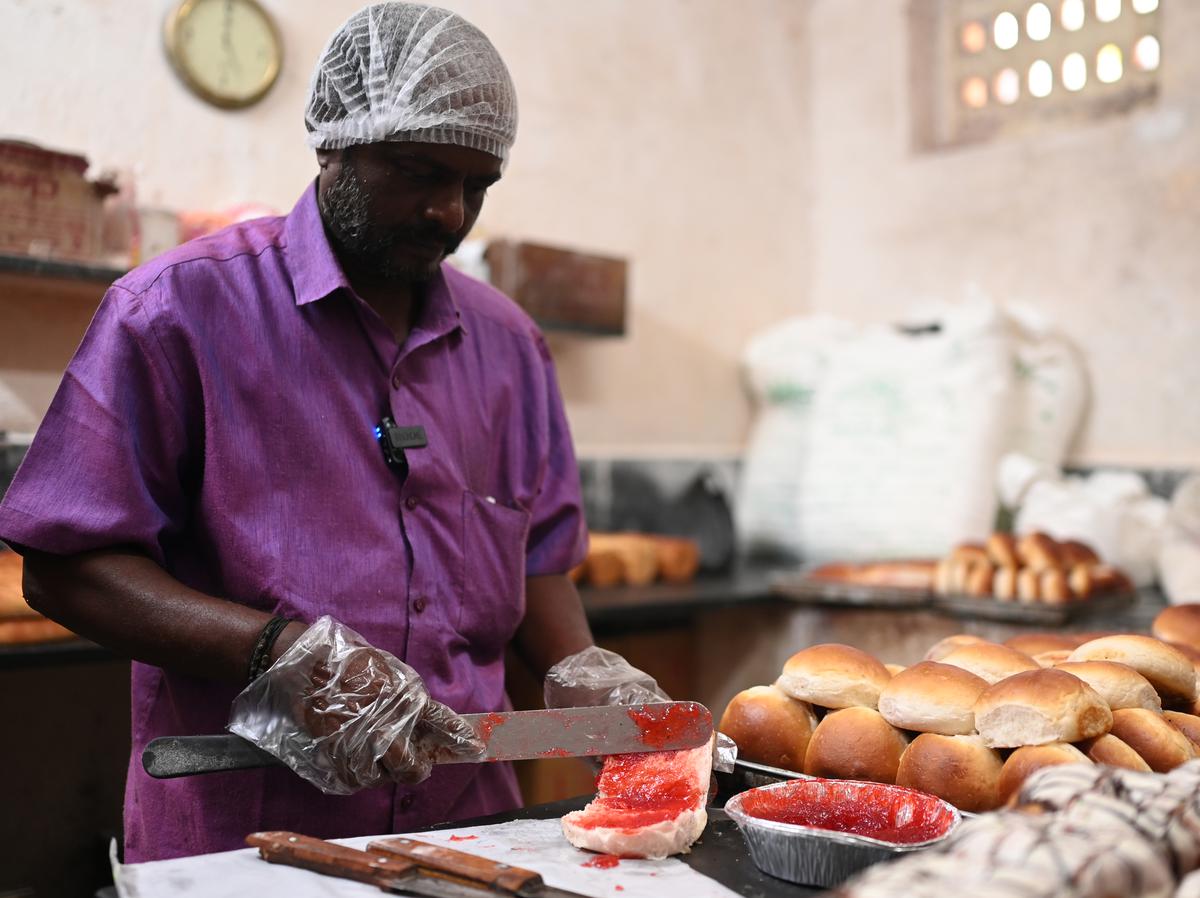 Chinna spreads jam on thambi bun. Photo credit: Johan Satyadas
Cracking jokes and checking on a batch of buns in the oven, the bakers become alert when Basha walks in. The two rooms are separated by a wall. One has an oven and stove and the other has a cooling room. Chinna Thambi, one of the senior bakers, remembers seeing Basha playing in the kitchen as a child.
To bake on this scale inside the city, Basha feels the bakery needs more space. "The equipment we use is large in size and we would also need space to cool and store our products. During the festive season, we will not even have space to walk and that can be quite a challenge."
The building, despite being old, is well maintained. There are plans to renovate the space soon to improve production and management and also aim to set up a production unit in Tambaram.
White Field Bakery – 8, Purasawalkam High Road, Purasawalkam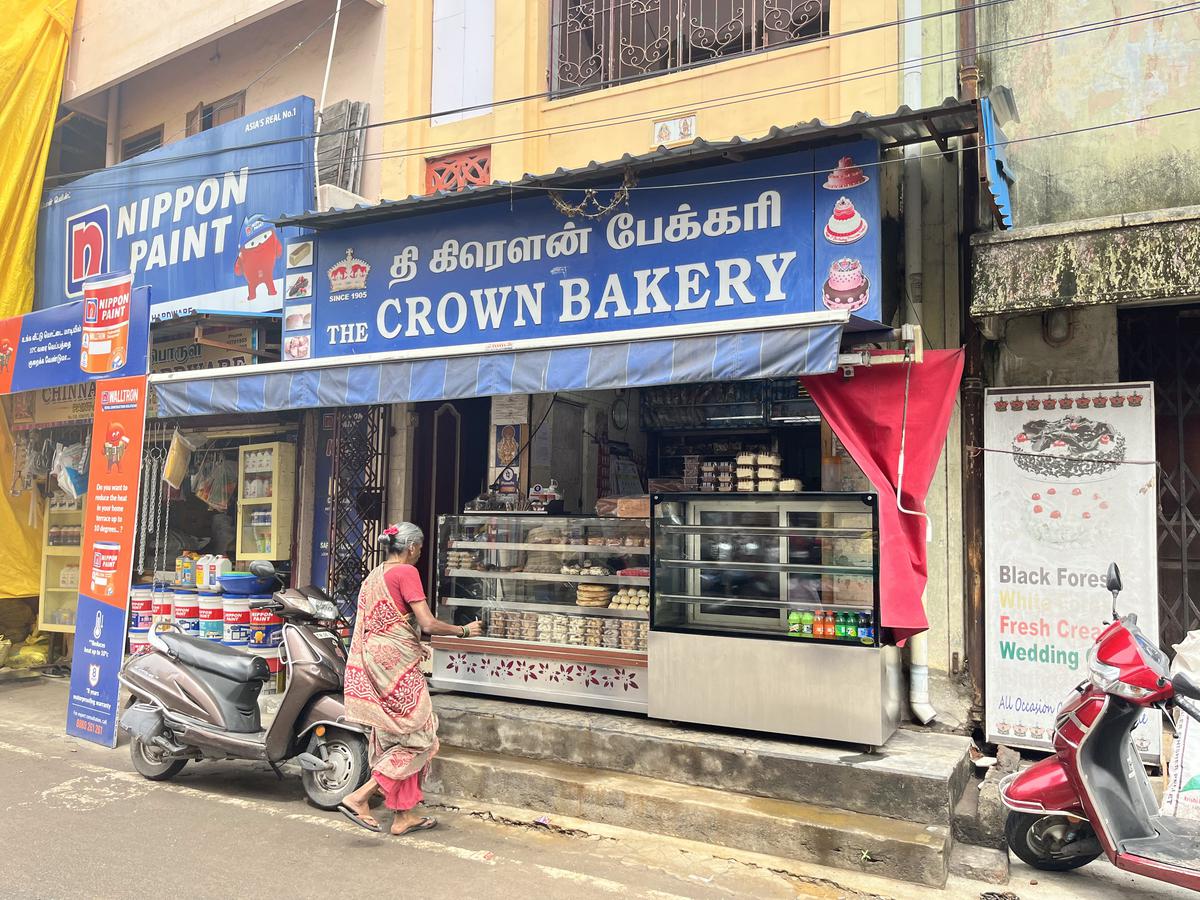 The Crown Bakery | Photo credit: Johan Satyadas
Crown Bakery in Mylapore
Bavani Srinivasan is attending to three customers who want different items – Egg Puff, Bun Butter Jam, Bread and a packet of Potato Chips. While she confirms whether it should be salty or spicy, she pops the puff into the microwave to heat up, lifts a freshly baked bun and spreads a thick layer of jam. He has closed three sales on the 'ding' of the microwave.
"We get a lot of customers throughout the day," she says, scowling at her mother for sending her father to the bakery. In the same building, a narrow flight of stairs leads to M Srinivasan's residence.
At age 77, he is the third owner of the establishment. The Crown Bakery on Market Street in Mylapore was established in 1905 by his father Kanthasamy Mudaliar.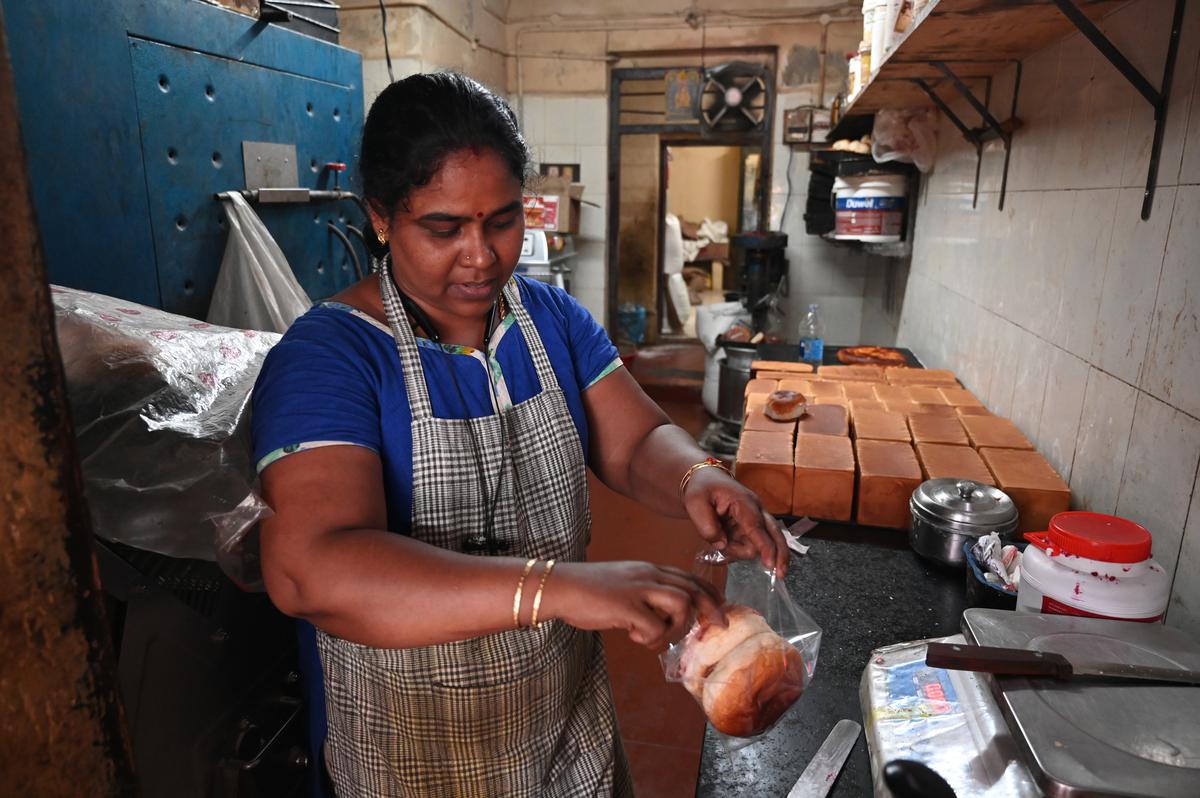 Bavani Srinivasan at The Crown Bakery | Photo credit: Johan Satyadas
"Everything's changed over the years," he says and peeks into the kitchen to check on his staff. "Earlier, we had to do everything manually, but now we don't employ people if we don't have these modern equipment or new varieties of cakes."
Bawani interrupts, "Everything has changed except our rotis. We don't use too much yeast and insist that our masters follow the same. They are very soft and safe for kids too.
Srinivasan is exclusive about it remaining a family-run business. "Today Master Sahab is on leave, but my business runs as my daughter can handle the baking. My father learned this from the British and then when we went to the bakery in our childhood, we were taught things while playing and then when we grew up, we took it forward. After my daughter, my grandson will be in charge," he says.
The Crown Bakery- 129/58, Bazaar Road, Madhavaperumalpuram, Mylapore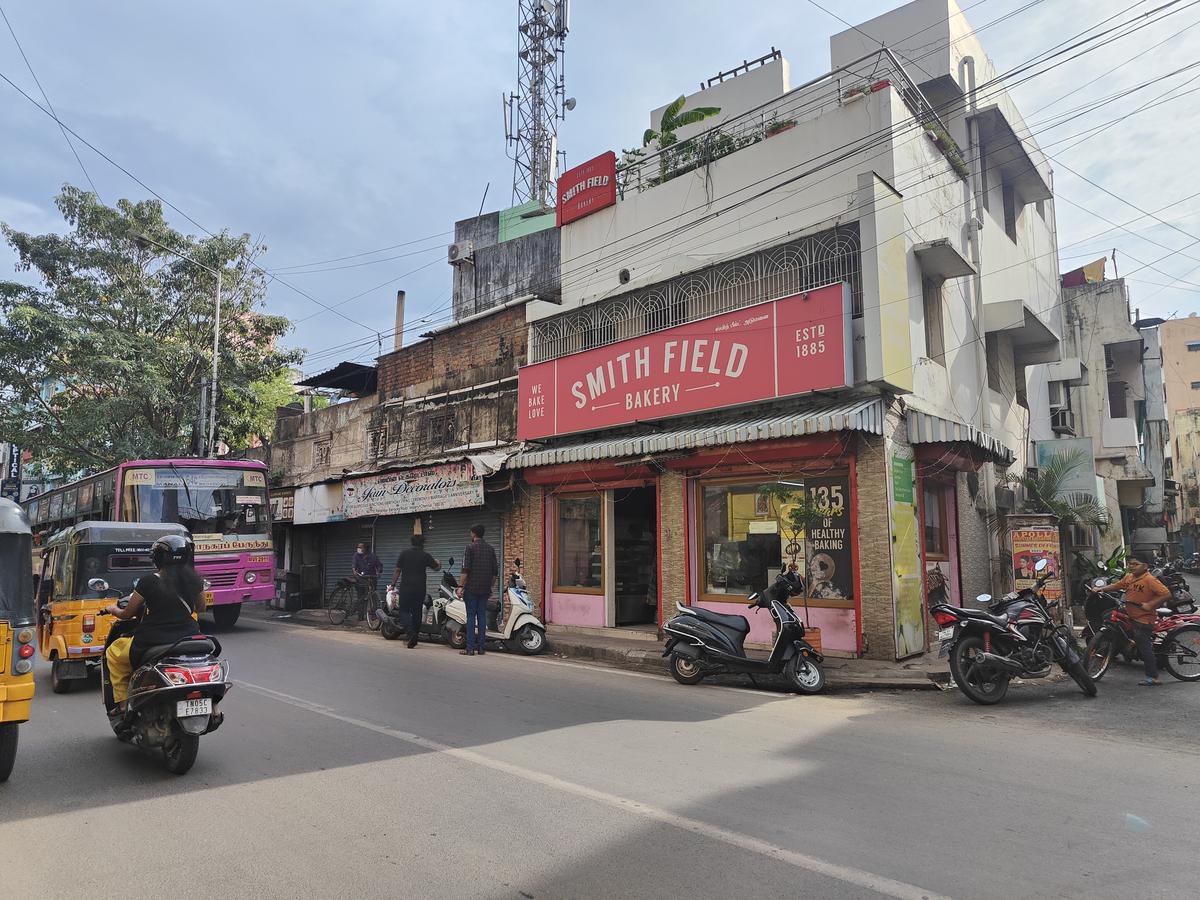 Smith Field Bakery | Photo credit: Johan Satyadas
Smith Field Bakery, PursaiWelcome
Established in 1885, Smith Fields is the oldest bakery in the city. It is one of the places from where bread was rationed during the world wars. Ponnusamy was the founder of the bakery and today his great-grandson Ventatesha S runs the business.
"This business is our heritage and at its core is freshness and quality. To sustain it, we need more than a good recipe. We are gathering data to forecast demand almost accurately. Therefore, a On an auspicious day, we know that only five to six chicken or egg puffs will be procured and only a small batch will be made," says Venkatesh.
The bakery has five sales employees who manage the shop floor and prepare customer orders before they are placed. There are about 10 bakers and staff in the kitchen.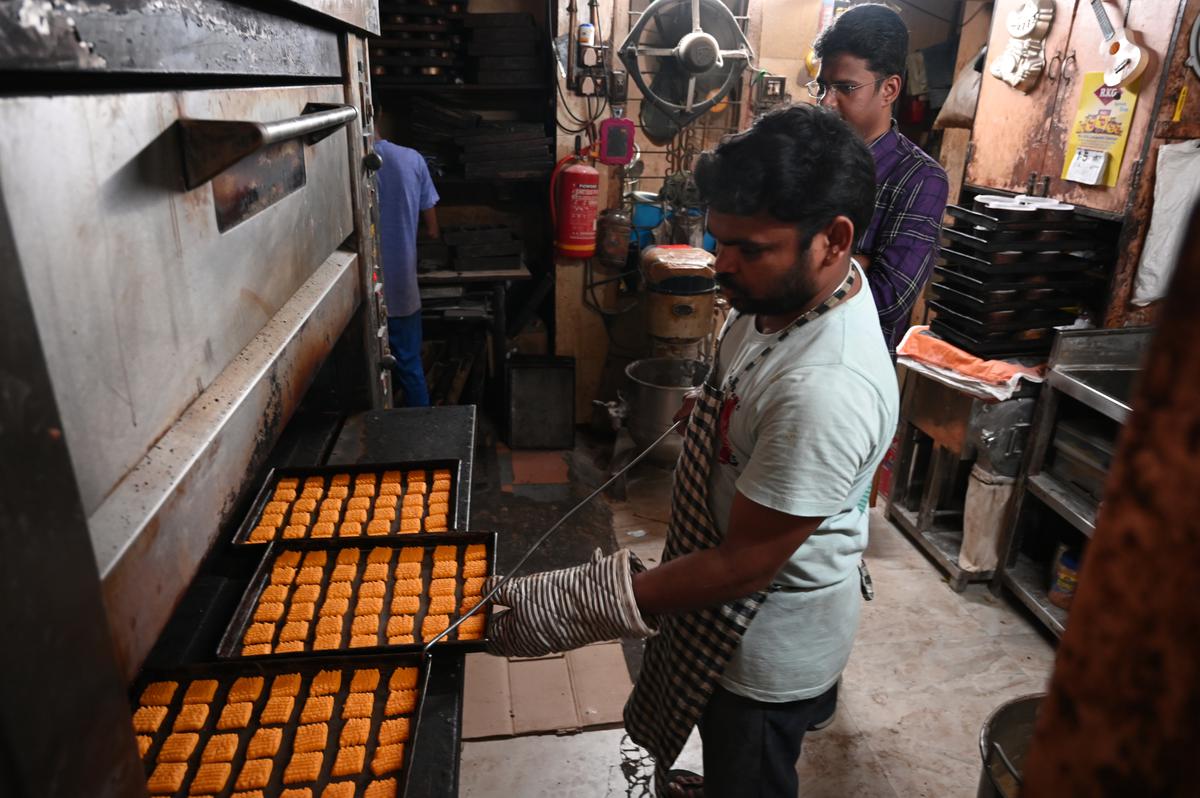 Venkatesh S checks out a new batch of cookies | Photo credit: Johan Satyadas
Venkatesh oversees a batch of cookies being taken out of the oven. "I used to be in the kitchen a lot even as a kid. We had this master who made sugar eggs for Easter and I used to watch him. Recently, when that master retired he took the recipe with him and we lost that product. Over the years, we have even lost items like Japanese cakes due to lack of demand."
At Smith Field, produce may come and go but the family is eager to maintain the taste and quality. "Earlier, we used to get powdered sugar from the market but in recent years we have seen that they are adding corn flour. It changed the taste and texture of our products, so we bought a sugar mill to make our own."
Venkatesh then points to a tray of walnut brownies that have been a recent addition. He explains that he has one foot on fundamentals and the other on new trends to take the bakery forward.
Smith Field Bakery, 130, Perambur Barracks Road, Perumalpet, Purasawalkam
Varghese Bakery | Photo credit: Johan Satyadas
Varghese Bakery, Mandaveli
Varghese Bakery was established in 1950 by CI Varghese. Krisma is his granddaughter and hopes to take care of the business someday.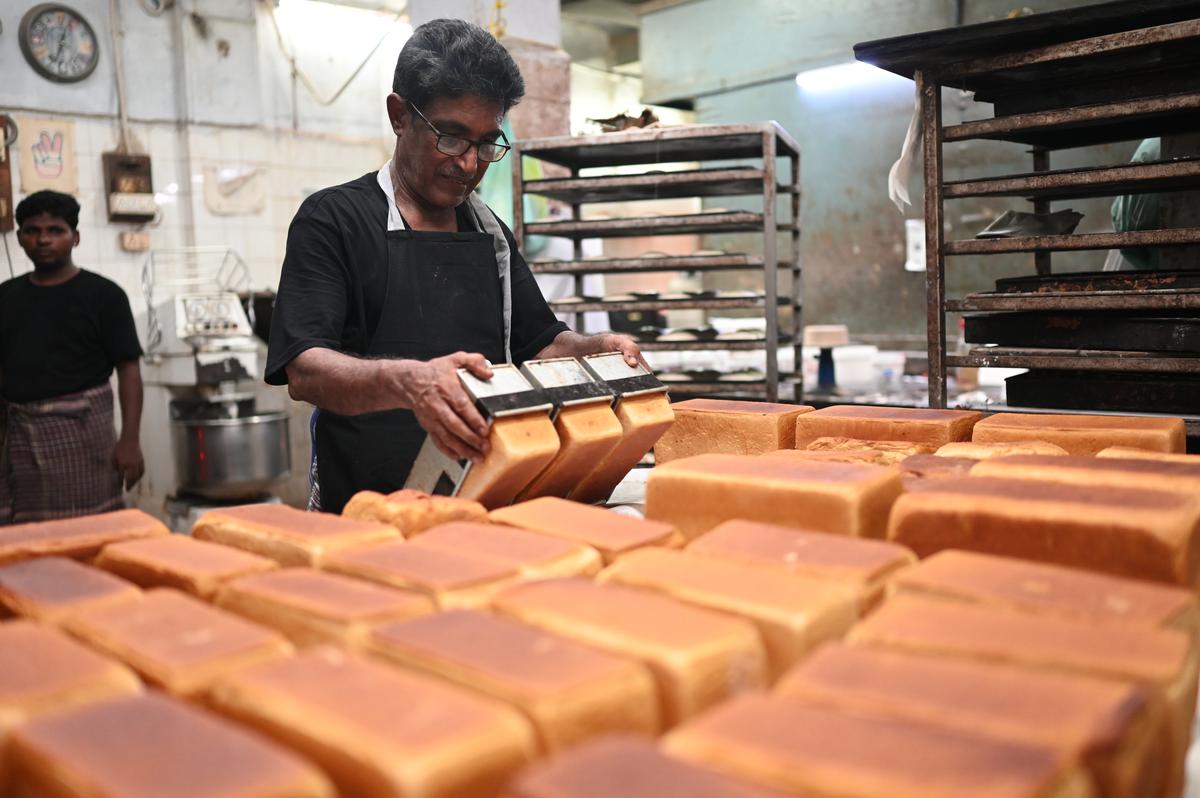 Freshly baked bread at Varghese Bakery | Photo credit: Johan Satyadas
"I've been coming to the bakery since 2019 and one of my favorite things to do here is meeting the customers. The people of the olden days come up with many stories and it is heart touching. While there may be other bakeries, even premium ones, for our customers the taste of Varghese Bakery is like coming back to mother's food and this will take us forward," she says.
Varghese Bakery – 1, W Circular Road, Mandavelipakkam, Mylapore