The exterior of Fraser Town's 121-year-old Albert Bakery belies its iconic status. Those who look for it after knowing about its popularity cannot find it easily. The narrow two-storey building on Masjid Road, named after the Haji Sir Ismail Sait Mosque, is easily missed. The minimal and modest branding – Albert Bakery (in all capital letters) written with white paint on a horizontal strip of maroon concrete – is another reason for its hiding in plain sight. To realize its prestige, you need to see its interior. When we enter, at about a quarter to five on a Monday evening, about 20 customers jostle for space to buy the bakery's offerings – popular among them: Bheja Puff (which has a savory mutton brain stuffing) , khoya naan (a flatbread filled with condensed milk), and the quintessential Ramadan snack, haleem (a thick stew usually made from wheat, lentils and meat). By six, most of these items are sold out.
Albert Bakery was our starting point of Masjid Road's Iftar Food Trail, which has become a thing in Bengaluru during the Muslim holy month of Ramadan. It is difficult to tell who pioneered the iftar food stall on Masjid Road, which until the 1980s was a quiet street with a handful of commercial establishments.
kernels of history
"About 20 years ago, someone had the idea of ​​setting up a food stall [Haji Sir Ismail Sait] Iftar items were sold at these stalls in the mosque for Ramzan. Idea clicked. Hence, in later years, many people including restaurants started putting up these stalls. And people come from as far as Whitefield to enjoy these delicacies," says Mansoor Ali, one of the co-founders of Bengaluru By Foot, a group exploring the city's cultural heritage.
Mansoor regularly takes people around, feeding them nuggets of history and trivia. And, in the case of their iftar walks, he serves them literal food – according to him, the best of the best places. As a Muslim born and brought up in Bengaluru, he knows the right places for a typical iftar dish and his cultural background.
"About 95% of my walkers are non-Muslims. And most of these are people from outside Bangalore. Some locals, who have not been to this part of the city or know much about the festival, also join in to experience this Ramzan fair," he says.
Despite being a Bangalorean, Madhurika, a Vedic architect (working with Vaastu Shaastra), haven't experienced Fraser Town's Iftar food fair. So, this year, she decided to sign up for Mansoor's Iftar Walk. "If you come alone, you may feel overwhelmed by all the colorful food here. But if you have a guide, it is much better as you can learn about the origin and recipe of the food. Know the foodie stories. So, it's really cool to combine all of that into one experience," she says.
a melting pot
As the sun begins to set, the food stalls on both sides of the Masjid Road enliven the atmosphere with dishes of different colours, smells, textures and tastes. Even the sounds made by certain foods – such as the sizzling sizzle of fried meat and the splash of colored drinks on glasses – attract our attention. It is an all-out assault on all the senses.
"When the epidemic came, everything was deserted here. Nothing special was happening in 2020 and 2021. Last year also there was 50% of the normal crowd after the lockdown was lifted. But this year, it has become normal," says food maker Zafir Syed, who runs Fraser Town Iftar regularly.
When he moved to Bengaluru from Mumbai eight years ago, he thought he would miss the city's beloved food street on Mohammed Ali Road. "Luckily, I found Fraser Town," he smiles, "every year you find something new to eat here."
One of the latest additions to Masjid Road is Noori's Multi-Cuisine Kitchen, which specializes in Hyderabadi cuisine. Run by Noori and her husband Imran Sait, it serves unique Hyderabadi snacks like Shikamuri Kebab and Mutton Kofta, apart from the usual dishes like Haleem.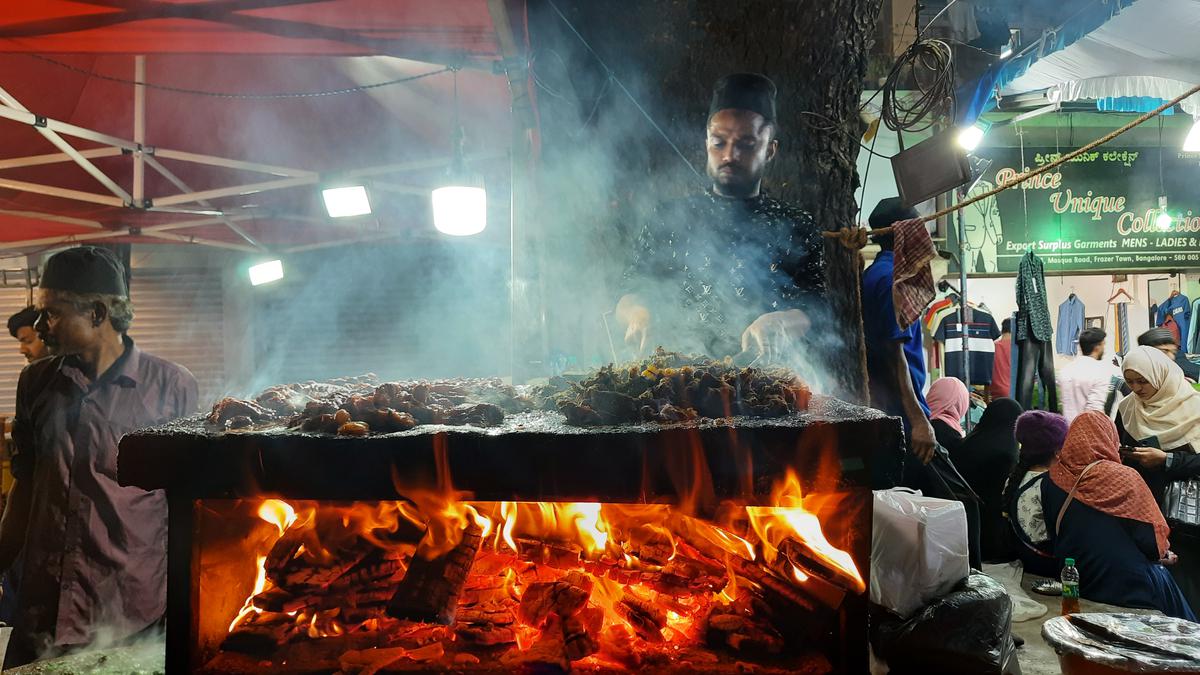 Stone pelting at a food stall at Masjid Road, Fraser Town, Bengaluru during Ramzan | Photo Credit: Ravichandran N
After noori, we head to the Ramadan stall of Savory Family Restaurant to taste some harissa (a blander version of haleem), believed to be of Armenian origin. After packing some Nalli Nihari (slow-cooked stew with pieces of mutton leg), a Mughlai delicacy, we refresh ourselves with Mohabbat Ka Sharbat, an Old Delhi specialty made of milk, watermelon chunks, sugar and rooh afza. Karma heads to the restaurant for drinks. ,
In case you're wondering about the drink's name, it has a bit of an apocryphal story. Nawab Qureshi moved from Uttar Pradesh to Delhi when the love of his life broke his heart. He still loved her very much. So they decided to share this love with the world through Sharbat.
On the way to Karma, we sample pathar ka gosht (a Hyderabadi dish where meat is cooked on a granite slab with a rough surface), kebabs made of chicken, mutton and beef, seafood popular in Kerala and even camel meat even get. ,
According to Mansoor, iftar food stalls on Masjid Road had limited options in their initial years. As the number of stalls grew, dishes from different cuisines from Muslim communities across the country arrived in Fraser's Town.
He tells us as we sip a slightly sweet cup of Sulemani Chai, a milk-free tea popular in Kerala, from Taj Tea House. Dismissing our complaint of added sugar, he joked, " Hey, So what? Ramadan is Buddy, Let's be sweeter than usual.