How is Thiruvananthapuram's signature halwa made?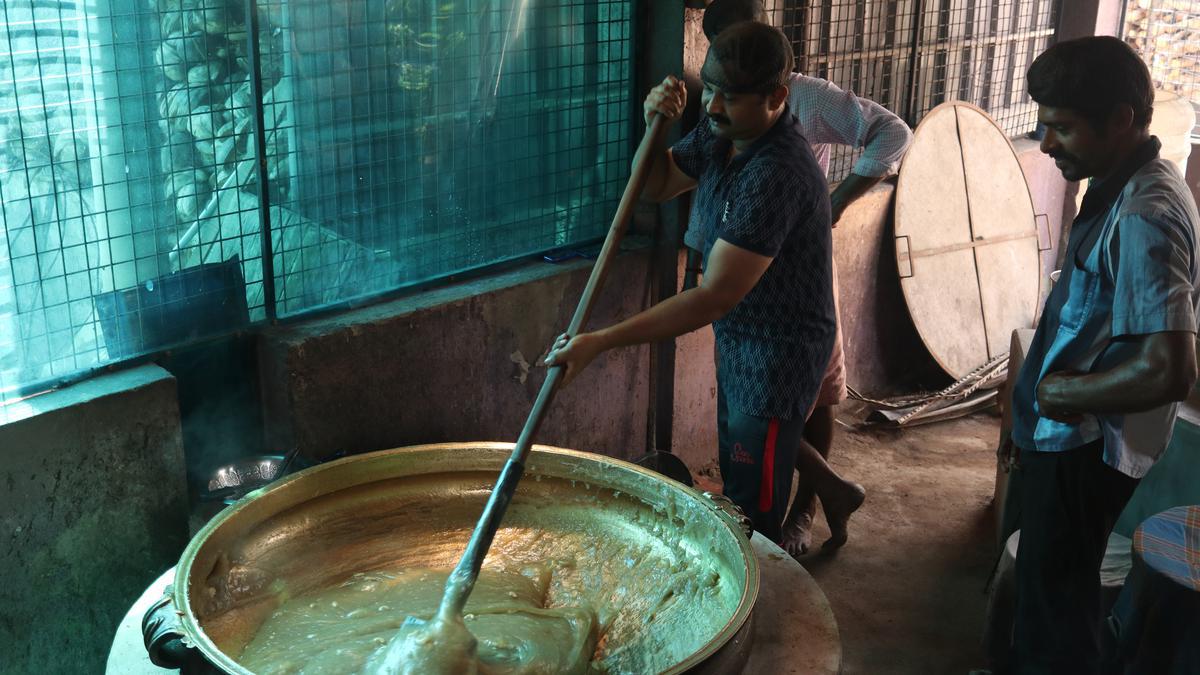 Did you know that Thiruvananthapuram has a signature halwa?
Meet a family from Kadakkavoor, Thiruvananthapuram, who have been carrying forward a cherished legacy of making signature homemade halwa for over four decades
At Chekkalavilakom junction, nestled behind the now-defunct Kadakkavoor market is "Sheeja Nivas," known as "Halwa Veedu," where Shibu Sudevan and his family craft this exquisite halwa.
How is the halwa made?
The process starts around 5 am, as Shibu and his team start preparing the first batch of halwa.
It takes at least five hours to get the halwa in the right consistency.
The key ingredient is broken wheat, which is soaked for two hours in the evening.
Later, it's ground and strained to extract its nourishing milk, which is set aside for six hours.
It is then mixed with rice flour and either jaggery or sugar syrup and cooked in the uruli (large vessel).
It is stirred without a break to prevent it from sticking to the bottom of the uruli.
Coconut oil, ghee and nuts are added at different stages of the preparation.
And just before it's taken off the stove, a final touch of fragrant cardamom is added
The halwa comes in two variants – a rich, dark chocolate-coloured one made with jaggery, and a light brown variety made with white sugar.
The other ingredients, such as rice flour, cashew nuts, ghee, oil, and cardamom, remain the same in both.
While they prepare 50 to 100 kilograms of halwa daily, during festive seasons like Onam, the demand skyrockets, with up to 1,000 kilograms of halwa being made.
The jaggery-based halwa costs ₹180 per kilogram and the sugar-based one is priced at ₹170 per kilogram.
Regular orders come from those travelling to West Asia, or from families in and around Kadakkavoor and the nearby Anchuthengu village
'Halwa Veedu'
The story of Halwa Veedu dates back to 1995 when Shibu's mother and his sister decided to continue the family's halwa-making tradition after the passing of Shibu's grandfather, Gopalan Natarajan.
Shibu, who had been observing his grandfather's craft since he was just 12 years old, felt a strong connection to the art.
So, after working in Dubai, he made the heartfelt decision to return home and keep the legacy alive.
Reporting: Athira M
Voiceover: Gopika K P
Production: Reenu Cyriac
Videos:  Sreejith R. Kumar