Inside Indu Deluxe | Photo credit: Sanjay Bora
In Hyderabad, apart from biryani, the other default option is thali. It is ubiquitous in the Twin Cities in various incarnations. Its all-in-one variety with ready service makes it the most popular option for working lunches. Hotel Indu Deluxe in Saifabad, a 38-year-old eatery – also known as the old-time MLA Hotel because of its proximity to the Secretariat – caters to the lunchtime crowd that works in the Secretariat.
Venugopal Reddy, a tobacco trader who worked in the vicinity, started the restaurant in 1985 after he heard his father, Jagan Reddy, complaining about the lack of an eatery for visitors to the Secretariat to eat or lunch . Due to the dearth of Andhra food in the city at that time, Venugopal and two of his colleagues decided to serve hearty Telugu bhojanam In Indu Deluxe. It was an instant hit and, to his surprise, became popular among visitors to Birla Mandir, Birla Planetarium, Sanjeeviya Park and Rabindra Bharati as well. Any tourist who spends even half a day in the old city goes here to eat.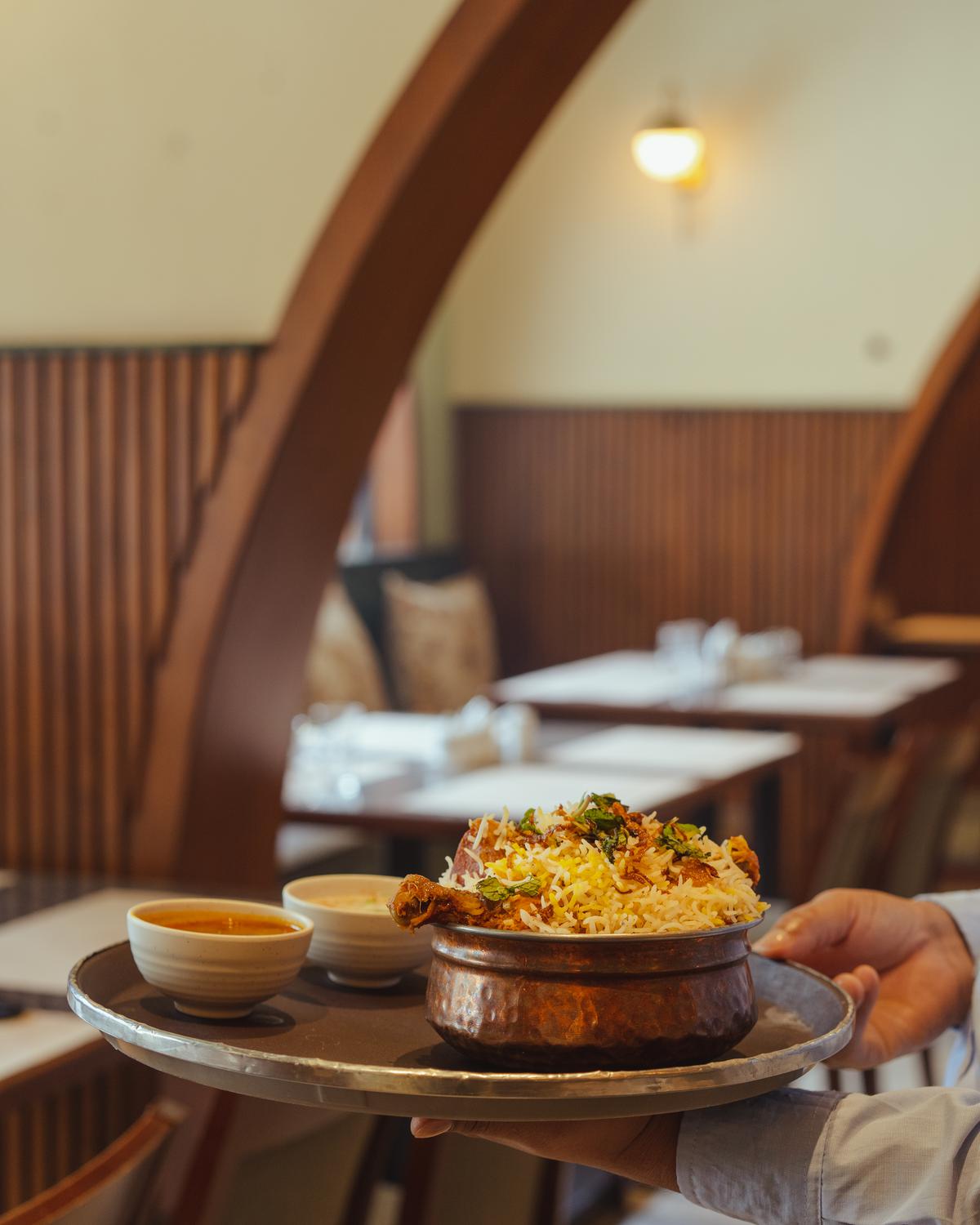 Biryani at Indu Deluxe | photo credit: special arrangement
It became famous for its food, biryani and select non-vegetarian sides such as chicken fry, mutton fry and omelette, all prepared in the traditional Telugu way. For decades, Indu was known as the foodie destination of Andhra Pradesh, with nothing more to offer in terms of interiors, ambience or comfort. Still no one complained.
Cut to 2023, Hyderabad has changed and the pandemic has changed the world. When Indu Deluxe reopened after being closed for two years due to the pandemic, it shook the world. The restaurant which until then had a government office canteen vibe, reopened in full with bright, well-lit, pastel interiors, comfortable sofas and arched windows that let in more natural light. The facelift has been warmly received by regulars and has also attracted family gatherings.
The change was due to a generational change in the family; Venugopal's son Rohit Reddy took over in 2020 and decided to give it a facelift without touching the menu. Rohit had returned from USA after completing his studies and working there for some time before joining the family building and overall business. He had grown up listening to his father's stories about Indu and felt that he should focus on the restaurant. Once he has spent some time around the restaurant, he plans to begin the day-to-day operations.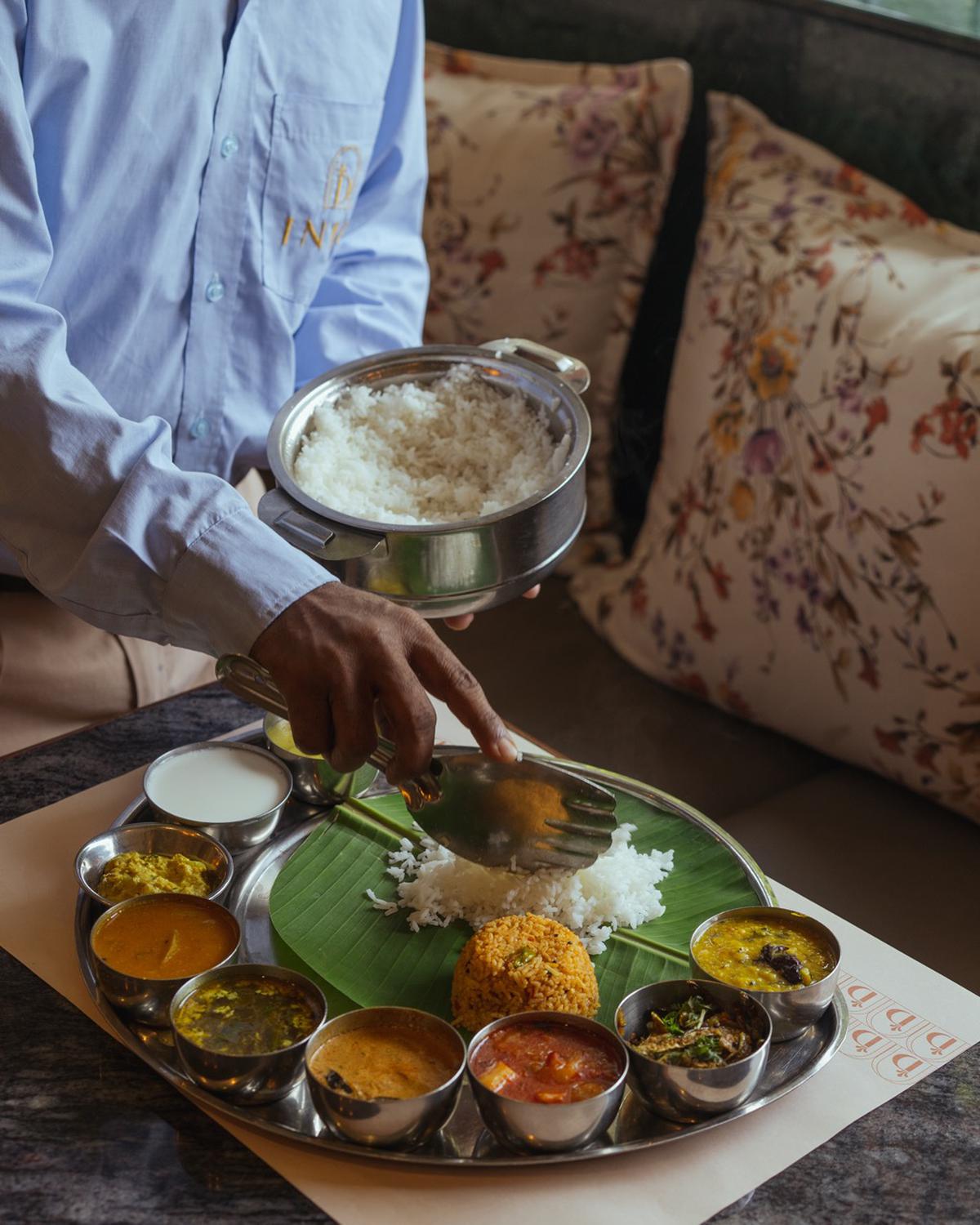 A plate at Indu Deluxe | photo credit: special arrangement
Rohit wanted to make sure of one thing; He will update and upgrade the experience at Indu's without compromising on the food. So, when we tried the food, there was a sign confirming the 'no change in food' policy that it was fresh Pachadi (sauce) , So when the plate brought a big piece of fresh vegetables Pachadi I knew it was safe to order mine 'normal'. Mutton Roast and Chicken Roast were to be had on the side with Veg Thali. Regulars consider it a perfect match. For starters, a vegetarian thali (also at Indu) comes with two varieties of vegetarian curries, chutneys, and chutneys. Pappu, Rasam And SambharServe hot with rice, Ghee And Papad,
There is a shahi thali – a tweak to the regular vegetarian thali – which includes mutton curry, chicken roast and a small portion of biryani. The spice levels in the non-veg curries, except for the mutton dalcha, are not meant for those with a low threshold for spice tolerance.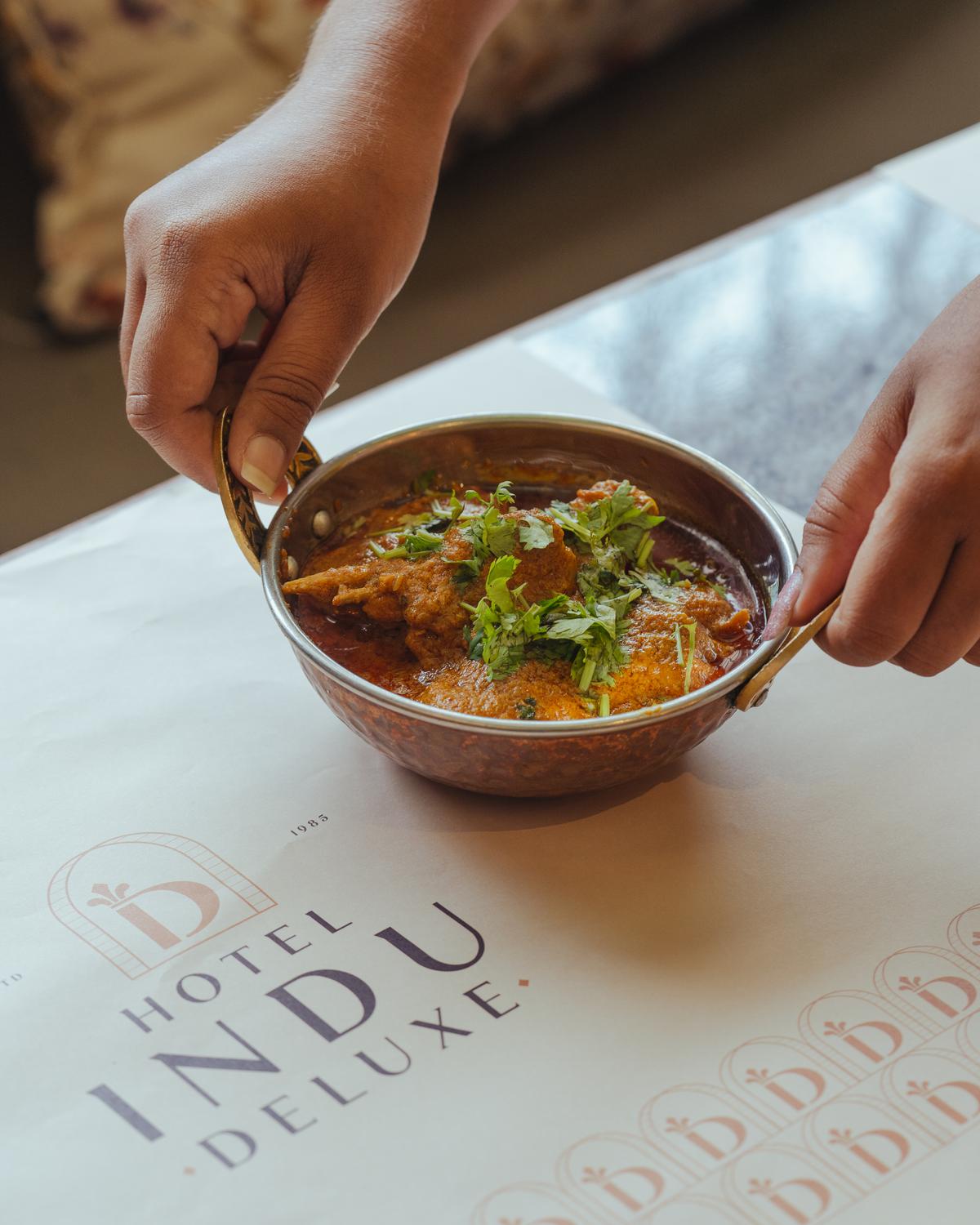 natu kodi curry | photo credit: special arrangement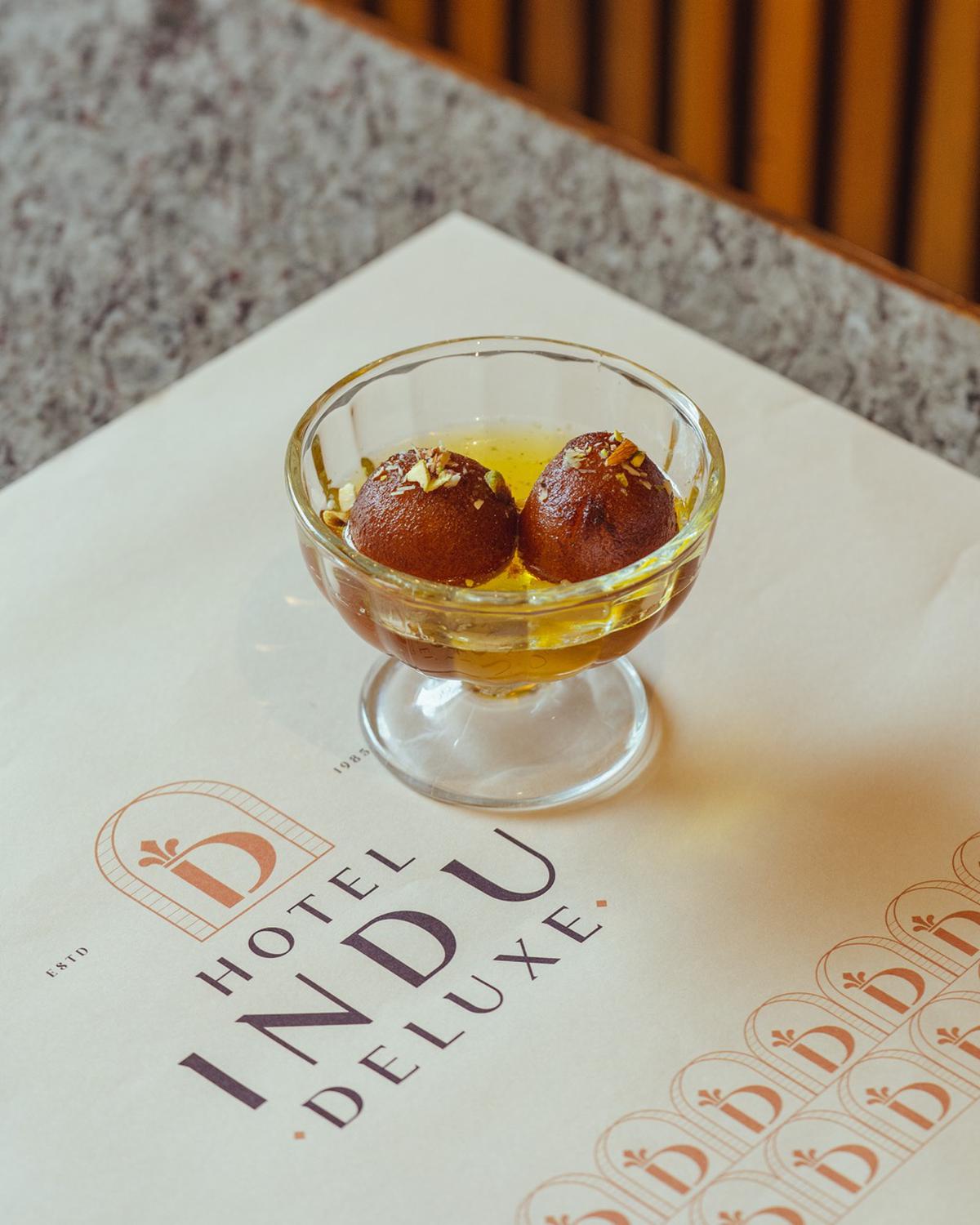 Gulab Jamun | photo credit: special arrangement
When all is done, ask for a portion of gulab jamun, served hot with the assurance that it will melt faster than ice cream. It lives up to the promise.