As we entered the recently opened branch of Zoca Cafe in Sahakara Nagar, Bengaluru, we noticed that they were still putting the final touches on the interiors. A Wednesday noon visit meant the place was quiet, with only a few diners around. The peppy sounds of Punjabi music killed the silence, later transitioning to nostalgic '90s English pop tunes. The weather, fortunately, was not too hot, allowing us to relax comfortably in the al fresco dining area. Even if it rained, we had the protection of the rain shade. The design exuded a pleasing aura with its pastel palette, featuring teal-painted walls and chairs outside, while inside, a genial blend of pink and cream colours awaited.
Zoca is an expanding food brand (a part of Fraterniti Foods) whose vision is to create a fusion of flavours, culture, and innovation. With its growing popularity, it has established several outlets in the country, with branches in Delhi, Uttar Pradesh, Punjab, Chattisgarh, Tamil Nadu, and Karnataka. The brand envisions a grand-scale expansion to have 500-plus cafes pan India by the end of 2025.
Zoca Cafe
Location: Sahakara Nagar
Timing: 11:30 am to 10:30 pm
Call: +918971154523
Hits: Zoca Fried Chicken
Misses: Mango flavoured mojito
Cost: ₹1000 for two people
First-time foodpreneurs Tejas G and Manasa JM run the Sahakara Nagar outlet. "We wanted to start something small to test the waters since we are doing it for the first time. When we chanced upon this opportunity to run a Zoca branch, we were apprehensive because we weren't sure about managing a big restaurant. Nevertheless, we took the plunge," says Tejas.
Manasa points out the lack of other rooftop cafes in the neighbourhood as a reason for setting up the space in Sahakara Nagar. "There are a few resto-bars around. But there isn't a place with an extensive food and (non-alcoholic) drinks menu," she adds. 
The Zoca outlets share several common elements, including a pastel colour scheme, the greenery of ornamental plants, and a selection of signature dishes and drinks. Each outlet also has its own specialities. 
Our brunch began with two drinks, tamarind and mango mojitos, exclusive to Sahakara Nagar Zoco. The tamarind-flavoured one, with a pinch of spices, tasted like a tangy masala soda. The mango one, meanwhile, was similar to a less-sugared Frooti.
Our first dish was the Zoca Fried Chicken served with Caesar Salad and an in-house sauce made of paprika powder, Tobasco, peri peri, and mayonnaise. If you are a fan of fried chicken, this one comes with a bit of a surprise. The crispy, golden-brown crust is not merely crunchy; it also comes with some spices, setting it apart from the usual fried chicken.
What is the secret? 
"Usually, the spices and seasoning are added after the chicken is fried. We add them in the batter, which is a mix of bread crumbs, oregano, maida, and white pepper," says Chef Karan Thami.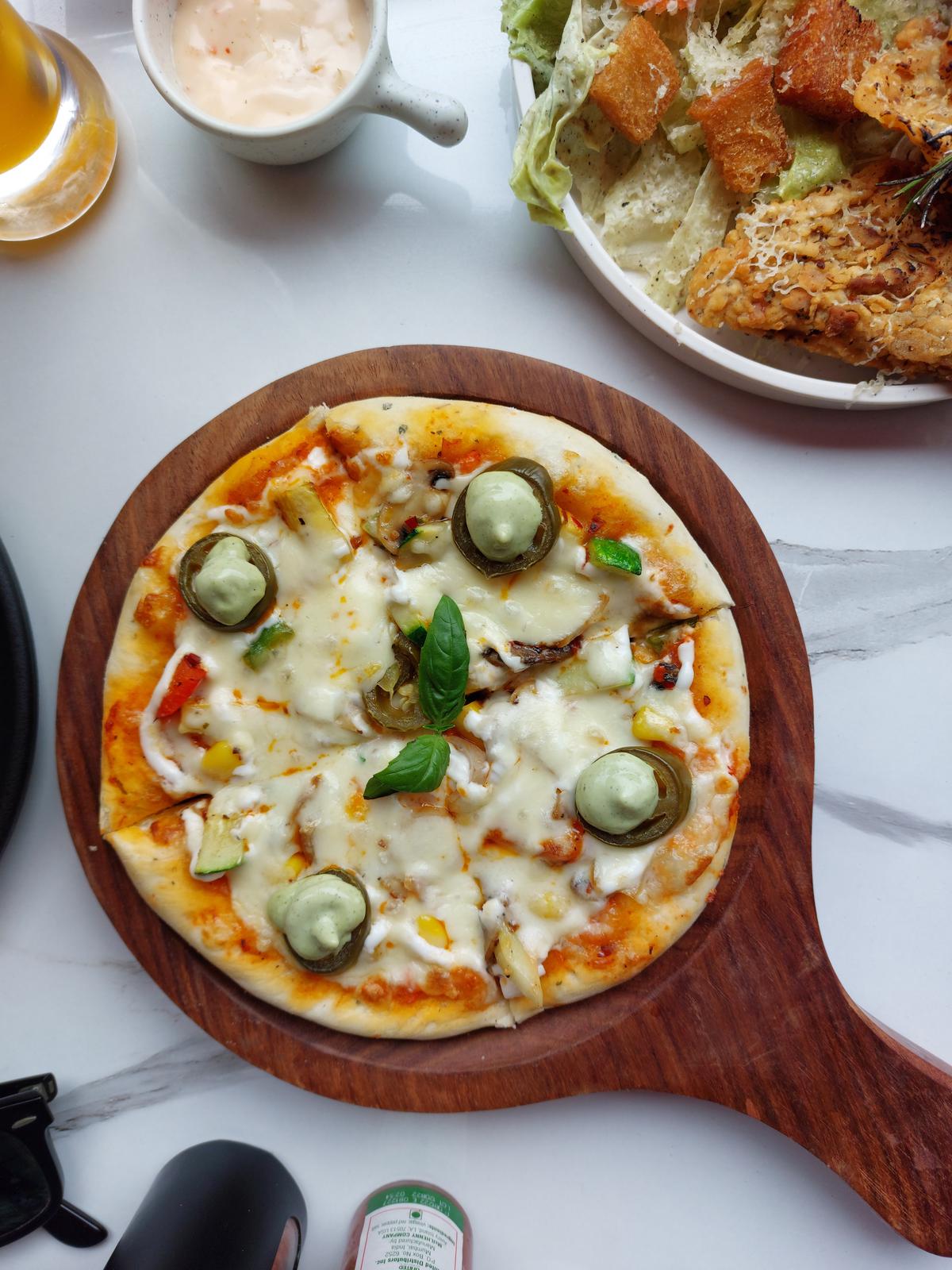 The loaded veg pizza, which arrived next, offered a burst of flavours that excited the taste buds with every bite. The combination of fresh mushrooms, zucchini, jalapenos, red and yellow bell peppers, and onions infused the pizza with a delightful medley of savoury and slightly tangy notes. The mint sauce, cleverly blended with mayonnaise, added a refreshing zing that complemented the vegetables. The rich and robust red pizza sauce (free from artificial colours, according to the chef) further enhanced the pizza's taste.
After the pizza, we were surprised and a tad confused to find a chocolate brownie with butterscotch ice cream on the table. There were other delicacies including soya chaap tikka and prawn garlic fry we were supposed to taste. There was no reason to complain about the mid-meal dessert. It was just a well-made brownie and ice cream. 
After the dessert, which left us in a sugar coma, we could only sample the soya chaap tikka and prawn garlic fry. The former, according to chef Navin Khawas, is a signature dish. The latter was a tad too saucy. 
Zoca Cafe is now available on food delivery platforms. Being their patron will benefit you with more items and discounts. "Though we are part of a franchise, we'd like our outlet to stand out. So, apart from the usual offerings of Zoca, you'll also have our exclusive offerings," says Tejas.